Crochet Slipper Pattern.
A Granny Square project.
---
A crochet slipper pattern is based on a solid granny squares,described at a Granny Squares page.
I remember this kind of slippers from my childhood. My grandma crocheted them for the whole family. There is nothing special in this pattern, but like any handmade item it brings you some warm feelings and sensation of comfort.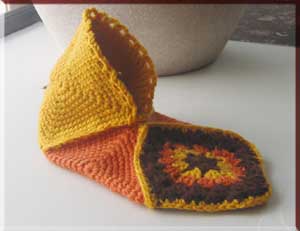 To make a slipper you will have to crochet 7 granny squares. It is better to use strong yarn. For example, Red Heart Super saver 4 ply worsted weight yarn. Crochet them tight. All squares can be solid, or make the top front square more lacy and multicolored like mine.
Step on the measuring tape and measure the length of your foot. Let's assume it is equal to 24cm / 9.5 in. Divide that length by 2. It means that a diagonal of the granny square has to be equal to 12 cm or 4.75 in. To form a sole of a slipper two of them will be necessary to align. Look at the picture below.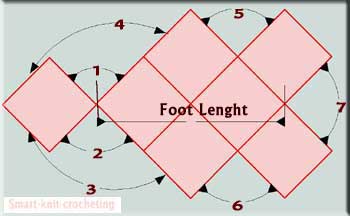 Sew or crochet seven granny squares together according to a crochet slipper pattern scheme. If you sew them, seams and a slipper itself will be a little softer than the one with crocheted seams. Crocheted seams will keep shape better.
Now it is time to assemble a slipper. Arrows with numbers (1 - 7) show which sides of the squares have to be sawn together.
To make slippers look finished, crochet an edging around the edges. Repeat 1 single crochet and 5 chain stitches along the whole length of the top part. Here is one more variant of an easy edging. Repeat 5 single crochets, 1 picot stitch along the edge.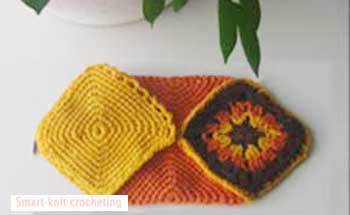 I really like this crochet slipper pattern. It doesn't require much time to crochet it. As any granny square project it allows you to utilize all your yarn leftovers.
Besides that slippers can be an excellent appreciated gift for anyone. Here is one more advantage of this "model". Are you going to visit someone's house and would like to keep your feet warm there? Take your slippers with you. They won't take too much room in your purse being folded.
From Crochet Slipper Pattern to Make a Garment page
Back to Home Page