Crocheting and Knitting with Alpaca Yarn
Crocheting and Knitting with Alpaca Yarn: What You Need to Know
Knitting with Alpaca Yarn by Janice Jones  |Published 05-17-2023
As a knitting and crochet enthusiast, I have encountered various yarns in my crafting journey. However, the one type of yarn that has truly captured my heart is alpaca yarn.
Alpaca yarn is a luxurious and unique type with fantastic benefits for knitting and crocheting projects.
In this article, I will share everything I know about alpaca yarn, including why it's so unique, the different types available, tips and tricks for knitting and crocheting, how to care for it, and where to buy it.
A Word About Alpacas, the Animal
I can't decide whether I'm more in love with alpaca yarn or the Alpaca, the animal. Recently I had a chance to visit an alpaca farm and get up close and personal with a bunch of friendly alpacas.
Not only were they much smaller than I anticipated (150 pounds and 4 to 5 feet tall,) but they were very social and people-oriented. Yet, they are also somewhat timid but very gentle and will eat out of your hands if you have something they want to eat.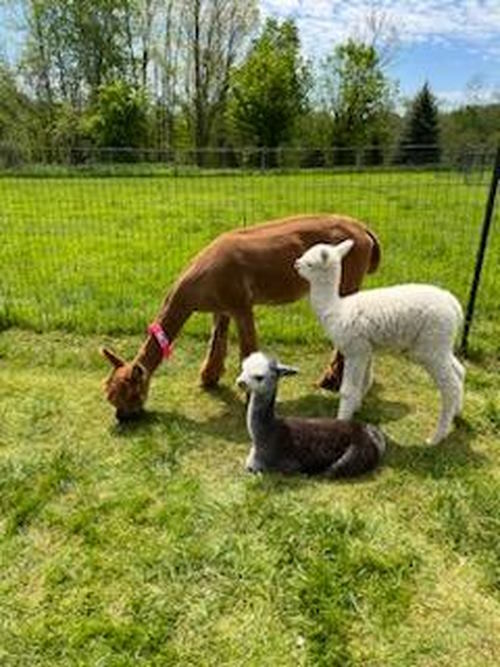 Alpacas have very few defense mechanisms. Except for occasional spitting when they feel threatened or annoyed, they are more likely to walk or run away. In my case, they just turned their head in another direction.
Evidently, the pellets I was offering them to eat were not what they hoped for. Lucky for me they don't have any top teeth, so they are very gentle feeders.
I was also surprised to see the Alpacas in so many colors. They have 22 natural colors; I was told and breeding for a specific color is not as easy as it looks.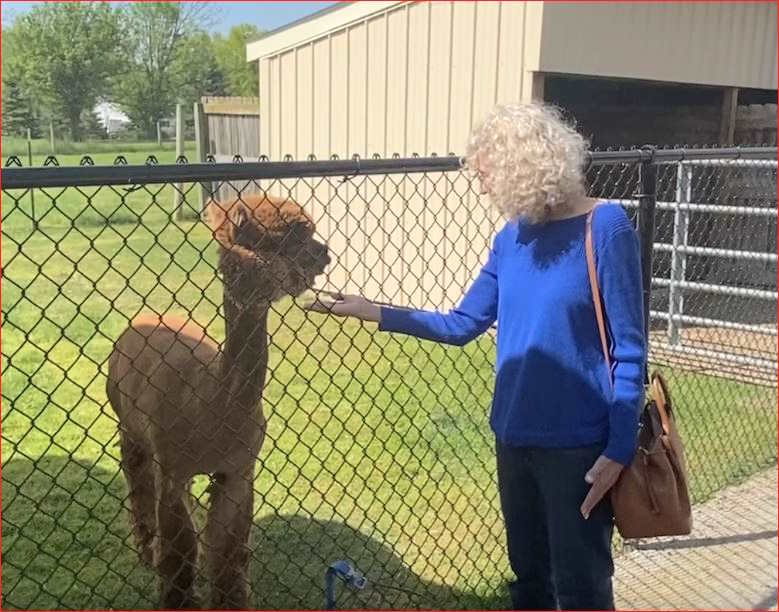 There are two types of Alpaca, the Huacaya, which has the fluffier teddy bear appearance with crimpy fiber, and the Suri, which has long, straight, silky fiber without crimp and has the appearance of dreadlocks.
Everything about these two types of Alpacas is the same except for the kind of hair they produce.
The crimp in the fiber is what gives it memory, meaning that it will bounce back after washing or wearing.
Introduction to Knitting with Alpaca Yarn
Alpaca yarn comes from the fleece of the Alpaca, a domesticated South American camelid. This type of yarn is highly prized for its softness, strength, and warmth. Alpaca wool is hypoallergenic, making it an excellent choice for sensitive skin.
It has much less lanolin than wool, and Alpaca fiber is soft as cashmere but more durable. Additionally, alpaca yarn is available in 22 natural colors, from creamy white to rich browns, grays, and black. It can also be dyed to create a wide variety of colors.
Why Alpaca Yarn is Unique and Luxurious
Alpaca yarn is unique and luxurious for many reasons. Firstly, it's incredibly soft and lightweight, perfect for delicate garments and accessories. It's also stronger than wool, making it less likely to pill or break.
Also, alpaca wool is naturally water-resistant, keeping you warm even in damp or rainy weather. It is warm, so keep that in mind when you decide what projects you want to make.
Alpaca is also dense, which gives you a good stitch definition making it a good choice for patterns like the seed stitch or items with a lot of texture in knitting.

Finally, alpaca yarn has a beautiful drape, which makes it ideal for flowing garments and shawls. People choose Alpaca for socks, mittens, headbands, hats, sweaters, shawls, and coats, among many other objects.
Alpaca is also dense, which gives you a good stitch definition making it a good choice for patterns like the seed stitch or items with a lot of texture in knitting.

Finally, alpaca yarn has a beautiful drape, which makes it ideal for flowing garments and shawls. People choose Alpaca for socks, mittens, headbands, hats, sweaters, shawls, and coats, among many other objects.
Different Types of Alpaca Yarn and Their Characteristics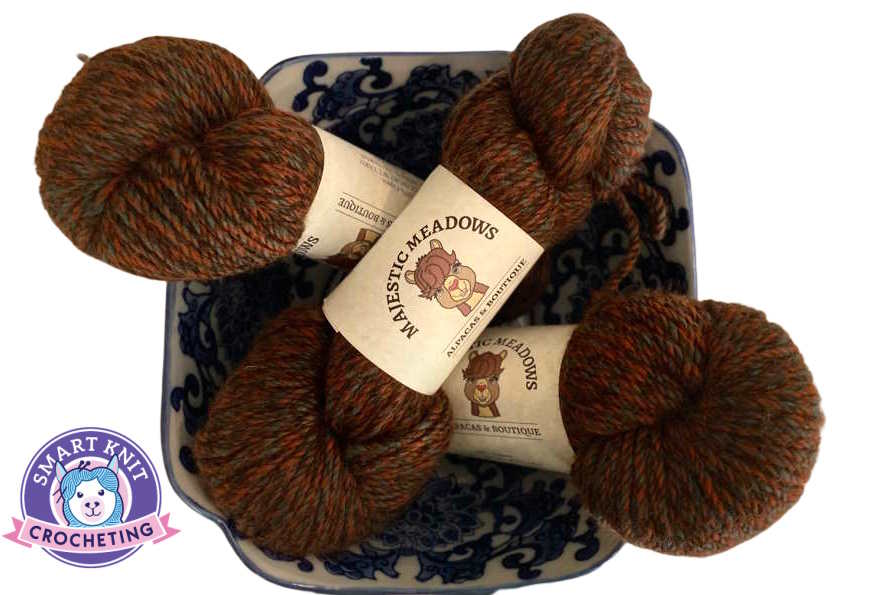 There are two main types of alpaca yarn: huacaya and suri. Huacaya yarn is the most common type of alpaca yarn and has a soft, fluffy texture.
Suri yarn, however, has a silky, lustrous texture perfect for creating elegant, flowing garments. Alpaca yarn is also available in different weights, from lace to bulky, making it suitable for many projects.
Alpaca is often blended with another fiber to create new characteristics and bring down costs, as 100% Alpaca can be very costly. You may see it combined with wool, silk, cotton, linen, nylon, or a combination. 
Blending it with a different fiber or two also adds additional characteristics making it perfect for more types of projects.
Advantages of Alpaca Yarn
As a recap, these are the characteristics and advantages of using alpaca yarn in knitting and crochet projects:

Warm and Insulating for cold weather clothing, even warmer than wool
Soft yet light
Dense
Creates a Drapey fabric
Hypoallergenic because it is lanolin-free
Water and Fire retardant
Available in natural and dyed colors
Available in different weights
Disadvantages of Alpaca Yarn
Does not have stitch memory meaning that objects made with 100 % alpaca will sag and loose shape
May be too warm, not suitable for warm weather wearables
Expensive
Requires blocking after laundering
Handwash only
Does not work well with knitted cables or highly textured stitches
Best Uses for Alpaca Yarn
Whether you knit or crochet, alpaca yarn is best used in wearables that are worn close to the skin such as mittens, fingerless gloves, cowls, caps, and headbands.
Alpaca yarn works great in shawls, wraps, and ponchos. Sweaters are another project that can benefit from this type of fiber.
Alpaca Yarn for Knitting - Tips and Tricks
If you're new to knitting with alpaca yarn, there are a few things to keep in mind. Firstly, alpaca yarn has less elasticity than wool, so using the correct needle size is essential to achieve the desired tension.
Secondly, alpaca yarn can be pretty slippery, so using needles with a slightly rough texture is a good idea to prevent the stitches from slipping off.
Baby alpaca, in particular, is so smooth that your stitches may slip easily on slick metal needles. Bamboo or wood needles may be needed to keep your stitches from slipping off, causing frustration. Creating a swatch before beginning a project is always a good idea, but it is crucial with alpaca yarn.
Finally, blocking your alpaca yarn projects is essential to achieve the best results. Items made with alpaca wool need to be hand washed and dried.
Blocking is also necessary after each laundering to regain shape, as Alpaca yarn does not have good stitch memory and tends to stretch over time. Store your hand-knitted items folded and flat, and add lavender or cedar to keep moths away.
Choose patterns that work with the type of yarn you have. If you have 100% Alpaca yarn, you may not want to use it to make hats or sweaters, but choose an item requiring drape, such as a scarf or shawl.
Crocheting with Alpaca Yarn - Techniques and Patterns
The softness and drape make crocheting with alpaca yarn a joy. Using the correct hook size and working with loose tension is essential to get the best results. Alpaca yarn is perfect for creating delicate lacy patterns and for thicker,  textured stitches. If you're looking for inspiration, plenty of crochet patterns are designed explicitly for alpaca yarn.
Free Knitting Patterns for Alpaca Yarn
If the alpaca yarn you chose is a blend, you are likely to be able to use it to make virtually anything that you might make with wool or other fibers.  
Plenty of options are available online if you're looking for free knitting patterns for alpaca yarn.
From cozy sweaters to delicate shawls, there's something for every level of knitter. 
Free Crochet Pattern Using Alpaca Yarn
I am so excited to share what I made with the alpaca yarn I purchased at the farm.  It's a simple twisted half-double crochet headband that is so warm that it makes a great ear warmer in the cold winter months.  
Free Twisted Crochet Headband Pattern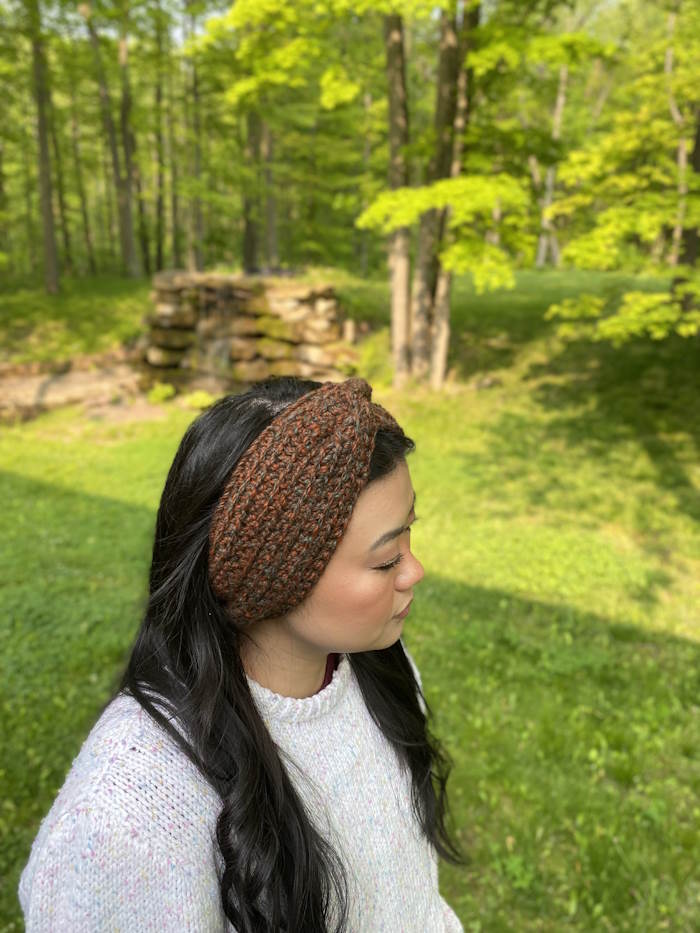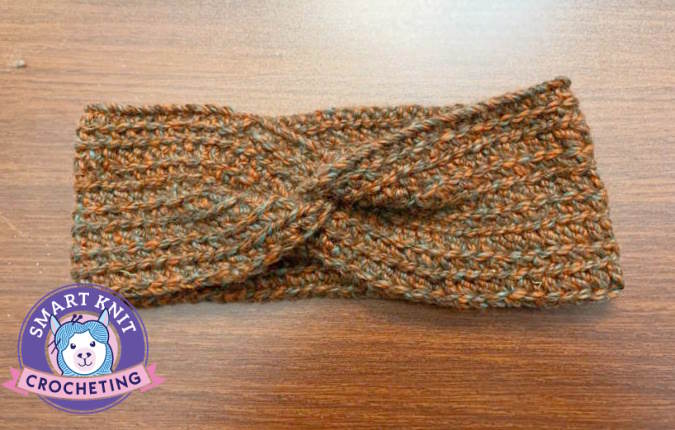 Skill Level

Abbreviations
Hdc = half double crochet

tbl = through back look
ch=chain
Finished Measurements
3 1/2 inch wide and 23 inches long

Gauge
The actual gauge is not important in this project.
Project Notes
This pattern uses Number 3, DK weight yarn, (from the Craft Yarn Council). You can use whatever type of yarn that you like, in whatever color you choose. 
Work in the top back loop of each stitch throughout, unless otherwise stated in the pattern
This pattern uses US English terminology
Skills Needed for this Project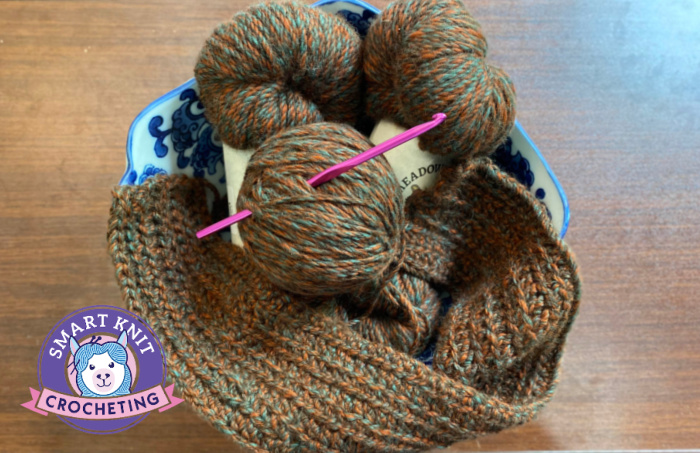 This headband measures 3.75 inches and measures 23 inches.  You will want to measure the circumference of your head and add or subtract the number of chains to make your headband a cutom fit.
Supplies
100% Alpaca Yarn 3 ply, sports weight yarn.  Approximately    oz.
Number 4.5 mm crochet hook
Scissors
Tape measure
Tapestry needle
Directions
Ch 79.
Row 1:  Hdc tfl in each ch across row.
Repeat row 1 for 9 to 10 more rows, or width you prefer.
Bind off but leave a long tail for stitching.
Creating the twist:
Fold the headband in half

Fold the ends of each side in half

Bring the ends of each side together,

Tuck one end into the other side

Using the long tail sew all four layers together. Reinforce the stitches by sewing again.  
Weave in ends
Twist the headband to the front side.
Knitting with Alpaca Yarn Care and Maintenance
Alpaca yarn is relatively easy to care for, but there are a few things to remember. Firstly, it's important to hand wash your alpaca yarn projects using a gentle detergent and lukewarm water.
Avoid wringing or twisting the yarn, which can cause it to lose shape. If you try to wash it in the washing machine, the item will felt. Secondly, storing your alpaca yarn in a cool, dry place is essential to prevent moths and other pests from damaging it. Add a moth ball or lavender for longer storage.
Where to Buy Alpaca Yarn
Alpaca yarn is available both online and in local yarn stores. When shopping for alpaca yarn, it's essential to look for high-quality, natural fibers that have been ethically sourced. Sometimes you can buy yarn directly from the farm where it was grown.
While you can obtain 100% alpaca yarn, much of this fiber is blended with other fibers to create something new. Here are a few sources I found online that you can check out.
Conclusion Knitting with Alpaca Yarn
There are definitely pros and cons of using Alpaca Yarn in your knitting projects, but it is well worth the effort to try a small project. Whether you chose the free crochet pattern offered here or others found online, you will be surprised at how easy it is to work with this fiber.
Remember to remind any recipients of your knitted or crochet gifts that alpaca items must be handwashed and then blocked after laundry.  Good luck with your projects and enjoy that luxury alpaca yarn.
Knitting with Alpaca Yarn
Pin for Future Reference
Conclusion - Why You Should Give Alpaca Yarn a Try
Alpaca yarn is a luxurious and unique type of yarn perfect for knitting and crochet projects. Its softness, warmth, and natural drape make it a joy to work with, while its hypoallergenic properties make it an excellent choice for people with sensitive skin.
Whether you're a seasoned knitter or a beginner crocheter, alpaca yarn is definitely worth trying. So why not pick up a skein today and see for yourself just how amazing this yarn can be?
Crocheting and Knitting with Alpaca Yarn:  Pin for Future Reference