Easy Beginner Knit Projects
Easy Knitting Projects for Beginners
Easy Knitting Projects for Beginners by Janice Jones
Published 07-29-2023
If you're a beginner knitter, you may be feeling overwhelmed with all the potential projects out there. You may be wondering how to choose a project that is simple enough for you to handle.
Don't worry! Choosing the right pattern for your first knitting project doesn't have to be complicated. With a few tips and some patience, you can find a pattern that is both simple and enjoyable.
When I first took up knitting, all I wanted to do was to make things -- things for myself and family and cheery accessories for the house.  Back then, we didn't have the resources that we have now, and had to rely on books and magazines.  All of that has changed.

So here is your go to page for finding free patterns that are all beginner friendly.  Some I've designed myself, but many were hiding on this site in plain sight.
The following info will provide additonal resources, but if you want to see the patterns, please jump to the free patterns.
What Supplies Do I Need to Get Started?
Before you can start knitting, you'll need some basic supplies. The three essential items you'll need are a pair of knitting needles, some yarn, and a pattern.
When it comes to needles, you'll want to choose a size that is appropriate for your yarn. The size of the needle will depend on the type of yarn you're using. Thicker yarns will require larger needles, while thinner yarns will require smaller needles. Once you have the right size needles, you'll be ready to select your yarn.

When selecting your yarn, you'll want to make sure you choose one that is easy to work with. Natural fibers like wool, cotton, and alpaca are best for beginners, as they are easier to work with than synthetic fibers. You'll also want to make sure you choose a yarn that is not too thick or too thin, as this can make knitting more difficult.

Once you have your needles and yarn, you'll need to find a pattern. Patterns are available for free online or for purchase in craft stores. You can find both beginner and advanced patterns, so make sure you choose one that is suitable for your skill level.
Yarn
Needles (see below for the correct size)
Scissors
Yarn needle or tapestry needle
Stitch markers
Finding Simple Patterns
Once you have the right yarn, you'll need to find a pattern to follow. As a beginner knitter, you'll want to choose a pattern that is simple but still interesting.  Don't worry, Smart-Knit-Crocheting has you covered.  But if you want to check around, here is a page full of free knit patterns on the internet.
If you are starting out you will want to understand how to read a pattern.  It's not rocket science, but it can be intimidating at first.  I try to make it as easy as possible.
Project or Skill Levels
One thing that I found confusing was skill levels and what was needed to finish a project with a specific skill level.
The Craft Yarn Council has four skill levels with a short description of each.

May include basic increases and decreases.

Projects may include simple stitch patterns, color work, and/or shaping.

Projects may include involved stitch patterns, color work, and/or shaping.

Projects may include complex stitch patterns, color work, and or/shaping using a variety of techniques and stitches simultaneously.
---
These project levels do not give you much information to go by so they are often interpreted differently by different designers. The following is my take on how to understand each level.
Skills Needed for Project Level Basic/Beginner
Understanding of how to knit and purl and create stockinette or garter stitch pattern
How to weave in ends
Troubleshooting such as how to pick up a dropped stitch
Projects would include working on straight needles
Examples of projects:  Simple scarves, cowls, washcloths, coasters, blankets
Skills Needed for Project Level Easy
All of the above, plus
Blocking
Seaming
Working in the Round with circular needles or double pointed needles
Skills Needed for Project Level Intermediate

All of the above, plus
Color work such as Easy Intarsia, Fair Isle, Mosaic
Cables
Different types of cast ons and bind offs
Skills Needed for Project Level Complex
All of the above, plus
Complex designs, shaping and fitting properly
Complicated color work
Brioche Knitting  
Entrelac Knitting
Double Knitting
Steeking
Everything else
A word to the Wise about Project Levels
If you are uncertain about where you are or have questions about a pattern, read it through thoroughly and see if you understand everything.  If so, go ahead and make your project.  If not, don't be afraid to ask the designer to clarify.
Tips for Choosing a Project
When selecting a project,
What is your skill level?
How much time you have to work on the project?
How much of a challenge do you want? 
Can you understand the pattern instructions?
Does the project appeal to you?
Tips for Making Your Project Easier
There are a few things you can do to make your project easier.
First, you'll want to make sure you read the pattern carefully and understand all the instructions before you begin. You should also take your time and pay attention to each step. If you make a mistake, don't be afraid to rip out your stitches and start over.


It can also be helpful to use stitch markers to keep track of where you are in the pattern. This will help you stay on track and keep your work organized. 


Don't be afraid to print out a pattern and scribble on it. Highlight anything such as sizes or row repeats.  Add comments that will help you remember your place.

Free Easy Knitting Projects for Beginners
Here are just a few free patterns on Smart Knit Crochet that you may want to try.  They are truly beginner friendly, quick, and will help you develop your skills to the next level.
1. Free Knit Fingerless Gloves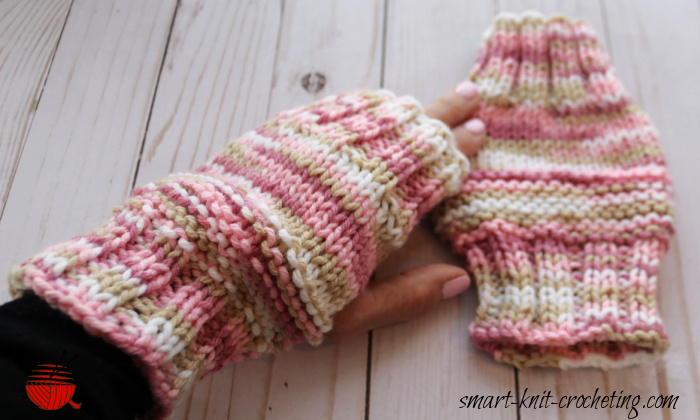 This project requires you to knit and purl, understand casting on and binding off, seaming, and working in rib and stockinette stitch.
Get your Free Knit Fingerless Gloves Pattern
2. Free Stockinette Stitch Dishcloth
Perfect your stockinette stitch including improving your tension by making this super easy dishcloth project.  
Get your free Stockinette Stitch Dishcloth Pattern
3. Free Garter Stitch Dishcloths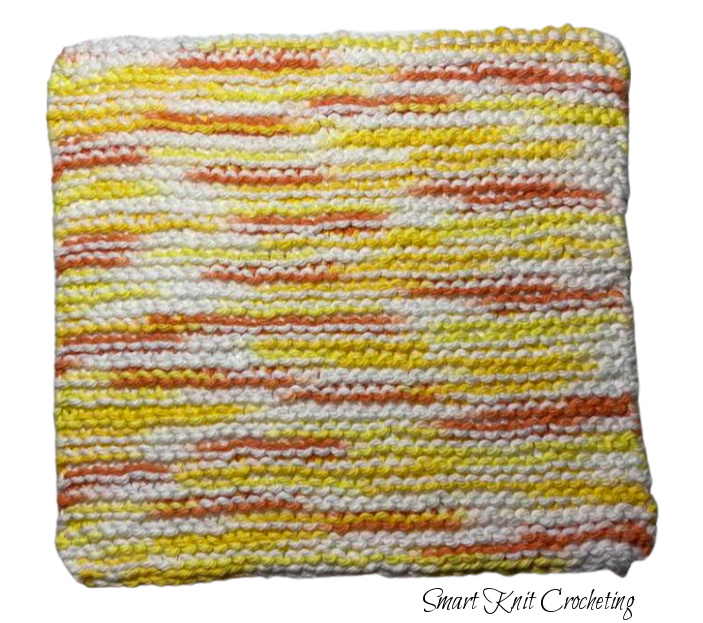 There are several different garter stitch dishcloths on this page and anyone of them will challenge your skills.  Start with the basic garter stitch cloth that only requires you to know the knit stitch and then work up to one that is a bit more advanced.
Get all four free Garter Stitch Dishcloths
4. Free Seed Stitch Knit Scarf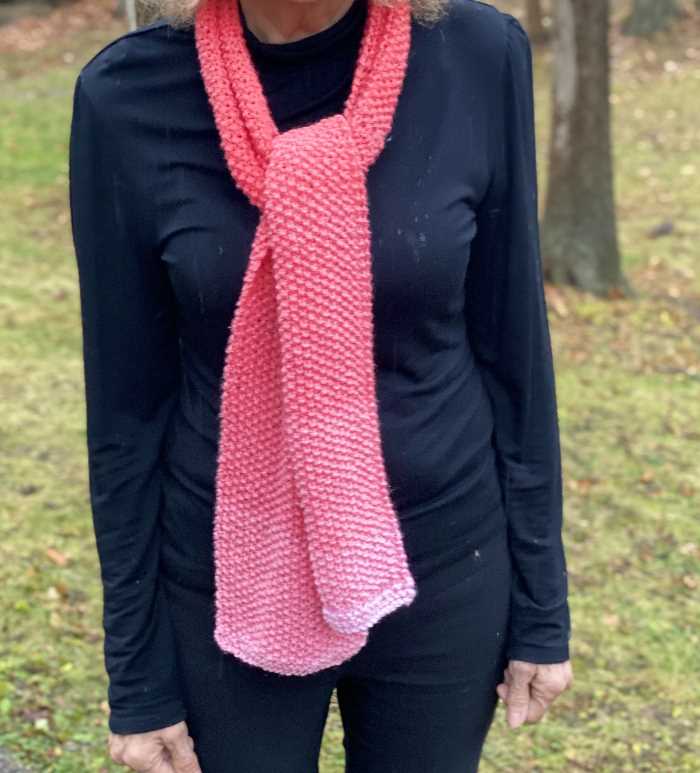 This project might be on the borderline between basic and easy based on the definitions above, but it's well worth checking out.  In the article about How Long Does it Take to Knit a Scarf, I explain how to judge the time it will take you to make a project and then challenge you to make a scarf using the seed stitch.
If you'd like more information about creating your own scarf (how long it should be, how many stitches to cast on, what type of yarn to use, check out How to Knit a Scarf.
5.  Easy Knit Dishcloth Patterns
I mentioned a couple of dishcloth/facecloth patterns above, but the rest of the collection can be found on this page.  They all are easy but some require a bit more knowledge of stitch patterns such as the hurdle stitch, basketweave, and Andalusian stitch.
15 Free Easy Knit Dishcloth Patterns
6. Easy Knit Scarf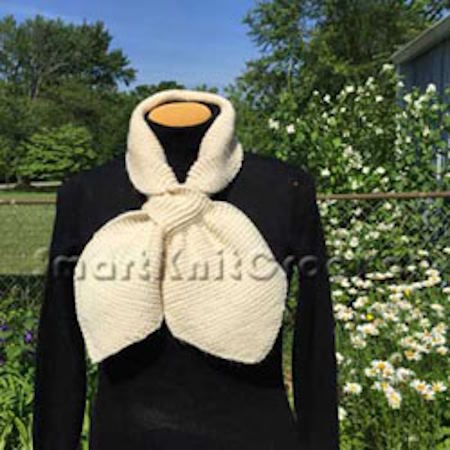 Scarves are definitely beginner friendly, but only for the beginner with some patience as they do take time to knit.  Just how long it takes to knit a scarf depends on a number of factors.

7.  Free Dog Sweater Patterns to Knit
Free knit dog sweater patterns are ready to download.
Ready to try your skills out on your dog?  Here are 6 patterns that are free and ready to download.  
Check out these Beginner Friendly Dog sweaters to Knit
8.  15 Knit Free Beginner-Friendly Dishcloth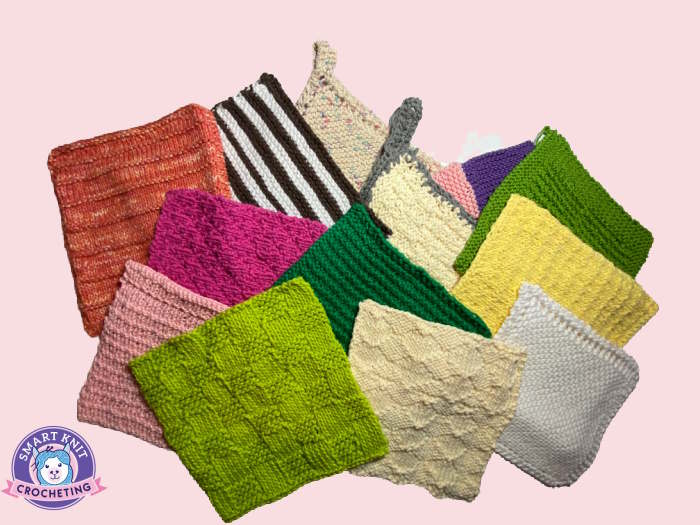 15 Free Beginner-friendly knit dishcloth patterns
Who doesn't need knit dishcloths?  Or facecloths, for that matter?  I'm sure you use one or the other daily, and most of us use them multiple times a day. 
9.  Slouchy Knit Hat Pattern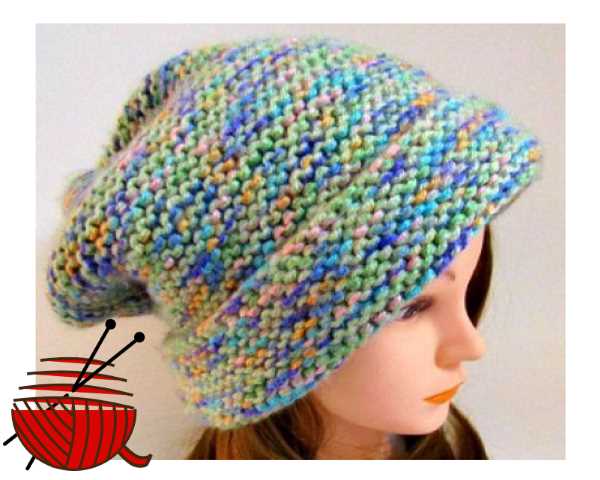 This is an incredibly easy hat knitting pattern. In fact it is so fast and easy that you'll want to make more than one.
Simple, easy to knit with just one stitch, this can get you started with a quick project - make several for gifts, or even to donate.
10. Free Knit Patterns for Babies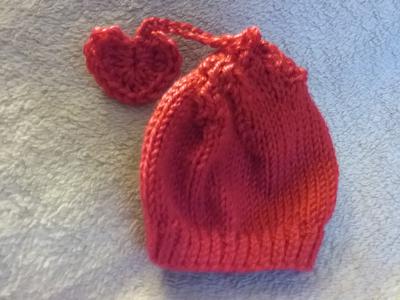 These free patterns for babies and toddlers may be considered Easy, Intermediate or Advanced, but I've left them on this site so you be the judge.
Conclusion
Knitting can be an incredibly rewarding hobby, but it can also be overwhelming for beginners. With a few simple tips, you can find a pattern that is both simple and enjoyable.
Start by selecting the right needles and yarn for your project and then choose a pattern that is suitable for your skill level.
With patience and practice, you'll be able to master the essential skills of knitting and create beautiful projects that you can be proud of.