How to Make the Knit Hurdle Stitch
by Janice Jones     |Published 12-20-2022
The knit hurdle stitch is a beginner-friendly pattern of stitches that consists of two rows of the garter stitch, and two rows of one by one ribbing.  
It is considered to be a reversible stitch because both the front and back sides look the same.
If you can make knit and purl stitches, you can master this pattern quickly and create a variety of objects that are perfect for this stitch. 
As is the case with many knit and crochet stitches, the names are derived from how the pattern appears.  In this case, the two rows of knit stitches form the "hurdles" which look the obstacles or barriers that horses jump over or dogs  in an agility course.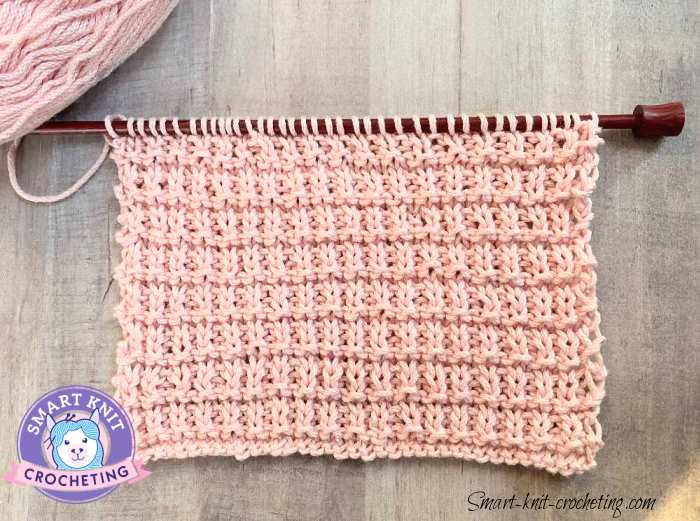 What Projects Can You Use the Knit Hurdle Stitch?
Since this pattern is reversible, this stitch is useful for many projects:
Knit dishcloths or face cloths
Blankets
Rugs
Placemats
Pillows
How is the Knit Hurdle Stitch Pattern Created?
Cast On: Multiples of 2
Row 1 (Right Side): Knit All
Row 2 (Wrong Side): Knit All
Row 3: * K1, P1 *
Row 4: * K1, P1 *
Knit Hurdle Stitch Tutorial
For the purposes of this tutorial, I used the following supplies:
100% Lily Sugar 'n Cream 100% Cotton, worsted weight yarn
US size 7 (4.5 mm) straight knitting needles
Scissors
Tapestry Needle to weave in ends.
For this tutorial, you can use any type of yarn and corresponding needles, but if you want to follow along with these instructions, in the end you will have created a lovely 100% cotton face cloth or dishcloth.
Knit Hurdle Stitch Tutorial and Free Beginner-friendly Dishcloth pattern
This pattern and tutorial uses US terms.
Here are the abbreviations that I used.
CO = Cast On
K =knit
P=purl
sts = stitches
BO = Bind Off
Finished Measurements
The finished dishcloth / facecloth measures  7 inches by 7 inches (17.8 by 17.8 cm).
To make this project larger, add 6 stitches for every inch you want to add.  So for example if you want an 8 inch cloth, CO 44 sts. instead of the 38 inches suggested below.
Directions for Making a 7" Facecloth
CO 38 stitches
Row 1 and 2:  K all sts.
Row 3:  *K 1, P1* across the row
Row 4:  *K 1, P1* across the row
Repeat rows 1 through 4  until you reach your desired length.  To create a dishcloth/facecloth, the finished project size is 7 inches square. BO after row 1 knit all stitches.
Weave in ends.
Knit Hurdle Stitch Tutorial:  Pin for Future Reference