The Knitted Waffle Stitch:  Instructions and Tutorial
Knitted Waffle Stitch    by Janice Jones     |Updated 08-23-2023
Here another tremendously simple beginner stitch that creates a fabric with bumps that looks like tasty waffles.  What do you think?
You might mistake this for a  rib stitch because it involves making a pattern of knit and crochet stitches.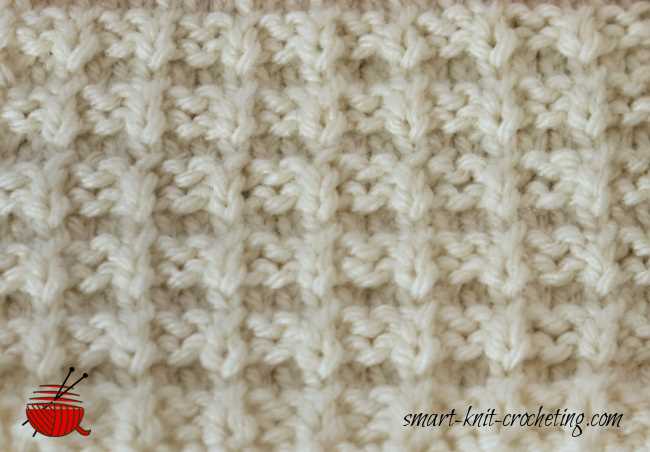 What's so great about the Knitted Waffle Stitch? 
It lies flat, so it's perfect by itself for projects requiring flat surfaces.
It's easy to do, so perfect for beginners.
The pattern is easy to memorize and remember
It's not frilly and more of a unisex design so it works for both his and hers projects
The wrong side looks fine, too, even though the fabric is not exactly reversible.

What can you use the knitted waffle stitch for?
This stitch lies flat, so you won't need to worry about creating a border around it.  It can be used for various projects, including washcloths, table placemats, even make-up remover pads. 
If you want a bigger project, why not consider a scarf, cowl, a mug cozy, or even a hat.  This pattern also makes an excellent choice of fingerless mittens.

Is the Knitted Waffle Stitch a Beginner Knit Stitch?
Absolutely.  There are only a couple of skills needed to create this beautiful pattern
Really, that's all there is to it.
Does this Stitch Require a Knitted Border?
This pattern creates a fabric that lays flat by itself, but if you want to add a border to create an interesting design, may I suggest you add a couple of rows of the garter at the beginning and end of your project. 
Add an additional four stitches when you cast on the required number of stitches for your project.  Make the first two and last two stitches in the garter stitch to complement your beginning and ending rows.
The seed stitch also provides an interesting border.
Waffle Stitch Pattern Requirements
The perfect beginner knit pattern; requires that the beginner know how to knit and purl; that's all!
Cast on:  Multiples of 3 stitches plus one, so a typical scarf pattern would require 36 plus one or 37 stitches.
If you would prefer to knit a sample first, cast on a sample of 13, 16, 19, or 22 stitches.
CO a multiple of 3 +1 
Row 1 (RS): *K1, p2; rep from * to last st, k1.
Row 2: *P1, k2; rep from * to last st, p1.
Row 3: Knit all stitches
Row 4: Purl all stitches
Repeat those 4 rows to the length that you desire! These four rows complete the waffle pattern.
Pin for Future Reference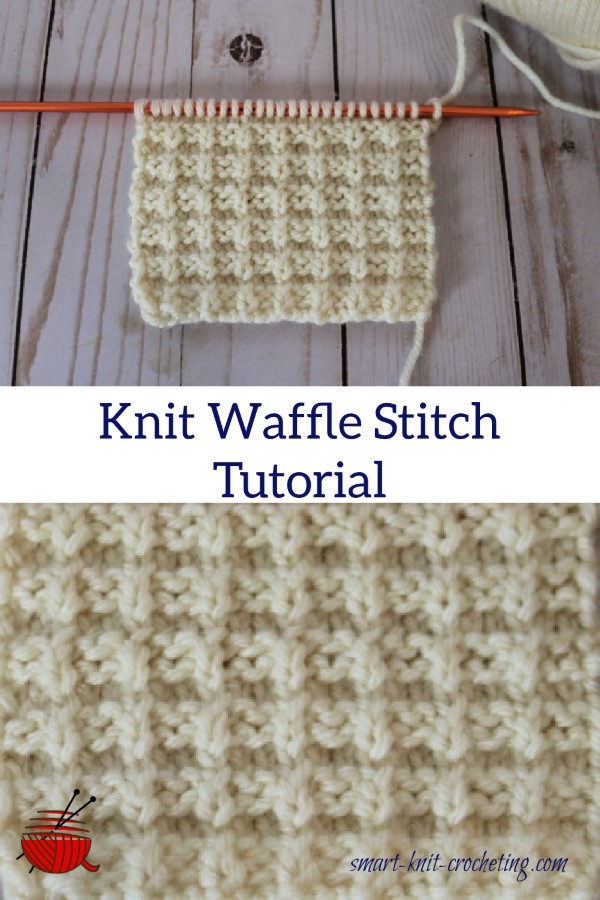 Uses for the Waffle Stitch
Here are some ideas for you to use the Waffle Pattern to practice your knitting skills and also to create a project that is a handy addition to your home décor.

Makeup Removal Pads Worked in the Knitted Waffle Stitch
Knitted Waffle Stitch Makeup Pad
Materials
For this project, I chose a very soft 100% Cotton Yarn, I love this cotton from Hobby Lobby.  It is a number 4 worsted weight yarn and I'm using a number 7 knitting needle (4.5 mm).

You can make quite a few make up removal pads from the 3.5 ounce (100 g) skein or buy a couple of different colors and mix and match.
Directions
Cast on 19 stitches
Row 1: (WS) Knit 1, * Purl 2, Knit 1, repeat from * to end
Row 2: P1, *K2, P1 rep from * to end
Row 3: Knit
Row 4: Purl
Continue creating the pattern until your piece is a square.  End with working one more Row 1 and Row 2.
Knitted Waffle Stitch Hat Pattern
I found this pattern on Ravelry and it appears to be a very beginner-friendly design.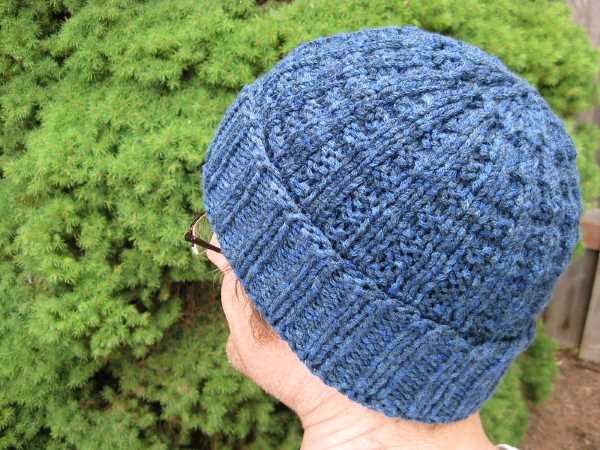 by cyclecat Flickr
Do You Love This Stitch
Have you created an lovely object using the Knit Waffle Stitch?  Would you care to share your inspiration and creativity with other Smart-Knit-Crocheting visitors?  Great.  We would love to hear about your ideas.
Did You Find this Tutorial Helpful? Then...