Knit the Fleck Stitch Pattern
How to Knit the Fleck Stitch: Beginner-Friendly Tutorial
Knit the Fleck Stitch   by Janice Jones   |Published 10-10-2023
The fleck knit stitch is an easy, beginner-friendly stitch pattern that can add texture and interest to any project. Made with basic knitting stitches, the knit and purl stitches appear as little seed stitches on a stockinette stitch background.
Knit the Fleck Stitch Pattern
Practicing this knit pattern is a great way to improve your tension between knit and purl stitches and, at the same time, create something beautiful.
The pattern is not reversible, so the right side of the work does not look like the wrong side. It's best worked with smooth, worsted weight or bulky yarn where you can see the stitches easily.
I've created a set of coasters. I will provide the free pattern below. But the stitch works well for washcloths, placemats, and pillow coverings.
It's a four-row repeat, but two are simple rows of purls and one row of knits. So, there is only one row you need to learn.
Skill Level

Basic or Beginner Level Based on the Craft Yarn Council
Abbreviations and Skills You Will Need for the Fleck Knit Stitch
K = Knit Stitch
P = Purl Stitch
CO - Cast On
BO - Bind off
RS - Right Side
Weave-in Yarn Ends
* * Repeat the instructions between the asterisks
Supplies Needed
You may use any size yarn and needles for this practice swatch. Do be sure to match the needle size to the yarn you choose.
Yarn
Knitting Needles:  Size 7 (4.5 mm)
Tapestry Needle
Scissors
How to Create the Knit Fleck Stitch
Multiples of 2 + 1 (Meaning you can use an even number of stitches plus one more)
For this tutorial, I cast on 21 stitches.
Row 1 (RS) Knit
Row 2 Purl
Row 3 k1, *p1, k1; rep from * to end
Row 4 Purl
Notes on the Knit Fleck Stitch
Row Repeat: 4-Row Repeat
Stitch Repeats: Multiples of 2 + 1, meaning that you will cast on a multiple of 2 stitches, such as 20, plus 1 st.
Blocking will make this fabric look professional.
Not Reversible: Both sides of the fabric are not identical, but this stitch pattern can be used in projects where both sides are facing. A photo of each side can be seen below.
Learn to Read a Stitch Chart
This beginner-level stitch doesn't require a knitting chart, but if you learn how to use one now, it will be much easier when you attach more complicated stitch patterns.
This is a very simple chart.  For more information on knitting charts, check out the knit chart tutorial.
Knit the Fleck Stitch Pattern:  Knit Chart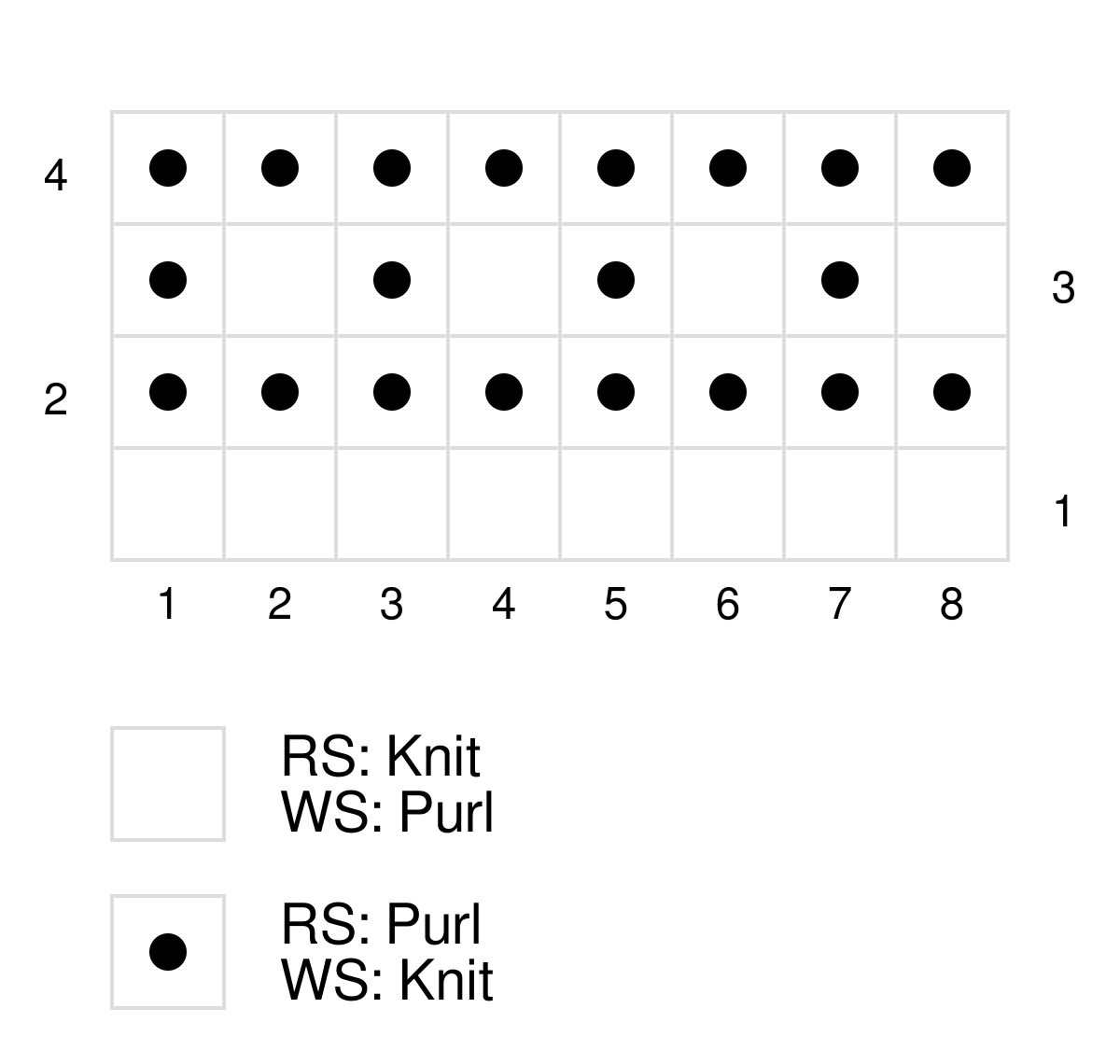 Fleck Stitch Pattern, Knit Chart
Double Fleck Stitch Knitting Pattern
Like the fleck stitch, the double fleck stitch knitting pattern also uses simple knit and purl stitches to produce a diagonal pattern resembling a slanted checkerboard.  Both stitch patterns are beginner-friendly, but the double fleck stitch is more complex.  

Multiples of 6 + 4
For this tutorial, I cast on 22 stitches.
Row 1: (RS) K across
Row 2: (WS): P4, * K2, p4; repeat from * across.
Row 3: K across
Row 4: P1, K2, P1, * P3, K2, P1 , repeat from * across.
Repeat rows 1 to 4 until you reach your desired length, then bind off and weave in ends.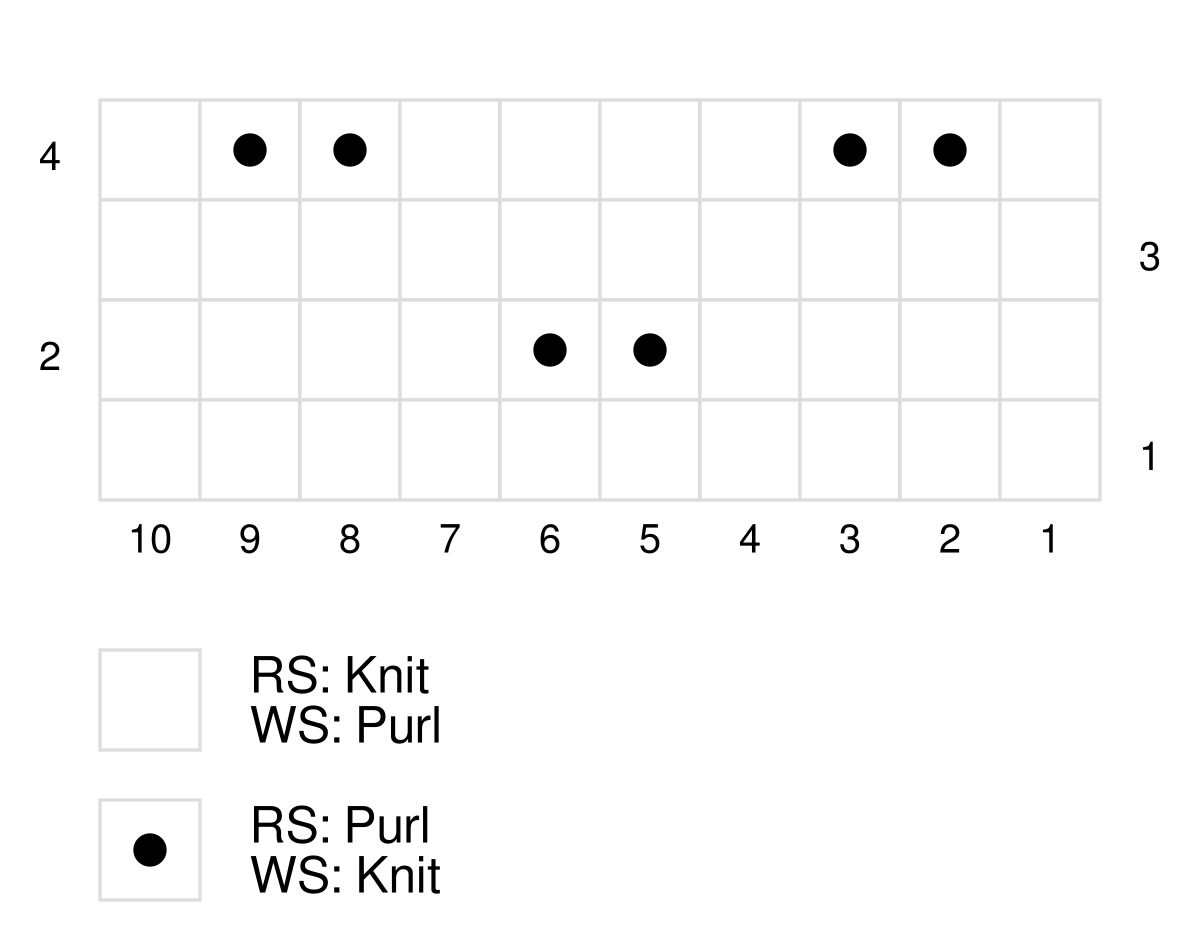 Stitch Chart for the Knit Fleck Stitch
Knit Fleck Stitch Coasters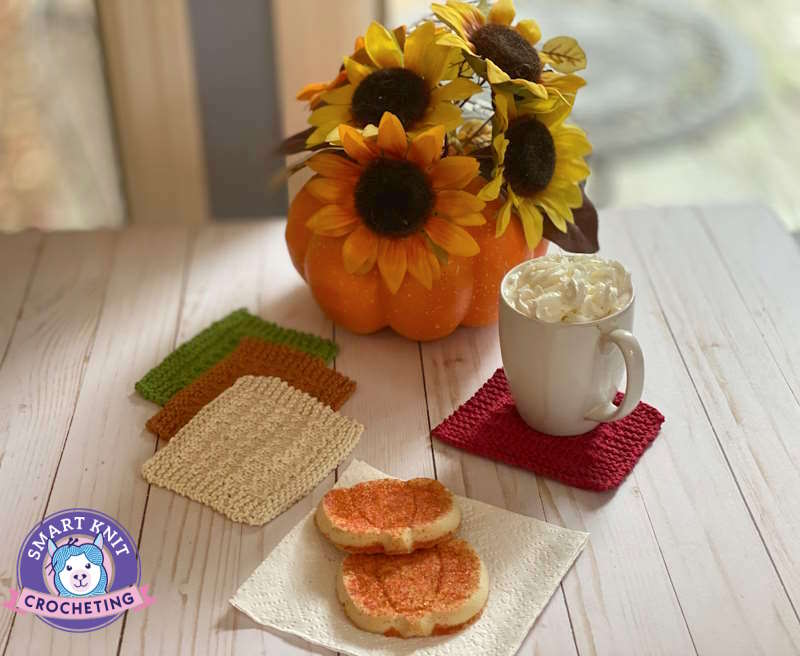 Knit the Fleck Stitch Pattern
For this project, I added a four-row garter stitch border.  I also added an optional fringe on two sides.
Finished Size (without fringe):
Supplies
Yarn:  Lion Brand 24/7 Yarn 100% Cotton in 4 colors
Needles:  US 7 (4.5 mm)
Yarn Needle
Scissors
Crochet hook (4.5 or 5.0mm) if adding the fringe
Directions
CO 21
Row 1 - 4 K across
Row 5 - K4, p to last 4 sts.  K4.
Row 6 - K5, *p1, K1 repeat from * to last 4 sts.  K4.
Row 7 - K4, p to last 4 sts.  K4.
Row 8 - K across
Repeat rows 5 to 8 four more times
Last four rows - K across.
BO, Weave in Ends.
Optional:  Add a one-inch fringe on either side of the coaster.
Love this Stitch?  Click to See my free Double Fleck Dishcloth Pattern.
Size:
Approx. 8.5 x 8.5 inches / 22 x 22 cm
* Can easily adjust size if desired!
Needles:
5 mm/US8 

Gauge:
16 sts x 21 rows equals a 4x4 inch square/10x10 cm in double fleck stitch after blocking.
How to Knit the Fleck Stitch Pattern:  Pin for Future Reference