Circular Knitting - Four Ways to Knit in the Round

Circular Knitting    Updated by Janice Jones     |Updated 05-22-2023
Circular knitting or knitting in the round is a good way to create a seamless garment. A classical seamless sweater knitted from a neck line is a good example of knitting in the rounds. When knitting circularly without adding stitches, you create a seamless tube.
There are so many reasons why you might want to retire your straight needles and pick up a circular needle or double pointed needle.  Some reasons are purely practical and others are economical.  Still, there are just some articles that you simply can't knit on straight needles.  
Consider mittens and gloves.  No matter how dexterous you are, you won't be able to knit and sew individual fingers into a glove.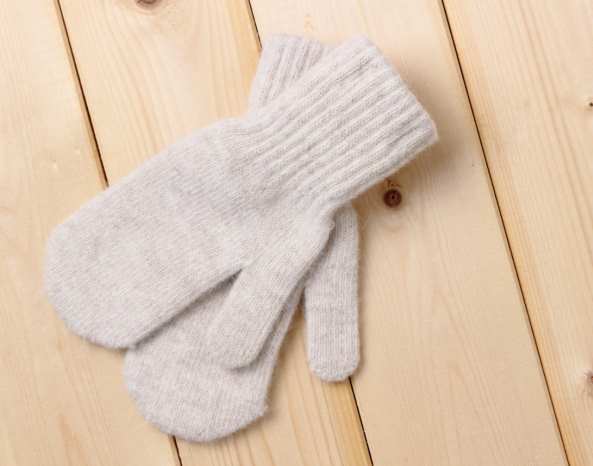 Beyond practicability, think about your budget.  If you were to rely solely on straight needles for every project, you would need at least one pair of every size needle you normally use multiplied by at least two to reach the number of needles you might use over the course of your knitting "career."  
For the casual knitter, the cost is doable, but if you are serious about your knitting, at some point you will need to consider investing in circular needles.
Benefits of Circular Knitting Needles
You do not need to knit everything in the round to benefit from circular needles.  You may decide that you prefer to knit flat objects with circular needles.  While I am absolutely not suggesting you get rid of all your straight needles, there is evidence that circular needles might be beneficial.  
You can use circular needles for both circular and flat knitting.
The long cable that connects circular needles is great for knitting very large projects that may not fit on a standard 14" needle.
Most good quality circular needles are made with sharper pointed tips that are easier to use for intricate lace stitches.
Can be very economical to purchase even a premium brand set because they will probably the only set of needles you will ever need.
Types of Circular Knitting or Knitting in the Round
There are four main ways to knit in the round or do circular knitting
Knitting with one circular needle
Knitting with two circular needles
Double-pointed needles (DPNs)
The Magic Loop
Each has it's level of difficulty and learning curve if you are not used to knitting in the round.  But your possibilities are endless if you add this to your arsenal of knitting "tricks."
Each one is a little different but all are considered to be "knitting in the round."
Knitting Rows Verses Rounds
When you knit on straight needles, you knit rows upon rows of knitted fabric.  When you work in the round, you are literally knitting in the round-there are no seams, just rounds of knitted fabric.
Before we had circular needles, we had double pointed needles.  These were sets of short knitting needles usually sold in sets of 4 or 5 needles that were pointed at either end.
Knitting in the Round with Double Pointed Needles (DPNs)
Knitting with four or five double pointed needles, you knit in the round, creating a small tube of knit fabric that would be needed for the cuff of a glove or mitten, or the top of a sock. 
This type of needle is necessary if you love making mittens, gloves or socks or even the top of a knitted beanie hat.  But they also have their disadvantages. 
For one thing, it's just not so easy to get the hang of holding onto five needles at one time.  There is also the problem of not having the rows match out evenly.  This place where the DPNs meet often creates a column of stretched-out stitches, called a ladder (often called laddering).
Finally, needles can  fall out of your knitting  and get lost, never to be found again.
Circular Knitting Needles
Two very short needles connected by a set length of cable became very popular very quickly.
Circular needles based on the same diameter of straight needles were connected by cables of various lengths including 16", then 24", 32" and 40" cables. 
The flexible cables could bend into a circle allowing you to continue to knit on the knitting needle tips creating a large tube of fabric.  
Knitting with Two Circular Needles
As the name implies, you work with two sets of circular needles, often called  two circs.  You need two sets of different lengths so you can tell them apart.  
The metal needle-ends hang down when not in use.  It definitely takes some getting used to in order to use this method.
Magic Loop Knitting
A knitter named Sarah Hauschka invented the "Magic Loop" method, detailed in The Magic Loop Method by Beverly Galeska. 
Magic Loop is definitely easier if you don't find double pointed needles easy to manage.  You can knit even a small circumference such as the cuff of a mitten or sock with the same needle. 
One nice thing about this method is that it opens up the possibility of knitting two things such as two socks at the same time.
This method uses one circular needle with a cable that is about 47 inches long.
This is the best video tutorial that I could find using the Magic loop, produced by Very Pink Knits.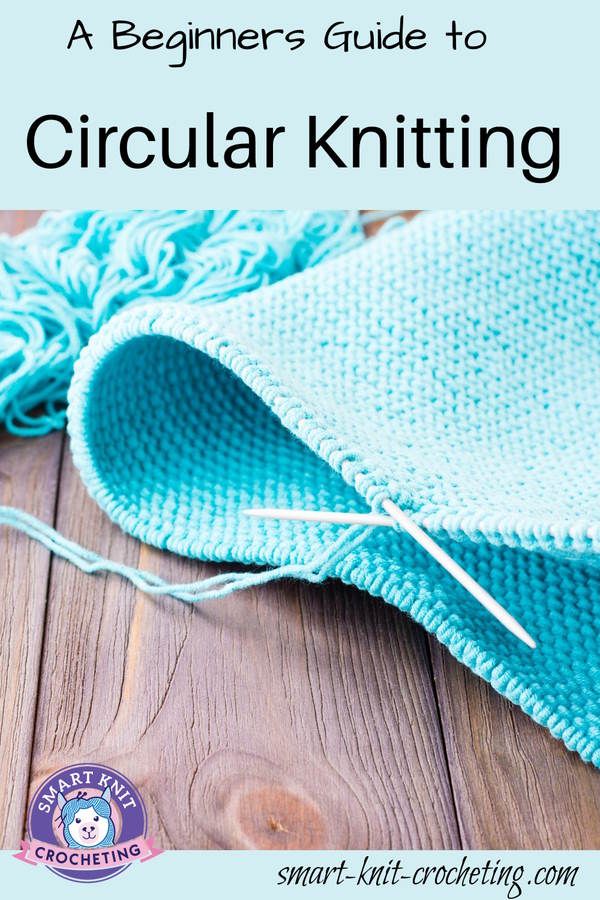 1. Using a circular needle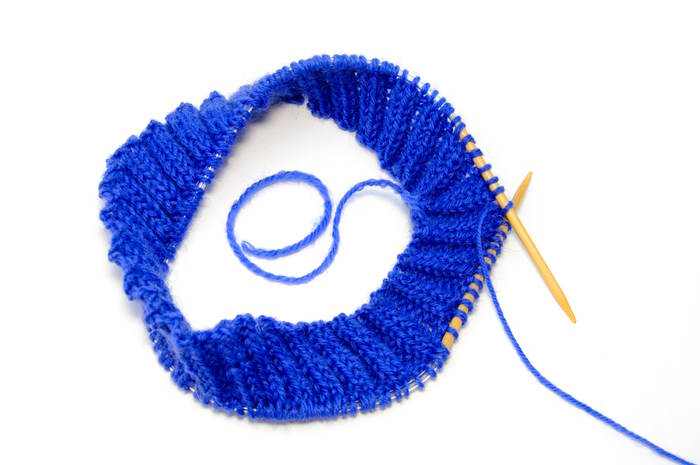 Circular needles
The outside of this tube always faces you. The side facing you we'll call the "right" side of your knitting. You work in a spiral and don't turn your work at the end of each row.
To produce stockinette fabric, for example, you don't need to work one row of knit stitch, and then one row of purl stitch. Knit stitches have to be worked all the way.
There are two different ways to do  knitting in the round:
A circular needle has a flexible plastic link between two pointed (usually metal) needles. After casting on stitches in the regular way and joining them in a circle, a seamless tube will be created while knitting in the round.
The first video presented , demonstrates knitting in the round. A knitter supplies yarn into working zone using her right hand (English style of knitting). There is no too much difference if you use Continental style of knitting. -:) Your left hand will supply yarn.
---
2.Using double pointed needles for circular knitting.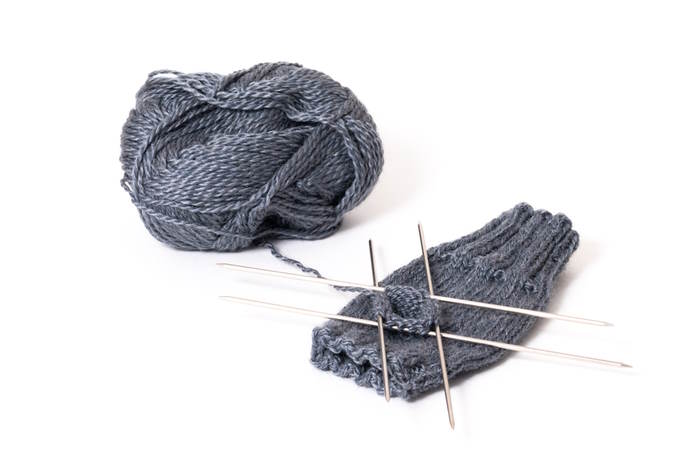 Double pointed needles
There are usually 5 or 4 of these short double pointed needles in a set. After casting on, all stitches are evenly distributed among the working needles (two, three, or four needles). One needle is used to knit off.
A second movie below will teaches you how to distribute all stitches among 4 working needles. A knitter works in Continental style of knitting (supplies yarn using her left hand).
The last video will give you a little more explanation how to avoid a gap while you join all stitches in a circle using either circular or double pointed needles.
Many knitters prefer to use circular needles for the flat traditional knitting where at the end of each row you have to turn your work.
Unlike traditional needles circular needles distribute weight of your knitted fabric into the lap making it easier to work with. Besides that, they are very handy if you have somewhat restricted space for knitting in a car, chair, etc.
As an added bonus, this style of knitting eliminates the need for any kind of side seam as it forms a tube.  Sew up the shoulder seams, and put your sweater on!