How to knit a Seamless Sweater
Knitting a seamless sweater is not a complicated project.
But sometimes it can become a nightmare if your gauge swatch does not match the one recommended.
All of us are different. We can use exactly the same kind of yarn, the same size of knitting needles, but still can get different gauges.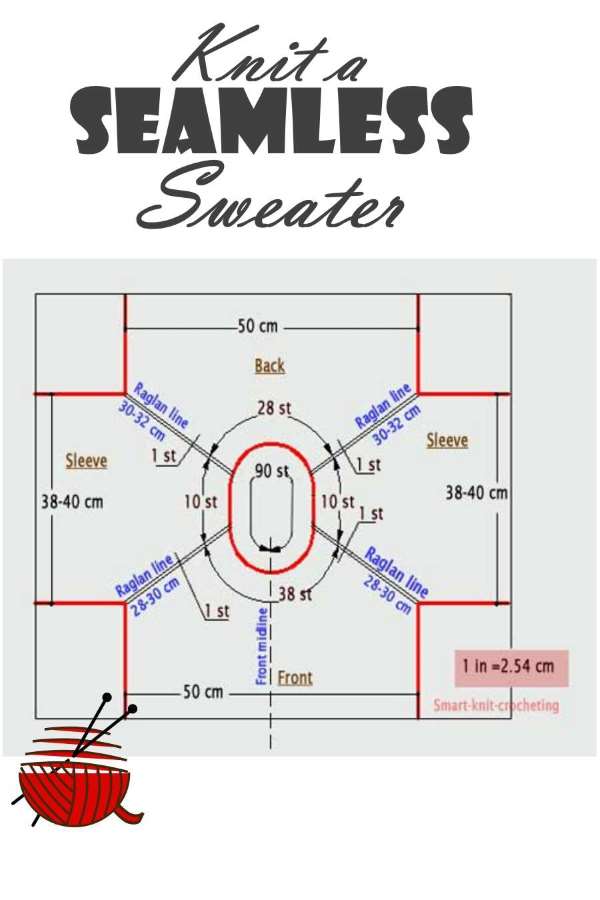 What is the solution? Should you change the needles? Now that's a bad idea. Sometimes it helps. But unfortunately it is not a universal solution.
Meanwhile all those troubles are easy avoidable if you know the basics of the seamless sweater knitting pattern. Let's go step-by step through the process of making a seamless sweater pattern.
All you need is to make a small sketch and to calculate the number of stitches required for your project.
Seamless Sweater - Follow instructions step by step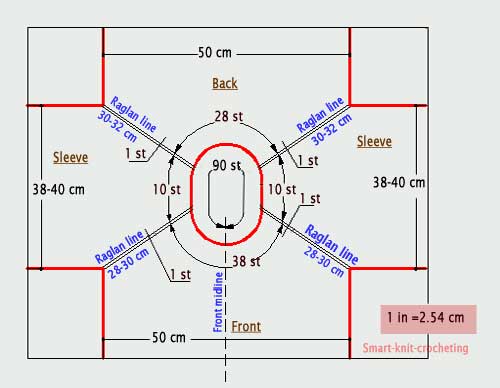 Step 1. Measure the neck circumference. (NC)
Place your measuring tape where you would like to have a neckline. If you plan to make a ribbing around, measure the neck circumference lower the desired neckline. For our example NC = 36 cm (14.2 in).
Step 2. Make a gauge swatch.
Use kind of yarn and a stitch pattern you've chosen for your project. Check explanation how to make a swatch at the Beginner Crochet page if necessary. For our example gauge is equal to 2.5 st/cm (6.35 st/in).
Step 3. Calculate the number of stitches necessary to cast on.
Number of stitches (n) = (the neck circumference) x (gauge).

n = 36 cm x 2.5 st/cm = 90 st. n = 14.2 in x 6.35 st/in = 90.17 st (round to 90).
Step 4. Distribute the stitches among the parts of the sweater.
There are four parts in the seamless sweater: front, back, and two sleeves. They are separated from each other by the raglan lines. (See the picture). Each raglan line can have 1,2,3 or more stitches in it. I wanted 1 st per each line. When I subtract them from the total number of stitches necessary for the neckline, it leaves me:

90 st - 4st = 86 st
These 86 stitches have to be distributed into four parts: front, back and 2 sleeves. Here is a simple rule for distribution:

The total number of stitches divide by 3: 1st part-for the front, 2nd part-for the back, 3rd part for two sleeves. If number of stitches in not divisible by 3, then add the remaining stitches to the front part:

86st / 3 = 28st +2st. Now we have:
Back - 28 st, 2 sleeves - 2 x 14 st = 28 st, front - 28 st + 2st = 30 st.

The front part has to be 2cm - 3 cm (0.8in - 1.2in) wider than the back. (2cm -for kid's sweaters, 3cm - for adult's) These additional stitches have to be taken from the sleeves. If our gauge is 2.5 st/cm, number of stitches to subtract from each sleeve: 1/2 x (3cm) x (2.5 st/cm) = 3.75st (round to 4)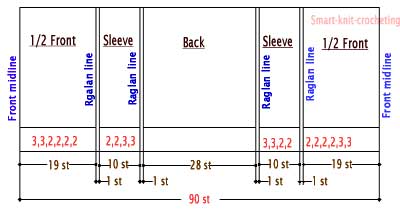 Step 5. Cast on, mark 4 raglan lines, work in short rows to make the front neckline deeper then the back.
Row 1 and Row 2.Using any yarn cast on 90 stitches, make two rows in the stockinette stitch. These rows are auxiliary ones and will be eliminated in order to leave the loops of the next row opened - to make a neat looking edge or the collar for your sweater. Place the markers for the raglan lines according to your calculations. Don't connect in rounds yet! You will make a TURN after each short row.
Take the yarn which you are going to use for your seamless sweater. Knit 2 auxiliary rows. Begin working in the short rows:
Row 3. Divide the stitches of each sleeve into 4 parts (just look at the picture while you are knitting): 2,2,3,3 stitches (see the picture) and stitches of the front into 6-8 parts: 2,2,2,2,3,3.
Beginning from the front mid line knit: 1/2 of the front (19 st), yo, 1 stitch raglan line, yo, 10 stitches sleeve, yo, 1 stitch raglan line, yo, 28 stitches back, yo, 1 stitch raglan line, yo, 1/4 (3 stitches) of the next sleeve. TURN YOUR WORK. The stitches you did not knit are now on the right needle.
Row 4. Purl stitches till you come to the second mark of the first sleeve (1 (purl yo) + 3 st) after raglan line between back and sleeve. TURN YOUR WORK.
Row 5. 4 st sleeve, yo, 1 stitch raglan line, yo, 30 stitches back, yo, 1 stitch raglan line, yo, 7 st second sleeve. TURN YOUR WORK.
Row 6. Purl stitches till you come to the 3d mark of the first sleeve. TURN YOUR WORK.
Repeat short rows till you have on the right needle all parts of the both sleeves and both halves of the front joined. Begin working in the rounds.
Step 6. Working  sweater in the rounds.
Connect into the circle the last row you made, to knit in the rounds. Make 1 YO before and after each raglan line every other row until your raglan lines are long enough. This way you will add 8 stitches in every other row.
Check whether the sleeves and body fit your proper. Try to connect sides of a sleeve under your armpit. Do you feel comfortable when you connect sides of the back and front part? If you do, go to the next step. Otherwise, you have to continue to make increases till the seamless sweater fits proper.
Step 7. Separate the body and sleeves.
Work each part separately or in the rounds using either straight or circular knitting needles. If you want a closer fit at the waist line, change the needles to the smaller size.
Step 8. Finish a neck line.
Eliminate two auxiliary rows at the beginning of the neckline. Opened stitches of the first row place on the circular needles. Finish the neckline with a collar or proper edging. 
The same technique can be used to knit a seamless dress, cardigan, and so on.
---
---