Smart Knit Crocheting
Knitting and Crochet for Beginners
Knitting and Crochet for Beginners:  The Smart Way
Have you caught the knit or crochet bug yet?  It's not a germ, but it could become addictive.
Knitting and crochet for beginners, the smart way is for anyone who loves to knit or crochet?   
Or, for anyone who thinks they might like to give knitting or crocheting a try.
Why Knitting and Crocheting for Beginners?
We love to knit and crochet, do you?
There's something so satisfying about using your hands to make something.  Research has shown that these hobbies are good for your health.  
Knitting and Crocheting could very well be the
Most versatile
Most portable
Most inexpensive
Most fulfilling way to add meaning to your life
So How Exactly do you Knit or Crochet Smart?
You're knitting or crocheting smart when you
Learn a few techniques and stitches to get you started
Practice and develop that muscle memory
Get so hooked all you want to do is learn more
Feel the creative juices running through your veins
Knitting and Crochet for Beginners:  What You'll Find on This Site
But I thought you said this website is all about knitting and crocheting for beginners?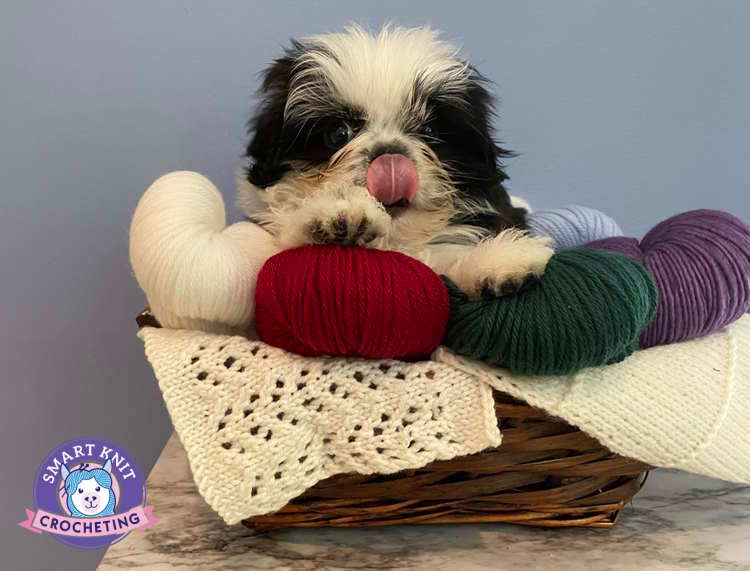 Knitting and Crocheting for Beginners
Yes, you heard right. 
Everyone must start somewhere so I've decided to focus on easy projects and step-by-step tutorials to help you gain a good foundation. 
Plus I'll throw in a good dose of tips and tricks, and even toss in a few background facts you might not know.  So, where should you begin?
Knitting and Crochet For Beginners Where to Start

Knitting or Crocheting?  If you are on the fence as to which one to choose, start here with Difference Between Knitting and Crocheting.
Knitting
Beginning Crochet
How to Crochet
What This Site is All About
Have you ever been faced with one or more of these common situations?
You've read the instructions and think you understand until you try to do it for yourself and that's when your eyes glaze over.

You walk into a yarn store, only to overwhelmed by the choices.  The sales person is helpful, but you find your eyes begin to glaze over by all the info thrown your way.
You are very proud of that new gorgeous doily which you crocheted last week. It looks perfect. The only thing bothers you. It does not lay flat on the surface. Why doesn't it?

You have a pattern for a sweater. It is exactly your size; everything looks the way you would like to. You buy the recommended brand of yarn, the very same size of needles but in the end, it doesn't fit.

You learned how to knit and purl, now what?
Someone taught you how to make a granny square.  Great, but after making 100 granny squares, you decide it's time to move on.
All of these scenarios and more are addressed on this site, so grab your favorite beverage, sit down, relax and lets knit and crochet the smart way.
What You Won't Find on This Site
A bunch of spamy product reviews.  If I recommend a product its because I've used it myself and like it.
A bunch of patterns and tutorials written for someone who is already a master.  (Yes, you might find a couple of pages like this on this site--they were written by the previous owner and I just haven't gotten around to revising them yet so the rest of us can understand.
A place where you're afraid to ask a question.  That's how we all learn, so no question is silly.
A site where I take all the credit.  I believe that credit should be given where credit is do, so if you have a great idea, I'm all ears.
Smart Knit Crocheting - Over the Years
Hi, I'm Janice and I'm the new owner of this website.  The site fell into my hands in 2021, right in the middle of the pandemic.  I was so excited to jump in with yarn in hand, and hopefully provide some answers to your questions and problems along the way. 
If you are curious about the person behind the scenes, you know, the one writing the articles, taking photographs, researching and trying to explain the details, please feel free to get to know me on my about me page.
P.S. I'm in the US so all of the information, tutorials, and patterns use US terminology.
Janice Jones
Happy Knitting and Crocheting!
Nov 27, 23 05:40 PM

These Reversible Knit Stitch patterns explore various reversible knit stitches, their benefits, and how to incorporate them into your knitting projects.

Nov 27, 23 05:37 PM

This Site Map displays links to every page of Smart-Knit-Crocheting.com for easy access to every blog post, tutorial and free pattern available.

Nov 27, 23 05:35 PM

Knitting rib stitches is one of those beginner skills that most knitters can master. This tutorial walls you through the process. Tips to master the rib.