Crochet Accessories:  The Tools of the Trade
by Janice Jones     |Updated 05-06-2023

If you are worried that your crochet accessories will break the bank, relax, there are only a few items you will need, and they can all be purchased either online (least expensive) or at a retail hobby store.
Crochet is one of the least expensive hobbies you can choose, at least initially.  While you can purchase very inexpensive yarns, as you progress, you will get addicted, yes addicted to all of those elegant yarns that can be pricey.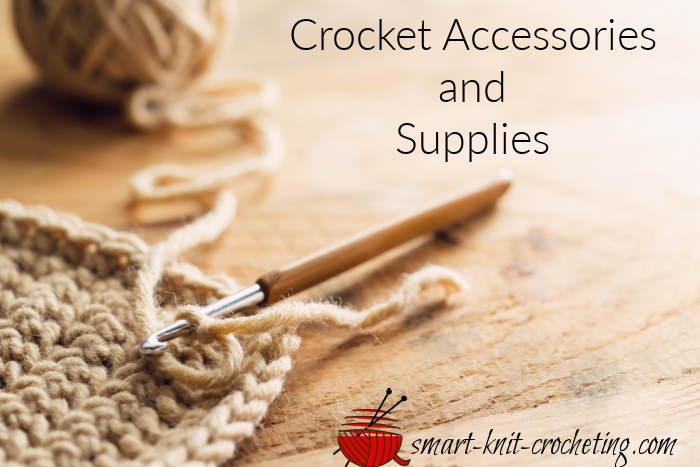 Crochet Accessories and Supplies
Hooks and other supplies are another matter.  Nowadays, you can purchase entire sets of hooks that will keep you going for some time.  If you prefer, you can buy each one individually as we did in the "old days."

Either way, hooks are relatively strong, and some may even outlive you.  Others, of course, you will need to replace as time goes on.
This entire site is about crocheting smart.  But what does that even mean?
The dictionary tells us that smart also means intelligent, quick-witted, well defined, clear, and unambiguous, bright, wise; there are so many ways to look at the word smart.
To crochet (or knit) in a smart way means not only to be knowledgeable about the art but to put your personal touch on all you make creatively, creating something so unique that you can awe all your friends. That's probably a lot to absorb for the crochet beginner, but it is very doable, and I'm here to help.
Crochet Accessories and Supplies
The necessary crochet supplies accessories you will need to begin your crochet adventure are:
Tapestry Needles (also called a Darning Needle or Yarn Needle)
Case to Hold Your Crochet hooks
The Number One Crochet Accessory: Crochet Hooks
Crochet hooks are essential if you want to crochet.  There is no getting around the need for a hook to begin your project.  Do you need one of every size, shape, or color?  
The answer is a resounding NO.  You need the hook size that will complete that first project.  With that said, crochet hooks are widely available today in kits where you can purchase an entire group of hooks at a very reasonable price.  
Long ago, crochet hooks were only available as individual items and they still are.  But if you are serious about this new hobby, I would recommend purchasing a collection of hooks that you can use with a variety of different projects.
Ergonomic Hooks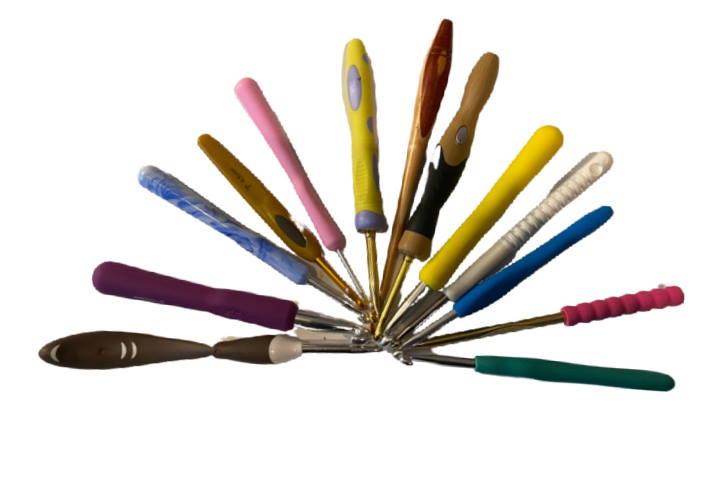 Ergonomic hooks are fast becoming my go-to hook.  Their handle is made with some grip, sometimes soft and gel-like and other times hard, but both types put less stress on your hands. 
If you are older and prone to arthritis, I highly recommend an ergonomic hook.  Even if you are younger, you may still feel pain in your hands or wrists due to a sports injury or carpal tunnel syndrome.  These hooks are for you too.
Read more about Ergonomic Crochet Hooks and Discover Which Ones are the Best
Sizes of Hooks
Hooks come in a large assortment of sizes, and the hook you choose should be the correct size for the yarn you use.  Learning more about crochet sizes is very important to the beginner, and I highly recommend reading all about crochet hooks here.

Learn more about Crochet Hooks.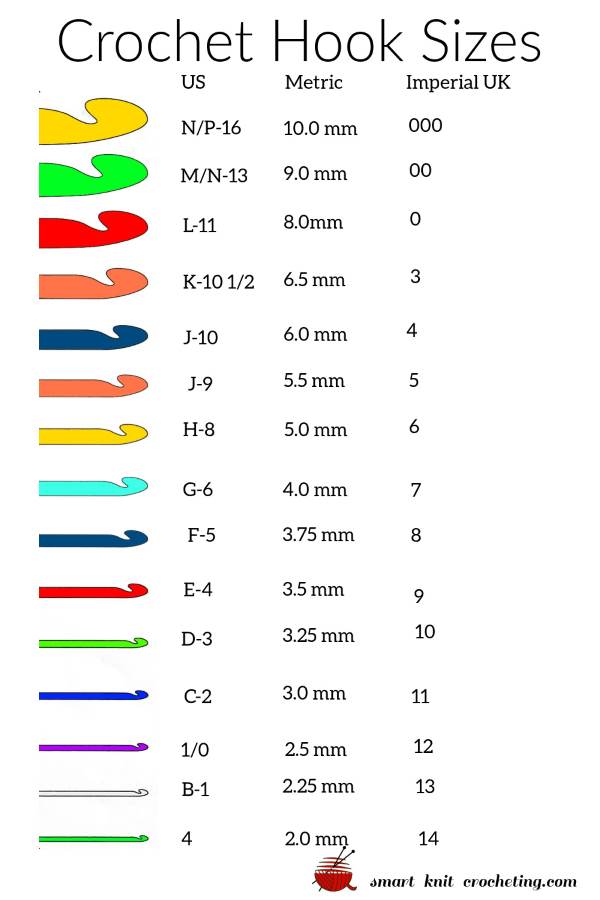 Crochet Accessories:  Yarns and other Fibers
There are many different types of yarn fibers out there and are usually grouped by the fibers they contain. 
Some fibers are plant-based; others have an animal origin.  Others are synthetics or human-made.  Some of the more common are: polyester, acrylic, wool, or cotton. 
Many times, the project dictates what type of yarn you will use.  But for the beginner, I recommend a multi-use yarn such as a medium worsted (size 4) that is acrylic, such as the Red Heart Super Saver. It's cheap and comes in almost any color you could imagine, and very easy to launder.
Weight Sizes of Yarn
There are now seven weight classifications. 
Lace (0)
Superfine (1)
Fine (2)
DK/light (3)
Medium (4) also known as worsted weight
Bulky (5)
Super bulky (6)
Jumbo (7)
Learn more about Yarns and other Fibers
More Crochet Accessories and Supplies
To complete even the simplest project there are some other crochet accessories or supplies need that you should consider to be essential.  While I am not advocating that you run out today to purchase these tools, I am suggesting that you will likely need them at some point.
Scissors
You will need to clip the yarn ends, and while you can use your kitchen shears, it's not advised.  You will want to pick up a pair of scissors that you will use entirely with your new hobby. 
These scissors should be very sharp for cutting through yarn, and you shouldn't lend them out to cut paper, fabric, or other items.  Paper will dull them, so find a pair of scissors or yarn cutters that can be devoted entirely to crocheting.

Tapestry, Yarn or Darning Needles
This is a relatively inexpensive little tool that you will need on your first project.  These yarn needles are used to help tie off loose ends and weave ends of yarn so they don't ravel. 
They are also handy for sewing seams of two pieces of crochet work.  You have a variety of needles from which to choose.  Some are made of plastic and others are made from steel.  
Needles should be long enough to pick up ends of fabrics and the eye of the needles should be easy to thread through thicknesses of yarn. So you will need larger eye needles if you are working with bulky yarn.
Tapestry needles can either be straight or bent at the tip.  Bent tip tapestry needles are very easy to use and easy on your hands.  They pick up your crochet stitches effortlessly and don't split the yarn.   

Tape Measures and Rulers
No matter what you will be making, you will likely need to measure the results at some point.  Short rulers are needed to measure gauge.  There are a variety of different tape measures and rulers that work well with crochet projects.  You my already have these tools in your sewing basket.  If not, here are some suggestions
Stitch Markers
Even the very beginning project may call for you to use stitch markers, but what are they? They look like little hooks or tiny colorful safety pins and are used to keep your place when crocheting.  If, for example, you are making a long scarf and need to create a chain of 200 stitches, it's helpful to place a marker at every 10 to 20 chains so when you get to the end, it's easier to count by 10s or 20s rather than have to count each stitch.  There are other ways we use stitch markers.
You can keep track of the rows
You can keep track of stitches
You can keep track of your first stitch when crocheting in the round
You can mark armholes or other strategic points when making a garment
Row Counter
Unless you have a perfect recall/incredible memory or you love to count, you will want to consider a row marker.  It's not a big-ticket item, and you may end up with one in the beginner crochet kit you purchase.
These handy dandy little counters either fit on your hook, your finger or can be worn around your neck.  If you follow a somewhat complicated pattern where each row will be worked differently, you will want to know which row you happen to be completing. 
That is where the row counter comes into play.  Advance the counter at the end of each row so you will always know which row of the pattern you just finished.
Crochet Accessories:  Row Counters
Click on an image to check price on Amazon
Crochet Bags and Hook Organizers
Once you start accumulating a variety of crochet hooks, you will want to keep them organized so you can find the right hook to use should you decide to start a new project. 
The average person who loves to crochet will accumulate a variety of different types and sizes of crochet hooks.  It is very time consuming and frustrating to go through each hook looking for the correct size needed for your current project.  
A hook organizer is the best way to keep crochet hooks clean and organized and easy to find when a new project presents itself.
You can purchase entire sets of crochet hooks that includes a case or you can purchase an empty case and fill it with your favorite hooks.
I have done both.  It's tempting to buy a complete set but you may not end up using all of the hooks in the set.
Crochet Accessories Pin for Future Reference
Crochet Accessory and Supplies Pin Image
Many More Crochet Accessories
As you progress through your hobby, you will find that there are a variety of additional supplies and tools that you will want to obtain.    this is typical of any hobby and you should consider any tools based on their cost and usability to your craft.  
The items listed in this post represent the basic supplies most crochet lovers will want to own.  Do not assume that this list is exhaustive of the many tools available to crochet hobbyist.
Yarn Bowl
I came upon these handy yarn bowls late in life, and I don't know how I ever lived without one.  Even though they can be lovely pieces of art, they are beneficial.  If you are accustomed to crocheting with a ball of yarn, you will know how easy the ball can unravel or be grabbed by your cat or dog. 
I was forever rewinding the ball of yarn.  These smart objects keep the ball handy and close by and prevent you from chasing your yarn ball. 

What, you never wind your skein or hank of yarn into a ball?  Yarn wound into a ball is so much easier to work with, and you won't need to stop and detangle yarn that has gotten matted up within the yarn skein.
These can be purchased at large hobby shops with a decent yarn department, online stores such as Amazon, or handcrafted ones from Etsy.
Ball Winder 
If you've been crocheting for a long time, as I have, we remember the day when all of the yarn balls we created were done by hand, and it was not a fast process. Sometimes it took two people to hold the hank of yarn and the other to make the ball.   Some hanks can't be used until they are wound into a ball.  This, as well as the yarn bowl, is one of the best inventions of recent years. It's definitely a must-have if you plan to be crocheting for years to come.  Put this item on your wish list and send out hints to loved ones for perfect holiday shopping.

Once you've transformed your skein or hank of yarn into a ball (or little yarn cake, as I like to call them), you can place them in your yarn bowl and begin your new project.  No more tangled yarns or knots that take a long time to loosen.  
While not all of these supplies are entirely necessary to pick up your first crochet hook and yarn, I suspect that you will want to learn more and more about this needle art once that hook feels good in your hand.  
Complete Crochet Accessories Kits
As you tackle more complicated projects, you will need these supplies.  May I suggest you consider a crochet beginner kit that has most of the items you've just read about already handy for you to use immediately? 

The Good News About Crochet Accessories
I've given you quite a list and the items on this list are those that you will want to purchase at some point during your crocheting adventure.  The good news is that you won't need them all immediately. 
A crochet hook and a bit of yarn is all you really need to start crocheting.  

Want to know some additional good news?
All the items above can be used if you'd also like to explore knitting.  Naturally you will need to substitute the stash of crochet hooks for knitting needles, but if you are considering trying both needle arts, the supplies are interchangeable. 
You will even need a crochet hook or two if you plan to knit. What better way to stay frugal – Engage in both hobbies.