Knit Dog Sweater Pattern: 6 Free Beginner Friendly Knit Dog Sweaters

Knit Dog Sweater Pattern:  Updated by Janice Jones  |Last Updated 10-26-2022
Your dog may be small, or have thin hair, so it's important to make sure they stay warm too.  Even if your dog has a thick coat, they may appreciate the extra warmth that a coat or sweater gives them during the coldest months.
Knit them a dog sweater to match your own, and be a matching set when  you go on a walk.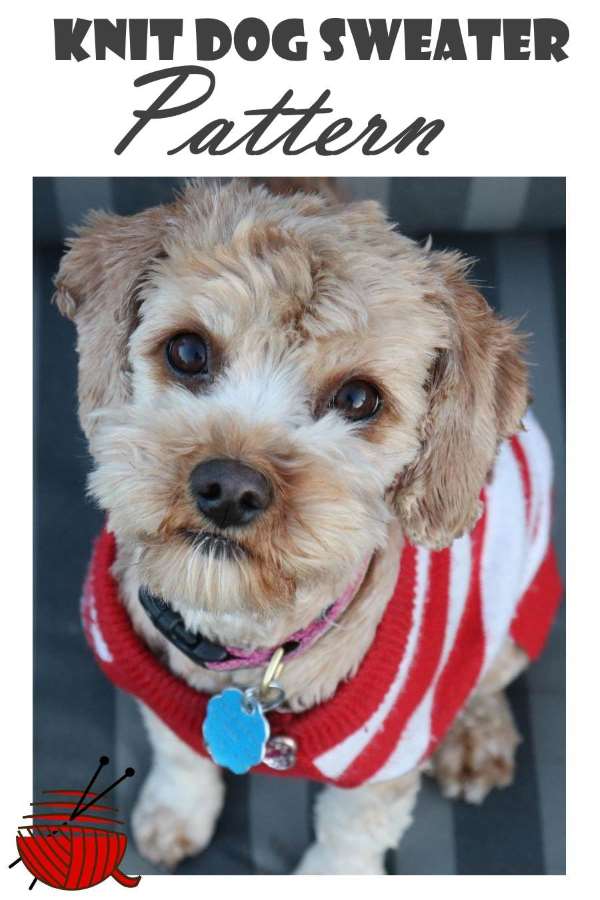 Do Dogs Really Need a Sweater or Coat
It just depends.
Some breeds are quite susceptible to the cold.  Think about short haired dog breeds or those that are hairless.  They definitely need some protection. 
But even breeds that have thick coats may benefit from a coat or sweater especially if they are required to be outdoors in freezing conditions for any length of time.  
A dog that sports a double coat that consists of a thick waterproof outer coat and a soft, woolen inner coat may be less vulnerable to the elements than a long coated breed that only has one coat such as a Yorkie or Maltese.
Knowing your dog breed's heat and cold tolerance will help you determine whether a coat is right for them.
How to Measure the Dog for the Perfect Fit Knit Dog Sweater
The most important part of making pet clothes is the measuring of the dog, in some crucial areas.  It's also good to design the sweater with some way of adjusting it, like buttons or Velcro closing so you can give your pet enough room to breath.
I also recommend making dog sweaters out of yarn that's washable, and tightly knitted enough not to be a hazard or getting caught on bushes or sticks.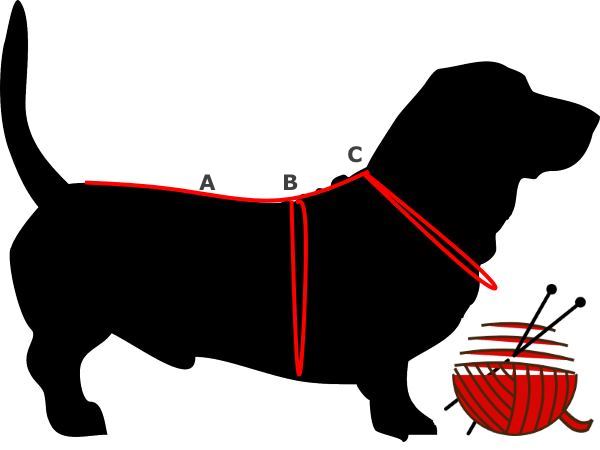 Measure your dog in the places indicated (if you can get her to stay still enough - bribery may be indicated).  The top line of the dog should be as long as you think the finished sweater needs to be.

As you might expect, boy dogs and girl dogs need slightly different coverage on the bottom edge. Adjust the corners to fit the gender of the dog, and decide how to close the bottom edge around the dog, or if it will be more like a cape. 
If you prefer,  you can design the sweater like a tube. 
This will work best for dogs with short coats - you know  your dog best.  If she doesn't like her fur being ruffled or mussed, make the sweater with some type of closing.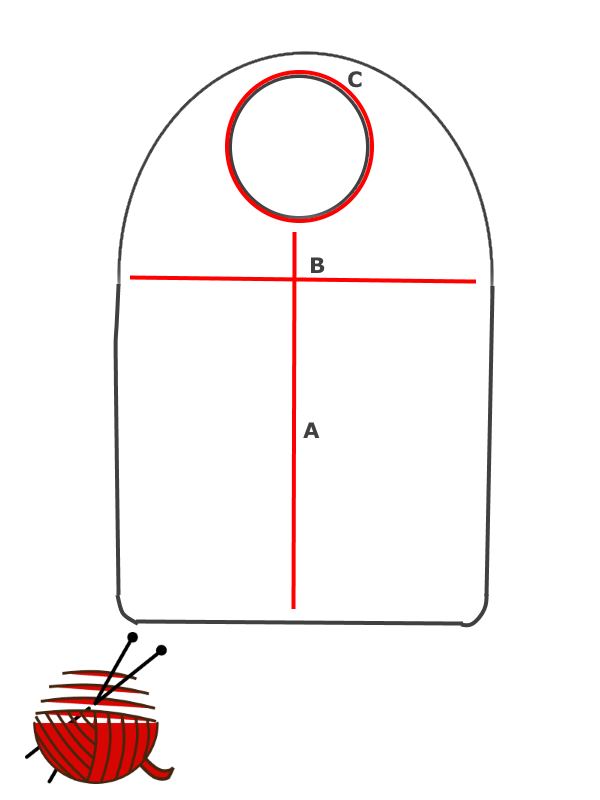 Transfer the measurements to a piece of paper where you'll make the decisions for the construction and decide on how the sweater will close (a button at the front of the neck, for instance) or Velcro to make it easy to put on and take off.

Another option is to make the sweater close along the back, with a series of buttons or Velcro closing, or snaps.  This type of configuration makes it a lot easier to put the sweater on, or take it off.

Finding the Perfect Free Knit Dog Sweater Pattern for You
There are plenty of books and magazines that include dog sweaters that you could knit or crochet, but sometimes you may be short of cash and would appreciate a free pattern. 
I've searched the web and found these patterns to not only be free but easy if you are new to knitting.  They are all beginner-friendly.
RED HEART PAW PRINT DOG SWEATER
Here is a beginner friendly pattern that is done with only knit and purl stitches, but can also be a bit of a challenge as it adds in yarn overs, and knit 2 togethers and purl 2 togethers which makes it fun not only for beginners but also those that want to stretch their abilities.  All those yarn overs create a coat that appears to be lacy and more difficult that it really is.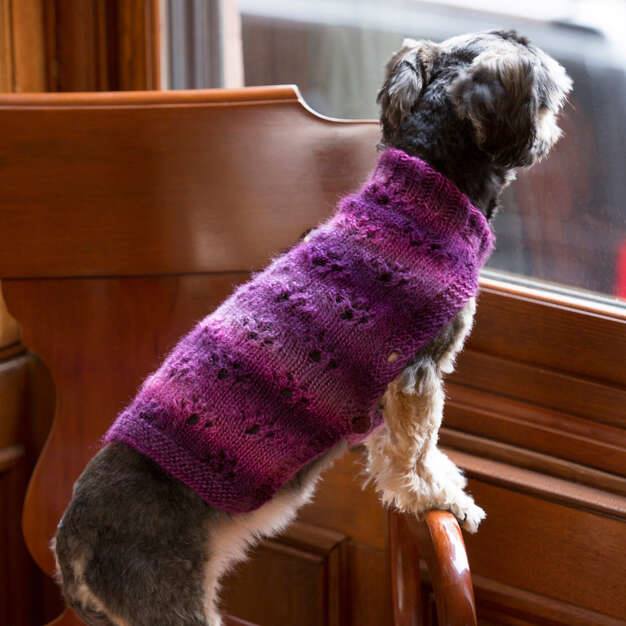 From Yarn Inspirations.  Download pattern
---
Red Heart Dog Knit Striped Sweater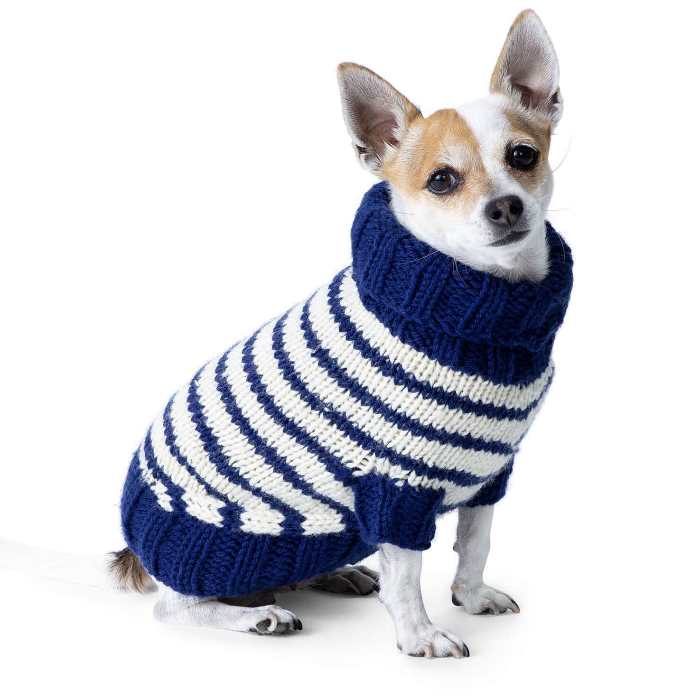 Here's a truly beginner friendly dog sweater that uses a stockinette stitch throughout.  Add some color and interest by making it a striped coat or chose to knit it in a solid color.  Your biggest beginner challenge will be learning a few shaping techniques.  
From Yarn Inspirations, Download Pattern
---
CARON KNIT HOODIE DOG COAT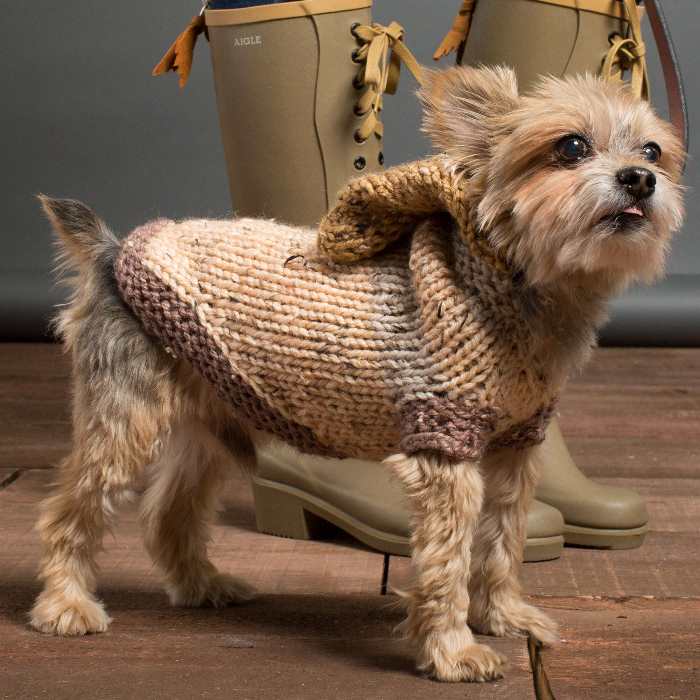 Here's an adorable hoodie knit dog sweater with beginner friendly instructions.  If you can knit and purl and create a stockinette stitch, this is a good choice for you.  In addition to those basic techniques, the pattern challenges you to learn a few increases and decreases for shaping purposes, so read the pattern completely before beginning to knit.
From Yarn Inspirations, download pattern
---
City Stripes Dog Sweater in Lion Brand Wool-Ease Thick & Quick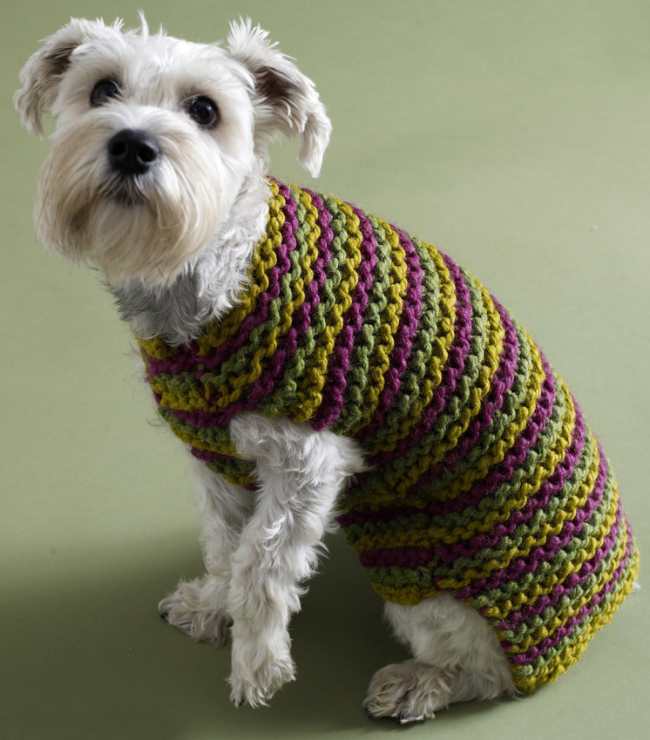 Worked in two pieces using the garter stitch (work each row in the knit stitch) is super easy and requires knitters to know how to make the knit stitch, work increases and decreases, and sew pieces together.  It's worked in a super thick yarn with US number 13 needles so it's a quick sweater to knit .
From Lovecrafts, download free pattern.
---
Dog Sweater Knitting Pattern Made on Straight Needles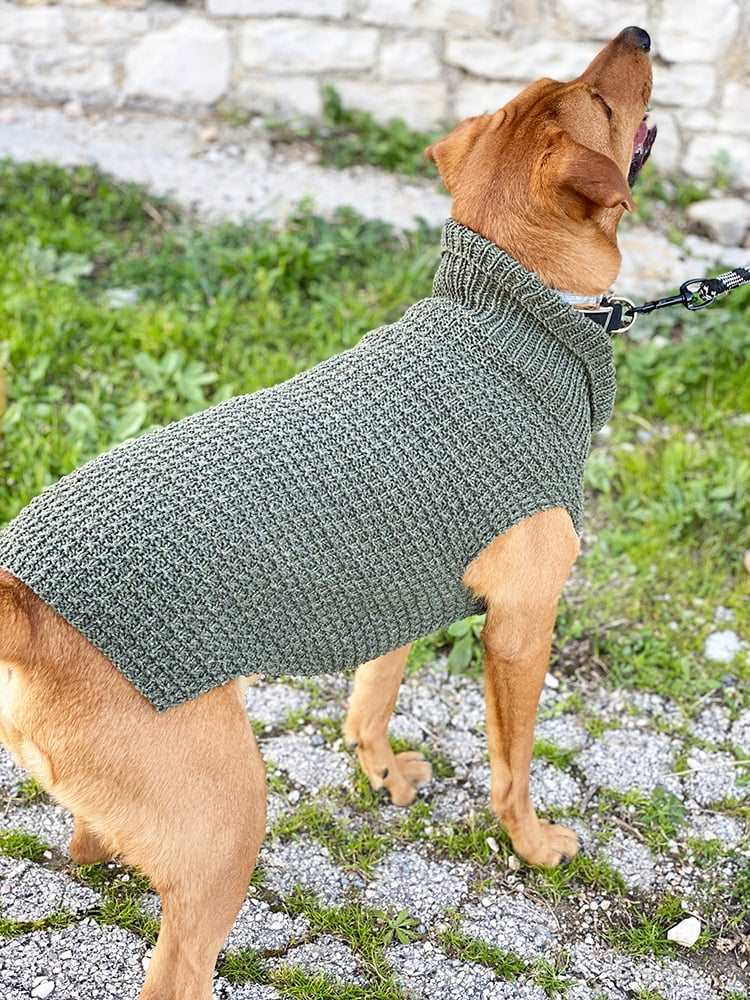 Here's an easy knit dog pattern sweater made in a grid stitch design and is available free online in small medium, and large sizes from Handy Little Me.  It's totally beginner friendly and requires little other than being able to cast on and bind of and work in the grid pattern.
Download the pattern from Handylittleme.
---
Pug Dog Sweater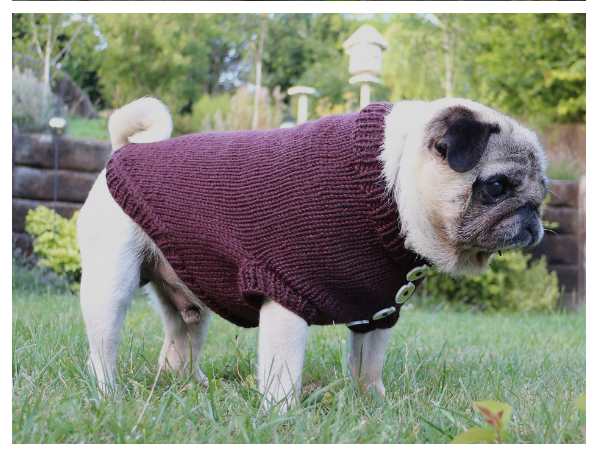 This dog sweater is created for a Pug but could be used for many small breed dogs.  As most of these beginner-friendly knit dog sweater patterns, this one also makes use of simple knits and crochets with a few shaping techniques such as increases and decreases. 
If you are a beginner and also  a dog lover, the patterns on this page could be a great opportunity to learn these basic techniques before you attempt a sweater for yourself or a loved one.  Remember all of the shaping techniques needed for dog sweaters are also likely to be found on the sweater you choose to make.
Download the free knit dog sweater pattern here.
---
Read More About Janice and Her Knitting and Crochet Journey Here
Hi, I'm Janice and I'm the voice and author behind this website, a site especially created for those who are new to knitting and crocheting.  Please visit me to learn more about my journey and see if you'd like to follow in my footsteps and create a blog of your own.