How to Knit a Scarf

Simple Techniques Bring Glamorous Results
Last Updated 11-11-2022
To learn how to knit a scarf is easy. It is one of the simplest projects in knitting but maybe not the fastest.  But at the same time a scarf is one of the most important and multi functional pieces of a modern women wardrobe.
A scarf indicates the way you treat yourself. If a scarf is just a strip of dull and inexpressive knitted fabric, every one will be aware that its owner doesn't love herself. A little bit of fantasy and this stylish addition will completely change your look.
There are a lot of different scarf designs, from the very simple to extremely intricate. But the majority are based on the simple rectangle.
Hence, to knit a scarf simply means "to knit a rectangle". Will you say that it is dull and inexpressive? You are absolutely right. But don't be in a hurry. A little bit of fantasy and you will have a stylish addition to your wardrobe.
How to Knit a Scarf

We will begin to learn how to knit a scarf from its simplest possible variant. For example, let our scarf is a rectangular 8 inches (20 cm) wide and 50 inches (150 cm) long. Here are the steps you have to follow while knitting a scarf.
Choose dimensions for your knitted scarf. For our example, we've created a  scarf that 8 in (20 cm) wide and 50 in (150 cm) long.
Choose a stitch pattern you would like to use for your scarf.  Knit a gauge swatch for the stitch pattern chosen. For our example a swatch was 16 sts = 3 in (7.5 cm), and 30 rows = 4 in (10 cm).  Hence, our gauge is: 16 sts / 3 in = 5.33 sts/in  30 rows / 4 in = 7.5 rows/in, but more about that in a moment.
Typical Sizes of Women's Scarves
Don't feel compelled to use the dimensions we have created above.  Here are some standard sizes of scarves typically manufactured or hand-made: 
According to Spruce Crafts, "Most short scarves are 55" long, medium scarves are roughly 70" extended, and long scarves are about 82" in length."
The width is a matter of personal preference with skinny scarves working great in the spring, summer and autumn and wider scarves being delegated to colder days. 
The average width of a knitted scarf can range from 4.5" (11 cm) wide to 8" (20 cm) wide but really depends on the wearer.  
Best Knit Stitches for Scarves
There is no right or wrong answer for the best stitches for scarves.  If you are a newcomer to knitting and have mastered the knit stitch, a scarf made entirely of the garter stitch is perfect.
If you'd like a bit of a challenge, you could create a scarf entirely with a variety of knit stitches such as the basketweave, seed stitch, or moss stitch.  Even a type of rib stitch works very well on a knitted scarf.  But if you want something a bit more fancy, consider a lace stitch or one of the many cable stitches.  Both are beginner friendly and make gorgeous scarf designs.
Best Types of Yarns for Beginner Scarves
Think about what feels good around your neck.  Do you love soft and smooth or rough and scratchy.  My guess is that you will choose the former.  Do you have allergies to wool and wool products?  That might eliminate 100% wool products.  
Do you have a preference for sustainable products?  Try a natural yarn such as wool, alpaca, cotton or silk.
Do you want something that is super easy to launder?  Choose an acrylic or acrylic blend.
Perhaps you prefer wool, but want something that is machine washable.  Then a super wash wool such as a super wash Merino is perfect for you.
There isn't a perfect yarn, but if you are a beginner and are making a scarf for practice, your most economical yarn is going to be an acrylic.
If you prefer a specific recommendations, these are the yarns I love that are the softest and easiest to wear around your neck:
100% Economical Acrylic:
Caron Simply Soft Very soft to work with and wear
Red Heart Super Saver The best value for your money
Lion Brand, Feels Like Butta:  Love the way this yarn feels in my hands
Bernat Satin:  Economical but also very soft
100% Wool
Lion's Brand Fisherman Yarn:  Super warm for cold weather scarves.
Lion Brand, Patons Classic Wool:   Easy to work with
100% Cotton
Hobby Lobby, I love this cotton
Yarn Inspirations, Bernat handicrafter Cotton
DIY How to Knit a Scarf
If you have read down this far, you are likely looking for a way to create your own knit scarf.  You don't need a specific pattern but you do need to determine a couple of things:
How Long You Want Your Scarf to Be
How Wide you Want Your Scarf to Be
What Yarn You want to Use
What Type of Knitting Needles You Should Use
How Much Yarn to Buy
What Knitting Stitch to Use
How many Knit Stiches to Cast On and How many rows to work
Answers to Your Questions on How to Knit a Scarf
1.  How Long should the scarf be?  That's entirely up to you.  
2. How wide should your scarf be?  Read the section above on sizes and dimensions and decide what works for you.
3. What type of Yarn:  Re-read the section on yarns and choose one that best meets your needs.
4.  What type of Needles to Use:  If you have picked a #4 Worsted weigh yarn, you will want to select a pair of needles that are #7 to #9 or 4.5 mm to 5.5 mm
5.  How much yarn to buy?  One ball or skein of 500 yarns or more should cover a typical scarf.  
6.  Which Knitting Stitch to Use?  Choose one that you want more practice with or one that has a particular appeal to you.
7.  How Many stitches to Cast on?  Based on a typical gauge of 20 stitches to 4 inches, for :
4 inches wide:  Cast on 20 stitches
5 inches wide:  Cast on 25 stitches
6 inches wide:  Cast on 30 stitches
7 inches wide:  Cast on 35 stitches
8 inches wide:  Cast on 40 stitches
Make a gauge swatch first to determine if these measurements met your own tension.
How Long Does it Take to Knit a Scarf?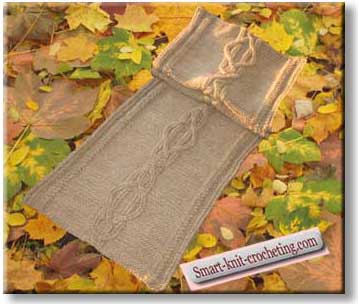 That's it! Now you have idea about how to knit a scarf.
It is time to get creative and to make something more stylish than just a rectangle. But even a simple rectangle with proper yarn, stitch pattern, and color can be a stylish one-of-a-kind masterpiece. 
Here is my warm and functional winter rectangle. A simple rectangle and nothing else. Patterns for this knitted scarf are available at the Knitted Scarf Pattern page. Good luck with your knitting!