Knitted Scarf Pattern

How to Knit a Scarf
As an Amazon Affiliate I earn from qualifying purchases

This Knitted Scarf Pattern page is a project based on the information presented at How-to-Knit-a-Scarf page. It shows you how a simple knitted rectangular can be turned into a favorite stylish addition to your wardrobe.
Knitted Scarf Pattern Instructions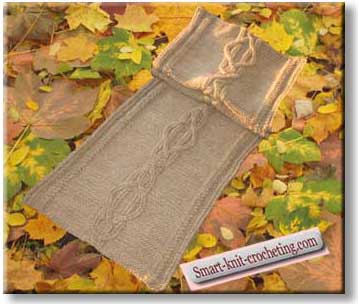 Materials
Patons "Classic Wool" 100% merino wool, 3.5 oz/100 g/ 223 yds/ 204 meters.
Yarn necessary app. 200 grams.
knitting needles: Size 2 (2.75 mm) .
Cable needle.
Stitch markers.
Information about type of yarn and knitting needles size is a good point for you to begin from. It is still does not mean that you are going to have exactly the same dimensions for you scarf like mine. Even if you  use recommended yarn and needles. My scarf is 9 in (23.5 cm) wide and 60 in (152.5 cm) long.
For such simply shaped project like our rectangular scarf is it not a thing you should  worry about too much. Nevertheless, when we are talking about more complicated than a rectangular scarf (a sweater, for example) projects, some preparation is necessary before you begin to cast on your stitches. You will need to make a  gauge swatch and calculate how many stitches are necessary for your project. It is not a very good idea to skip  a step of making a swatch if you are going to knit or crochet a garment.

Let's continue  with our scarf. The knitting chart below shows you the knitting symbols which were used for this  pattern.
Three cable Patterns # 1 (9 stitches) and # 2 (18 stitches) are separated from each other by the 12 stitches of the knit strips on the right side of a scarf ( 12 purl stitches on the wrong side).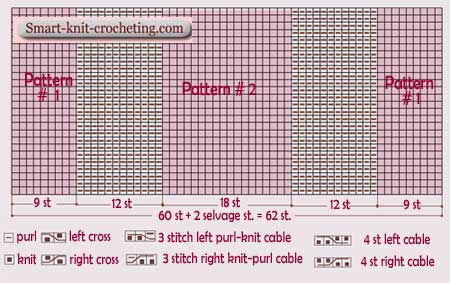 The patterns #1 and #2 are the sets of the quite traditional cables.

Finishing a scarf

To make your scarf pattern look accurate and neat, use steam blocking. Spread out a scarf on the ironing board or a table. Stretch a scarf a little bit to the desired shape. Use the head pins for holding a slightly stretched scarf on place.
Cover a scarf with a wet piece of fabric. Hold the iron above, iron your scarf. Don't press your iron the way you usually ironing! Just push the steam through the fabric and into the scarf. Let it stay for a while till it is completely dry.
---
Home

›

How-to-Knit-a-Scarf

› Knitted Scarf Pattern
---