Knitted Scarf Pattern

How to Knit a Scarf
This Knitted Scarf Pattern is a project based on the information on the How to Knit a Scarf page. It shows you how a simple knitted rectangular can be turned into a favorite stylish addition to your wardrobe.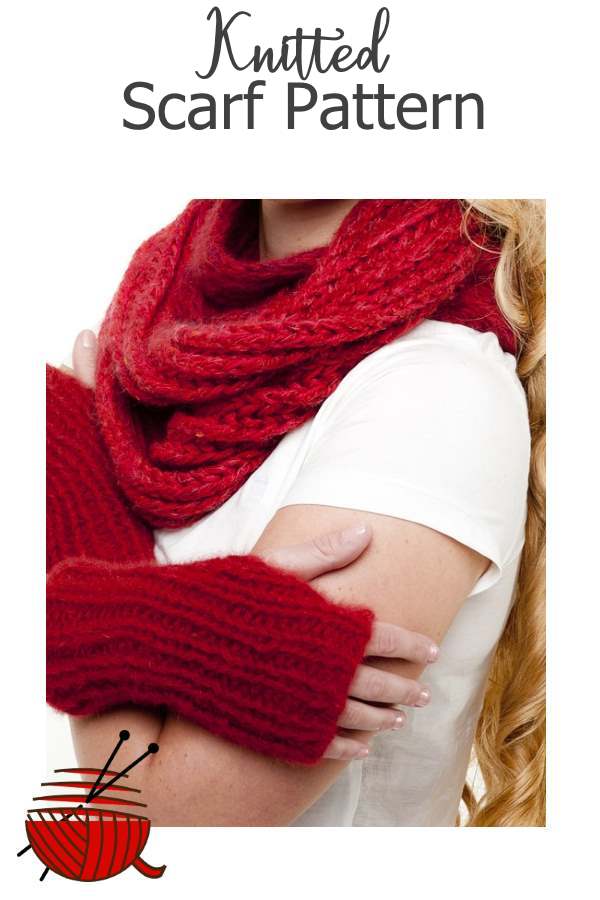 Knitted Scarf Pattern Instructions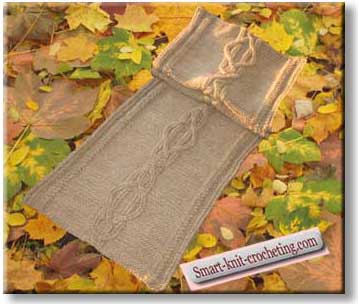 Materials
Patons "Classic Wool" 100% merino wool, 3.5 oz/100 g/ 223 yds/ 204 meters.
Yarn necessary app. 200 grams
knitting needles: Size 2 (2.75 mm) 
Cable needle
Stitch markers
Begin by deciding on the type of yarn and knitting needles size. You won't have exactly the same dimensions for your scarf as any other scarf even if you use the recommended yarn and needles so be flexible.
We will begin to learn how to knit a scarf from its simplest possible variant. For example, let our scarf is a rectangular 8 inches (20 cm) wide and 50 inches (150 cm) long. Here are the steps you have to follow while knitting a scarf.
Choose dimensions for your knitted scarf. For our example a scarf is 8 in (20 cm) wide and 50 in (150 cm) long.


Choose a stitch pattern you would like to use for your scarf. Knit a gauge swatch for the stitch pattern chosen. For our example a swatch was 16 sts = 3 in (7.5 cm), and 30 rows = 4 in (10 cm).
Hence, our gauge is: 16 sts / 3 in = 5.33 sts/in
30 rows / 4 in = 7.5 rows/in


 Calculate the number of stitches and rows you need, to knit a scarf. To begin a rectangular 8 in wide, you will need to cast on: 5.33 sts/in x 8 in = 42.6 (round to 43) stitches.

To make a scarf 50 inches long you have to knit: 7.5 rows/in x 50 in = 375 rows.

Important note: Knit your own gauge swatch! Don't use mine, please. Most likely your gauge  will be different than mine! That's it!

Now you have idea about knitting a scarf. It is time to invite your fantasy and to create something more stylish than just a rectangular. But even a simple rectangular with proper yarn, stitch pattern, and color can be a stylish one-of-a-kind masterpiece. Here is my warm and functional winter "rectangular scarf". A simple rectangle and nothing else. :-)

Let's continue  with our scarf. The knitting chart below shows you the knitting symbols which were used for this  pattern.
Three cable Patterns # 1 (9 stitches) and # 2 (18 stitches) are separated from each other by the 12 stitches of the knit strips on the right side of a scarf ( 12 purl stitches on the wrong side).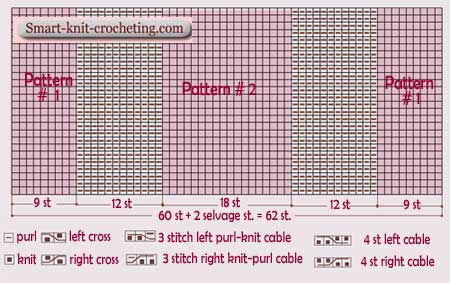 Finishing a scarf

To make your finished scarf look accurate and neat, use steam blocking.
Spread out a scarf on the ironing board or a table. Stretch a scarf a little bit to the desired shape. Use headed pins for holding a slightly stretched scarf in place.
Cover the scarf with a damp piece of fabric - a non textured dish cloth works well. Hold the iron above, press your scarf.
Don't press your iron the way you usually ironing! Just push the steam through the fabric and into the scarf. Let it stay for a while till it is completely dry.
Have A Great Story About This Topic?
Do you have a great story about this? Share it!
What Other Visitors Have Said
Click below to see contributions from other visitors to this page...

Drunken Granny Stitch Scarf
Make this Drunken Granny Stitch Scarf from any kind of yarn; 4.5 mm hook (Use the hook recommended for the type of yarn used.) Stitch is made …
---
---