How Long Does it Take to Knit a Scarf
How Long Does it Take to Knit a Scarf:  How to Calculate Your Time
How Long Does it take To Knit a Scarf? by Janice Jones |Published 11-11-2022
If you are new to knitting, you might wonder how long it takes to knit a scarf. The quick answer is it depends. But I'm sure you're not here to hear that answer, so let me explain. How fast you can make this beginner-friendly knitting project depends on several factors.
Table of Contents:
How Long Does it Take to Knit A Scarf: Factors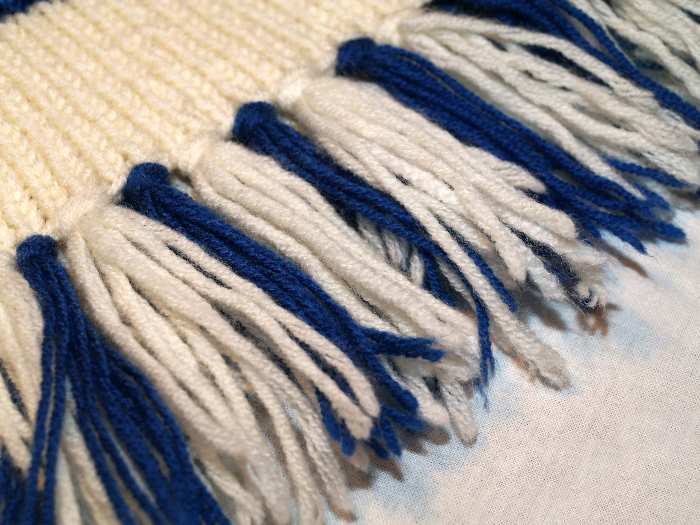 How Long Does it Take to Knit a Scarf
As a new knitter, you are probably more concerned about holding the needles correctly and creating the stitches you want to make rather than speed. But suppose it's December 23rd, and you still need that special homemade gift for Christmas. Is a scarf a good option? I will help you determine precisely how fast you knit in just a minute but let's look at the other factors contributing to speed.

How Long Does it Take to Knit a Scarf?
Many factors decide how long it will take to knit a scarf. We've looked at a few:
1. What type of scarf do you want to create.
2. The stitch pattern and design you choose
3. The thickness of the yarn you choose
4. The type of knitting needles you use
5. Your personal knitting style
6. How fast do you knit
As you can see, many pieces of the puzzle determine the time it takes to make a hand-knit scarf. What it all boils down to is all about you, and luckily there is an easy answer to that.
In this article, I will walk you through the factors determining how fast you can knit a scarf. At the same time, I will use all those same factors to knit a scarf of my own and then report back to you with some specifics.
If you'd like to do this project with me, please feel free. I would love to hear from you. Please let me know what you made and some specifics as to what yarns and needles you used, how long it took, and what patterns you chose.  The pattern I used is found at the end of this tutorial.
Your comments will become part of this website for others to see and benefit from your insights. There is a place at the end of the article to leave your insights.
How Long Does it Take to Knit a Scarf?: It Depends on These Factors:
Types of Scarves: Lengths and Widths of Average Adult Scarves
A simple scarf for an adult can range from 40 to 70 inches or longer and be 5 to 8 inches wide. This is just an average, as some prefer shorter or longer.
A good rule of thumb is to make the scarf as long as the person is tall. Alternatively, you can adjust the length by measuring from fingertips to fingertip with arms held out at the side.
Using a tape measure, have the person stand with arms outstretched and measure from the finger tips of one hand across the body to the finger tips of the other hand.
For women's scarves sizes can range from four inches wide all the way up to nine inches or greater. Most four-inch wide scarves are called "skinny scarves."
Scarves are, on average, 6 inches wide but between 5 and 7 inches for men. The good news is that there really isn't a "right size" for a knitted scarf.
If you go longer, you may be making an infinity scarf. An infinity scarf is a long scarf, sewn together at the ends to create a loop, and it can be worn as a long loop or knotted/twisted into a double spiral.
If you are pressed for time, consider making a cowl instead. A cowl is a shorter version of an infinity collar worn close to the neck and can be created for warmth or as a decorative collar accent.
Then there is also the Snood. A snood is a lot like a cowl, except it is wide enough that you can also wear it as a hood and then wrap the remainder around your neck. You might think of these as a type of wider scarf. These are great for colder weather and are made to keep people warm.
I've seen where both cowls and snoods are used interchangeably. I found a free pattern if you'd like to try one at https://www.allfreeknitting.com/Cowls/Beginner-Snood-Knit-Pattern
The Stitch Pattern and Technique You Choose
If you want to make a scarf entirely of knit stitches (garter pattern), you will likely be able to do that faster than if you chose an intricate lace pattern.
The easier the stitch pattern, the quicker you can knit it.
Take, for example, the seed stitch. This stitch pattern consists of basic stitches of knits and purls with a two-row repeat. This means that you will need to know how to make knit stitches and purl stitches, and memorize or refer to the pattern every two rows.
This is a relatively easy pattern to master.
As the row repeats increases, so does the difficulty.
More complicated patterns may use yarnovers to create a lacey scarf, and others may call for the use of a cable needle to knit cables.

Even more difficult and time-consuming is the decision to make a scarf with more than one color. Changing colors for the beginning knitter can be challenging and slow down your knitting time. A solid-color scarf will be the fastest to knit.
If you look at a pattern that is anything other than a straight garter stitch or simple stockinette, you will likely run into the term stitch pattern.
What is a Knit Stitch Pattern?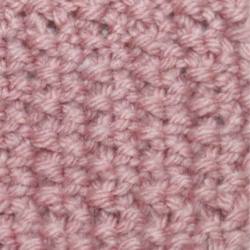 Seed Stitch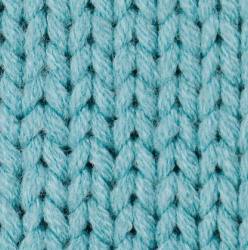 Stockinette Stitch
Basketweave Stitch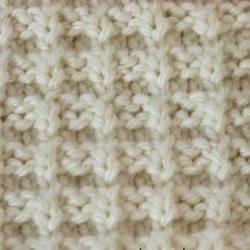 Waffle Stitch
Cable Stitch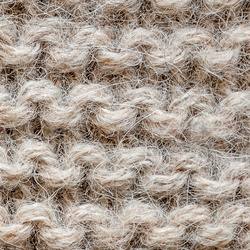 Garter Stitch
The designer will tell you how many stitches to cast on if you are working from a printed pattern. However, you may have found a stitch design in a book and want to use it instead of a printed pattern. There are two ways to look at a stitch pattern:
The number of different stitches within a row and how many row repeats.
Number of stitches in a repeat
You might encounter the directions for a knit pattern written as "multiples of 2" or "multiples of 5 plus 2." For the former, you would want to cast on any number of stitches multiplied by 2. This could mean 20, 22, 24, etc.
For the latter, you cast on multiples of 5, then add two stitches. (20, 25, 30, then add 2). This does not normally slow down your knitting, but I've added it to emphasize that you must consider it when designing your scarf.
Row Repeats
Row repeats are the number of rows it takes to create a pattern. A simple two-row repeat is easy and requires a little more concentration. For example, the Irish Moss stitch is a four-row repeat, meaning you need to keep track of four rows of a knitting pattern. Still, this is relatively easy and should not slow you down too much.
Row 1 and 2: K1, P1
Row 3 and 4: P1, K1
It goes without saying that as the level of difficulty increases, your speed is likely to decrease.
A good example of a complicated pattern is the lattice seed.
The lattice seed pattern requires an 18-row repeat of knit and purl stitches. It's a beginner-level pattern, but you must keep track of those 18 rows. Here is the pattern repeat:
Row 1: (right side) * P7, K2, P5 *, P2
Row 2: (wrong side) K2, * K5, P2, K7 *
Row 3: Knit
Rows 4, 6, and 8: P2, * K1, P1, K1, P1, K1, P2 *
Rows 5, 7, and 9: * K3, P1, K1, P1, K4, P1, K1, P1, K1 *, K2
Row 10: P2, * K12, P2 *
Row 11: * K2, P12 *, K2
Row 12: Purl
Rows 13, 15, and 17: * K2, P1, K1, P1, K1, P1 *, K2
Rows 14, 16, and 18: P2, * P1, K1, P1, K1, P4, K1, P1, K1, P3 *
I think you can see how adding more row repeats will increase the time you need to knit that scarf.
The Thickness of The Yarn You Choose (Yarn Weight)
You might already be aware of the yarn classifications of the Craft Yarn Council. 
The thicker the yarn and the larger the knitting needles, the faster you can knit that scarf. A scarf made with a chunky yarn is going to take less time than one made with worsted weight yarn because it will require fewer stitches. Bulky or super bulky yarn (numbers 5 or 6) is also a popular choice for a very fast scarf.

I don't mean to confuse you with the terms thickness of the yarn and yarn weight, so here is a quick explanation.
When you see the term, yarn weight, it is not referring to the weight of the skein or ball of yarn in ounces or grams.  Rather yarn weight refers to the thickness of the yarn.  
The thicker the yarn, the heavier it is.  There are 8 standard yarn weights (7 are shown on the chart above), where the higher the number the thicker or heavier the yarn.  
You may see different names for the numbered yarn weights.  Here are some examples 
0: Lace (thread, light, fingering)
1: Super Fine (fingering, sock, baby)
2: Fine (sport, baby)
3: Light (DK, light worsted)
4: Medium (worsted, aran, afghan)
5: Bulky (chunky, rug, craft)
6: Super Bulky (roving, bulky)
7: Jumbo (roving)
Notice that some of the names do overlap so it's important to know what you are getting when you purchase yarn.
Matching Needle Size to Yarn Weight
On a ball band or yarn label, you should look for the numbered yarn weight as well as the size of knitting needle that is recommended for that particular yarn.  The thicker the yarn you choose, the larger the needle.
That is the general rule, but rules are meant to be broken.  You don't need to stick to the size needles recommended on the yarn label. Sometimes larger needles (two sizes larger than recommended) create a softer drape that is perfect for a scarf. A larger needle can also increase your speed.
The Type of Needles You Chose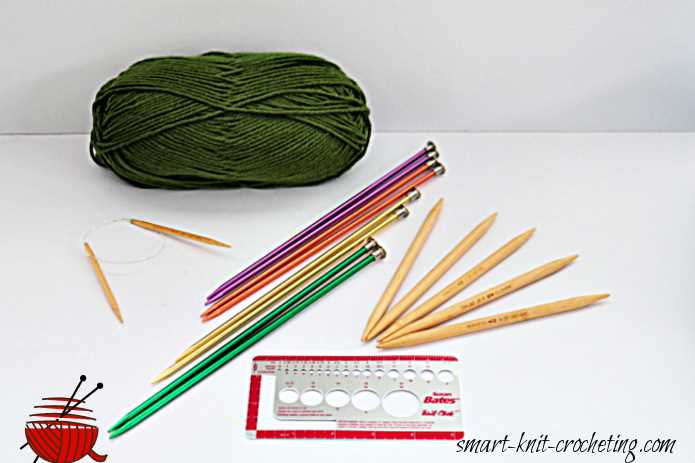 Knitting needles differ not only by size but also by the material used to manufacture them. If you are a beginner, you probably have been told that needles made of bamboo or wood are far superior to metal needles.
There is a good reason for that advice. Wood or bamboo is smooth but not slick, making it much easier for beginners to keep stitches on the needles.
But wood, bamboo, and plastic do slow down your knitting speed. Master knitters usually prefer steel or metal needles because they can knit faster with these needles. If you are a beginner, you must understand that you may be substituting speed for accuracy with the added problem of dropped stitches.
It's better to stick with the type of straight needles that feel right for you now at the point of your knitting adventure.
Your Personal Knitting Style
There are two main types of knitting in the West: English/American and Continental. There is also a third combination where you employ techniques from both English and Continental.
Beyond those two broad categories, there are other ways to knit, but that is beyond the scope of this article. There has always been a debate about which method is superior or faster. The truth is that either is fine, and the best method to choose is the method that feels right to you.

Many argue that Continental or "Picking" is faster than English or "throwing." It makes sense that picking is faster because, with this method, you don't really insert the needle into the stitch all the way through. Instead, you hold your needle at right angles and use your fingers to push the yarn against the stitch from the backside so that you can pick it through.
With the English or American method, you must let go of one needle to wrap (throw) the yarn and the extra second it takes to do that can add up.
Some have discovered that "flicking" adds speed to the English method. This method is similar to the English style, but you don't let go of the right needle when making a stitch. With few movements, you can gain speed.
This is a personal decision for you to make. If you are starting, you may decide to explore both. Most people report that they chose one over the other based on how they were taught.
When Calculating How Long it Takes to Knit a Scarf, Don't Forget Embellishments
The ends of the scarf can be straight and even, or you may prefer to add some fringe. Fringes or tassels can add interest to the scarf and even add to the total length, but consider the extra time needed to make that fringe if you are in a hurry.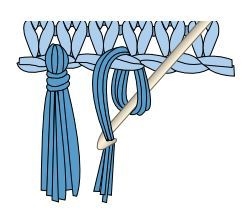 Courtesy of AllFreeKnitting
How Fast Do You Knit:  Easy Calculations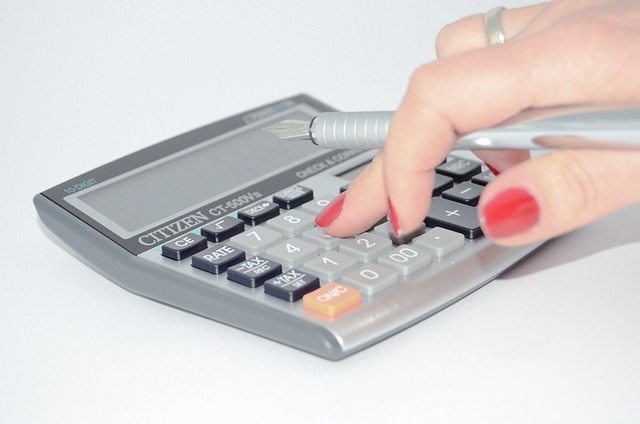 How Fast Do You Knit: Easy Calculations
Now that you know that there are some things that will factor into the length of time it will take you to knit that last minute gift, it's time to determine just how fast you knit.
If I am pressed for time, I usually use this 8- step process to know exactly how much time it will take.
Settle on the Type of Scarf:  If my time is unlimited, I can choose the type of scarf I want to make. If not, I will likely go for a faster project, a cowl or a skinny scarf.
Pick out the Type of Yarn :  Next, I will choose the yarn I want to use. If pressed for time, I will choose a thicker yarn.
Choose Your Needles:  Third, I will determine which type of needle works best for me. Steel needles are faster, but if I am learning to knit, I will choose bamboo or wood because I know I won't accidentally drop stitches (which will take additional time to mend). I will find which needle size to use based on the recommendations of the yarn ball band and possibly go up one or two needle sizes to improve the drape of the scarf.
Determine Which Stitch Pattern:  I will decide which stitch pattern to use, knowing that the most complicated multi-row repeats require more time. A simple stockinette stitch is easy, but it will likely curl, and the front and back of the stockinette pattern are different and may not be an attractive option for a scarf.
Calculate the Number of Stitches to Cast On
To Gauge or Not:  Once I've purchased the yarn and needles, if necessary, I will create a gauge swatch the width of the scarf I want to make. Alternatively, I will begin knitting the scarf. The gauge swatch is not so much for sizing but allows me to time how fast I can knit using the yarn and needles of my choice and the pattern. 
Time My Knitting Speed:  I use a simple timer on my smartphone to determine how long it takes to knit one inch of the scarf.  I write down this time.
Calculate the length for my scarf: 

I multiply the time it takes to knit one inch of scarf times the number of inches I want my scarf to be.
Lastly, I add in time to make a fringe, weave in ends or sew ends together to create a cowl.  That is my final calculation.  I now know how long it is going to take to make a scarf in minutes.  Divide that number by 60 to nail down the hours it will take.
From there you can fairly easily decide if the project you want to make is doable in the time you have to devote to knitting.  Figure in breaks and interruptions.  Can you feasibly start a scarf on the 23rd and have it ready for Christmas morning?
My Beginner-Friendly Seed Stitch Women's Scarf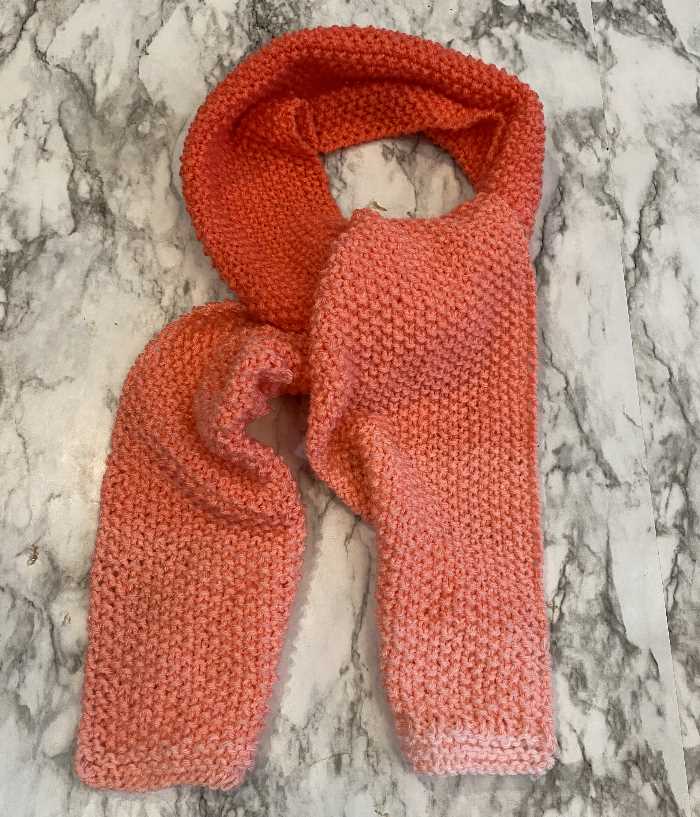 I am pleased to offer you my free knitting pattern. I will also walk you through the process of deciding how long it took me to create the scarf and all the other particulars of how I made decisions.
Please don't feel like you need to use my pattern because this article has been about you creating your own scarf pattern.
How Long Does it Take to Knit a Scarf?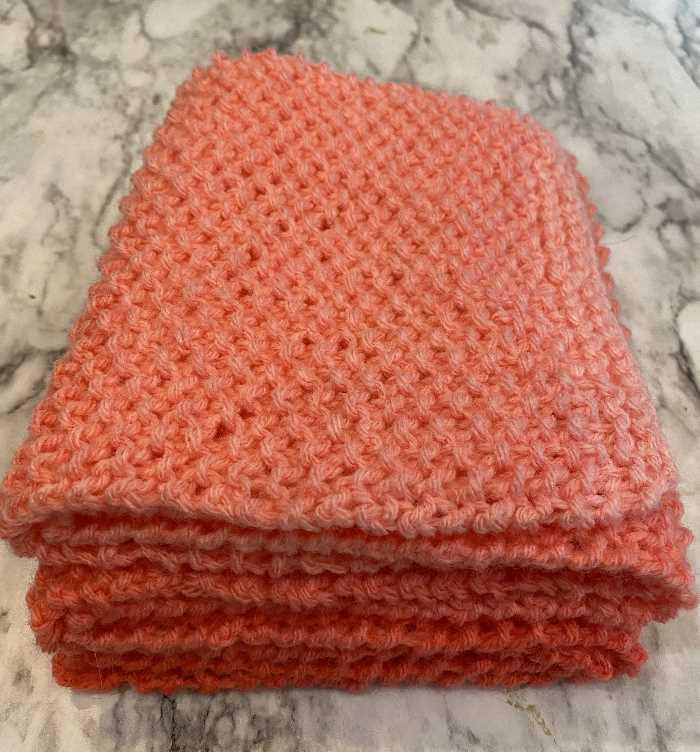 Seed Stitch Scarf Women's' Scarf:   Free Knit Pattern
Final Measurements:  This scarf is 7 inches wide and 60 inches long.
Gauge:  20 stitches/4 inches (10 cm) with a number 4 worsted weight yarn and  US. #8 knitting needles (5.0 mm)
Stitch Pattern:  (2 row repeat)
Row 1: K1, P1
Row 2:  P1, K1
Review how to make the Seed Stitch with this tutorial.  Remember that with the seed stitch, you are knitting all the purl stitches and purling all the knit stitches.
Continue with this pattern for your desired length
Materials Needed:  
I created my scarf with Red Heart Super Saver Ombre, in Sea Coral.  Number 4 Worsted Weight Yarn.  Please feel free to use what yarn you have available.
U.S. Size 10 1/2 knitting needles (6.5 mm needle)
Scissors
Tapestry Needle
Tape Measure
Pattern Notes:
All directions are in US Terms.  I have chosen to use a larger size needle as I prefer the drape to be loose and soft.
Directions:
Cast on 26 stitches using the knitting straight needles of your choice.
Work 4 rows of garter stitch.  Switch to seed stitch pattern.  
Work in Seed Stitch pattern for 65 inches or desired length.
Work four more rows of garter stitch pattern.
Bind off in pattern.
Weave in Ends.
Add a tassel edge if desired.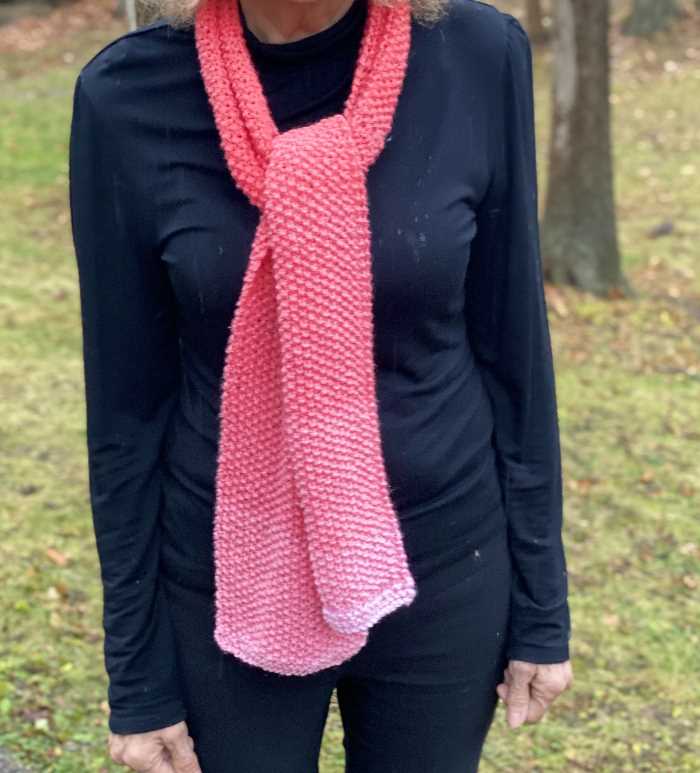 How Long Does It Take to Knit a Scarf?
By now, you probably wondering how long it took to knit this scarf.  Before I tell you, I must let you know that I am a very slow knitter and I chose to knit with bamboo needles which slow me down even further.  
First I timed myself knitting one row.  (1 minute, 30 seconds)
Next, I timed how long it took to knit one inch which was 6 rows.  (8 minutes, 20 seconds).
I rounded up to 9 minutes and multiplied by 60 inches.  (540 minutes or 9 hours.).  So, if I were in a crunch and had 3 hours to spend knitting per day, it would take me 3 days to complete.  
How Fast do you knit?  Drop me a line and tell me about your project and how long it took.  I'll publish your results on this page.  Contact me.

How Long Does it Take to Knit a Scarf?Pin for Future Reference