Free Knit Patterns for Babies
Free Knit Patterns:  Babies and Toddlers
By Janice Jones     |Updated 12-20-2022
Our free knit patterns page is a curation of all the knitting patterns and projects found on this website.  I can't take credit for them all, as I have discovered many very interesting projects written by previous owners of this site.  Where ever possible I will give credit where credit is due, but some of the patterns are very old and I have been unable to locate it's true designer.
Please check back frequently as I will be updating this page frequently.
Free Knitting Patterns for Babies and Toddlers
Did you know that some people come to this hobby as the result of expecting a new addition to their family?  Maybe that's you or even an excited grandma who wants to create something extra special for that little grandbaby.  After all, it's never to late to learn a new hobby.
Knitting for Babies and Toddlers gives you the license to create your very own patterns.  While this may not be for the true beginner, it's definitely doable once you have just a little experience.  Due check out this article if you're into colorwork and Intarsia or if you'd like to learn more about duplicate stitch.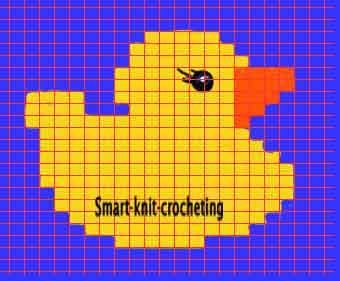 Intarsia Design for Babies
---
Knit Baby Sweater
What could be better than making that newborn a lovely sweater.  No layette is complete without one. Don't worry, this is an easy pattern.  If you can knit and purl, and put those two stitches together to make ribs, plus add a garter stitch you can make this!
You will find the directions to knit this traditional sweater on two pages.
Part One is all about getting the measurements right.
Part Two goes into the nitty-gritty of knitting this sweet little garment.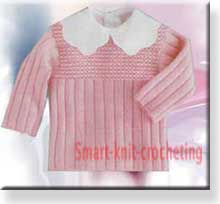 Pink Baby Sweater
---
Knit Baby Blanket with a little Embellishments
You can create this 32 x 32 inch baby blanket with the most basic stitches or you can add some interest by creating hearts as you knit.  For the very basic pattern, you can either use the garter stitch, seed stitch or moss stitch.  For those a bit more advanced, you will need to know how to do basic increases and decreases (K2tog, YO, K3tog, SKP,  and cables)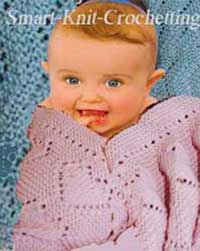 Baby Blanket in Pink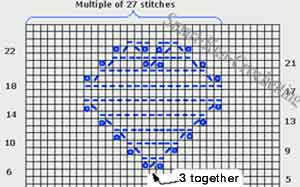 Knitted Chart Diagram
---
Baby Hat Designs
Here's a couple quick hats to knit up to keep baby's head warm in all weather.  One is made using red yarn perfect for Valentine's Day and the other uses Fair Isle Techniques.
Simple Stockinette Girl's Sweater with a Touch of Embroidery 
This is not a difficult sweater to create and the designer gives you license to use your imagination for embroidering a favorite scene.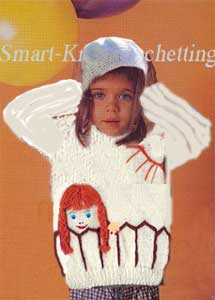 Girl's Sweater