Health Benefits of Knitting and Crocheting
Health Benefits of Knitting and Crocheting  By Janice Jones
|Published 12-28-2020
Why do people knit – crochet?  With the abundance of shopping opportunities online and in retail establishments that sell anything a person could want, why decide to make it yourself? 
There are many reasons why knitting and crocheting have become popular again.  It must be said, though lovers of these needlecrafts have honed their skills for centuries.
I would love to tell you where my passion for these needle crafts began, but that's a story for another page.  
Health Benefits of Knitting and Crocheting
But, What makes you love the art? Do you believe there are some health benefits of knitting and crocheting?

People give so many reasons for developing the skills needed to produce lovely articles, whether they are meant to be worn or adorn their homes. 
Reasons Why People Love Knitting and Crocheting
There is some satisfaction in knowing that you made something, all by yourself.  If that sounds like a four-year-old speaking, listen to some of the other reasons people give for knitting, crocheting, or just wanting to learn:

I need a hobby
I need a hobby to keep my hands busy – one that is also portable and doesn't require a great deal of investment or space.  You don't need an art studio or even a small room.
It's true; a little knitting project is perfect for picking up even if you don't have much time.  You can take it anywhere. You can work out of a bag or purchase/make a container to hold all of your supplies.  It doesn't get much easier than that.

Mindfulness and Meditation
I've heard it helps with Mindfulness and Meditation.  Very true.  There's something very relaxing about the repetitive rhythmic movements you perform, almost unconsciously, as you knit or crochet. 
This craft is genuinely a way to manage stress and beat depression.  When your body is relaxed, you are less likely to feel anxiety, and your body's immune system can benefit too.  This is a definite health benefit of knitting and crocheting.

Creativity Booster
It boosts my creativity.  Being creative is part of being human.  We all have it in us, but some folks manage to express it better than others. 
Even if all you are doing is following a pattern, there are still plenty of ways to feel creative when you knit or crochet. Consider the colors and textures of yarn you choose to use.  Ponder how you might change the pattern to meet your needs best. 
Your creativity is in every stitch you make.

Hand-made with love from the heart
I'm not too fond of those ugly Christmas sweaters.  Most people aren't crazy about them either, so what better way to tell someone you love them than to make a gift that comes from your heart and your hands.  

People treasure gifts they receive that are homemade.  And the giving doesn't need to end with your family and friends.  Many charitable organizations encourage groups to knit or crochet for homeless people, hospitalized patients, or children in need.

Knitting need not be a solitary pursuit
Knitting helps me find friends.  Even if you are the most introverted person in the world, there will always be someone that will come over to chat if you happen to be knitting in public. 
You can also join a knitting club or even join a group online that is dedicated to crocheting or knitting.

A boredom booster 
I'm stuck at home, now what?  The 2020 pandemic (Covid 19) has caused many of us to be on lockdown and with those orders, being at home means a bit freer time. 
Free time is a good thing, but when it turns into boredom, it becomes oppressive.  The year 2020 may be the year of the Fiber—meaning more people take up Knitting and Crocheting.

Confidence Builder
It helps me build confidence.  Just knowing that I can master a new skill at any age is a big confidence booster.  Neither crocheting nor knitting is challenging to learn. 
There are only a few basic stitches to master whether you decide to knit or crochet.  Once you've developed the foundation, the rest becomes easy.  You don't need any native talents, and it's not rocket science.  Even young children benefit from learning how to do a needlework craft. 
Even though you might think that learning how to do a new craft will require years and a steep learning curve, knitting and crocheting don't fall into that category.  If you learn each skill, you will be creating beautiful objects in no time, one step at a time.

A Cheap Hobby
Both crocheting and knitting are relatively cheap hobbies, and engaging in either requires little in terms of supplies and tools.  There is not a massive outlay of cash needed to get started. 
A needle or two, a ball of yarn, and some online instructions or the purchase of an expensive instruction book is all that is genuinely needed. 
Granted, there are plenty of supplies and tools you can buy as you progress. Still, as hobbies go, the initial expenditure to get started is very affordable. The materials are relatively available for most people.
A Hiatus from the Ever-Present Screen
Whether you spend your time surfing the net, binge-watching, or merely texting, there comes a time when screens become distracting and anything but fulfilling. 
Knitting has become a new distraction from the ever-present screen.  According to the New York Times, many knitters love the process "value the soothing repetitive motions and the feel of the yarn running through their fingers, relish the colors, the act of creation."1
The process of knitting could very well be more important than the finished product.

Could knitting Improve our Mental Health?
In these stressful times, we all long to reduce our anxiety and calm our stressful lives.  Yoga, meditation, even green tea may help, but did you know that knitting could help you reduce your stress levels?  Are there really health benefits of knitting and crocheting?

It's true. 
Some of the benefits that have been documented include:

Health Benefits of Knitting and Crocheting
Reduced depression and anxiety
The slowed onset of dementia
Distraction from chronic pain
Increased sense of wellbeing
Reduced loneliness and isolation
Chronic Pain Management  with Knitting
Research suggests that the rhythmical, repetitive motions of knitting could enhance the release of serotonin. This hormone regulates mood, learning, and sleep. 

When I read this, I was skeptical.  How could this hobby that required hand movement and coordination help improve me and manage the pain from my rheumatoid arthritic hands? 
I had given up on many activities requiring fine motor skills years ago. However, I always seemed to wonder why I was still able to knit and crochet.  I just credited my ability to sustain my passion for these needlecrafts to advance ergonomic needles, better yarns, and lights with extra magnification.  
But I remember my grandmother, who knitted well into her 80s nearly 50 years ago (1970s), created beautiful pieces with little effort.  I should have known that the advances of today's technology may not be the only factor involved.

It turns out that serotonin is a naturally occurring analgesic, and low serotonin levels have been linked to depression and anxiety disorders, as well as decreased pain thresholds.  Could it be that the process of knitting increases the serotonin uptake in the brain?

Stitch Links is a nonprofit organization that aims to unite therapeutic knitters, support research on the craft's health effects, and serves as a resource for clinicians and other professionals interested in implementing therapeutic knitting.
It would seem that through their research, people have reported that knitting has a positive impact on their wellbeing. Furthermore, the ability to knit gave people an added boost to their self-esteem because they could use their hobby to provide gifts to people or charities. 
It would seem that our brains are unable to concentrate on two different things simultaneously. So if you are knitting, your brain can't interpret your pain signals.
---
References

 1 Atherley, K (2020) 'Pick up Knitting Needles for a Mood Lifter,' The New York Times, 20 December, p. D4
---
Health Benefits of Knitting and Crocheting:  Pin for Future Reference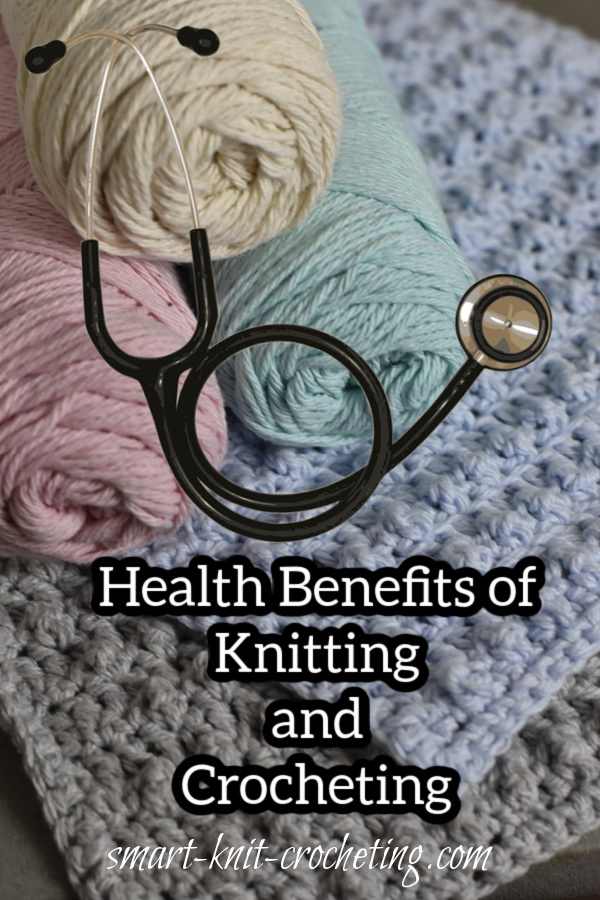 Last thoughts about the health benefits of knitting and crocheting
Needlecrafts mean something different for everyone.  Some of the reasons people give for loving to knit or crochet above may have resonated with you. 
Maybe you have your own thoughts and reasons.  We'd love to hear your stories.  Why do you love to knit? crochet?  Health-wise, do you find you benefiting from your hobby? 
We'd love to hear your thoughts about the emotional and physical benefits of picking up needles or a hook.
How Has Knitting or Crocheting Affected Your Health (Physically or Mentally)
Do you have some thoughts about this topic? Please share.