Safe Money While Crafting
8 Tips on How to Save Money While Crafting

Save Money While Crafting, by Janice Jones, Published 04-12-2023.
As a passionate knitter and crocheter, I know how expensive this hobby can be. From the cost of yarn and materials to the latest crochet hooks and knitting needles, it can be challenging to keep up with the costs.
But with some planning and smart shopping, it's possible to enjoy this creative hobby without breaking the bank. In this article, I'll share my 8 personal tips on how to save money while knitting and crocheting.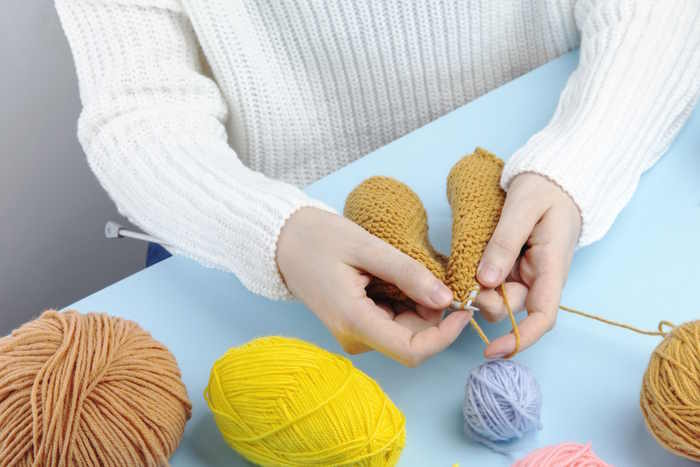 Save Money While Crafting
How to Save Money While Crafting
Knitting and crocheting are excellent hobbies for people of all ages, genders, and skill levels. They are relaxing and therapeutic, allowing you to create beautiful and practical items for yourself and your loved ones. The possibilities are endless, from cozy blankets and scarves to cute hats and sweaters.

However, like any hobby, knitting and crocheting can be expensive. The cost of yarn, tools, and patterns can add up quickly, making it challenging to stick to a budget. That's why it's essential to find ways to save money while still enjoying this excellent craft.
Unlike some hobbies, it's not expensive to get started - a pair of knitting needles or crochet hook, some yarn, a pair of scissors and a tapestry needle.  For under ten dollars, you can create your first masterpiece.  
But once you get hooked (no pun intended) the costs can creep up on you and you may find yourself doubting whether this hobby may be too expensive to sustain.
This is exactly what happened to me. But I did find some solutions I want to share with you.
Benefits of Knitting and Crocheting as a Hobby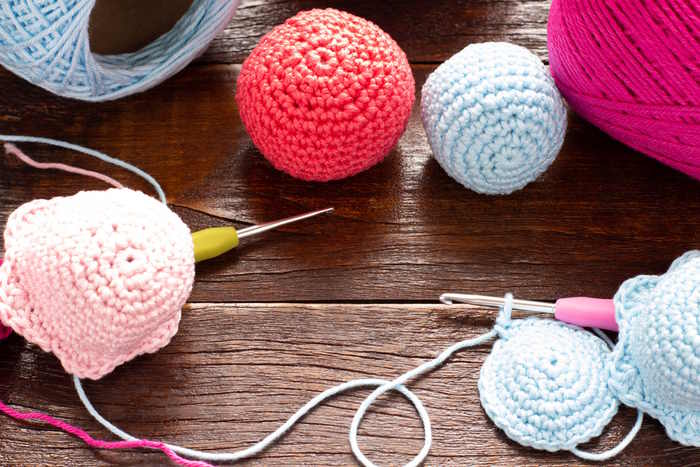 Benefits of Knitting and Crocheting as a Hobby: Save Money While Crafting
Before we dive into the tips on how to save money while knitting and crocheting, let's take a moment to appreciate the many benefits of this hobby. Knitting and crocheting are not just about making pretty things; they also offer a range of mental and physical benefits.

Knitting and crocheting are meditative activities that can help reduce stress and anxiety. The repetitive motions of the needles or hook can soothe your mind and help you relax.
Secondly, knitting and crocheting can improve hand-eye coordination, motor skills, and cognitive function. By working on intricate patterns, you're challenging your brain and keeping it sharp.
Finally, knitting and crocheting can give you a sense of accomplishment and pride. There's nothing quite like the feeling of finishing a project and seeing the fruits of your labor.
Why it's Essential fo Save Money While Crafting  
While there are many benefits to knitting and crocheting, it's also important to be mindful of the costs associated with this hobby.
Spending too much money on yarn and supplies can lead to financial stress and even make you feel guilty about indulging in this enjoyable pastime.
Moreover, saving money on crafting supplies can free up resources for other essential things, such as paying bills or saving for a vacation. You can enjoy this hobby without sacrificing your financial goals by being smart about your crafting expenses.
Tip 1: Shop Smart for Yarn and Materials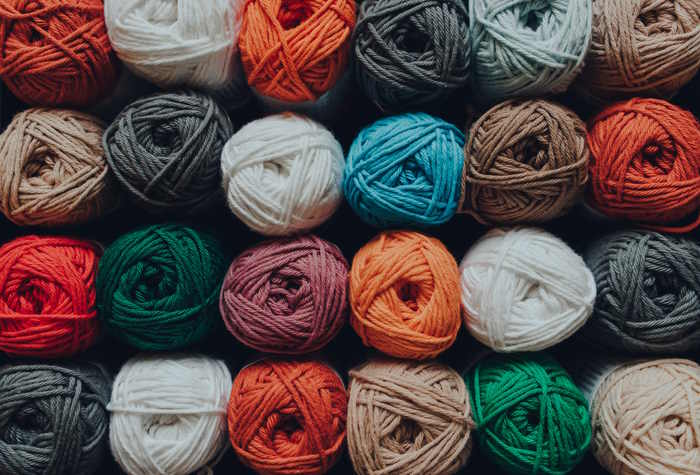 Save Money While Crafting: Shop Smart for Yarn and Materials
One of the most significant expenses associated with knitting and crocheting is the cost of yarn and materials. However, there are many ways to save money on these essential supplies.
Firstly, consider buying yarn in bulk. Many online retailers offer discounts on large orders, so if you know you'll be working on a particular project for a while, it may be worth investing in a big batch of yarn. 
Find a couple of brands you love and sign up for their newsletters.  You will not only get access to free patterns, but you'll be the first to know about sales and discounted supplies. 
Just like seasonal clothes, yarns go on sale at the end of a season at a fraction of the cost.  Even if you aren't planning to make a thick wool sweater in May, snagging that luxury yarn may incentivize you to start on the project in September.
Secondly, look for sales and coupons, locally. Many craft stores offer regular promotions and discounts, so watch for these and plan your purchases accordingly. You can also sign up for email newsletters and follow your favorite craft stores on social media to stay informed about the latest deals.
Finally, consider swapping yarn with other knitters and crocheters. You may have yarn in your stash that you no longer need, and someone else may have something you want.
Joining a crafting community or group (more on that later) can be an excellent way to connect with other crafters and find new yarn for your projects. Ravelry is a great online resource for purchasing or swapping out unneeded yarn.
Tip 2: Use Free Patterns and Resources 
Another way to save money while knitting and crocheting is to use free patterns and resources. There are many websites and blogs that offer free patterns for a range of projects, from blankets and hats to shawls and sweaters.

Additionally, many libraries have a selection of knitting and crochet books that you can borrow for free. You can also find a wealth of tutorials and instructional videos on YouTube and other online platforms.
By using these free resources, you can save money on patterns and instruction books, allowing you to put that money towards yarn and other materials. There are tons of free patterns on this website or you can try this page for even more ideas.
See Free beginner patterns for knitting
Free Crochet Patterns for Beginners
Tip 3: Join a Crafting Community or Group 
Join a Crafting Community or Group by Saving Money while Crafting
Joining a crafting community or group can be an excellent way to save money while knitting and crocheting. Not only can you connect with other crafters and share tips and tricks, but you can also swap yarn and materials, as mentioned earlier.
Moreover, crafting groups often offer workshops and classes at reduced rates. This can be a great way to learn new skills and techniques without breaking the bank.
Finally, crafting groups can provide a sense of camaraderie and support, which can be invaluable for your mental health and well-being. Knowing that you're part of a community of people who share your passion can be incredibly rewarding and motivating.
Tip 4: Upcycle and Use Recycled Materials 
Another way to save money while knitting and crocheting is to upcycle and use recycled materials. Instead of buying new yarn, consider repurposing old sweaters or thrift store finds.
You can unravel the yarn from these items and use it for your projects. Here's a great way to get some retro-colored yarn for new projects. Remember to wash any old garments you find before beginning the unraveling process. 

Additionally, you can use other recycled materials, such as fabric scraps, old t-shirts, or even plastic bags, to create unique and eco-friendly projects. Not only will this save you money, but it will also help reduce your environmental footprint.
How to Prepare Second-Hand Garments For Reuse
To prepare yarn unraveled from a second-hand garment, find the end and untie it. Use a Niddy Noddy to wrap the yarn, then tie the yarn in several places, such as you might see in a hank of yarn.
Next, soak the yarn in tepid water for at least 20 minutes so that the water can thoroughly saturate the yarn. Remove and place on a thick towel. Press out excess water and let dry. 
Tip 5: Invest in Quality Tools and Equipment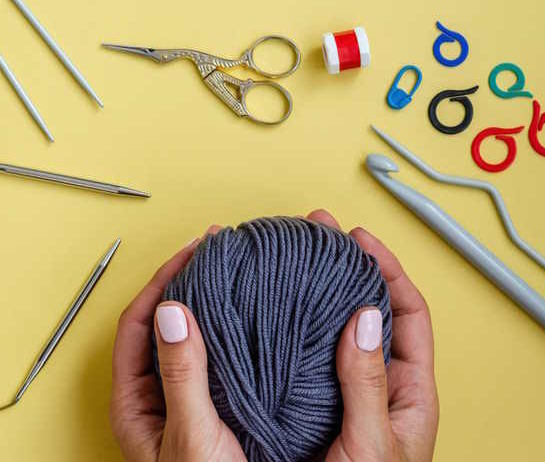 Invest in Quality Tools and Equipment while you save money on crafting
While it may seem counterintuitive, investing in quality tools and equipment can save you money in the long run. Cheap knitting needles and crochet hooks may be tempting, but they're often poorly made and can break easily, requiring you to replace them frequently.
I've lost plastic knitting needles due to breakage, and some of my wooden ones have warped over the years.
On the other hand, high-quality needles and hooks can last for years, making them a worthwhile investment.
Additionally, investing in a good set of tools, such as stitch markers and tapestry needles, can help you work more efficiently and accurately, reducing the likelihood of mistakes and wasted materials.
Once you find your favorite brands, you may never want to purchase new hooks or needles.
Tip 6: Plan Your Projects and Budget Accordingly 
One of the most effective ways to save money while knitting and crocheting is to plan your projects and budget accordingly.
Before starting a new project, take the time to estimate the cost of the yarn and materials you'll need. This will help you avoid overspending and ensure you have enough resources to complete the project.
Remember, you don't have to use the suggested yarn on the pattern. Lesser expensive yarn substitutions may be just what you need.  
Additionally, consider making a budget for your crafting expenses. This can help you keep track of your spending and make adjustments as needed. You can also set savings goals for specific projects or tools, which can provide motivation and help you stay on track.
Finally, keep a handle on what you already own.  Once you get really into these crafts, there's a good chance that you are going to begin accumulating yarn and supplies. (Yarn Stash). 
Some of us seem to gather so much that we forget what we have and may inadvertently buy more when it's not necessary. That's were a little inventory makes sense.
Tip 7: Sell or Trade Your Finished Projects 
Finally, consider selling or trading your finished projects if you want to make a little extra money while knitting and crocheting. There are many online marketplaces, such as Etsy and Ravelry , where you can sell your handmade items to a global audience.
Additionally, you can trade your finished projects with other crafters for yarn, supplies, or even other finished projects. This can be a great way to reduce your stash and acquire new materials for future projects.
Check with your local yarn shop, as they may also sell finished projects on consignment. Online stores such as Etsy are another way to recoup some of your costs.
Tip 8:  Turn Your Hobby into a Full or Part Time Job
If you are serious about knitting and/or crocheting, there are many different ways to monetize your hobby. As mentioned above, you can always sell what you make, either online, in consignment boutiques, or at craft fairs, but that is not all.
Teach On or Offline
You may decide your passion lies in teaching and there is money to be made.  Online, you can start a YouTube Channel or apply to teach at the many online venues available such as Craftsy, Skillshare, or Udemy. 
Other large craft shops offer hands-on classes and need instructors, or you may prefer to pitch your skills to local yarn shops.
Become a Designer
Selling your own patterns is another way to create additional income, either by offering them on platforms such as Etsy or through craft magazines, or yarn retailers. 
Knowing how to write excellent patterns is the first step, but also understanding the hobby is still another.  Once you move beyond the basics, this might be a good area to investigate.
Become a Technical Editor
Many professional knit and crocheters offer their services as techniqual editors to magazines and other publications.  Again it does require more than a rudimentary knowledge of the craft, but can provide a steady income that will offset all the costs associated with the hobby.
Write Your Own Book
Many knitters and crocheters prefer to purchase how to books even when some of the information is available online.  Books offer more indepth information, and are handy even when the internet is not available. 
Elisa Rose chose to write a book when it became evident that crocheting was no longer an option for her.  Her hardback book, Crochet Your Way to a Buyer's Heart with Amigurumi helps aspiring crocheters to make more money doing what they love.
Start a Website
As you probably have guessed, this is how I afford my yarn.  But starting a website is not as hard as it might seem.  If you have information to share, a passion for the craft, and the time and energy it takes, a website might be your best chance to pay for all that yarn, and create a stream of income that goes above and beyond the craft you love.
Conclusions for Save Money While Crafting
Knitting and crocheting are wonderful hobbies that offer a range of mental and physical benefits. However, these activities can be expensive, making it challenging to stick to a budget.
By following the tips outlined in this article, you can save money while still enjoying this fulfilling and creative pastime. Whether you're shopping smart for yarn and materials or upcycling and using recycled materials, there are many ways to do knitting and crocheting affordable and accessible.

So, what are you waiting for? Grab your needles or hook, and get crafting!
Save Money While Crafting: 
Pin for Future Reference