Knitting Books
Best books about knitting
The majority of knitting books is not only a great pleasure to "dig" through their pages, but at the same time they are an excellent source of new ideas and inspiration for our knitting projects, a good way to refresh memory about forgotten techniques and patterns or to solve some knitting problem.

What are our expectations about good  book about knitting ? First of all it has to answer the questing HOW can I... Besides the answers have to be found fast and easy. These are the ideas which I followed to choose the best books presented on this page.
Hope this information will help you to find your own favorite among them. There are a lot of knitting techniques and a lot of talented people who bring us their experiences and knowledge. We have many good books available to choose from. It is only the very beginning of the list. You will find many more of them added as this site grows.
Must have or read knitting books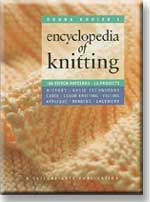 Donna Kooler's Encyclopedia of Knitting.
By: Donna Kooler.
The book is divided into three major sections: 1. History of knitting and other basics information. 2. Different knitting projects. 3.Knitting patterns gallery.
The strongest features of the book are:
It shows a variety of techniques from basics to advanced.
Comprehensive presentation and first rate photos and stitch charts.
Detailed information on the abbreviations and chart symbols used in knitting patterns.
The stitch patterns library certainly worth attention of any level knitters.
A definite must have for your needlework library. It will become one of your favorite books and will assist you in improving knitting skills and knowledge for years to come.
Information about crochet books can be found at Crochet Books page.

---
Home

›

Knitting and Crocheting

› Knitting Books
---