Taking Your Knitting on a Plane?
Knitting on a Plane     by Janice Jones     |Updated 3-25-2023

If travel is on your radar, have no fear, you can take your crocheting or knitting on a plane.  As many of us are coming out of hiding after the pandemic, travel plans are taking a front seat and as hobbyists, we often wonder if it is ok to take our knitting or crochet with us when we travel.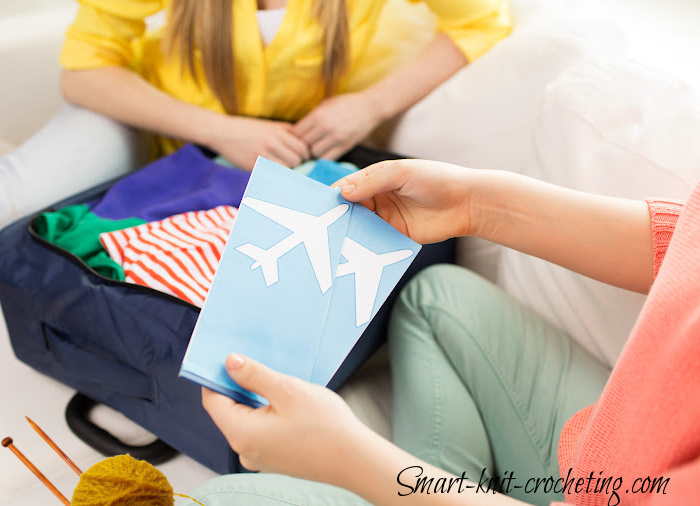 Taking Your Knitting on a Plane
I was one of those wondering whether I would be stopped by TSA (in the US) for having knitting needles, scissors, or tapestry needles in my carry-on luggage. 
What I learned was, "it depends."
On a cruise to the Caribbean, I wanted to make sure that I could relax, rejuvenate, and enjoy one of my favorite things when I was not swimming with the dolphins, or playing a trivia game on board the ship.  I loved both knitting and crocheting, so having to choose which one to bring was a difficult decision for me. 
My early thoughts were that crochet would likely be more acceptable because it is done with a hook.  Surely no one would care if I packed a hook or two. 
Knitting needles were a bit more worrisome. Someone might look at them as a weapon??  As it turned out, both are accepted so you really don't have to make that choice.

I did get stopped.  Not because of the hooks or knitting needles, but the tiny pair of scissors in my bag.  Oddly, I did not get stopped going, but on the return flight, I was stopped and searched. 

Here is the pair of scissors that set off the alarms. Look familiar?  Once the officer saw how tiny they were, he just ushered me on my way. I suppose I was lucky, but I did do a little homework ahead of time and I would like to share those tips with you now.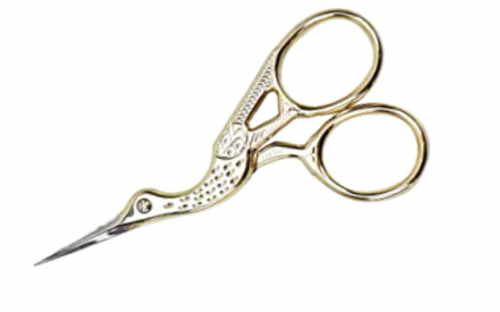 TIP
Leave your Scissors at home.  Save an empty plastic dental floss container and throw it into your craft bag.  It will clip yarn just as easily as it does dental floss and you'll never be stopped.
Tips for Taking Your Crocheting and Knitting on a Plane
Choose the Right Needles
Select wooden, bamboo, or plastic circular needles.  They look much less menacing to the TSA officers, and you are much less likely to drop and lose a needle if you are using a pair of circular needles. 
The worse type of needles to take on a flight are a set of four or five metal double-pointed needles.  Not only could they raise a red flag but if you drop one, it might land rows behind you, never to be seen again. 
Straight metal needles are never a good idea, especially those long 14-inch needles that many of us use from time to time.  You just don't have the elbow room to knit comfortably with those without accidentally bumping your neighbor. 
I also don't recommend sharp circular needles either.  Some brands are perfect for lace work, but their points can be long and sharp.  They may set off an alarm, so find a different type of project for your travel plans.

Here are a couple of examples of needles that work well on planes.
Here is more information on knitting needles in general, if you are a beginner.
Select Your Travel Scissors Wisely
Choose a pair of tiny scissors or even baby nail clippers if you know you will need them for your projects.  Child-size, blunt scissors are a good substitute but if you need a sharp but blunt tip alternative, try these small grooming scissors.  I use them to clip the hair on my dogs and they work great for both jobs.

I love these little scissors.  They are sharp enough for precision hair cutting and they work beautifully on yarn.
Select and Begin Your Project  Before You Board that Plane
Find a project or two that you will enjoy doing, but doesn't require your undivided attention.  For me, I wouldn't choose a shawl with an intricate  lace pattern that requires much attention to detail.  But you are not me, so find something that you enjoy doing. 
Start your project before you leave and be sure you are comfortable with the pattern instructions.  Look up any unusual terms or abbreviations.  And, be sure you know how to read the pattern and understand what you will need to do..
All Projects Big and Small
Choose a smaller project to complete.  If you have been knitting or crocheting for a while, you have already figured out how long things take to complete. 
A king-size blanket is not the best choice for travel or obvious reasons. Even a simple but large sweater is not ideal as it will require you to pack extra yarn, adding weight to your luggage.  Rather, a hat, cowl, mittens, or other items that can lay flat is your best bet.  Small household items such as towels, dishcloths, placemats or pillow covers also work well.

Pattern Instructions
Unless you are making it up as you go, you'll likely be working from a pattern.  Pack an extra hard copy of your instructions.  Don't rely on the internet or a digital version as there is always a possibility that when you want to knit, you won't have a connection.  Or, your device just ran out of power and needs recharging.
Alternately, if your pattern is in a book or magazine, consider making a copy of the pattern so that you won't need to pack the extra weight of a book.
All Those Extra Knitting Accessories You Will Need
We all carry them in our bags:  Tapestry needles, stitch markers and holders, row counters, tape measures, and the such, but should we take them along when we travel?  
There is no reason to leave these essential behind, but look at each one as if someone might think it is dangerous.  Choose plastic whenever possible:  Plastic tapestry needles, plastic stitch holders and markers, and plastic row counters will sail through any security checkpoints.
More on Knitting Accessories and Supplies
Leave Your Best, Most Expensive Tools at Home
As you get into knitting, it's easy to start spending $$$$ on expensive knitting needles.  Even though these might be your favorites, resist the urge to pack them for the trip.
Things can and do happen and you wouldn't be happy if you lost those treasured possessions.  Again, a comfortable pair of bamboo or wooden needles will work just fine when you travel.
Knitting Bags
Bags, cases, backpacks are necessities when it comes to keeping our knitting projects organized, but choose wisely when you travel.  Depending on the length of your flight, you may only want to bring a small quantity of yarn, needles, and scissors in your carry-on luggage.  If you won't be checking any luggage, consider placing your knitting in your purse or backpack so it's easy to access.
I have found that a clear, see-through project bag to place all items into works best.  Small projects fit well into a gallon freezer bag or choose one of those beautiful project bags that often come free when you buy yarn. 

Crochet Anyone?
If you prefer to take along a crochet project, by all means, do so.  Crochet hooks should not be a problem, but do follow the recommendations for small scissors and plastic tapestry needles.

Final Tips
Don't take anything along that you would be heartbroken if confiscated
Plastic, wooden, and bamboo needles are the best materials to travel with whether you knit or crochet
Blunt tip scissors aren't going to raise red flags, but sharp long pointed scissors might
Select small manageable projects over those that will require a larger time commitment
Read the TSA guidelines or call your airline if you have questions.
Think plastic for all of your accessories (stitch markers, stitch holders, etc.
Knitting on a Plane: 
Pin for Future Reference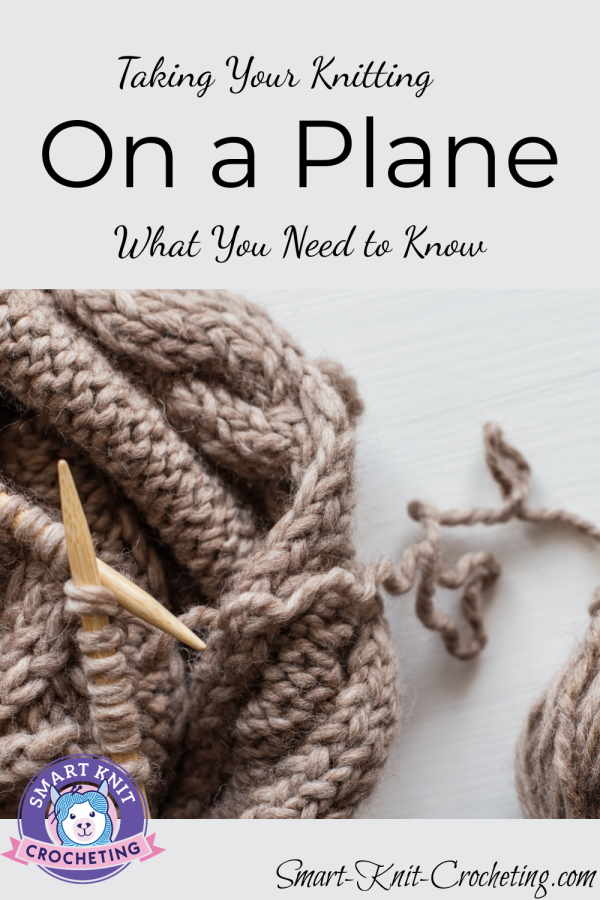 References