Unlock Your Creativity with Colorwork Knitting: 7 Techniques to Try 
Colorwork Knitting by Janice Jones  |Published 05/05/2023
As a long-time knitter, I have always been fascinated with the art of colorwork knitting. These techniques allow you to create beautiful and intricate patterns using multiple yarn colors and many different approaches.
Whether a beginner or an experienced knitter, knitting with many colors is a great way to add extra creativity to your projects. In this article, I will discuss the history of colorwork knitting, its benefits, and the different techniques you can try.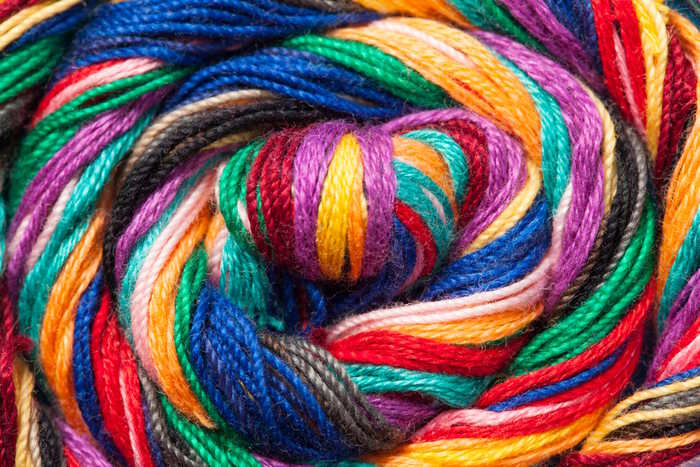 Introduction to Colorwork Knitting
Colorwork knitting is a technique that involves knitting with multiple strands of yarn to create designs and patterns. These designs can range from simple stripes to more complex motifs and images.
Depending on your method, techniques include stripes, stranded knitting, fair isle knitting, Intarsia, and duplicate stitch knitting, among others.
Benefits of Colorwork Knitting
Colorwork knitting is not only a fun and creative way to knit, but it also has many benefits for the knitter. First and foremost, it allows you to create unique and beautiful patterns that cannot be achieved with a single color of yarn.
It also helps improve your knitting skills as you learn to work with multiple strands of yarn simultaneously. Additionally, it can be a great stress reliever as you focus on the rhythmic movements of the needles and the colorful patterns taking shape before your eyes.
History of Colorwork Knitting
Colorwork knitting has a long and rich history, dating back to the Vikings in the 8th century. The Vikings used colorwork knitting to create intricate patterns on their clothing and accessories, often using natural materials such as wool and plant fibers.
The technique spread throughout Europe, with many regions developing unique styles and designs. Today, colorwork knitting is a widespread technique worldwide, with knitters using a variety of yarns and patterns to create unique designs.
Choosing the Right Yarn for Colorwork Knitting
Choosing the suitable yarn is crucial when it comes to colorwork knitting. You want to select yarns of similar weight and texture so that the stitches are even and the finished product is cohesive.
Additionally, you want to choose yarns with good stitch definition to make the patterns and designs clear and distinct. It is also essential to consider the color palette you are working with and choose colors that complement each other and create a cohesive look.
If you are new to knitting, I recommend selecting a worsted weight yarn (number 4) with the appropriately sized needles.  Choose several colors that are complementary to each other.
Types of Colorwork Knitting Techniques
There are several different types of colorwork knitting techniques, each with unique advantages and challenges. The most common types of colorwork knitting include stranded fair isle and intarsia knitting, but they are not the only types of knitting to add color to your project
In this article, I will introduce you to 7 types of colorwork to try
1. Using Yarn to Create Colors
One of the easiest ways to add color to a project is to purchase yarn that comes in more than one color. Several different types of yarn allow you to add color simply by knitting.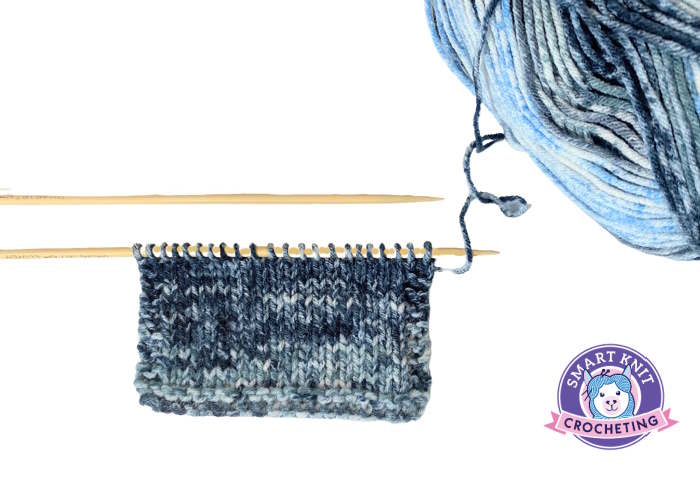 Knit sample using variegated yarn in shades of blue and black.
Hand-dyed yarns often have subtle color variations that can create interest in any project. 
Variegated yarns come in various color combinations with can have either short segments of each color or longer patches; the changes between colors are more defined than in other types of multicolor yarns. Most have two or more distinct hues
Self-patterning yarns come with long color repeats, the changes between colors are gradual, and the length of each color is longer than you would find in variegated yarns. With longer repeats, the results can give you the appearance of stripes even though you are working with the same hank of yarn. 
Heathered or Tweed Yarns are woven to create small specks of color which is different from the base color.
Marled yarns are those that have different colors of yarn twisted together.  
Ombre yarns are made by blending one hue to the next, often starting at the darkest hue of a color and moving to the lightest.
Please check Amazon for price and availability.
Varigated yarns work best when you are creating knit fabric with simple stitch patterns such as the stockinette stitch or even garter stitch.  
When using variegated yarn, complicated lace, cables, or other fancy stitches will be difficult to see and appreciate.
2. Stripes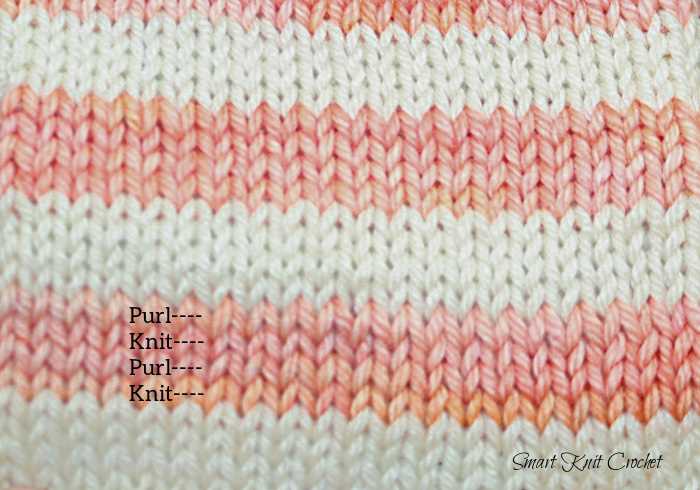 Stripes
Adding stripes to a knitting pattern is the next easiest way to add color. You can create stripes in most knit patterns, but it is essential to remember to change colors at the end of rows.
If you're knitting in stockinette or garter stitch or a similar stitch and don't want the broken line where the colors change to show, start the new color on a knit row.
3. Fair Isle or Stranded Knitting
Fair Isle or Stranded Knitting
This traditional knitting technique involves creating intricate and colorful patterns by carrying two or more yarn colors across each row.
The result is a stunning and eye-catching design that will impress anyone who sees it. This method originated from the island with its namesake, a part of the Shetland Islands in Scotland.

The key to successful Fair Isle knitting is maintaining consistent tension while working with multiple colors.
This can be tricky at first, but with practice and patience, it becomes second nature. Choosing colors that complement each other and create a cohesive design is essential.
This technique is best used when there are just a few color stitch repeats as you will be carrying the yarn behind your work, and any more than 5 stitches mean there may be too much bulk and tension issues.
4. Intarsia Knitting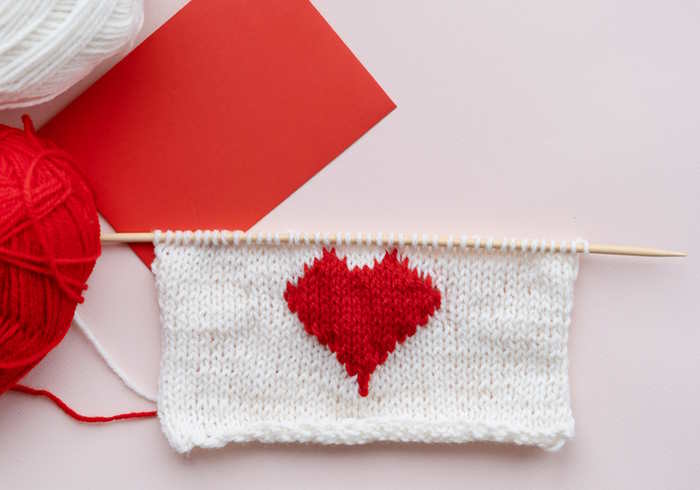 Intarsia Knitting
Intarsia is a way to create a picture with various colors. Designs can be small and intricate or larger pictures. Each color is worked by knitting it into a section of the project.
All yarn is carried on bobbins or small balls of yarn, with each colored strand of yarn worked separately so none is held on the back of the project as in Fair Isle.
For example, if you make a white Valentine's Day headband with red hearts, there would be three separate sections of color, two white sections on either side and the red heart in the middle.
To work it, you would work with white to get to the red heart, drop the white and then work across in red. Drop the red yarn and finish the row in white.
As mentioned above, many large designs or shapes can be created by this technique, but even thin, one-stitch designs can be made using Intarsia.
For example, argyle socks can be knitted using this technique. As a side, the argyle pattern originated with the tartan of Clan Campbell in western Scotland. It was woven into kilts, plaids, and socks Scottish Highlanders had worn since at least the 17th century.
These were generally known as "tartan hose. The Scottish Harris Tweed, a high-end woven fabric, reminds me of the Argyle pattern.
Today this fabric is used in various wearables, including collars and dog bandanas. 
5. Mosaic Knitting
Mosaic Knitting
Mosaic or Slip-stitch knitting looks complicated because it uses two or more yarn colors to make designs.
You work with one color at a time, and other stitches are slipped so that the color from the previous row shows on those stitches.
This type of colorwork can create fascinating designs. Barbara Walker wrote a book in 1997 which popularized Mosaic Knitting. It can be done using a variety of different types of stitch patterns including garter stitch and stockinette stitch.
More information on Mosaic Knitting
6. Duplicate Stitch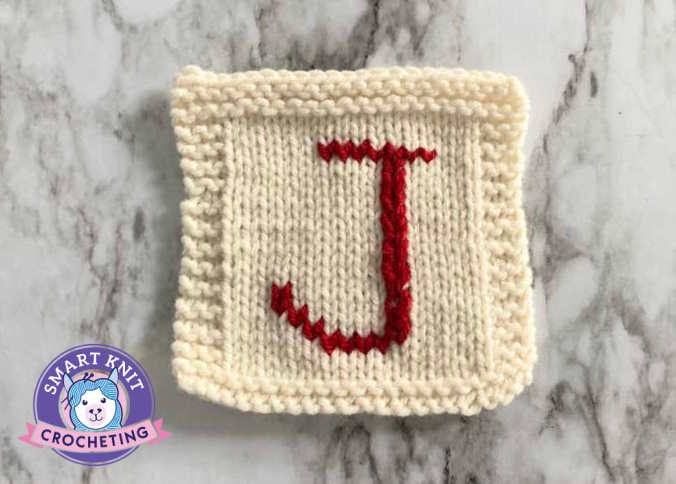 Duplicate Stitch
The duplicate stitch or Swiss darning as it is also called, can add color to a project done with a stockinette stitch. It is a form of embroidery where you add color after the fact. It is an easy way to add color without the need to hold and knit with more than one color at a time.
Duplicate stitches are best done over stockinette stitch.  The name duplicate comes from the fact that you are working a new stitch over the previous stockinette pattern, duplicating what is already there with a new color.
You can create monograms or complete pictures. Working with duplicate stitch can make the project bulky and stiff due to the extra layer of stitches.
7. Embroidery
Using embroidery stitches on a blank canvas of stockinette stitch can add color and interest to any project. Basic stitches such as the backstitch, satin stitch, french knots, lazy daisy stitch, among others can be worked directly on a patch of stockinette stitch.  
Common Mistakes to Avoid When Knitting with Multiple Colors
When it comes to colorwork knitting, beginners often make several common mistakes. One of the most common mistakes is not keeping the tension consistent between the different strands of yarn.
This can result in uneven stitches and a finished product that looks messy and unprofessional. Another common mistake is not weaving in the ends of the yarn correctly, which can result in loose ends and a finished product that falls apart quickly.
Taking your time and paying attention to these details is essential when working with multiple yarn colors.
Tips for Successful Colorwork Knitting
You can use several tips and tricks to ensure your colorwork knitting projects succeed. First, practice with smaller projects before moving on to larger, more complex designs.
This will help you to master the basic techniques and build your confidence. Additionally, it is crucial to keep track of your yarn ends and weave them in as you go so that you don't have a mess of loose ends to deal with at the end of your project.
Finally, take your time and enjoy the process. Colorwork knitting can be slow and meditative, but the result is always worth it.
Colorwork Knitting Patterns to Try
There are countless colorwork knitting patterns available for knitters of all skill levels.
Some great beginner patterns include simple striped scarves and hats, while more advanced designs may consist of complex motifs and images.
Conclusion
Colorwork knitting is an excellent technique for unleashing creativity and creating beautiful, unique pieces. Whether you are a beginner or an experienced knitter, there are many different types of colorwork knitting techniques that you can try.
By choosing suitable yarn, mastering the basic techniques, and avoiding common mistakes, you can create stunning and intricate designs that will envy all your knitting friends. So why not give colorwork knitting a try today?

CTA: Happy Knitting!
Colorwork Knitting:  Pin for Future Reference