Gauge in Knitting Projects
Understanding Gauge in Knitting Projects:  Make it Right Every Time
Understanding Gauge in Knitting Projects    by Janice Jones     
|Updated 10-15-2023
Understanding what gauge means in knitting patterns is so important especially if you are planning to make a garment and you want that finished product to actually fit. 
I'll be the first to admit that I never understood how important gauge was when I first learned to knit and created a sweater that was completely useless.  It was supposed to be for a gift, but after weeks of work, I finally just abandoned it. 
What a waste and that was when I tried to find out what went wrong.  Luckily, I had a grandmother who knitted sweaters every year and hers always seemed to fit fine.  That is the point where I was introduced to gauge in knitting patterns.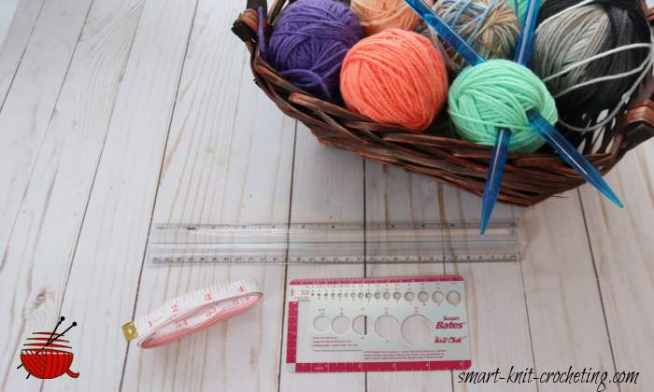 Gauge in Knitting Projects: Getting it Right
What exactly is gauge in knitting projects?
Gauge is a degree as to the size of your knit stitches.  No two knitters knit the same, some knit tight stitches where others tend to create very loose stitches.  With gauge, we can predict based on our own style of knitting that the end product will fit us.  The pattern designer provides a measure of gauge and we can make changes based on whether we knit looser or tighter than the designer.

Gauge includes two parts: 
size of the stitches
size of the rows
In other words, gauges measure the height as well as the width of your stitches.

Does Gauge Matter?
The answer is yes and no.  If you are creating a product such as a bag or blanket where the end result can be bigger or smaller than the pattern, then the answer is no, the gauge doesn't matter.  But what if you are knitting a garment, say a sweater or hat where you want the end result to fit, then gauge matters.  And, yes gauge matters, big time!
If you ignore gauge, then the sweater you've worked so hard to finish won't fit;  it will either be too big, or too small and all your hard work will be in vain.  
For anything that you want to fit properly, you need to reach the right gauge.  But just how do you do that?  How to determine Gauge?
Each pattern you want to use should include a targeted gauge.  It will look something like this:  
Gauge: 20 sts/28 rows = 4 inches in stockinette stitch
This means that gauge is 20 stitches (width) and 28 rows (height) equaling four inches squared in stockinette stitch.  
How to get the right gauge in knitting projects
So you've decided that gauge is important and you want to get it right.  Here are two options:  
Just start the project and measure as you go.  This option can work for some wearables like mittens and even hats. You can begin the project and either measure the gauge or just test the fit after a few rounds. Just be prepared to rip it out and start over if it doesn't fit.
Or, if that doesn't seem like a viable choice, 
Knit a gauge swatch.  This is the safest bet, especially if you're working on a larger project like a sweater. Your pattern will identify the gauge measurements, based on a knit swatch that is about 4 inches by 4 inches.  For example, using the gauge measurements listed above, 20 stitches and 28 rows will equal 4 inches in stockinette stitch.  
How to make a gauge swatch
You can create the swatch based on the number of stiches recommended by the pattern, but a better option is to cast on more stitches than is recommended by the pattern. Making a gauge measurement is easier if you don't need to measure the outside of your swatch. 
So, for example, if your gauge calls for 20 stitches, cast on 26 or even 30 stitches.  That way, when you take your measurement, you will measure from the inside of the swatch.  If the pattern calls for 28 rows, knit an additional 4 or more rows to make measuring easier.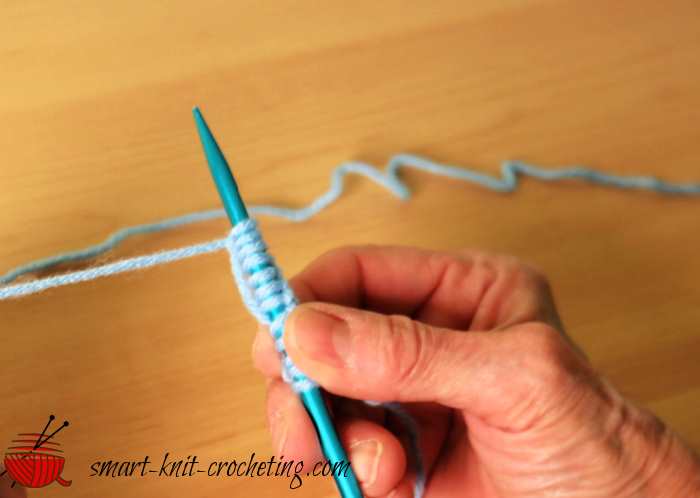 Cast on more stitches than the gauge swatch calls for so that measuring can be accurate
What to Use to Measure Gauge
Any type of measuring tool will work, from a tape measure to a ruler to a specifically designed rule to measure gauge.  It doesn't really matter as long as you can use the rule correctly.
Step One:  Measure the Number of Stitches Within a 4 inch square
The first thing you'll want to measure is the number of stitches. Lay your ruler or measuring tape across the center of the swatch and count the number of stitches that fit into 4 inches. This is your stitch gauge.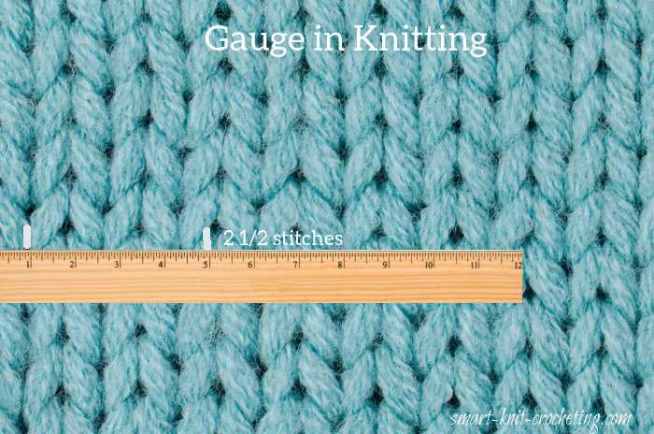 Gauge in Knitting Projects: Measuring the number of stitches
Step Two:  Measure your rows

Now place the ruler vertically across your swatch and measure the number of rows that fit into 4 inches. This is your row gauge.  Hint:  If using a tape measure, start your measurements at the 1 inch mark and stop at the 5 inch mark.  It's a little more accurate.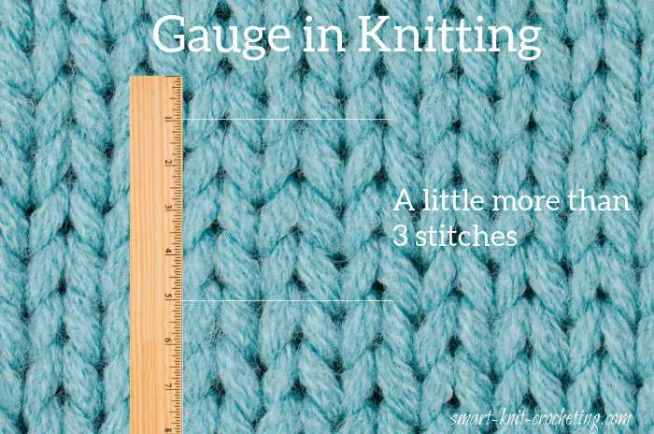 Gauge in Knitting Patterns: Measure the number of rows
Step Three:  Compare the Gauge in knitting patterns to your own.  
If you knit to gauge the first time, you're done!  You can start your project.  
If not, read on for a few ways to get gauge.
Gauge:  3 stitches + 3 rows = 4"
Don't worry if your gauge is not identical to that of the pattern's designer, it happens all the time.  This one is fairly close
Compare your swatch to that of the gauge printed on your pattern.
If you have more stitches per 4 inches, adjust accordingly…
First, try using a larger knitting needle. This will make each stitch larger and therefore spread it out over the 4 inches.
If you have fewer stitches per 4 inches…
…then your project will be too large. Try fixing by using a smaller knitting needle.  This will give you more stitches per inch.  
Go down or up one knitting needle size and redo your swatch to see if you match the designer's gauge measurements.  Start over, redo the gauge swatch and then measure again.
Hints to Help You Reach Your Gauge in Knitting Projects
Too few stitches: Switch to a Smaller Needle
Too Many Stitches:  Switch to a larger needle
What if changing needle sizes doesn't work?
If you're having no luck when changing knitting needle sizes, you can also try different types of needles.
For example, if you were unsuccessful getting gauge with a plastic needle, you might be more successful with a bamboo needle or even metal needles.   
Fibers cooperate differently with each type of needle — you might get more grip with a bamboo needle, for instance — so you may just have to experiment a little to see which one works best.

Hint:  To Help You Reach Gauge in knitting projects:
Try a different type of needle (plastic, bamboo, metal, wood, etc.)
Here are a few more examples to help you understand gauge in knitting projects:
When the Pattern calls for Gauge: 10 sts/15 rows = 4 inches in stockinette stitch.  Remember obtaining gauge is a combination of three factors:
Needle size (based on the needle recommended in the pattern


Yarn weight (based on the yarn weight recommended in the pattern


Your knitting tension (only you can control this, but it isn't easy)
Is there a difference between a gauge swatch knit flat or in the Round?
Most knitters will find that their gauge in the round differs from their gauge when knitting flat. This is because some people's purl stitches are a little looser than their knit stitches when working in the round. 
If your project is knitted in the round, don't knit a flat gauge swatch – rather, you need to create your swatch by working in the round.  Create your swatch, then bind off.  Compare your project to that of the pattern and then adjust accordingly.  
Alternatively, if you don't want to bind off, place stitches on a stitch holder or piece of yarn so you can lay the swatch flat.
Here are a few more tips to getting gauge in knitting projects right:
Look at the type of yarn specified on the pattern.  If it calls for a specific yarn brand and you don't want to use that brand, that's fine, but use the same weight of yarn in a different brand.  For example if your pattern calls for a worsted weight, number 4 dk yarn, find another brand in that same weight category.

Try different types of needles. Sometimes bamboo needles, plastic needles, wood needles or metal needles may produce different size gauge swatches.  Be open to experimenting.
When you have found the yarn of your dreams, but it is not the same used in the pattern, first start with the needle recommendations on the yarn label.  Sometimes, through experimentations a number 3 sports wool will work on a pattern calling for a number 4 worsted weight yarn with a few moderations.  It pays to experiment to get just what you want.
What if Your Gauge Swatch Matches the Pattern's Gauge Recommendations?
You are good to go.  Your tension and gauge match the designers so it is time to start your project.  Give yourself a pat on the shoulder, you did it.
Gauge in Knitting Projects:  Pin for Future Reference