Knit Hand Mitts:  A Perfect Beginner Project
Knit Hand Mitts     by Janice Jones     |Last updated 04-18-2023
This super easy knit hand mitt pattern is perfect for the beginner and works up fast with minimal effort.  Created for a woman's hand, just a few minor alterations will make them fit a man's hand as well.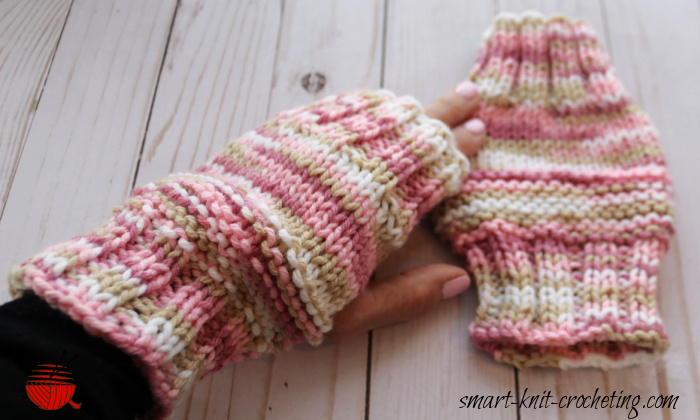 Pink Variegated Knit Hand Mitts
Only three different stitches are used, including ribbing, stockinette, and garter stitch.  Both right and left-handed mitts are worked identically.  Each one is knitted in a flat rectangular shape and then sewn together, leaving an opening for the thumb.

Tip:  If you are beginning to knit, using bamboo needles may help you keep stitches on the needle.  Since this is a small project, you will want to choose needles that aren't too long.  I'm using double-pointed needles, seven inches long. 
You will want to add needle point protectors at one end so that you don't accidentally lose your stitches.  Alternatively as you can see in the photo below, I've cut a wine cork in half and used 1/2 cork on each needle.  The big red "7" is the size of the needle.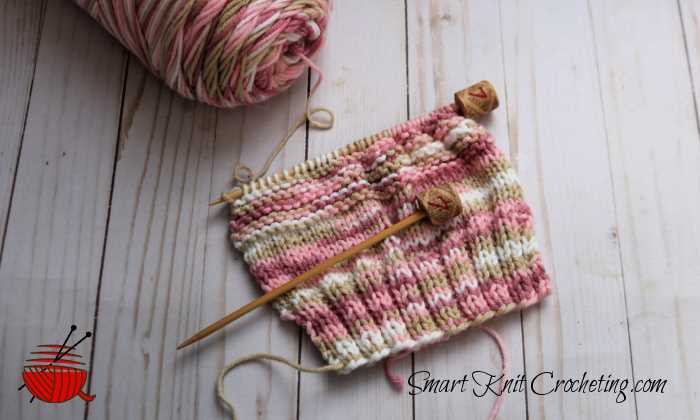 Knit Hand Mitts: Work in Progress
Finished Size
Finished Size:  7 inches (add an extra row or two if you prefer them to be longer)

For a larger size mitt, cast on more stitches in multiples of two;  increase rows of stockinette stitch to add length to the mitt
Tools and Materials
Yarn:  I recommend acrylic or a mixture of wool and acrylic;  Number 4 medium worsted weight yarn
Gauge
5 stitches = 1 inch

Instructions:  Knit Hand Mitts
Instructions:  Make 2

Cast on 36 stitches using the long-tail cast-on method, leaving about a 10 inch tail for seaming.  
TIP:  cast on loosely, so the stitches are a bit stretchy
Rows 1 – 10 
Ribbing:  (K2, P2,) repeat to the end of the row
Make ten rows of ribbing stitch
Rows 11 – 24
Garter Stitch:  Knit rows 11-24
Rows 25-35
Stockinette Stitch:  10 rows
Row 24:  Knit
Row 25: Purl
Rows 24 and 25:  Repeat rows 24 and 25, 4 more times
Rows 36-48
Ribbing:  12 rows
Row 36:  (K2, P2) repeat to the end of the row
Repeat for 11 more rows
Last Row:  Bind off following the K2, P2 pattern.  Leave about a 10-inch tail to use for stitching the seam.
Finishing:
Make 2
Using a yarn needle, sew sides from top-down and then from the bottom up, leaving about a 2 ½ inch opening for the thumbs.  Weave ends and then cut leftover yarn close to the mitt.
Tip For Seams
Ensure you have correctly lined up your stitches and pin them if necessary using a safety pin or straight pin before beginning to sew.  Use the long tail left from your cast on to sew one side.
Just a Few of My Favorite Yarn Picks
Pin for Future Reference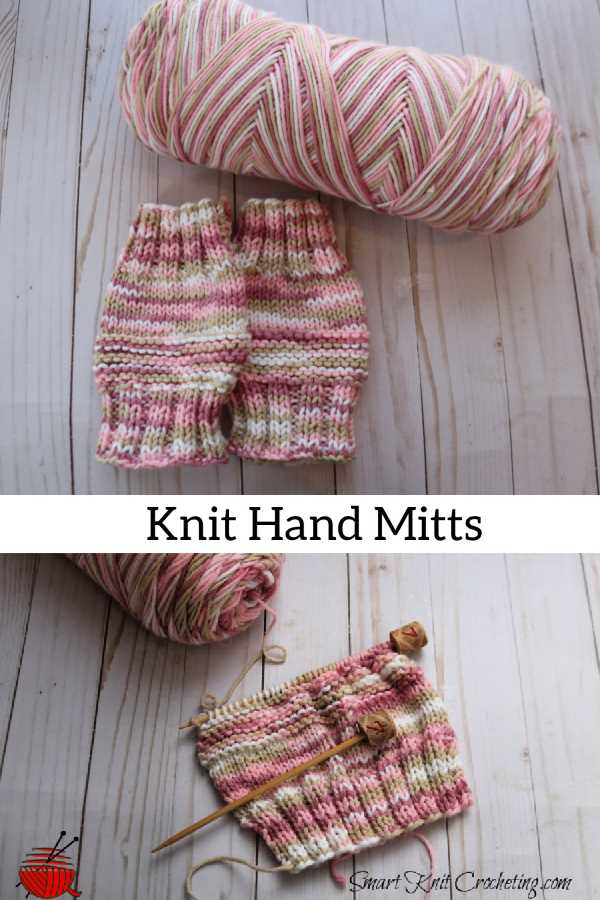 Knit Hand Mitts: Free Pattern