15 Free Knit Dishcloth Patterns
Free Knit Dishcloth Patterns that Will Help You Learn to Knit
15-Free Knit Dishcloth Patterns by Janice |Updated 05-12-2023
Who doesn't need knit dishcloths?  Or facecloths, for that matter?  I'm sure you use one or the other daily, and most of us use them multiple times a day. 
Naturally, you can purchase them ready-made but using a handmade dishcloth or washcloth seems so much more elegant, whether it is for yourself or to give that special person.
But what if I told you that you could learn to knit and master many techniques simply by knitting dishcloths?  These projects are the best way to hone your knitting skills while learning new stitch patterns.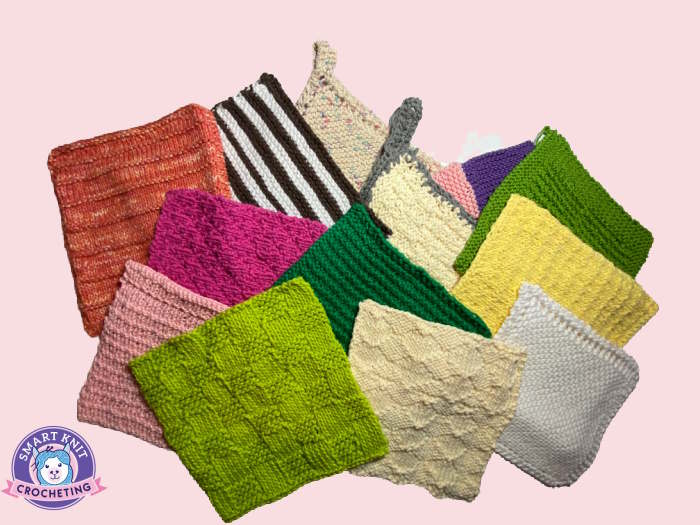 In this free tutorial, I will walk you through my collection of dishcloths, 12 to be exact, one for each month of the year.  Each one will detail one or more possible new techniques for the beginning knitter.  But first, let me explain a couple of things.  Of course, it is fine to jump right into the free patterns.
What Stitches/Techniques Will You Learn
How to make the knit stitch and the purl stitch
How to combine knits and purls to create easy-to-follow patterns
A variety of new knit stitches
Increases and Decreases
How to Cast On and Bind Off
How to Weave in Tails
8 Row Repeats for More of a Challenge
How to Pick up Stitches
Knit Discloth Patterns
In this article, I am going to cover many topics all about dishcloths including:
Why do we love to make dishcloths
What type of yarns make the best dishcloths
What other tools will you need
Tutorials and tips for success
Links to 15 free knit dishcloths, all suitable for beginning knitters
Why Do We Love Making Dishcloths
If you have ever made a dishcloth, you might already know the answer to this question.  I can't speak for every knitter, but I can tell you why I love these projects. Beyond the fact that using dishcloths or facecloths is very eco-friendly, here are a few more reasons to love making them.
Learn a New Stitch Pattern: Dishcloths are perfect if you are a new knitter and still trying to master the many different knit stitches.  The best way to learn a new stitch is to practice it before incorporating it into a project.  What do you do?  You make a great swatch, but what do you do with the swatch?  Better yet, turn that swatch into a dishcloth that you can use repeatedly.
Quick Projects:  Think dishcloth versus sweater. A sweater is a wonderful project, but the dishcloth is the perfect solution if you don't have the time but love to knit.
Basic Designs:  Most knit dishcloths use basic stitches and designs.  There is usually no need to make a gauge swatch, and the pattern is normally easy enough to memorize, so you don't have the need to constantly refer to the pattern.
Perfect for Travel:  If you love taking your knitting along on a trip, the dishcloth pattern is the perfect solution.  Grab your yarn, a set of wooden circular needles, a tapestry needle, and a tiny yarn cutter, and feel confident boarding an airplane, knowing that you'll sail through security.
Accomplishment:  It takes a while for the beginner to feel good about their work.  The dishcloth project provides that feeling of satisfaction in a very short period.
Gifts Galore:  Love giving handmade knits to your friends but don't have the time?  Dishcloths make perfect gifts for all occasions.  Make a set in green and red for Christmas, use warm pastels for Easter, or get creative with oranges, browns, and yellows for Thanksgiving.
Stash Busting:  Many will use their excess yarn, but be careful, as not all types of yarns work well for dishcloths.  Keep reading for more tips.
On a more practical note, dishcloths or facecloths are useful for your use and that of a family member.  
What Type of Yarn Makes the Best Dishcloths?
For the best results in terms of wear and tear, usability, and durability, consider plant-based yarns such as cotton, linen, and hemp.  These yarns are relatively easy to use and create durable, absorbent, and washing machine-friendly dishcloths. 
Granted, 100% cotton is not as easy to knit with as 100% wool, but if you don't mind cotton or a cotton blend, you can learn any number of new stitches, all while creating a lifetime supply of dishcloths.  
One of my favorite cotton yarns for dishcloths is Bernat Handicrafter.  It comes in a variety of ombre and floral prints.  While not as soft to work with as some yarns, it has just the perfect amount of softness for a dishcloth.
Another favorite of mine is Lily Sugar'n Cream.  It's perfect for washcloths and comes in almost any color you can imagine, including solids and variegated colors.  When ordering, be sure you purchase the correct amount for your project as some skeins are rather small.
If you've never knitted with hemp, consider Lion Brand, Just Hemp.  It's a Bulky or Chunky weight (#5) that is great for a wide variety of projects needing a little bit more strength but great in a dishcloth.  Since it is a thicker-weight yarn, use larger needles and watch your washcloth take shape quickly.
Dishie brand is also a big favorite.  It is a worsted weight 100% cotton yarn with a tight spin and high absorbency, but best of all it comes in any color imaginable.  
I also love Hobby Lobby's I Love This Cotton because it is soft, easy to work with, and feels great as a facecloth.
What Kind of Cotton?  Mercerized or Unmercerized?
Unmercerized cotton yarn makes the most absorbent dishcloths.  It also has a more natural, handspun look to the finished project.

Mercerized cotton yarns come in a wide range of colors because it is more receptive to dyes.  They are also shiny and stronger, making them last longer than unmercerized cotton washcloths.
What Tools Do You Need to Complete Knit Dishcloth Patterns
It doesn't require much, but here's the list.
Yarn (preferably cotton)
Knitting needles to match the yarn you choose
Scissors
Tapestry Needle
Tape Measure
Some Patterns May Require a Stitch marker
What are the Best Needles for Knitting Washcloths?
You can use straight, circular or even double-pointed needles if they are long enough.  I find that 8 inch double-pointed needles work great when making washcloths.  The type of material used to make the needles is up to you. You can knit faster with metal needles, but wood or bamboo are great for beginners.
How Much Yarn is Needed?
Most all dishcloths or facecloths that are 7 to 10 inches square require less than one regular skein of yarn.  The smaller ones may give you enough yarn for two or more washcloths depending on the size of the skein
15 Free Knit Dishcloth Patterns
You don't need a pattern to make a dishcloth, but new knitters prefer to have that security, so here are 15 to get you started.
1. My First Garter Stitch Dishcloth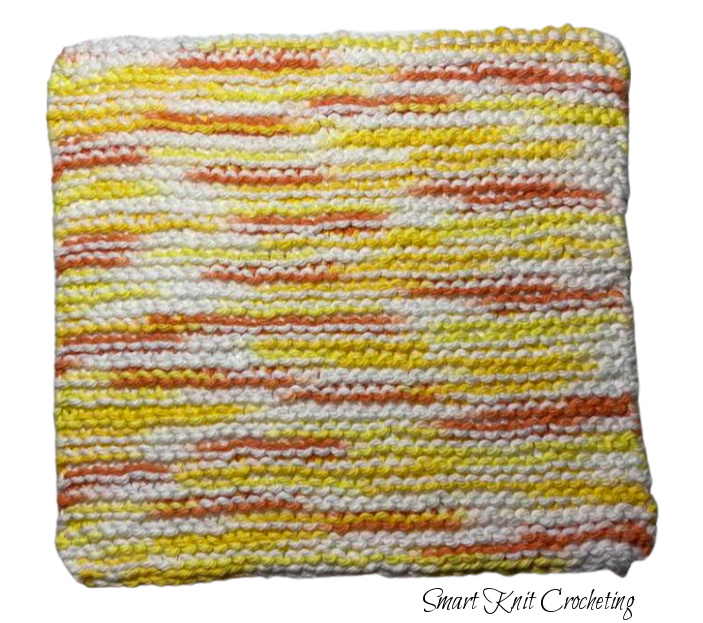 Most knitters begin by learning how to make a knit stitch, right?  This could get a bit boring if you are an experienced knitter, but this is the perfect first project if you are a newbie. 
Learn how to make the garter stitch with perfect tension and even stitches, and this could give you the boost you need to try something a bit more complicated.
Four Free Garter Stitch Dishcloth Pattern
---
2. Seeds and Tweeds
New knitters are told to use light-colored wool yarn in solid colors, but that gets boring. Here's a chance to add a little color.
This dishcloth is made entirely of the seed stitch, a two-row repeat that is easy to memorize.  Find cotton that resembles tweed, and you end up with seeds and tweeds.
Free Seed Stitch Dishcloth Pattern
---
3. Perfect Royal Blue Stockinette Dishcloth
All new knitters worry about stockinette stitch curling and refusing to lay flat.  With this lovely royal blue dishcloth, you can eliminate curling by working a seed stitch border.  Practice both stitches and create one or more dishcloths for your kitchen.
Here is the free beginner-friendly stockinette stitch dishcloth
---
4. Oldie But Goodie Garter Stitch Diagonal Facecloth
This is just a variation of the basic garter stitch but worked on the diagonal.  If you are a beginner, not only can you practice your garter stitch, but you can also learn how to increase and decrease as well, two very useful skills to add to your repertoire. 
Hop over to the free beginner-friendly dishcloth pattern.
---
5. Coral Purl Ridge Dishcloth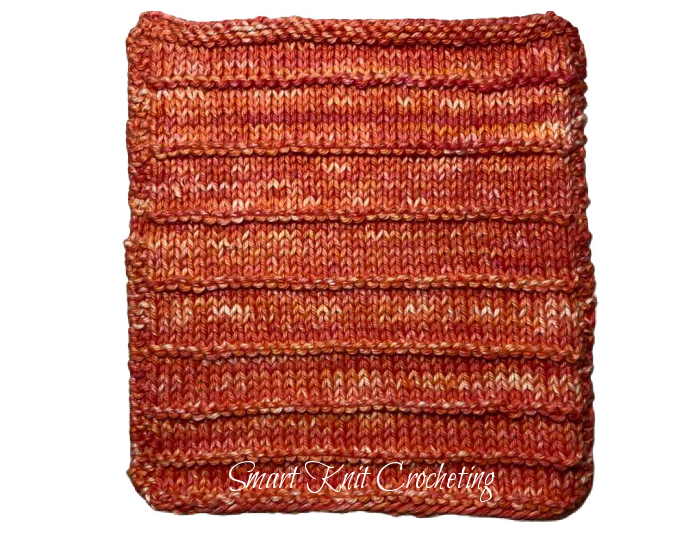 This one is super simple, the basic stockinette stitch is interrupted periodically with an extra purl row giving it more texture and interest.  The front creates the texture, and the back still looks like a flatter pattern.
Free Purl Ridge Dishcloth Pattern
---
6. Easy Variegated Basket Weave Cloth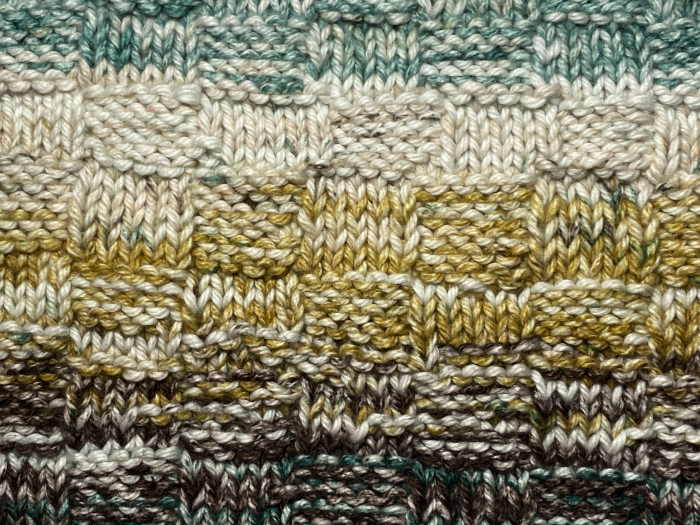 The basketweave knit stitch is a beginner friend pattern that uses knits and purls and creates the look of a basket.  I have created this one with variegated cotton yarn, but feel free to choose a color that matches or complements the colors in your kitchen.  
The basketweave design shows its natural beauty when done in a solid color.  Make one like my pattern suggests, or create a larger one to line a bread basket for a holiday gathering.
Beginner-friendly Basketweave Dishcloth
---
7. Which Way is Up (or Down)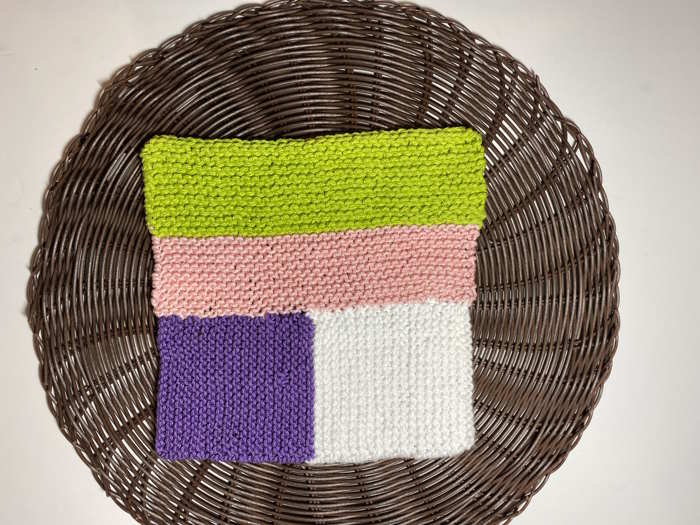 This is the easiest way to learn if you have never knitted a pattern that requires picking up and knitting stitches.  At first glance, it appears that the dishcloth has been knitted in two parts and then sewn together, but it's only one solid piece.  
You work one side, turn it around, pick up the end stitches, and work at a 90-degree angle.  You can make it in one color or choose two colors for a more interesting look.  All that is required is that you know how to make the garter stitch.
Which Way is Up or Down Free pattern
---
8.  Garter Checkerboard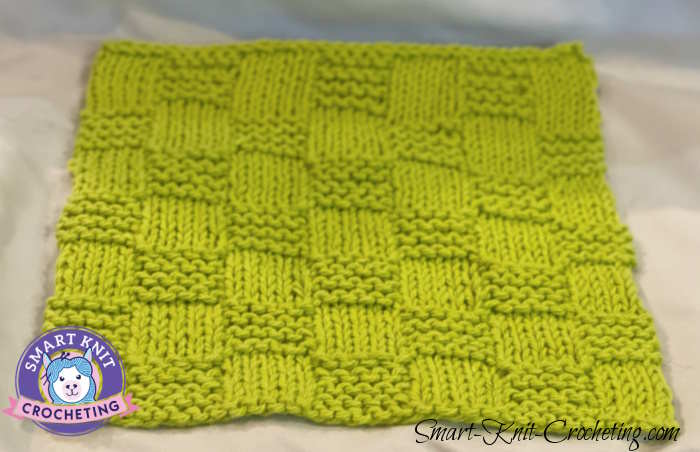 This is an example of combining knits and purls and creating a lovely textured fabric resembling a checkerboard.  It's beginner-friendly because all you need to know is how to knit and purl.  What makes this dishcloth more difficult though, is the number of row repeats required, 14 in all.  It's not likely you can memorize this pattern, but once you read it, you'll see that it is totally doable.
Free Garter Checkerboard Dishcloth Pattern
---
9. Andalusian Knit Stitch Dishcloth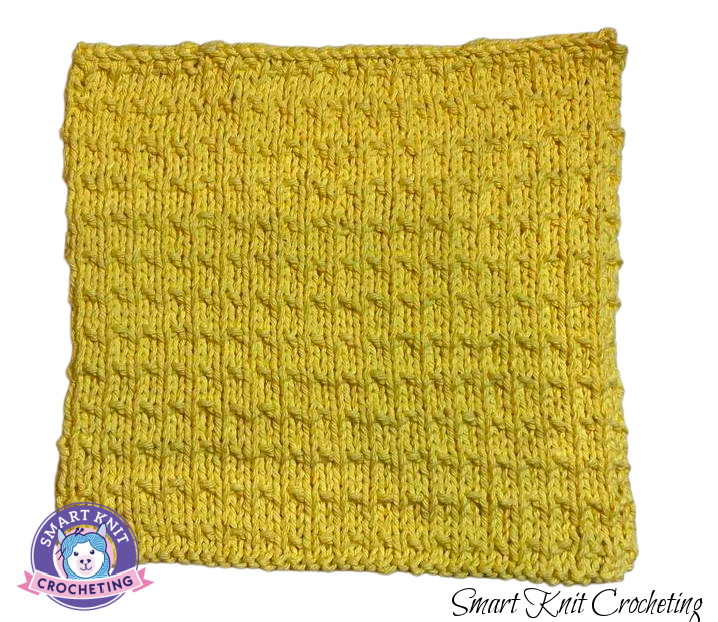 Despite its fancy name, this is a truly beginner-friendly knit stitch that requires only that you can make knit and purl stitches.  It works up fast and has a nice textured design.  Though it is not reversible, the revere side resembles the wrong side of the stockinette. Here is the tutorial for making the Andalusian Knit Stitch.
Hop over to the free Andalusian Stitch Dishcloth.
---
10.Waffle Stitch Dishcloth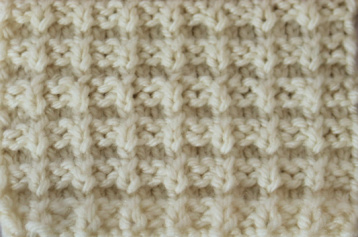 This knit stitch is easy and very beginner-friendly, making it an easy choice for a dishcloth to keep or give as a holiday gift or hostess present.  It's only a four-row repeat of knit and purl stitches.  Anyone who has learned how to make the knit or purl stitch can master this free pattern.
Go to the Waffle Stitch Dishcloth Free Pattern
---
11. Rice Stitch Knit Dishcloth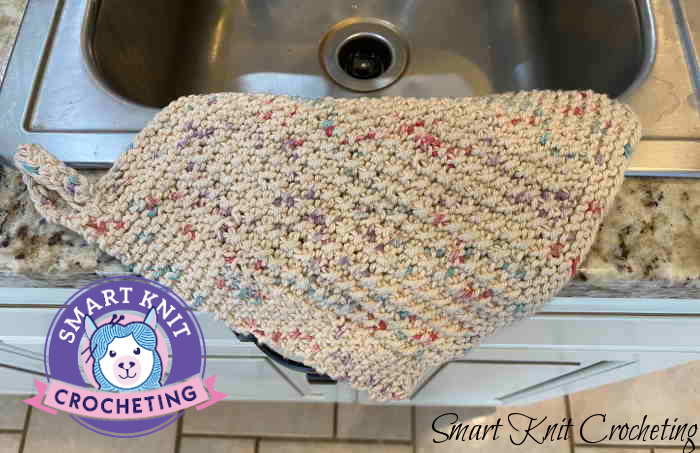 This is such an easy beginner-friendly knit stitch that it surprises me that it's not more popular.  Just knits and purls make up this stitch, but the difference is that you will be working into the back loop of your stitches (tbl). 
It works up fast and looks great with a small garter stitch border.  While not entirely reversible, the back side looks as good as the front side.
Beginner-Friendly Rice Stitch Dishcloth Pattern
---
12.  Knit Bamboo Stitch Dishcloth
Here is another beginner-friendly stitch that works great into a facecloth or dishcloth. The Bamboo Stitch lays flat so there's no need to add a knit border to the edge and when it's all done, it resembles stalks of bamboo plants. Since it is only a 2 row repeat, you'll have this one finished in no time at all.
Free Knit Bamboo Stitch Dishcloth
---
13. Old World Garter Stitch Dishcloth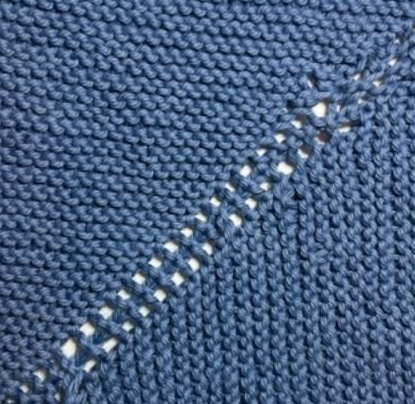 This is a super easy, beginner-friendly garter stitch pattern that makes use of yarn overs to create a new design.  If you can make the garter stitch (that is knit stitches) and make yarn overs, you can create this pattern that is useful for making dishcloths or facecloths.  Check out this fast project that can be knit in a short period of time for a last minute gift or a well deserved dishcloth for your kitchen.
Garter Stitch Free Beginner Friendly Dishcloth Pattern
---
14. Hurdle Knit Stitch Dish Cloth
This is a super beginner friendly knit stitch that is created by knitting two rows of garter stitches and two rows of K1P1 ribbing.  The texture is great and it also makes a reversible fabric so both sides looks good. 
How to make the Knit Hurdle Stitch
Hurdle Knit Stitch Dishcloth Free Pattern
---
15. Sand Stitch Facecloth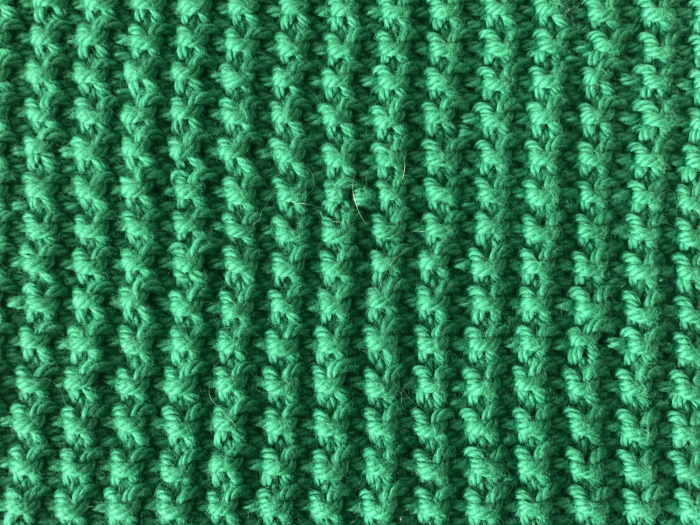 The knit sand stitch is a super easy and quick pattern that uses only knits and purls and follows a two-row repeat.  Perfect for anyone who is new to knitting and wants to try both knits and purls.  Plus it makes a beautiful, rich texture, though it is not reversible.  It does, however, look great on both sides.
Knit the Free Sand Stitch Facecloth. (or dishcloth)
---