How to Make the Knit Rice Stitch
How to Make the Knit Rice Stitch
How to Make the Knit Rice Stitch   by Janice Jones
Published 12-19-2022
Here is a great beginner-friendly knit stitch that is easy to learn and works up fast for that last-minute gift you need in a jiffy.
Although it is not a reversible pattern, the textured fabric looks great on either side.  The right side resembles little grains of rice and the wrong side will remind you of ribbing.  Both look and feel good to the touch.
It is a simple design that requires you to know a two-row repeat meaning you only have two rows to memorize and one of them is entirely made up of knit stitches, if working on straight needles (all purls if you are working in the round).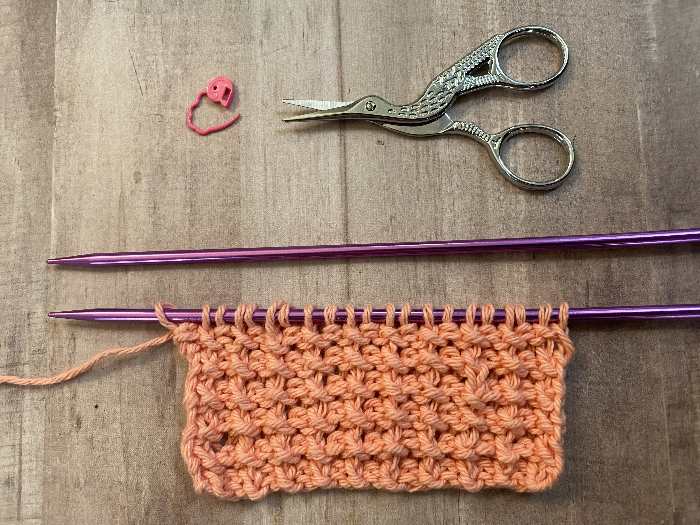 You will want to keep this easy stitch in your "tool box" to use on scarves, blankets, dishcloths, market bags, or fairly near everything.
Knit Rice Stitch:  Front and Back
Take a look.  Both sides look fabulous so even though it is not reversible, it's a great stitch to use.
Right Side of the Knitted Rice Stitch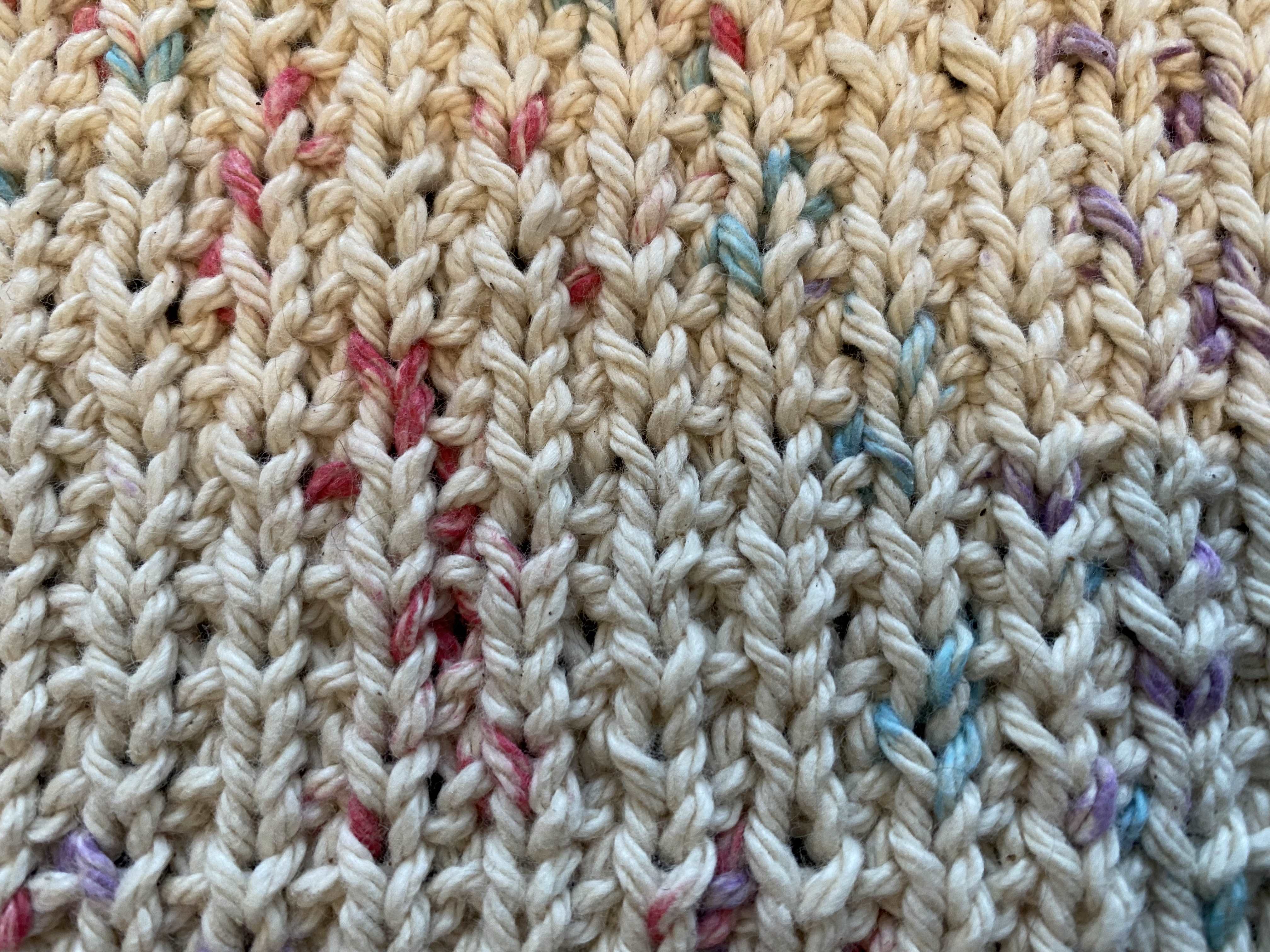 The wrong side of the knitted rice stitch pattern
How to Make the Knit Rice Stitch
You are in luck if you already know how to make the knit and purl stitches.  There are just two other things you will need to learn.  
Abbreviations tbl and tfl
Stitch repeat of 2 + 1
Understanding the Knit Abbreviations TBL and TFL
tbl = through back loop
tfl = through front loop
This is straight forward so please feel free to skip this portion of the tutorial.
Knitting Through the Back Loop
When we learn to knit, we are always told to place the tip of our right knitting needle through the front loop (or the loop closest to us).  If we accidentally place the right needle tip through the back loop or the one farthest from us, we are told that it will create a twisted stitch.
This, of course is true.  But sometimes you want to knit through the back loop of the stitch on the left needle.  This is one of those times.  When this is the case, you will see the abbreviation, tbl in the pattern, through back loop.
Knitting Through the Front Loop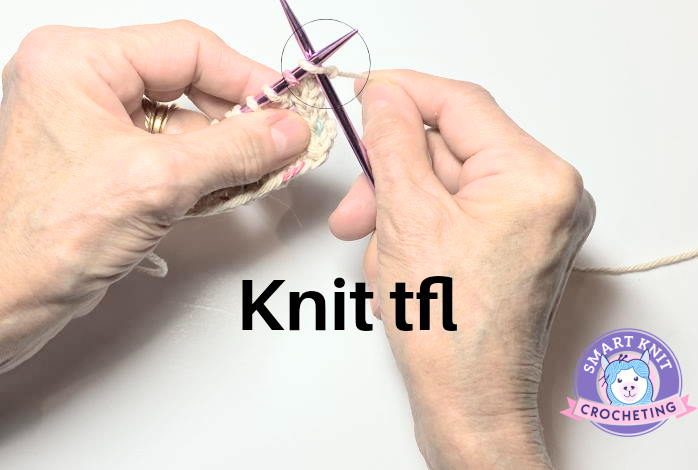 This is the way we normally knit so we do not see the abbreviation, tfl shown in patterns very often.  Designers assume that you know to knit through the front loop unless otherwise stated.
More Abbreviations Used in this Tutorial 
Just as a refresher, here are a few more abbreviations you might see.
k= knit
p= purl
CO= cast on
sts= stitches
RS=right side
WS= wrong side
*   *  Repeat the instructions between the two asterisks.  
Directions for Making the Knit Rice Stitch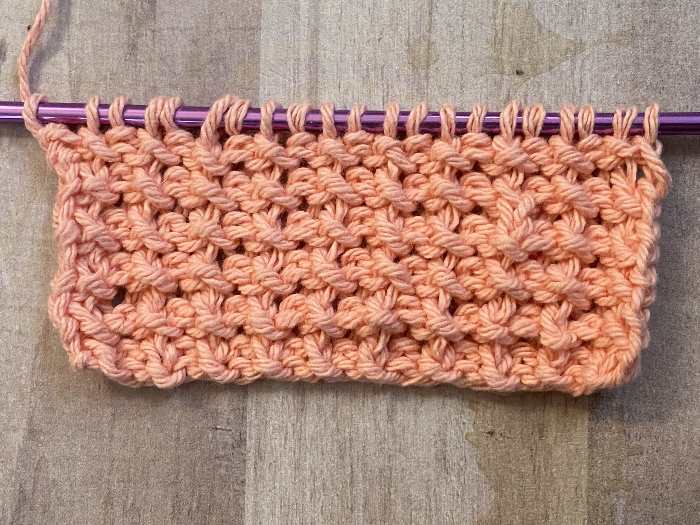 This stitch requires a stitch count of 2 + 1 (or an odd number of stitches.
CO: Multiples of 2 + 1
Row 1: (RS): P1, *K1 tbl, p1; rep from * to end.
Row 2: (WS) Knit all sts
Repeat rows 1 – 2 until you have reached your desired length.
Remember that when you are knitting row 2 (wrong side) you will be knitting all the stitches through the front loop as normal.
How to Make the Knit Rice Stitch Using a Chart
Some people prefer to work from knitting charts.  Normally charts are great for color work or more advanced lace knitting, but if you like charts, here is one for you.
Want to Skip This Tutorial and Go Right to a Project?
As I have mentioned many times on this site, making a real project can be more fun than practicing by way of swatches.  I really mean this.  I have boxes of swatches that I someday want to use, but right now they are sitting in my closet collecting dust.
Free Rice Stitch Dishcloth or Face Cloth
This is an easy project that makes use of the knit rice stitch and a border of all knit stitches.  It is made with 100% cotton, works up fast, and can be very useful for yourself or as a gift to give.
Hop on over to the Free, Beginner-Friendly Knit Rice Stitch Facecloth
How to Make the Knit Rice Stitch:
Pin for Future Reference
Do You Enjoy Learning New Stitches?
If you love learning new stitches, websites like this one will provide plenty of ideas to spark your imagination.  YouTube is also a great place to learn. Or, you might enjoy purchasing a stitch directory that will always be available to you when you need it.  Here are a couple of my favorites.