Beginner Friendly Knit Bamboo Dishcloth
Beginner Friendly Knit Bamboo Dishcloth: Free Pattern
Beginner Friendly Knit Bamboo Dishcloth  by Janice Jones |Published 12-12-2022
Here's a great little project for a knitting beginner that uses only knit and purl stitches with some yarn overs.  If you can make knits and purls, you can make this thick, dense, textured facecloth or dishcloth. 
The best part of it all is that it works up quickly, so if you need a last minute gift, pamper your friends with a couple of these facecloths and her favorite body wash.
Beginner Friendly Knit Bamboo Dishcloth Free Pattern
To make this project, you will need to know how to make the knit and purl stitches.  It requires that you follow a two-row repeat, meaning that you only need to memorize two rows of instructions or refer to the pattern.  
A full tutorial of the Bamboo Knit Stitch is included along with how to do yarn overs and slip stitches if you need a refresher.
This is not a reversible pattern, meaning that the right side does not match the wrong side.  However, both sides look great so don't worry about the sides matching.
Knit Bamboo Dishcloth: Right and Wrong Sides
This is what the right and wrong side will look like once you have knit the project.
Right Side
Wrong Side
Quick Review of the Yarn Over
A yarn over is often used to knit lace. It is an increase in knitting and leaves a hole or eyelet.
To do a yarn over, you simply wrap the yarn around the right needle in a counter-clockwise manner and then knit the next stitch on the left needle.
Quick Review of the Pass One Stitch over 
When you see the terms, "Pass One Stitch Over" it means to pick up the the second stitch from the right needle using the tip of your left needle and then pass it over the first stitch and off of the needle.
In the case of this pattern, you will be picking up the Yarn Over stitch and passing it over the two knit stitches.
* YO, K2, Pass 1st St Over * The first stitch refers to the yarn over you made at the beginning.
Abbreviations Used
CO: Cast On Long Tail Method
K: Knit Stitch
P: Purl Stitch
YO: Yarn Over
RS: Right side of work
WS: Wrong side of work
st: stitch
Supplies Needed
100% Cotton Yarn (Craft Yarn Council Number 4)  For these dishcloths, I used Lily Sugar 'n Cream Worsted Weight Yarn 4 oz/113 g (190 yds./174 m)
US 7 (4.5 mm) straight needles. 
Scissors
Tapestry Needle
Notes
All directions are in US Terms.
I have not added a border to this dishcloth because it already lays flat.  You are welcome to add a border if you like.  A garter stitch border works up fast and looks great.
Add six rows of garter stitch at the beginning and end of the project.  Add 12 stitches (6 stitches on each side) of knit stitches.  This will add at least an inch all around to your finished dishcloth.
Gauge and Finished Size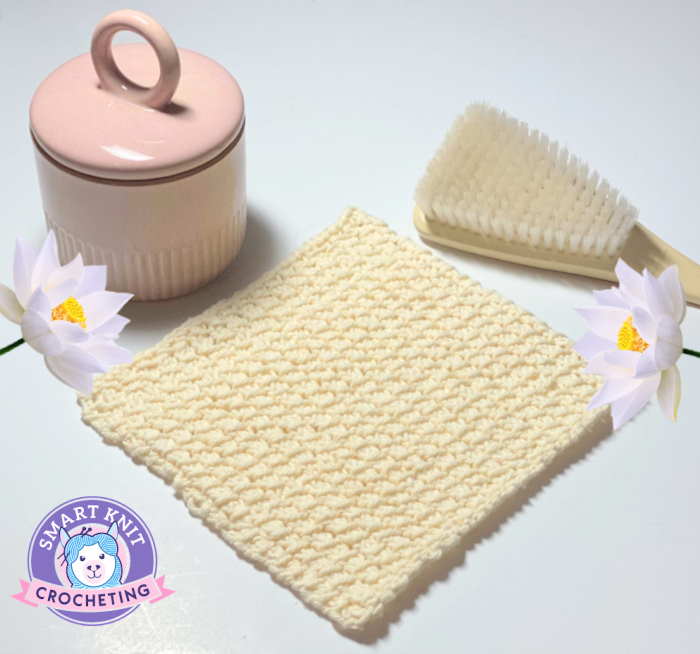 Without a border, the finished size using number US 7 (4.5 mm) needles is 7.5 by 7.5 inches (19 x 19 cm).
Directions
Cast on 40 stitches.
Row 1 (RS): * YO, K2, Pass 1st St Over * the K2 stitches.  Repeat * to end of row.

Row 2 (WS): Purl All
Repeat rows 1 and 2 until your work is the desired length or 7.5 inches long if you want the product to be square.  That is entirely your call.  Bind off and weave in ends.
Beginner Friendly Knit Bamboo Dishcloth:  Pin for Future Reference