Knit Purl Ridge Dishcloth Pattern
Free Knit Purl Ridge Dishcloth Pattern: Complete Instructions
Knit Purl Ridge Dishcloth Pattern   by Janice Jones  |Published 01-26-2023
If you can knit a stockinette stitch you can make this Knit Purl Ridge Dishcloth Pattern.  Composed entirely of knit and purl stitches, the dishcloth lays flat due to the garter stitch border.  It's not reversible, but the "wrong" side is similar to the reverse stockinette or the non-public side of the stockinette stitch.
It's easy to make, even for the absolute beginner and super fast.  Make one or more for yourself or to give as a gift. This is just one of a series of free dishcloth patterns from which to choose on Smart Knit Crocheting.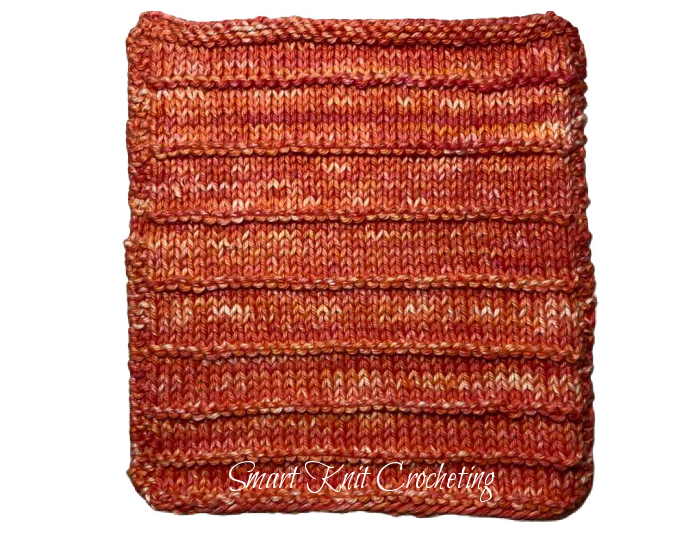 Why Knit Dishcloths in the First Place?
Beyond the environmental aspect of reducing waste by not using disposable towels, there are plenty of reasons to use knitted dishcloths or facecloths/washcloths.
Knitting using 100% cotton (preferably organic cotton) creates cloths that are textured.  Unlike commercially made dishcloths, this extra texture makes cleaning much easier.  
They are also more sanitary.  A clean dishcloth used for one day will not collect the dirt, bacteria and other harmful germs that a sponge might, reducing your need for strong disinfectants that might be damaging to the environment.
I have started cleaning my face with just hot water and one of these knit dishcloths.  Before you gag, let me say that the skin on my face has not felt better. 
Just that little extra abrasive action that the knit dishcloth can provide helps remove dead skin cells and leave a clean glow to my skin.  My son reports that he has noticed less break outs and smoother skin by just using water and a cloth.
Free Knit Purl-Ridge Dishcloth Pattern
This is not a reversible pattern stitch meaning that the front will not look like the back.
Knit Purl Ridge Dishcloth Right Side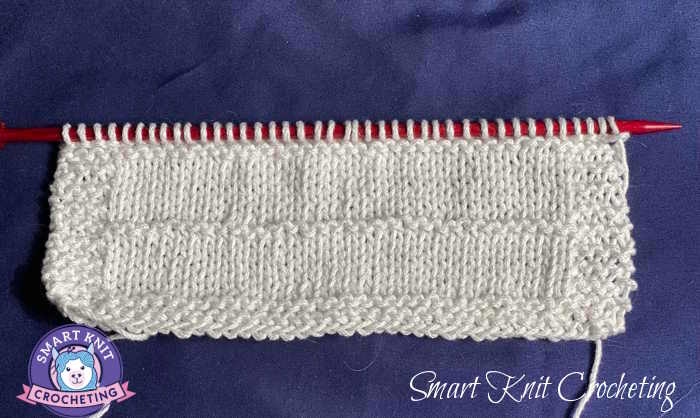 The right side or public side of the Purl Ridge Stitch is shown. Notice that it is identical to the stockinette stitch, except for an extra row of knit stitches every tenth row.
This is the wrong or non-public side of the dishcloth. Like the front side, the wrong side resembles the wrong side of the stockinette stitch with just a minor deviation on the tenth row.
Skill Level

Abbreviations
Hdc - Half Double Crochet Stitch
Ch - Chain
For this project, you will want to get some bulky weight yarn (CYC #5), a US Hook #K (6.5 mm), scissors, and a tapestry needle with an extra large eye for weaving in ends.
Finished Measurements
Gauge
The actual gauge is not important in this project.
Project Notes
All instructions are written in U.S. terms.
Skills Needed for this Project
CO 42 stitches or any number of stitches in multiples of 2
Row 1 - 4:  Knit across row.
Row 5:  K4, P to last 4 sts.  K4.
Row 6: Knit across row.
Row 7: K4, P to last 4 sts. K4.
Row 8: Knit across row.
Row 9: K4, P to last 4 sts.  K4.
Row 10:  Knit across row.
Row 11:  Knit across row.
Row 12:  Repeat rows 7 - 11 until piece measures approximately 7 1/2 inches (19 cm)
Last 4 rows:  K across rows.
Bind off in K stitch, Weave in ends.
Alternate:  If you would like to have a loop to hang this dishcloth, then bind off to last four stitches.  Continue to knit the four stitches until the loop is 4 1/2 inches (11.4 cm).  Bind off leaving a long tail for sewing and weaving in the ends.  Fold the loop in half. Using the long tail, sew the end of the loop to the body of the dishcloth.  Weave in ends.
Knit Purl Ridge Dishcloth Patterns
This one was made with the addition of a hanging loop.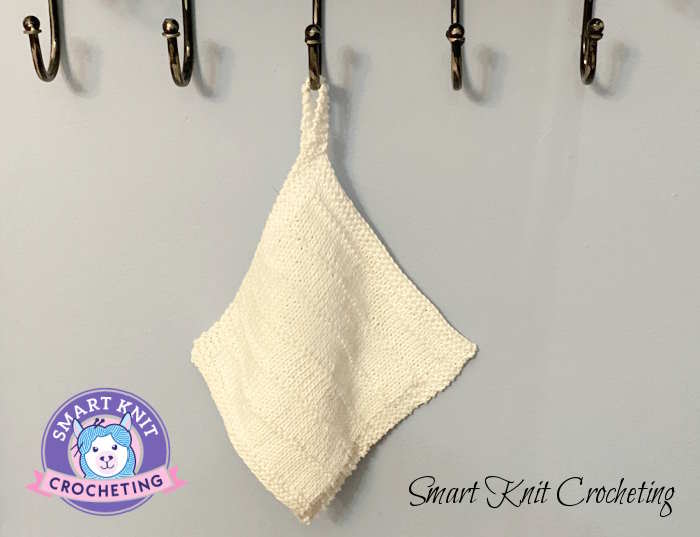 To Block or Not
Most of the dishcloths in this series do not blocking, but you may still want to block.  This knit purl ridge dishcloth pattern may need a little blocking if it does not lay flat.  
Did You Know?
Knit dishcloths are nothing new but are enjoying a new found interest as many of us look for ways to reduce waste and live frugally.  
Many life long knitters remember a grandmother or great aunt that made dishcloths or towels.  There is little recorded about specifics of when knit cotton dishcloths were most popular.
More Free Knit Dishcloth Patterns, Just for You.
Free Knit Sand Stitch Dishcloth
Knit Hurdle Stitch Dishcloth Pattern
4 Free Knit Garter Stitch Dishcloth Patterns
Free Knit Basketweave Dishcloth Pattern
All free Knit Rice Stitch Dishcloth or Washcloth Pattern
Beginner-Friendly Andalusian Dishcloth Pattern
Knit Bamboo Stitch Facecloth or Dishcloth, Free Pattern
All-free Knit Waffle Stitch Dishcloth Pattern
Free Seed Stitch Knit Dishcloth
Knit Purl Ridge Dishcloth Patter
Pin for Future Reference