Seed Stitch Knit Dishcloth
Free Seed Stitch Knit Dishcloth or Face Washcloth
Seed Stitch Knit Dishcloth or Face Washcloth  by Janice Jones  Published 01-25-2023
This seed stitch dishcloth is made entirely by alternating knit stitches with purl stitches to create a lovely textured cloth that feels great as a washcloth, but can also be used to scrub dishes and pots and pans.
Since it is an easy pattern to follow, it can be worked up in no time so you may want to consider this pattern when you need a quick hostess gift, a special teacher gift, or even as a shower or wedding present.  Add a few toiletries and you have a very appreciated gift for any occasion.
But, my guess is that you may want to make a few for yourself too.  It's eco-friendly so great for the environment.
More About the Seed Stitch
This lovely textured stitch is reversible meaning that it looks the same on both sides, making it an ideal choice for dishcloths, scarves and other items where both sides will show.
It probably got its name from the appearance that is created by alternating knits and purls - they look like little seeds.
Seed Stitch Knit Dishcloth
As the name implies, you will be using the simple 2-row repeat to make the seed stitch pattern.  That's all there is to it.  If you would like a more in depth discussion of the seed stitch, you can find it on this website.
Knitted Seed Stitch Pattern
The seed stitch is worked on an even number of stitches and requires a two-row repeat.
Row 1: *K1, P1* repeat to end of row.
Row 2: *P1, K1* repeat to end of row.
You are basically knitting all the purl stitches and purling all the knit stitches.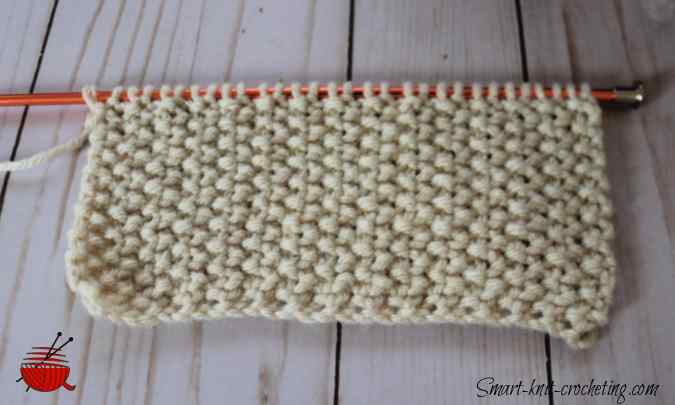 Knit Seed Stitch Chart Pattern
If you prefer to see a chart rather than written instructions, here is one for you to follow.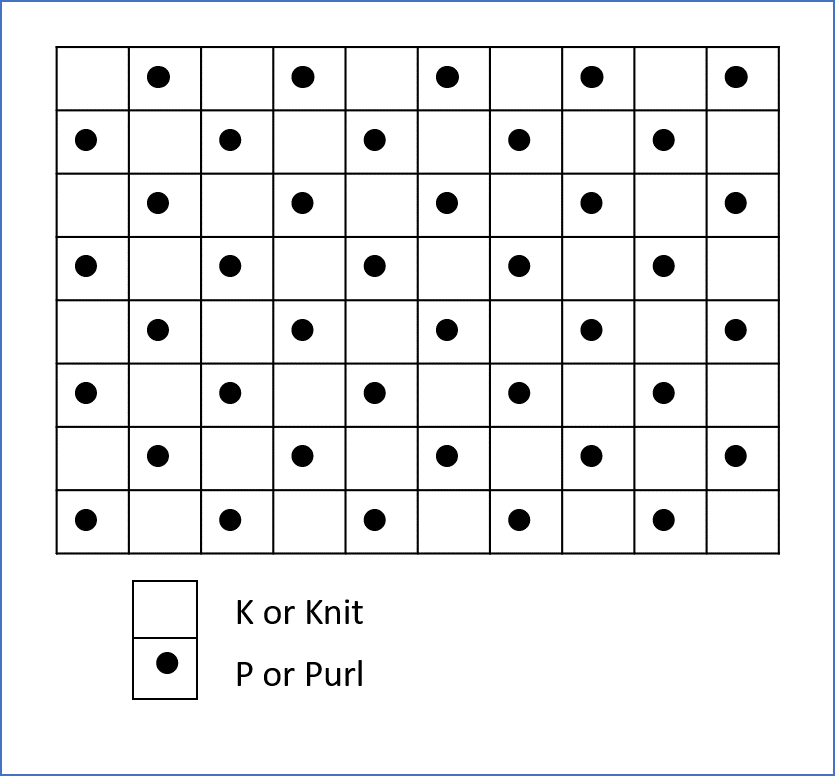 Free Knitted Seed Stitch Dishcloth
Skill Level

Abbreviations
Hdc - Half Double Crochet Stitch
Ch - Chain
For this project, you will want to get some bulky weight yarn (CYC #5), a US Hook #K (6.5 mm), scissors, and a tapestry needle with an extra large eye for weaving in ends.
Finished Measurements
Gauge
The actual gauge is not important in this project.
Project Notes
All instructions are written in U.S. terms.
Skills Needed for this Project
CO 40 sts.
Row 1: *K1, P1* repeat to end of row.
Row 2: *P1, K1* repeat to end of row.
Continue this pattern, alternating rows 1 and 2 until project measures 8 inches (approximately 20 cm)
BO in pattern
Weave in ends.
Notes and Troubleshooting
Learn to read your stitches (see below)
The yarn is always in back for knit stitches and brought to the front for purl stitches.
Bind off in pattern is explained in more depth in this article.
Be aware of your tension when making the seed stitch.  Tension problems can occur when alternating between knit and purl stitches.  It is caused by the fact that purl stitches require more yarn than knit stitches.
When making a knit stitch, the yarn is in the back and we wrap the yarn around the needle at about 360 degrees. When we make a purl stitch, not only are we wrapping the yarn about 360 degrees but we are also moving the yarn from the back to the front. That extra yarn can collect in the next stitch making that stitch larger.
One way to correct this is to give the yarn a tug after the knit and before the purl stitch. This can be accomplished by bringing the yarn in front, placing the right needle into the stitch as if to purl, and then pulling on the yarn to reduce that slack in the yarn from the previous knit stitch.
Here is more information to help you understand about tension problems between purls and knit stitches.
Bonus:  Learn to Read Your Stitches
It helps when creating the seed stitch to be able to determine which stitches are knits and purls.  If you know this, you won't accidently create a knit stitch when you should be making a purl stitch.
The knit and purl stitch is shown as it sits on the needle.  When making the seed stitch, you always want to purl all the knit stitches and knit all the purl stitches.
Knit stitches always appear as little Vs.  You've noticed this in the stockinette stitch. Purl stitches appear as little horizontal bumps which you can see if you look at the wrong side of the stockinette stitch.  
Since the seed stitch is reversible, you can see both individual knit and purl stitches on either side.
The needle is pointing to a knit stitch
More Free Patterns Using the Seed Stitch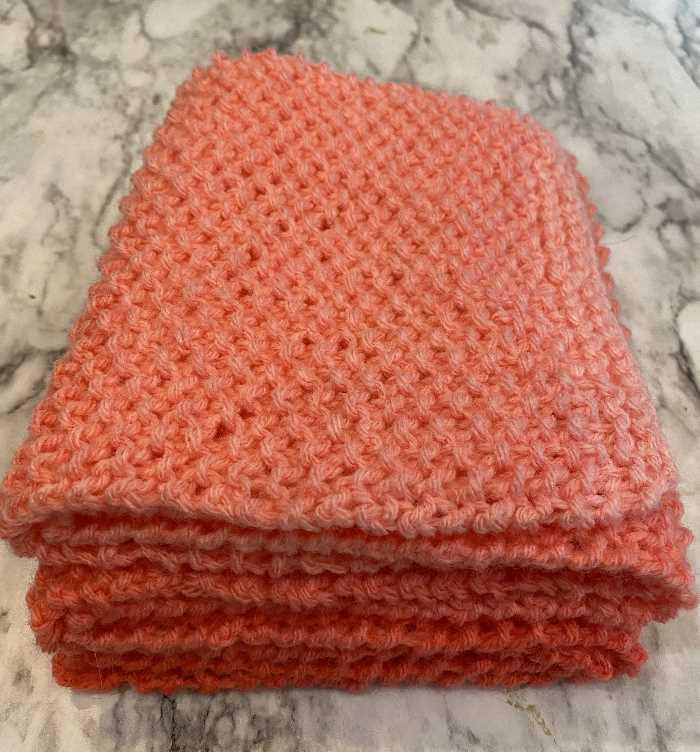 Ladies Knit Seed Stitch Scarf
More Free Dishcloth Patterns to Knit
Free Knit Sand Stitch Dishcloth
Knit Hurdle Stitch Dishcloth Pattern
4 Free Knit Garter Stitch Dishcloth Patterns
Free Knit Basketweave Dishcloth Pattern
All free Knit Rice Stitch Dishcloth or Washcloth Pattern
Beginner-Friendly Andalusian Dishcloth Pattern
Knit Bamboo Stitch Facecloth or Dishcloth, Free Pattern
All-free Knit Waffle Stitch Dishcloth Pattern
Free Seed Stitch Knit Dishcloth Pattern
Pin for Future Reference
Don't forget to pin this image for future reference so that it will be out front when you are ready to create this dishcloth.