How to Make the Beginner-Friendly Bamboo Knit Stitch 
Bamboo Knit Stitch    by Janice Jones     |Updated 05-24-2024
The beginner-friendly Bamboo Stitch Knitting Pattern is a personal favorite because it works up quickly, is easy to memorize, and it reminds me of tranquil bamboo stalks. The fabric is dense and highly textured. 
It is so easy with just a two-row repeat that is worked in knits, purls, yarn overs and pass overs.
This is not a reversible pattern because the right and wrong sides are not identical.  The right side shows the bamboo design, but the wrong side is equally beautiful and can be used when making a variety of useful objects such as blankets, pillows, dishcloths, placemats as well as in wearables.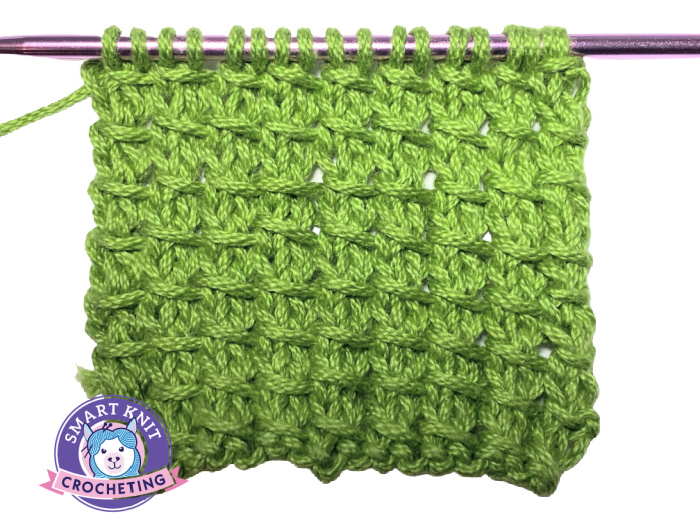 The Bamboo Knit Stitch Right Side
The Bamboo Knit Stitch Wrong Side of Work
In this tutorial, you will need yarn and the appropriate sized needles, scissors and a tapestry needle.  I used 100% Cotton Yarn and size US 6 (4.0 mm) straight needles. Specifically, I chose Lion Brand 24/7 Cotton in Grass Pelouse.
You may use whatever yarn and needles feel right to you.  
Remember when choosing yarn and needles, choose the size needles recommended on the yarn ball.
If you a beginning knitter, choose a light colored yarn so that you will be able to see your stitches easily and read your knitting.  Read more about choosing yarn for beginners.
Directions for Making this Beginner Friendly Bamboo Knit Stitch
Here are the knitting techniques that you will be using in this tutorial:
How to make a Slip Knot
K: Knit Stitch
P: Purl Stitch
YO: Yarn Over (see below)
Pass First Stitch Over (see below)
Weave in Ends
Yarn Over (YO)
A yarn over is often used to knit lace.  It is an increase in knitting and leaves a hole or eyelet.  
To do a yarn over, your simply wrap the yarn around the right needle in a counter-clockwise manner and then knit the next stitch on the left needle.
NOTE:  In this stitch tutorial, you won't be creating holes or increasing stitches because the Yarn Over is combined with the "pass one stitch over," which is described next.
Pass One Stitch Over
When you see the terms, "Pass One Stitch Over" it means to pick up the the second stitch from the right needle using the tip of your left needle and then pass it over the first stitch and off of the needle.  In the case of this pattern, you will be picking up the Yarn Over stitch and passing it over the two knit stitches.
* YO, K2, Pass 1st St Over *  The first stitch refers to the yarn over you made at the beginning.
NOTE:  In this pattern, the same number of stitches will remain on the needles for each row.  No increases or decreases are created.
Abbreviations to Know
CO: Cast On Long Tail Method
K: Knit Stitch
P: Purl Stitch
YO: Yarn Over
RS:  Right side of work
WS: Wrong side of work
st:  stitch
*   *: Repeat the instructions between the two *  * 
Step One:  Cast on in Multiples of Two
For the purposes of this tutorial, I am making a slip knot and casting on in a multiple of two.  What does that mean?  Simply stated it means that you will need to cast on an even number of stitches or a number multiplied by 2.  I have cast on 18 stitches.
Step Two:  Two Row Repeat
Except for a pattern that calls for only one stitch repeated over again such as the garter stitch, a two row repeat is the most beginner-friendly pattern you can find.
It requires you to memorize two rows of instructions that are repeated until you reach your desired length.  Don't worry if you don't want to memorize the pattern, just refer to the written instructions. 
Row 1 (RS): * YO, K2, Pass 1st St Over *
Row 2 (WS): Purl All
Repeat rows 1 and 2 until your work is the desired length.  Bind off and weave in ends.
That's all there is to this beautiful stitch pattern.
If you would like to try it out in a real project, hop on over to my free beginner-friendly bamboo stitch dishcloth and give it a try.
Beginner-Friendly Bamboo Knit Stitch Dishcloth:  Free Pattern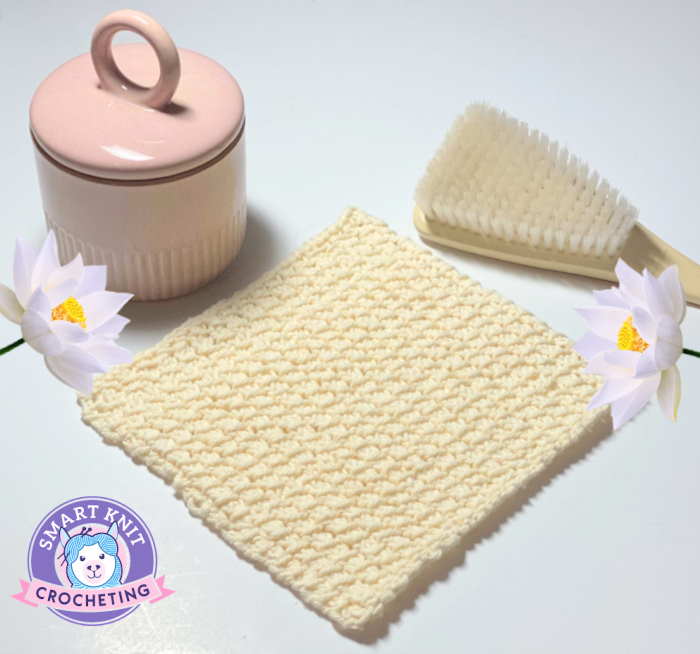 Free Beginner-friendly Bamboo Stitch Dishcloth Pattern