Garter Square Dishcloth Pattern
Old World Garter Square Dishcloth Pattern
Garter Square Dishcloth Pattern   Rewritten by Janice Jones
Published 12-10-2022
Need a super easy, super fast project for a last minute gift idea?
This is an old pattern that has more uses than just dishcloths. I have yet to locate its original designer, so this is my rendition of the dishcloth.
The original was posted on this site long before I became the publisher, so I am not taking credit for the design.

Make these squares larger, and you can create square pillows or blankets. It also works well as a square placemat. Make smaller squares and sew them together to create a market bag or larger rectangular blanket.
These dishcloths also work equally well as facecloths. Use a softer cotton or cotton blend that is 100% washable for facecloths.
They work up quickly, so make a couple as a hostess gift or as a Christmas stocking stuffer for a friend.
Garter Square Dishcloth Pattern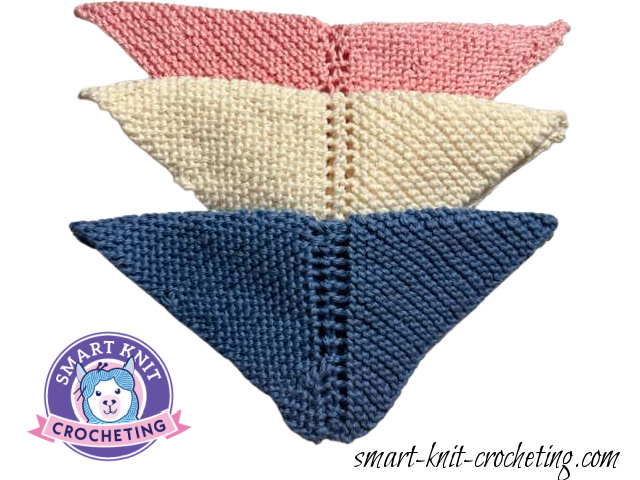 Abbreviations
K = knit
YO = Yarnover
CO = Cast on
BO = Bind off
Notes
This pattern uses US Terms.
Supplies
100% Cotton 1 skein (for the purposes of this page, I used Lily Sugar and Cream) Number 4, worsted weight yarn
Number 7 (4.5 mm) knitting needles
Yarn needle
Scissors
Finished Size
7.25 x 7.25 inches (18.5 cm by 18.5 cm)
Directions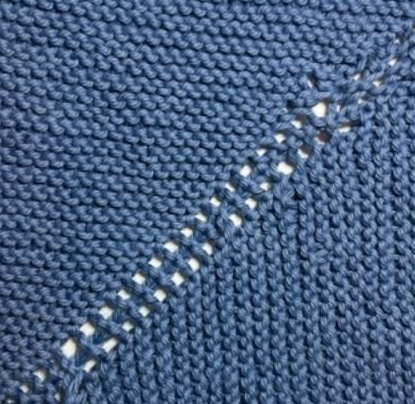 CO 3 stitches.
Row 1: K1, YO, K1, YO, K1.
Row 2: K across.
Row 3: K2, YO, K1, YO, K2.
Row 4: K across.
Row 5: K3, YO, K1, YO, K3.
Row 6: K across.
Row 7: K4, YO, K1, YO K4.
Row 8: K across
Continue knitting this pattern by adding one more stitch at the beginning of each odd-numbered row before your first yarn-over. All even-numbered rows are always knitted. Work until you reach 63 stitches on your needle or until your desired sized square. Bind off. Weave in ends.
How Does This Piece Ever Turn into a Square?
I understand what you are asking, as I asked the same question. It looks like a triangle to me. I then figured out that there is a way that this is a square and not a triangle.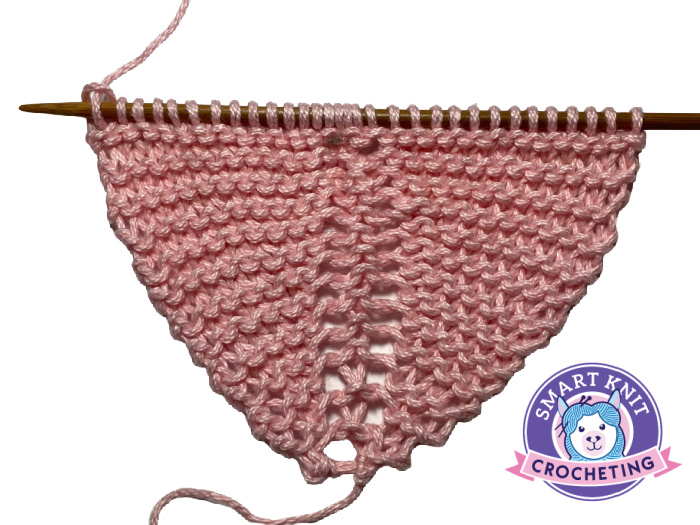 This "square" dishcloth looks more like a triangle.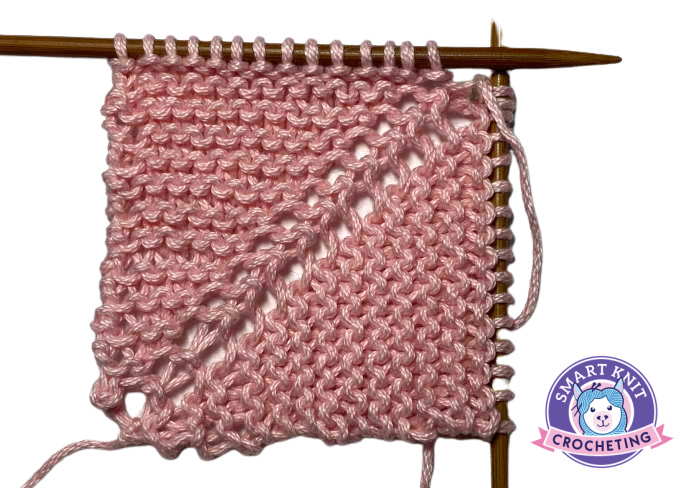 I see the square shape now.
Mystery solved. It still looks like this washcloth could use a little blocking after finishing.
The piece will always be square regardless of how much or little you knit.
Hints and Beginner Tips
You will probably not be able to see the shape of a square until you have at least 19 to 21 stitches on your needle. Before that, it just looked a bit messy.
Use a row counter if you lose track of how many stitches to knit before the first yarnover. Don't count the rows of knit stitches, just the rows where you make the yarn overs.
You will always know that the next row will require knitting one more stitch before the yarn-over than the number registering on the row counter.
If you don't have a row counter, don't worry. Once you are ready to knit a row with yarnovers, count the stitches on the needle. There should be an odd number of stitches.
Divide the number of stitches by 2. For example, if there are 25 stitches. Half of 25 is 12 ½. Twelve is the number of stitches you need to knit before doing the first yarn over.
Learn to read your stitches. Look at the two pictures below. One is taken after an even-numbered row with all knit stitches. The other is taken after an odd-numbered row with yarn-overs. Can you see where the yarnovers were made?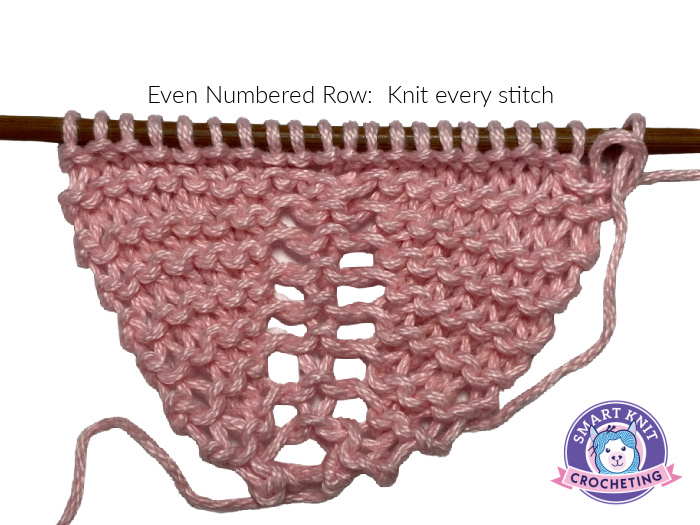 Gauge
I have not mentioned a specific gauge for this project because it is a dishcloth and not something that needs to fit properly.
However, as you can see, I made the dishcloth using several different-sized knitting needles. I started with a size 8 (5.0 mm) needle; see below.
I thought that one looked rather sloppy. The pink dishcloth was made with US 7 (4.5 mm).
What a difference size makes!
The yarn band recommended US 7 needles, but the US Number 6 may work for you, too.

This Garter Dishcloth worked on US 8 (5.0 mm) needles.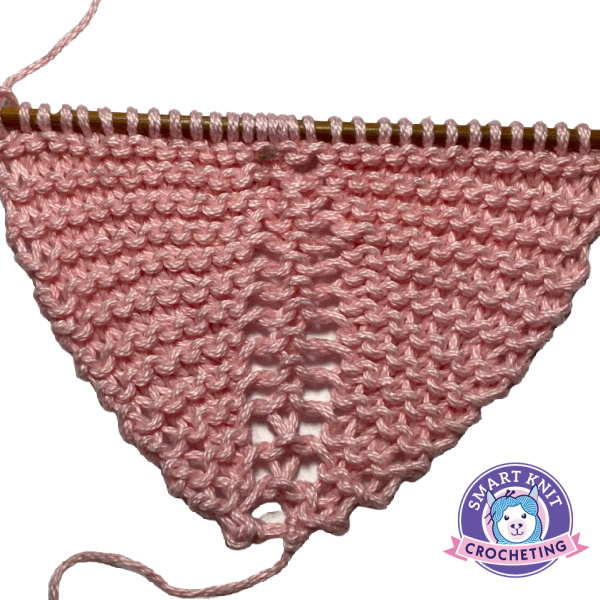 This Garter Dishcloth is worked on US 7 (4.5 mm) needles
What is your preferred knitting needle size for working with worsted weight (Number 4) yarn?
Garter Square Dishcloth Pattern: 
Pin for Future Reference