Crochet Picot Stitch:  Ways to Make it Perfect

Updated 10-23-2023
A picot stitch is a decorative element created with simple crochet stitches that can be used as a finishing stitch or in the body of a pattern. It brings unique charm to a stitch pattern and is often used as a picot edging for the finished project to give it that significant impact.
Most beginning crocheters encounter the Picot stitch at some point in their journey. The more experienced may consider it an additional headache because, for many crocheters, it's so hard to make it look neat. How it looks depends on your yarn type, the hook size, and yarn tension.
There is one more, not that well-known fact. A picot can be crocheted in more than one way.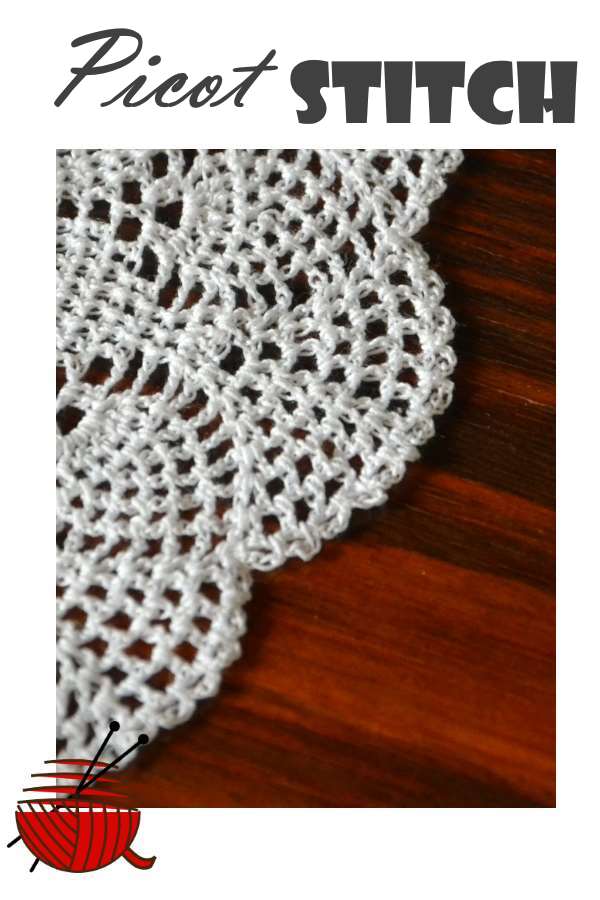 What is a Picot Stitch?
A picot stitch is a combination of crochet chains, slip stitches, or single crochet stitches worked to get to form a point.  Picot is a French word meaning a small loop or series of small loops.  
Pronounced pi·cot /ˈpēˌkō/, the Merriam-Webster dictionary defines it as "one of a series of small ornamental loops forming an edging on ribbon or lace." It creates a nice edging on a fabric that you have crocheted or even knitted.

What is the Symbol for the Picot stitch?
Why Create a Picot Edge?
There will be times when you want to create an edge for your knit or crocheted piece. Perhaps you have made a washcloth, table runner, scarf, or blanket, and it looks plain. You want to add something to your project.
In Edie Eckman's, Around the Corner Crochet Borders, she provides tutorials for 150 colorful edging.
So, adding an edging is nothing new. You might like a simple crab stitch edge or a row of single crochet stitches. The Picot is perfect if you want a little more "lacy" edge.
Before I go into the variations, it's worth noting that you can make your Picot border in the same yarn color as your project or choose a contrasting color. I like to add a single or half double crochet border around my project before I begin making the picots.
Another great reason to add a border is to hide minor flaws and imperfections. If your edges are not perfectly straight, a border will make them look more professional. Let's face it: some crochet stitches have wonky edges, even for the professional.
How do you make a Picot Stitch?
There are several ways of creating this lacy edging, but before we get into the variations, let's look at the basic steps
For creating a simple edging on any project:

1. Insert hook into the last stitch you worked on.
2. Work three or more chains. Extra chains will make a taller Picot Stitch.
3. Insert your hook into the back bump of the first chain you just made. (This is the one closest to your work).
4. Make either a single crochet stitch or a slip stitch. That's it; you made your first Picot stitch.

If you make a single crochet stitch, the picot will be rounder. If you make a slip stitch, the picot will be pointy.

Start with a Single Crochet Border
There is more than one way to make picot borders. Before we get into the different variations, I think it is essential to mention locations.
As I said before, I usually add a row of single crochet stitches. To make a row of single crochet stitches, whenever possible, work under two loops.
If you only pick up one loop, you'll create a loose, unstable foundation for your Picot border. Working under one loop only also creates large holes in your work.
Working around the edges can be tricky. I usually work three sc stitches into each corner to turn the corner. You may also prefer to work two single crochet, one chain, and two more single crochet stitches. This gives a nice 90-degree corner angle.
Work into existing stitches on two sides of the fabric. When working into the other two sides, you will work into the sides of the stitches rather than the top two loops.
You will want to space these stitches evenly. It's easy to lose track and make too many or insufficient stitches along these edges. Follow the pattern instructions, or use this formula:
Sc rows: work 2 sc for every 3 rows
Hdc rows: 1 sc for each row
Dd rows: 3 sc for every two rows
Tr rows: 2 sc in each row

Space border stitches evenly.

When crocheting in the edges of your pattern, it can be easy to make uneven spaces between your stitches. Pay careful attention to your first round of stitches to ensure you have a solid foundation of evenly-spaced stitches.

Picot Stitch. Variant One: Standard Picot
A picot can be made with any number of chains, but the most common case is a three-chain picot.

Ch 1, sc in each of the first three stitches, *ch 3, sl st into the 3rd ch from hook, sc in each of the next three stitches; repeat from * around the perimeter of your crocheted or knit fabric to last sc. Sl st and fasten off.
2:  Taller Picot
To create a slightly taller Picot: Ch 1, sc in each of the first three stitches, *ch 4, sl st in 4th ch from hook, sc in each of the following three sts; rep from * around the perimeter of your fabric.

These are the most common classical ways to crochet a picot. A video below demonstrates this classical way of crocheting picot with three or more chains.

Variant 3. Decorative Picot
Multiple of 4 sts. plus 3

Here is another way to crochet it.
Ch 1, sc in ea of the first 3 sts, *ch 4, sc in 3rd ch from hook, ch 1 sk next st, sc in each of the next three sts, rep from * around the perimeter.

Variation 4: Crown Picot
Multiples of 4 sts plus 3.
Ch 1, sc in 1st st. *in next st work (sl st, ch 4, sl st, ch 6, sl st, ch 4, sl st); sc in ea of next three sts; rep from *, ending with sc in last st.

Variation 5:  Classical Picot with Single Crochet
A single crochet stitch is used to close a picot ring instead of a slip stitch. As a result, our picot will be a little taller than in Variants 1 and 2 and its the very top will be somewhat "sharper". Let's watch the last variant of crocheting a picot.

Doesn't your picot stitch look pretty? As I've already mentioned above, the way it looks depends on many factors. Here are a few more ways to try to make it look decent if you are crocheting edging:
Picot stitches in decorative edging are separated from each other by a few (one, two, or more) single crochet stitches. Try to play with the number of those stitches skipped.


Experiment with the number of stitches which form the chain of the picot "body".


Try different ways (Variants # 1, 2, and 3 above) of crocheting the picot.


Change the size of the hook or, maybe consider a different yarn to crochet the edging. Best of luck!

Using a Picot Edge on Your Knitting
Many knitters also love to crochet.  It's not surprising that you might want to combine the two in one project.  A Picot edging on knit fabric can be very decorative.