Project Bags for Knitting
Project Bags for Knitting: Discover the Perfect Bag for Your Needlework
Project Bags for Knitting by Janice Jones   Published 06-19-2023
Knitting is a beloved craft that allows us to create beautiful and intricate pieces with just a pair of needles and some yarn. Whether you're a beginner or an experienced knitter, having the right tools and accessories is essential.
One such accessory that often goes overlooked but can make a significant difference in your knitting experience is a project bag. In this article, we will explore the importance of project bags for knitters and discuss different types of knitting bags available.
We will also provide tips on how to choose the perfect knitting bag for your needs, as well as share some of the top project bags for knitters. So let's dive in and discover the world of knitting bags!
Project Bags for Knitting and Crocheting: Options
The Importance of Project Bags for Knitting
As a knitter, you know that your projects can take weeks, if not months, to complete. During this time, it's crucial to keep your knitting materials organized and protected.
This is where project bags come in handy. A good knitting bag not only keeps your yarn, needles, and other supplies in one place but also protects them from dust, dirt, and potential damage.
It allows you to carry your knitting projects with you wherever you go, making it easy to work on your projects during your commute, while traveling, or simply while sitting in your favorite coffee shop.
Additionally, project bags help prevent tangled yarn, which can be a nightmare for any knitter. With a dedicated bag for your knitting projects, you can say goodbye to messy and tangled yarn!
And, let's face it,
You probably have more than one project in the works which means that bags are essential for keeping everything separated and organized.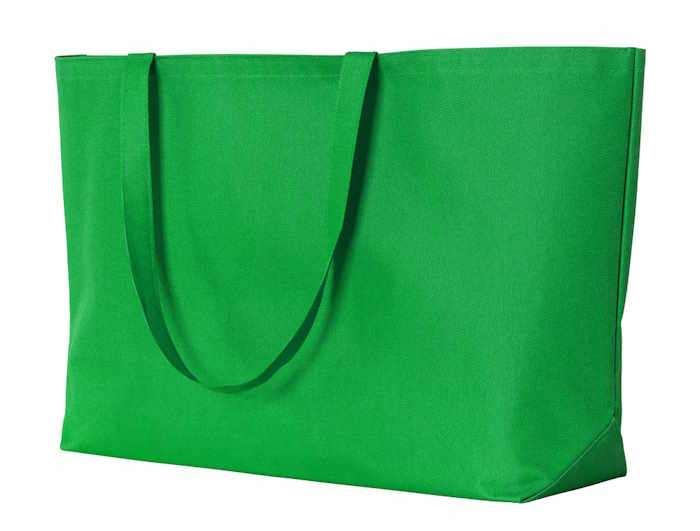 Project Bags for Knitting or Crocheting Opitions
Knitting Storage vs. Project Bags for Knitting
When you are first getting started, you may have a few sets of needles or hooks, a pair of scissors, stitch markers and a tape measure.  All of your supplies will fit nicely in a small bag, purse or backpack.  
But as you get serious about knitting or crocheting, you will notice that your tools and supplies seem to multiply, making it nearly impossible to carry them all wherever you like to engage in your craft.  That's when you might need to differentiate between storage and project bags.
Storing your yarn and tools at home can be challenging, but the bulk of your "stuff" is best left at home where you can find it easily.
Project bags, on the other hand, are useful for keeping everything you need in one place. 
That might include the needles or hooks needed for your project, your pattern, scissors, tapestry needles, tape measures, small notebook and pencil, stitch holders, and any other supplies required to finish your project, whether they be buttons, zippers, fabric for lining, or embellishments.
Different Types of Project Bags for Knitting
When it comes to knitting bags, there are several options to choose from, each with its own unique features and benefits.  Most people will choose ones that they feel most comfortable carrying.  I love totes and bags, but you  might prefer a backpack.   Let's take a look at some of the most popular types of knitting bags available:
Knitting Tote Bags
Knitting tote bags are a classic choice for knitters. They are spacious and provide plenty of room for your yarn, needles, and other essentials.
Tote bags often come with multiple pockets, both inside and outside, allowing you to keep your knitting accessories organized. They are usually made from durable materials such as canvas or nylon, ensuring that your knitting supplies are well-protected.
Some tote bags even have reinforced bottoms to prevent them from sagging under the weight of your projects. With their stylish designs and versatility, knitting tote bags are perfect for both casual knitters and those who take their craft more seriously.
Don't rule out a simple tote bag because it doesn't have pockets or separate storage spaces.  A small zippered bag like a make-up bag can provide all the storage you need for small items like scissors and stitch markers.
Knitting Backpacks
If you're someone who likes to knit on the go and needs a hands-free option, a knitting backpack might be the perfect choice for you.
Knitting backpacks are designed to distribute the weight of your knitting supplies evenly, making them comfortable to carry even for extended periods.
They often come with dedicated compartments for your yarn, needles, and other accessories, keeping everything neatly organized.
Some backpacks even have built-in yarn guides or yarn dispensers, allowing you to knit directly from the bag without any tangles.
With their ergonomic design and practical features, knitting backpacks are great for knitters who are always on the move.
I've witnessed commuters wearing backpacks on subways while waiting for their train and getting some great knitting or crocheting done on the run.
Knitting Organizers
If you're looking for something more compact and specialized, knitting organizers are worth considering. These bags are specifically designed to accommodate knitting needles, crochet hooks, and other small accessories, in addition to large quantities of yarn.
They usually come with multiple compartments and pockets, ensuring that your tools stay organized and easily accessible.
Knitting organizers are often made from sturdy materials such as cotton or canvas, providing protection for your needles and preventing them from getting lost or damaged. They are perfect for knitters who prefer to carry only the essentials and want a compact solution for their knitting projects.
The nice thing about many organizers is there ability to feed yarn from inside, through small holes, keeping different skeins of yarn separate and making them nearly impossible to tangle.  These work great if you are working with numerous skeins such as color work knitting or crochet amigurumi.  
Factors to Consider When Choosing  Project Bags for Knitting or Crochet
When choosing a knitting bag, there are several factors to consider to ensure that it meets your specific needs and preferences.
Remember, you don't need to purchase a large quantity of bags unless you have a large quantity of projects in the works at one time. Secondly, you may decide that different types of project bags are needed for different types of projects.  For example, if you are making a large crochet Afghan, you may want a large bag, whereas, if you are creating a set of washcloths, a small tote bag will work just fine.
Here are some key factors to keep in mind:
Size and Capacity
The size and capacity of the bag will depend on the type of projects you typically work on. If you mostly knit small accessories like hats or scarves, a smaller bag might be sufficient.
However, if you enjoy larger projects like sweaters or blankets, you'll need a bag that can accommodate more yarn and larger needles. Consider the size of your ongoing projects and choose a bag that can comfortably hold them.
Durability and Quality
Since your knitting bag will be carrying your precious projects and supplies, it's important to invest in a bag that is durable and of high quality.  Remember that you may use this bag for decades.
Look for bags made from sturdy materials that can withstand regular use and protect your knitting materials. Check the stitching and the quality of the zippers or closures to ensure they are sturdy and built to last.
Organization Features
Consider the organization features that are important to you. Do you prefer multiple compartments and pockets to keep your supplies neatly organized?
Would you like a bag with built-in yarn guides or yarn dispensers? Think about how you like to work and what features will make your knitting experience more enjoyable and efficient.
Comfort and Portability
If you plan on taking your knitting projects with you on the go, consider the comfort and portability of the bag.
Look for bags with padded straps or handles that are comfortable to carry, especially if you'll be carrying heavy projects. Consider the weight of the bag itself, as you don't want it to add unnecessary weight to your load.
Top Project Bags for Knitting
Now that we've discussed the importance of project bags and the different types available, let's take a look at some of the top project bags for knitters:
a. Knitting Tote Bags
1. YARWO Knitting Bag
Here's an example of a simple tote that works great as a project bag for knitting.  You get the tote and a small zippered pouch perfect for small supplies.  It has inside pockets to keep needles and the handles are long enough to wear over your shoulder.
2. Teamoy Knitting Bag
Here's a basic tote that includes multiple pockets designed to hold crochet hooks and knitting needles along with all of your accessories.   It's made of sturdy nylon fabric, water-resistant, and easy to clean. It's a great bag for the crafter on the go because it is lightweight and easy to carry or throw over your shoulder.
b. Knitting Backpacks
1. The "Knit & Go Backpack" - This backpack is designed for knitters on the move. It has dedicated compartments for your yarn, needles, and other supplies, as well as a built-in yarn guide for tangle-free knitting.
1. Knitting Bag Backpack is perfect for keeping many supplies easily assessable while still providing you will a stylish option for taking your knitting or crocheting on the go.  Since it comes in several colors, it's perfect for most people
2. QZLKNIT Knitting Bag Backpack
Here's an extra large backpack designed to hold everything including holes that prevent yarn from tangling and a USB port. It has a stylish fabric design that is waterproof and easy to clean along with an underlying steel framework that keeps the shape without sagging.
3. Crochet Bag, Knitting Bag Backpack and Totes Organizer
This tote is designed to be taken on a plane and is TSA friendly.  It not only has compartments for all of your knitting and crocheting supplies, but also ample room for your electronic equipment, small laptops, tablets and even a built in USB charging port. (Power pack is not included)
This is the ideal solution for the serious knitter or crocheter who travels frequently.
c. Knitting Organizers/Project Bags for Knitting and Crochet
1. Yarn Caddy Large Size
This type of knitting storage has been around for over 50 years.  It's what my grandmother used and then I used back in the 1960s. It's more stylish today but basically the same design, meant to be placed next to your favorite chair where you sit to knit or crochet.
2. Teamoy Knitting Bag, Yarn Tote Organizer
I own this yarn organizer that I use for large projects, currently a man's sweater.  It holds everything including 14 inch knitting needles. This one is great for someone doing colorwork because it contains 6 interior compartments with matching holes on the top, meant to keep skeins of yarn separated. There's even room for a magazine or your favorite crochet book on the outside.
Features and Functionalities to Look for in a Knitting Bag
When choosing a knitting bag, there are certain features and functionalities that can greatly enhance your knitting experience. Here are some key features to look for:
Yarn Guides or Yarn Dispensers
Some knitting bags come with built-in yarn guides or yarn dispensers, allowing you to knit directly from the bag without any tangles. This feature is especially useful for those who like to knit on the go or while traveling.
Pockets and Compartments
A knitting bag with multiple pockets and compartments makes it easy to keep your knitting supplies organized. Look for bags with both interior and exterior pockets, as well as dedicated compartments for your needles and other accessories.
Reinforced Bottom
A reinforced bottom prevents the bag from sagging under the weight of your projects and supplies. It ensures that your bag maintains its shape and provides added durability.
Easy Accessibility
Consider how easy it is to access your knitting supplies from the bag. Look for bags with wide openings or zippered closures that allow you to easily reach in and grab what you need without any hassle.
Sturdy Construction
Choose a knitting bag with sturdy construction and quality materials. Pay attention to the stitching, zippers, and closures to ensure they are built to last and can withstand regular use.
By considering these features and functionalities, you can find a knitting bag that meets your specific needs and enhances your knitting experience.
DIY Knitting Bag Ideas
If you're feeling crafty, you can also create your own knitting bag! DIY knitting bags allow you to customize the design and size according to your preferences. Here are a few DIY knitting bag ideas to get you started:
Recycle What You Already Have
Reusable Shopping Bags
Whenever possible, I try to reuse any type of bags including free promotional shopping bags.  The make great project bags for knitting and crochet and the price is always right. One of my favorite bags is a freebie from a wine store.  Meant to hold 6 bottles of wine, it's perfect for holding yarn skeins, hooks and accessories that I use all the time including scissors, stitch markers, and tape measures.
Paper Gift Bags
Need a quick bag for a small project?  Reuse paper gift bags.  They don't travel well, but work great to keep supplies separated for small projects.
Plastic Grocery Bags
Not my favorite choice, but sometimes in a pinch, I'll use the plastic bag that held my groceries or yarn store purchases to hold all the necessities for my project.  This option works fine if the project is small and can be completed easily. 
Old Purses, Brief Cases, Backpacks
No need to recycle or toss, if you have usable purses that can be repurposed as project bags for knitting or crochet.  I have even been known to stock yarn in old suitcases. 
So, before you give that old purse to charity, ask yourself if it could be reused as a yarn bag.  Purses are especially valuable because they often have built in pockets perfect for small notions such as stitch markers, scissors, and tape measures.
Where to Buy Knitting Bags

If you prefer to purchase a ready-made knitting bag, there are several places where you can find a wide variety of options. Here are some popular options for buying knitting bags:
1. Local Yarn Shops: Local yarn shops often carry a selection of knitting bags. Visit your nearest yarn shop and explore the different options available.
2. Online Marketplaces: Online marketplaces like Amazon, Etsy, and eBay offer a wide range of knitting bags from various sellers. You can browse through different styles, read customer reviews, and choose the bag that suits your needs.
3. Craft Stores: Craft stores like Michaels, Hobby Lobby, or Joann Fabrics often have a section dedicated to knitting and crochet supplies, including knitting bags. Visit your local craft store and explore the options available.
When buying a knitting bag, it's a good idea to read customer reviews and check the dimensions and features of the bag to ensure it meets your requirements.
Tips for Organizing Your Knitting Projects in a Bag
Once you have your knitting bag, it's important to keep it organized to make your knitting projects more enjoyable and efficient. Here are some tips for organizing your knitting projects in a bag:
1. Use Project Pouches: Invest in project pouches or small zippered bags to keep each knitting project separate. This will prevent your yarn from getting tangled and make it easier to find the project you want to work on.
2. Label Your Bags: If you have multiple knitting projects in your bag, label each project pouch or bag with a small tag or label. This will help you quickly identify which project is inside without having to open each pouch.
3. Keep Needles and Hooks Separate: Use a knitting needle case or crochet hook organizer to keep your needles and hooks organized and easily accessible. This will prevent them from getting lost or damaged in your bag.
4. Wind Your Yarn: Wind your yarn into a center-pull ball or use a yarn bowl to prevent it from getting tangled. This will make it easier to knit or crochet directly from the bag without any tangles.
5. Clean Your Bag Regularly: Keep your knitting bag clean by emptying it out and giving it a quick wipe down regularly. This will help prevent dust and dirt from accumulating and ensure that your bag stays in good condition.
By following these tips, you can keep your knitting projects organized and make your knitting experience more enjoyable.
How to Take Care of Your Knitting Bag
To ensure that your knitting bag lasts for a long time, it's important to take proper care of it. Here are some tips for taking care of your knitting bag:

1. Follow Care Instructions: Check the care instructions provided by the manufacturer and follow them accordingly. This may include handwashing or spot cleaning the bag, avoiding harsh chemicals or bleach, and air drying.
2. Store Your Bag Properly: When not in use, store your knitting bag in a cool, dry place away from direct sunlight. Avoid storing it in humid areas or places where it can get crushed or damaged.
3. Empty and Clean Regularly: Empty out your bag and give it a quick clean regularly to remove any dust or dirt. Use a damp cloth or a lint roller to clean the interior and exterior of the bag.
4. Repair Any Damage: If you notice any tears, loose threads, or damaged zippers, repair them as soon as possible. This will prevent further damage and ensure that your bag remains functional.

By taking care of your knitting bag, you can prolong its lifespan and continue to enjoy your knitting projects for years to come.

Conclusion
In conclusion, a knitting bag is an essential accessory for any knitter. It keeps your knitting projects organized, protects your supplies, and allows you to take your projects on the go.
Whether you choose a knitting tote bag, a knitting backpack, or a knitting organizer, there are plenty of options available to suit your needs.
Consider the size, durability, organization features, and portability when choosing a knitting bag. You can also get creative and make your own knitting bag using DIY ideas.
Remember to keep your knitting bag organized, clean it regularly, and follow the care instructions to ensure its longevity. With the perfect knitting bag by your side, you can enjoy your knitting projects wherever you go!