Granny Square Headband
Free Pattern and Tutorial
Granny Square Headband     by Janice Jones     |Published 08-23-2022
This granny square headband is super fast to make, very economical, and very beginner-friendly.   All you need to know is how to make a slip stitch, chain, single crochet (optional) and double crochet. 
My headband was created with Plymouth Yarn GALWAY Worsted Weight 100% Wool but it is easy to substitute yarn for something that you have on hand.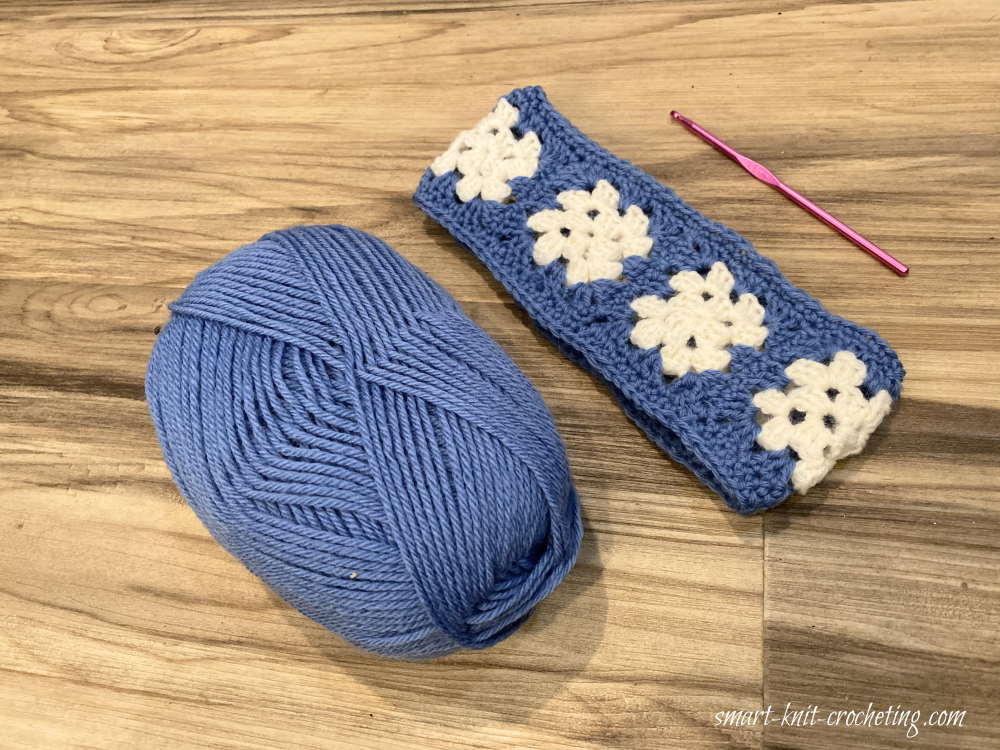 This small project is a great way to use up some of that left over yarn.  I used two colors, but the granny square headband pattern calls for three rounds, so you can just as easily use three colors.  

Strapped for time?  Use one color and there will be fewer ends to weave in.  Your choice.
Granny Square Headband Free Pattern
This pattern uses all US terms.
                Skill Level

Finished Measurements
3 3/4 inches and 21 inches long.  Fits head size between 24 and 25 inches. Measure the head where the headband would normally be worn.
Materials
Medium (worsted weight yarn in a wool, synthetic, or blend) one to three different colors.  Use scrap yarn if you like.  My headband was made in Plymouth Yarns GALWAY 100% Wool Worsted in Bleach and Colonial Blue
Size 7 / 4.5 mm crochet hook
Tapestry needle
Pattern Notes
The headband consists of 7  small granny squares each made with three rounds of double crochet.  
If you decide to use more than one color, you can attach the new color in any corner you choose and not necessarily the one where you finished off the last color.
The squares are then combined using a sc stitch and followed by two rounds of sc crochet on either side of the band as a finishing touch.
Ch-5 counts as one dc and 2 ch st
Headband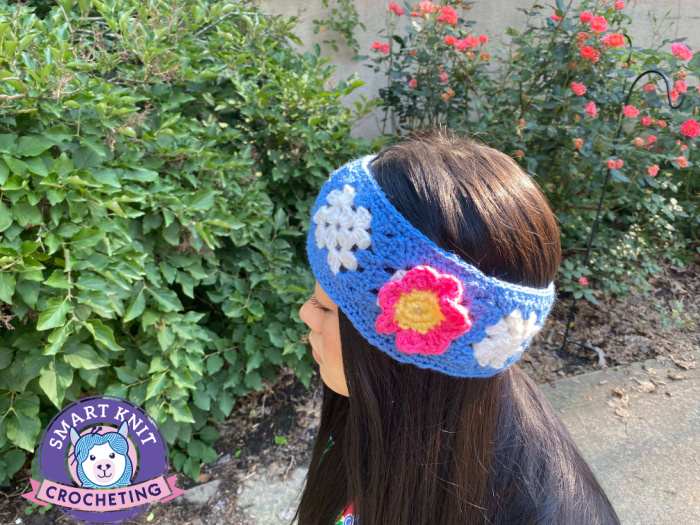 Ch 4, join with sl st in first ch to form a ring. Or join with a Magic Circle.
Rnd 1: Ch 5 (counts as dc and ch 2), [3 dc in ring, ch
2] 3 times, 2 dc in ring, join to ch-5 sp with sl st. (12 dc)
Rnd 2: Ch 5, 3 dc in same ch-5 sp, [ch 1, (3 dc, ch 2,
3 dc) in next ch-2 sp] 3 times, ch 1, 2 dc in first ch-5 sp,
join to this round's ch-5 sp with sl st. (24 dc)
Rnd 3: Ch 5, 3 dc in same ch-5 sp, ch 1, 3 dc in next
ch-1 sp, [ch 1, (3 dc, ch 2, 3dc) in next ch-2 sp, ch 1, 3 dc
in next ch-1 sp] 3 times, ch 1, 2 dc in first ch-5 sp, join to
this round's ch-5 sp. (36 dc)
Make 7 granny squares with 3 rounds each.  Block if desired.  Weave in ends.

Starting with 2 granny squares with RS facing, insert hook into dc or ch sp and corresponding dc and ch sp for both squares.  Yarn over and pull through. 
Continue making one sc in each dc and ch space across one side of square, catching both squares with each sc.  Fasten off.  Repeat for each square. 
At the end of the join for the last granny square begin a border of two rows of sc (optional). Place a stitch marker to mark the beginning of the round. Make one sc in each dc and chain sp.  At the end of two rounds, fasten off.  Weave in ends.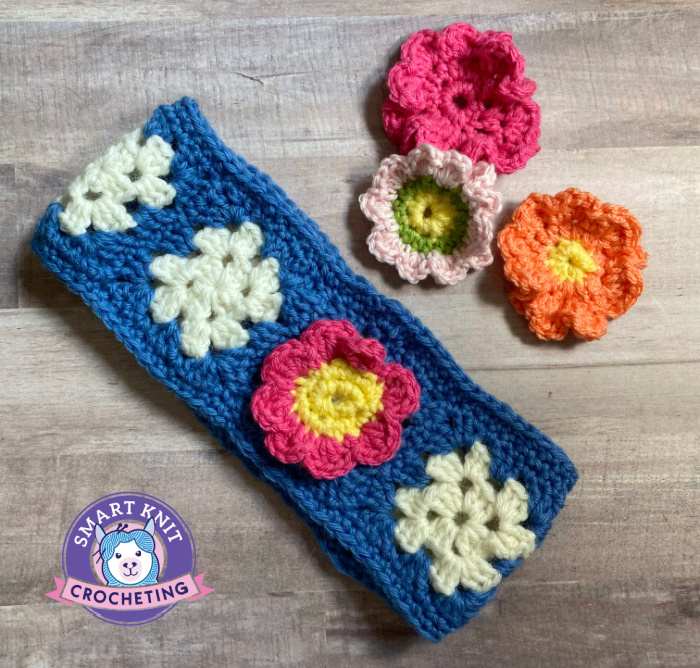 Add a Flower to the Headband
You can leave it as is, a very easy beginner free crochet pattern, or add a little interest such as a flower.  To make a flower, decide whether you want a solid color, or one with two colors or even three colors. 
Here are the instructions for a tri-color flower but if you choose to make it all one color, ignore the color change directions.
Directions are written in US Terminology
Abbreviations:
sl st:  Slip Stitch
ch:  Chain Stitch
sts:  Stitches
hdc:  Half Double Crochet
dc:  Double Crochet
Directions:
Chain 4 and join with a slip stitch or start with a magic circle.

Round One:  Make 10 hdc in center of ring.  Sl st to join.  Ch 2
Round Two:  Change colors.  Make 2 hdc in each hdc around (20 sts).  Join with a sl st.  Chain 3.  
Round Three:  *Make 5 dc in first stitch, 1 sc in next st,  5 dc in next st,* around.  Fasten off.  Weave in Ends.
Free Granny Square Headband Pattern
Pin for Future Reference