A typical opened mesh usually is formed by the cells created with two double crochets and two chain stitches between them  (dc, ch2, dc). To crochet a filled cell,  substitute "chain 2" by "2 double crochet"(dc, 2dc, dc ). See the picture below.
Two types of cells in a filet mesh. Not too great "arsenal " for a creative soul. -:) Hm...It is a very deceiving impression. Look at the table of the filet crochet doilies below. Practically all of them I designed using only these two types of meshes. Number of possible design variants is only a matter of your imagination.
Filet crocheting is really a unique and flexible technique. Crochet mesh is a base while  combination of only two types of cells brings quite impressive results. Yes,all those fancy designs are  still a simple flat mesh (almost -:) What about 3D designs based on our simple mesh?  It is quite possible. Check a few of  our filet crochet patterns where you can learn how it can be done. What about some new ideas? Check TryCrochet.com site
A few more tips how to use charts for the filet crochet doilies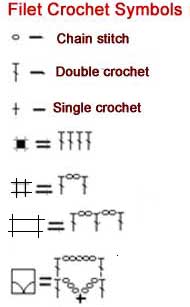 1.The very first row of each doily is located at the bottom of the chart. On the chart you will find the number of chains necessary to begin a doily.
2. Keep in mind that in most cases doilies are symmetrical both horizontal and vertical directions. It will help you to follow the pattern.
3. If a doily has a rectangular or a square shape, you don't need to think about increases/ decreases to shape a doily.  The number of stitches (cells)  will stay the same from the very first to the very last row of the doily.
4. For the doilies that are not a rectangular or a square, increases and decreases at the beginning or at the end of the rows have to be made to shape the edges.