Crochet Puff Stitches
The Crochet Puff Stitch  by Janice Jones     |Published 06-27-2022
If you are looking for an elegant textured crochet stitch to try, search no farther than the crochet puff stitch.  The fabric that these easy stitches create looks as good on the back as it does on the front, so it's perfect for projects where you want both sides to show.
The stitch is about the height of a US double crochet stitch or UK treble stitch and can be as thick as you want it to be.  The one outstanding feature of this stitch is that it tends to lean to the side which makes it a bit more unique than some of the other textured crochet stitches that appear straight up and down.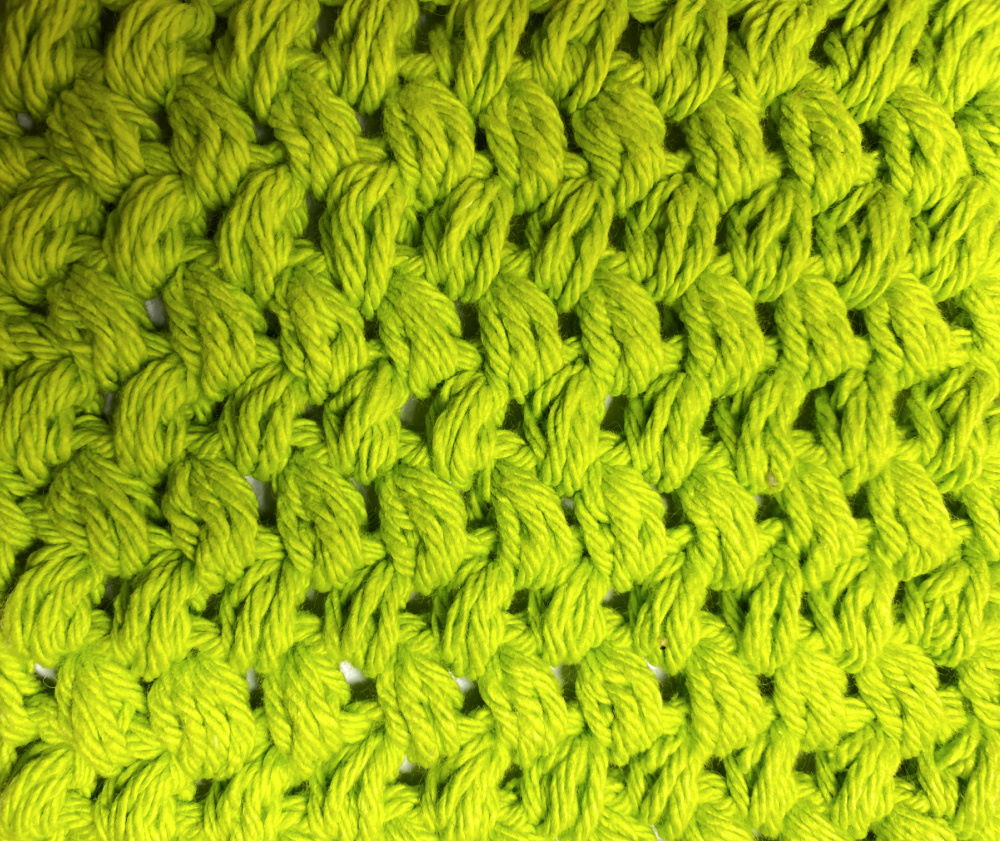 Be aware that the crochet puff stitch does use more yarn than other stitches so projects using this stitch can be a bit more expensive to make.
The best part of this stitch, if you are a beginner, is that it's not unlike creating the double crochet stitch, just with a twist.
There are several ways to do this stitch but for this tutorial, I will be demonstrating a simple method for you to try.  Do be aware, though, that the puff stitch can be made thicker by adding a step or two while creating it.  I will talk about this in just a moment.
What's the Puff Stitch Good For?
I love to learn new stitches by creating something useful to use or admire.  This stitch is a popular choice for blankets of all sizes, pillow covers, tea cozies, and of course, my favorite washcloths.  Why do I make so many wash or dishcloths?
It's simple. 
They make a great project that has a useful purpose and teaches you the stitch at the same time.  It's the same as swatching, which is also a great way to learn, and many people will strive to make all their learn to crochet swatches the same size so they can sew them together into something special.

How to Make the Crochet Puff Stitch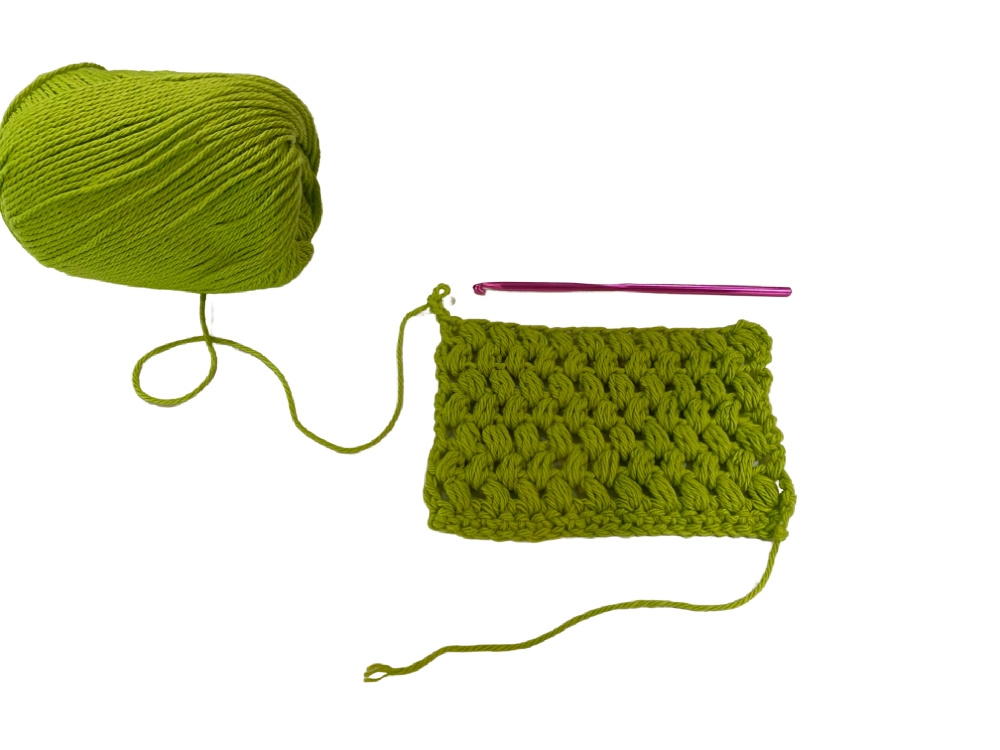 The actual stitch is easy to make but putting them together into a project is something that needs a little explanation.  Let's look at how the puff stitch is constructed.

Chart Key and Abbreviations
Ch st:  chain Stitch

Ch sp:  Chain Space
Sc:  Single Crochet
Dc:  Double Crochet
The Puff Stitch Directions for Making a 7-Loop Puff
YO, insert your hook into the space where you want your stitch to go.
YO and draw up a loop about ½ in height. (3 loops on hook)
YO, insert your hook again and pull up two more loops. (5 loops)
YO, insert your hook and pull up two more loops (7 loops)
You can continue to do this to make thicker, bigger puffs, but for the purpose of this tutorial, we stop with 7 loops.
Now turn your hook to face downward and pull through all 7 loops.  Make a chain stitch to finish the puff.  (You want to turn the hook facing down or sideways so it will glide through all 7 loops easily.
The Crochet Puff Stitch Pattern Sample Swatch
Chain 22.  sc in second ch from hook, sc in each ch across row.  Turn. (21 sc)
Row 2: Ch 3 (counts as 1 dc).  *puff in next st, ch 1. Skip next st; repeat from * to the last two stitches.  Puff in next st, dc in last st.  Turn. (10 puff stitches plus 2 dc; one dc on either end of the row.)
 Row 3:  Chain 3 to reach the height of a typical dc stitch.  The chain-3 counts as a double crochet. *Puff stitch in next ch-1 sp. ch 1. repeat from * across to last st.  dc. in last st.  Turn. (10 puff stitches plus 2 dc)
Row 4: Ch 3 (counts as 1 dc), *puff stitch in next ch-1 sp, ch 1; repeat from *across to last 2 sts.  Puff stitch in next st, dc in last st.  Turn.  (10 puffs, 2 dc)
Repeat rows 3 and 4 until you reach your desired length.
Last row, sc in each stitch across row for a neat edge.  (21 sc)
Tips for Making the Puff Stitch
Keep your tension a little loser than you might otherwise.  It makes getting the hook through all the loops easier.
If you want to try a puff stitch using more than the 7 loops, try a size larger hook.
 If  you want to make a very big puff, you may want to use a thinner yarn.  In this tutorial, I used a 100% cotton, number 4 worsted weight yarn.  Try the stitch using a sports weight and see what difference that might make.
Crochet Puff Stitch:  Pin For Later Reference
Puffy Washcloth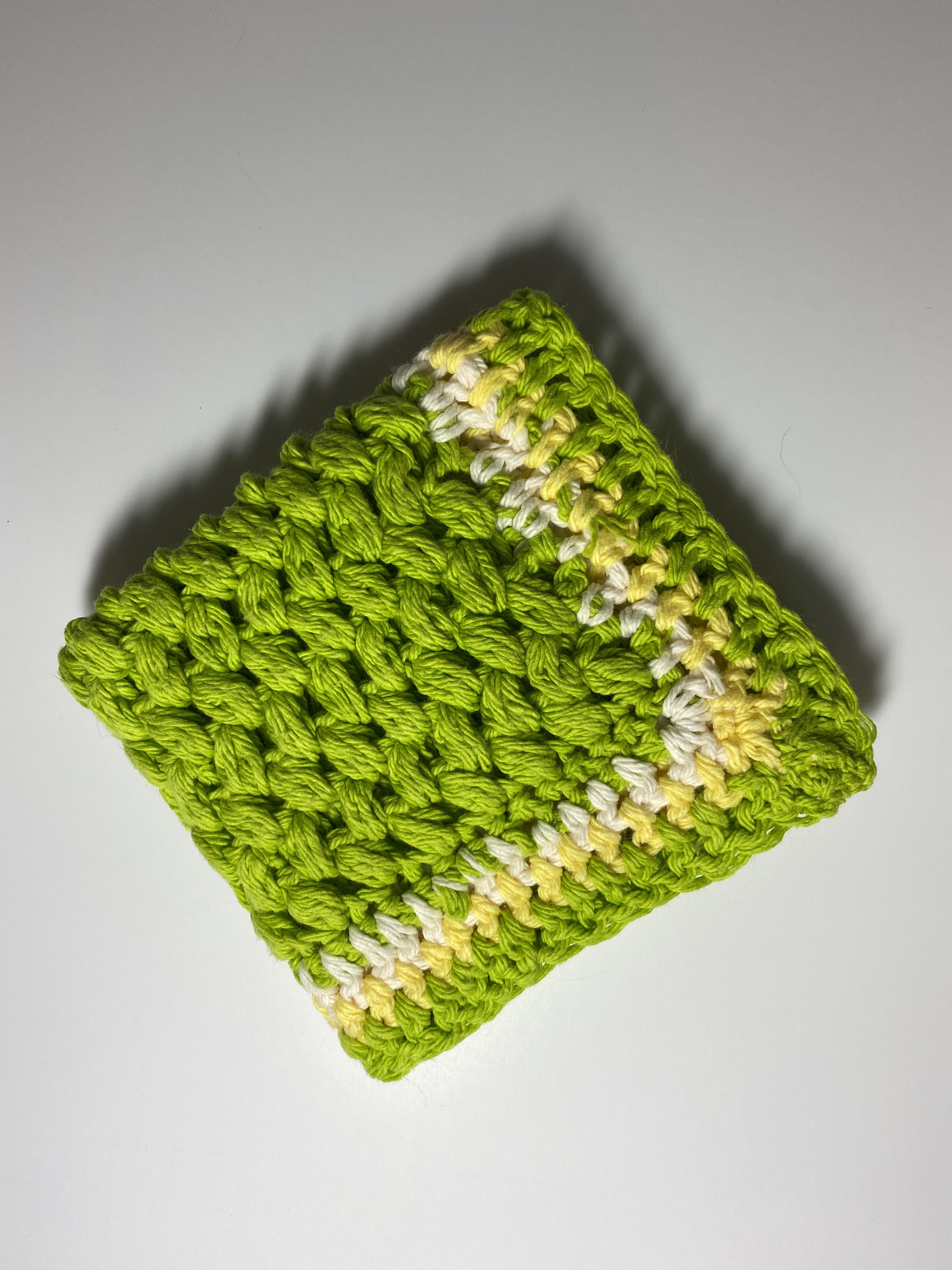 Want to make a quick washcloth that is not only soft on the skin, but also thick because of the Puffs used.