Crochet V Stitch
Crochet-V-Stitch     by Janice Jones     |Published May 12, 2022
If you look closely at the fabric created by the Crochet V Stitch, you'll immediately know how it got its name. Check out all the tiny V's that are created by double crochet stitches and chains.  Easy?  
Yes, this is a great stitch for beginners to practice.  If you can make a double crochet stitch and a chain stitch, they you can make the Crochet V stitch.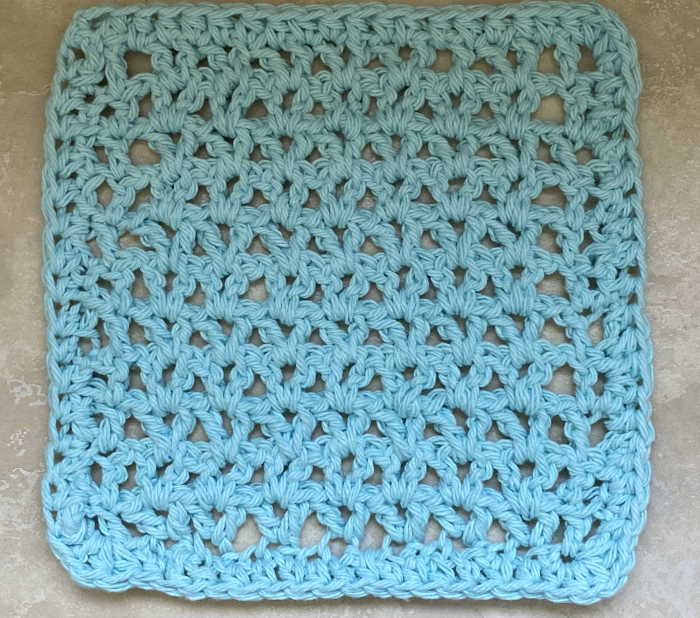 Crochet V Stitch was created in a light blue 100% cotton yarn.
Crochet V Stitch Tutorial
This stitch is worked over multiples of 3 plus 7 stitches, meaning that you will need to chain a multiple of 3 and then add 7 stitches. 
If you want to practice this stitch, grab some yarn and a hook, and follow along. 
To make a swatch so that you will see the little V's, I recommend at least chaining 22 stitches (3x5=15) + 7 = 22.  Or, if you want to go directly to a quick project, learn the Crochet V stitch by making a lovely Springtime Crocheted V Stitch Dishcloth (Free Pattern on this Website)
Directions for the Crochet V Stitch
Abbreviations Used in this Tutorial
ch = chain

dc = double crochet
ea = each
rep = repeat
sl st = slip stitch
st = stitch
sk = skip
Step-by-Step Tutorial
The V-stitch: Each V-stitch consists of 1 dc st, 1 ch st, and 1 more dc st, all worked into the same chain or chain space.  For this pattern, row 2 (below) is worked over and over for the length of the swatch.
For more information on working into the initial chain, refer to my article about crocheting the second row.  In this tutorial, you will learn that you can work into the top two loops of the chain row, one of the loops of the chain, or into the bump on the back of the chain row.  For this practice, choose whichever way works best for you.
Directions
Chain 22. 

Row 1: dc in 4th ch from hook. (3 chains count as one dc here and everywhere unless noted).   Ch 1, skip next ch, [dc in next ch, ch 1, dc in same ch. Skip next ch.] Rep across the row. At the end of the row (4 chain stitches left) ch 1, skip 2 chs, then work 1 dc in ea of the next 2 ch sts. Turn. Ch 3.
Row 2:  Row 2:Dc in first dc. Ch 1, work 1 v st in ea v st across the row. Ch 1, skip next ch, work 1 dc in ea of the last 2 dc sts. Turn. Ch 
Last Row.  Do not Chain 3.  Fasten off.
Springtime Crochet V Stitch Dishcloth:  FREE PATTERN
Step-by-Step Crochet V Stitch in Pictures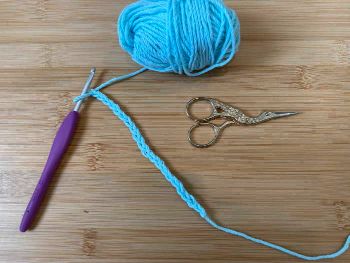 1. Start by making your initial chain in multiples of 3 plus 7.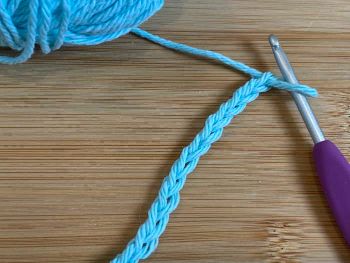 2. Work into the fourth chain from the hook. Make One Double Crochet Stitch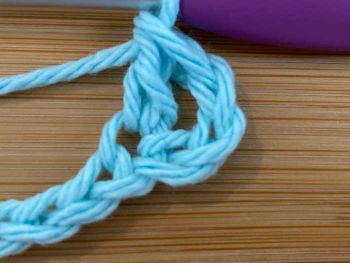 3. Chain one. Skip one chain and make one double crochet into the next chain stitch.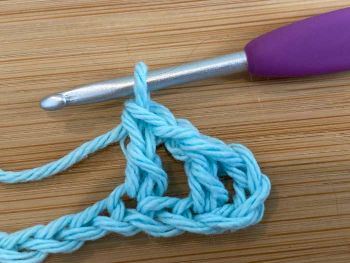 4. Chain one. Make one more double crochet stitch into the same space as the last one.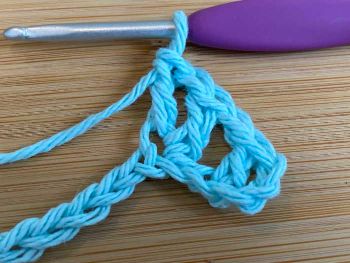 5. You've just made your first v stitch (one double crochet, one chain, and one double crochet) in the same space.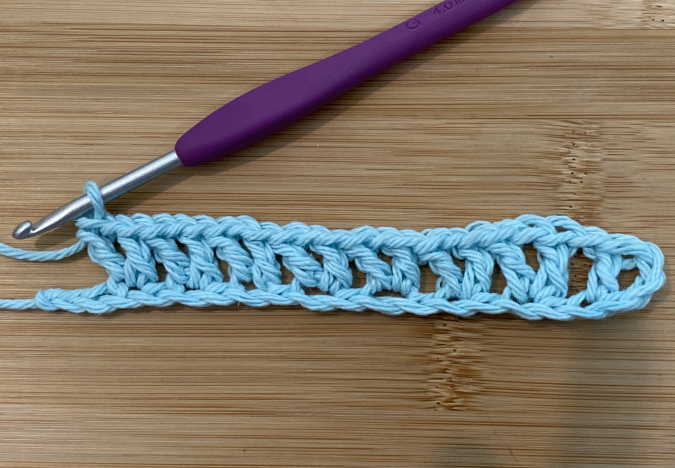 6. Continue making v stitches by skipping one chain stitch across the row to the end of the row. (4 chains left).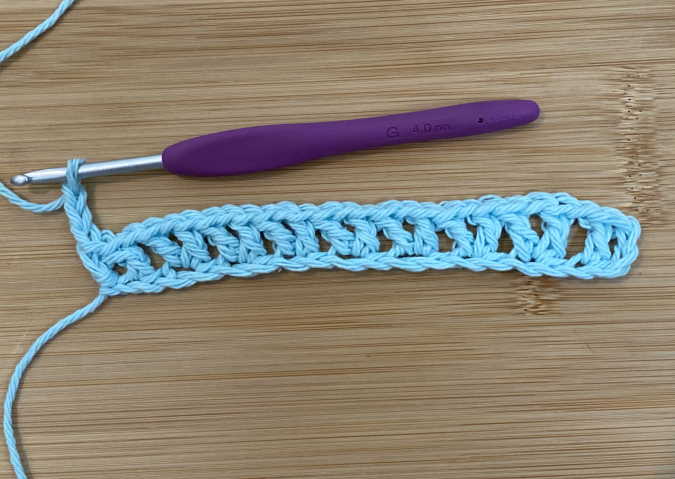 7. Chain 1. Skip the next two chain stitches. Work one double crochet into the last two chains, one in each chain.
Pin for Future Reference