Moss or Granite Crochet Stitch
Moss or Granite Crochet Stitch:  Tutorial
Moss or Granite Crochet Stitch     by Janice Jones     
|updated 05-22-2023
The Moss Crochet Stitch, also known as the Granite Crochet Stitch is a beginner stitch that is easy to learn but makes an impressive stitch for a wide variety of different types of projects.
This stitch produces a thick fabric that is good for projects needing a thick fabric for such projects such as wash cloths, potholders, dishrags, and the such.  If you want to use it with a more flexible and drapy fabric consider using a larger hooks.

How to Crochet the Moss or Granite Crochet Stitch.
You will need to understand how to make the:
Abbreviations in US Terms
ch = chain
ch1 sp= chain 1 space:  create a sc in the space where you previously made a chain stitch
sc = single crochet
st = stitch
rep=repeat
sk = skip
beg = beginning
*to = repeat * to the instructions.
How to Crochet the Moss or Granite Crochet Stitch
First, you will want to Crochet a foundation chain with an even number of chains.  For the purposes of this demonstration, I have created a foundation chain of 26 sts.
Materials:  Worsted weight yarn (Number 4 weight yarn)
Instructions for Making the Moss or Granite Crochet Stitch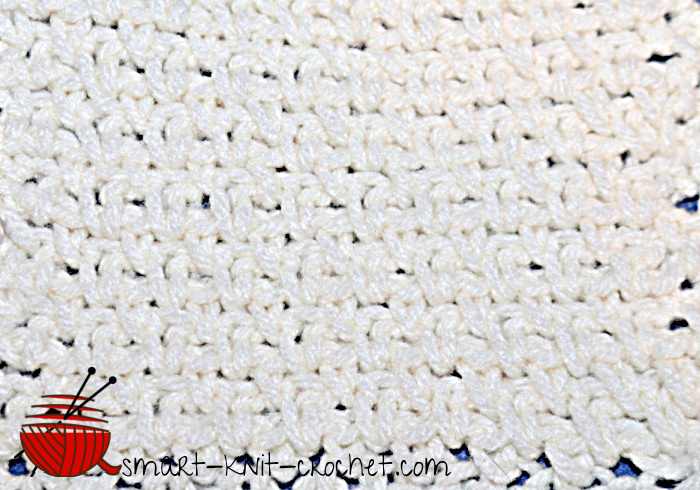 Ch 26.  Turn.  
Row 1: Place a marker in the first ch from your hook. (Optional)   sc in  4th ch from hook. [ch 1, skip next ch, sc in next ch.] Rep [...] across entire row. ch 2, turn.
Row 2: sc in first ch-1 space, [ch1, skip 1st, sc in next ch-1 space] repat […] to end . The last stitch will be a single crochet worked into the space between the chain-2 turning chain and the single crochet from the previous row.
Rows 3 and beyond: Work all remaining rows the same as row 2, until your piece is the length you want it to be.
Once you get the hang of this stitch, there's no need to keep placing the marker; that's simply an easy way of seeing which stitch to work into. Remove the stitch holder.
Uses for the Moss or Granite Crochet Stitch
There are many different ways to use this stich pattern including incorporating it into pot holders, dishcloths, washcloths, scarves, and  blankets.  Here are a couple wash clothes that I just made. 
They are the ideal beginner project and very useful.  Both washcloths were created using 100% cotton, but there is some differences in the way each one turned out.
Moss Stitch Cotton Dish Cloth
I decided to use a varigated cotton yarn to make a dish cloth that would blend in with my brown kitchen.  I think the next dishcloth is going to be made with a brighter color.  The kitchen needs a little pop of color for it to be seen.  Here are the directions.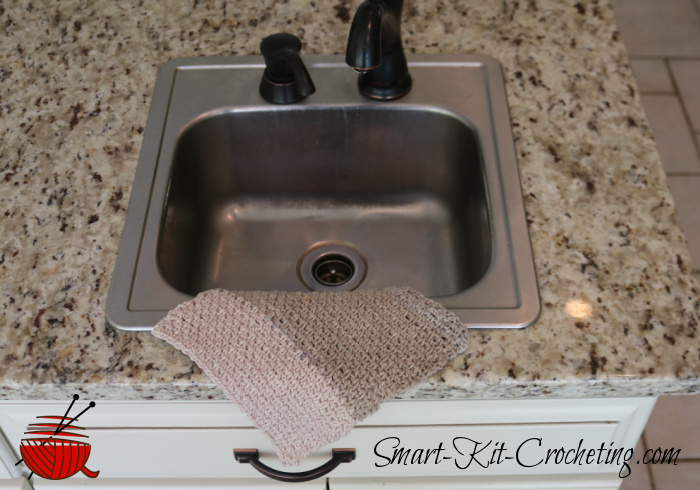 You Will need
Yarn:  Yarnspirations Caron Cotton Cakes (Medium #4), 60% Cotton, 40% Acrylic in Light House
H or 5.0.mm Crochet Hook
Yarn needle
Finished Size
8" x 8" (20.5 cm x 20.5 cm)
ROW 1: SC in the 4th chain from hook, *CH 1, SK next CH, SC in next CH, repeat from * to the end of the row. (The last stitch should be a SC in the last CH)
ROW 2: CH 2, turn, SC in CH 1 space from previous row, *CH 1, SK 1 SC, SC in next CH 1 SP, repeat from * to the very end, the last SC should be worked into the space between the CH 2 turning chain and SC from the previous row. 
ROW 3 and onward, repeat rows 1 and 2 until you reached the desired length.  If you are making this dish cloth, it will be 8 inches square.
Block and weave in your ends.