Crochet Slipper Pattern:  Easy Granny Squares That are Beginner-Friendly
Crochet Slipper Pattern     Re-written by Janice Jones    |08-26-2022
Granny Squares are super easy to learn and perhaps one of the first type of motif that a beginner learns, memorizes and masters.  The following pattern walks you through the process
A crochet slipper pattern is based on a solid granny squares. (Complete directions below)

I remember these slippers from my childhood. My grandma crocheted them for the whole family. There is nothing special in this pattern, but like any handmade item, it brings you some warm feelings and lots of comfort. Those that love vintage or retro, this is the perfect project.
Crochet Slipper Pattern:  Pin for Future Reference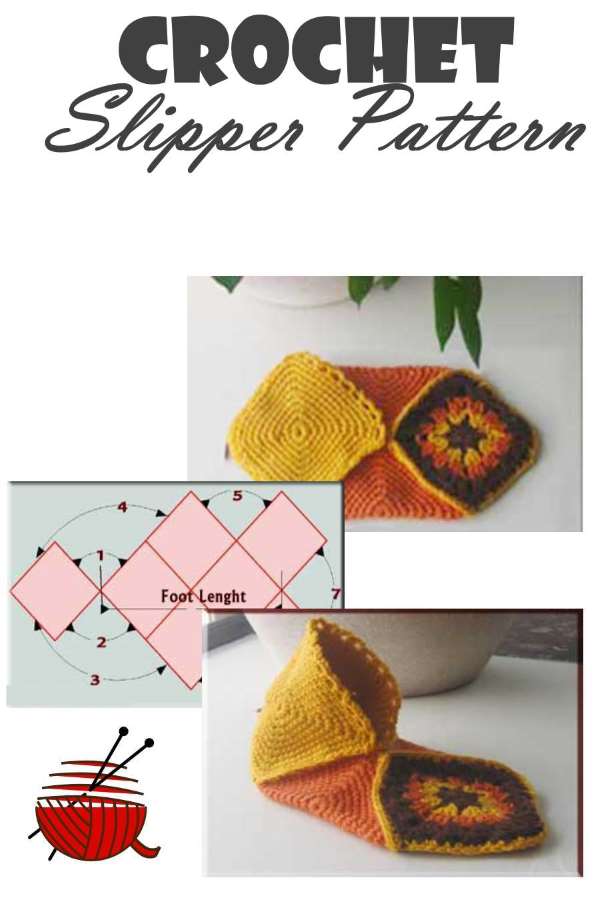 How to crochet slipper pattern

To make a slipper you will have to crochet 7 Solid Granny Squares. It is better to use strong yarn. For example, Red Heart Super saver 4 ply worsted weight yarn is very economical, machine washable and perfect for a beginner.
These slippers work up so fast that even an intermediate or advanced crocheter will love this tight design.  You make all of the squares, or make the top front square more lacy and multicolored like mine.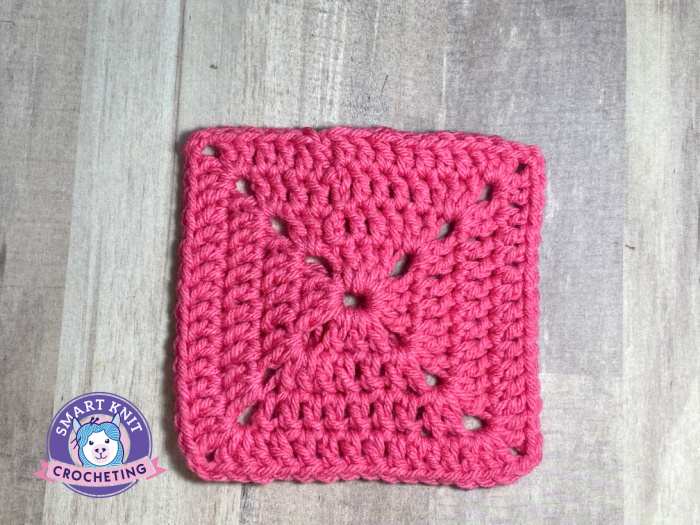 Solid Granny Square Used in the Crochet Slipper Pattern
Directions for Making the Solid Granny Square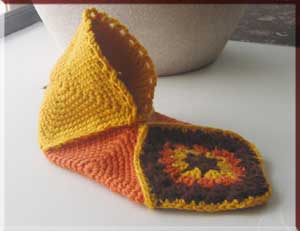 Crochet Granny Square Slippers
Materials Needed for the Crochet Slipper Pattern
Worsted weight (CYC #4 Acrylic yarn) or yarn of your choice
Crochet Hook (I used a US & or 4.5mm)
Scissors
Tapestry Needle for weaving in ends
Abbreviations
sc:  single crochet
dc:  double crochet
ch st:  chain stitch
sl st:  slip stitch
ch:  chain
rnd:  round
This pattern uses US Terms.  If you are in the UK, US dc = UK tr
Directions
Ch 4. Join to make a circle with a slip knot. Chain 5.
Rnd 1:
Working into the center of the ring, work 3 dc into ring. Ch 2, work 3 dc in same center, ch 2, work 3 more dc in same center, ch 2, make 2 dc in same space, sl st in 3rd chain from the bottom in the first ch 5. Ch 3.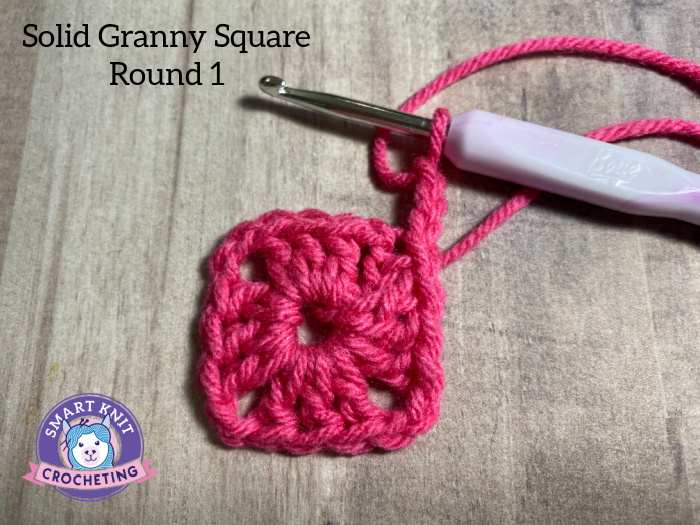 Solid Granny Square Round One Completed
Rnd 2:

Work 2 dc in first corner space. Ch 2. Work 2 dc in same corner space.
Next, working in the tops of the stitches from previous round, make 1 dc in each stitch working through both loops of each stitch.
Next, work 2dc into next corner space, ch 2, work 2 more dc into same corner space.
3 dc in each of next 3 sts.
Continue in this manner until you have reached the end of the round.
Sl st into the 3rd chain from the bottom, then Ch 3 (acts as the first dc in round 3.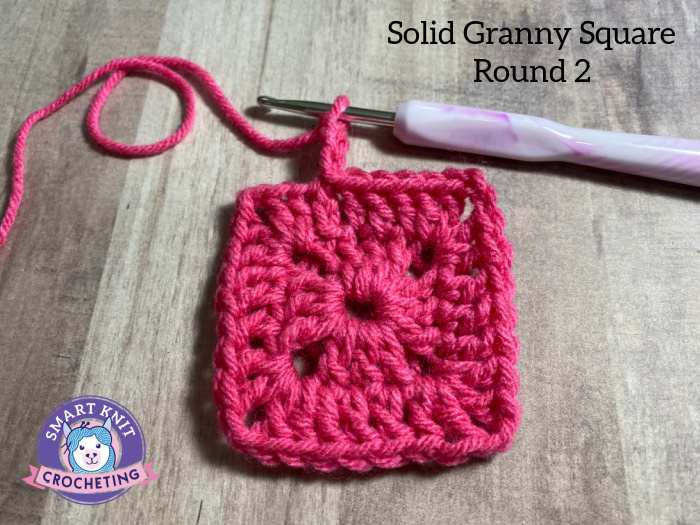 Two Rounds were completed in this solid granny square motif
TIP:  Sometimes it's a little difficult to get your hook into that first stitch from the corner.  Pull on your work, to open up the stitch.
Rnd 3: 

Work 2 dc into each of the next two dc from previous row. Make 2 dc into corner space, ch 2, 2 dc into same corner space.
Make one dc in each of the next 7 dc sts from previous round. Next, work 2 dc in corner space, ch 2, 2 dc in same corner space.
Each side of the square is worked in the same way as above except for the last side of the square.  For the last side, work your corner stitches (2 dc, 2 ch, 2dc) then work 4 more dc in each of the last 4 dc from the previous round. Join with a sl st in 3rd chain from the bottom.  Ch. 3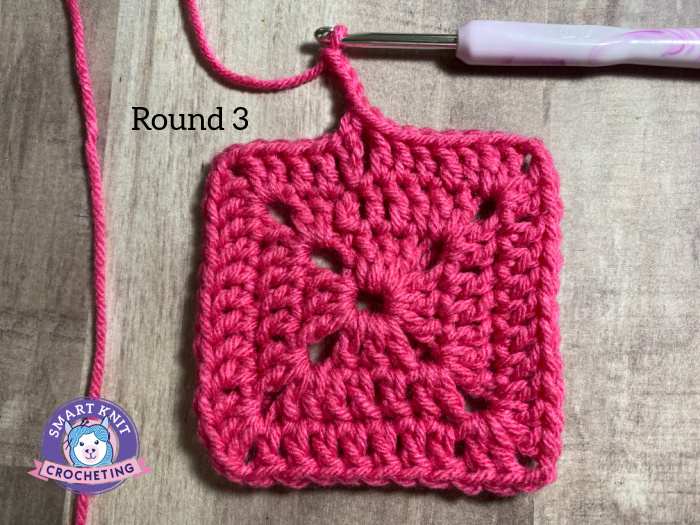 Three rounds completed
Rnd 4:
Continue the pattern above by making corners (2dc, 2 ch, 2 dc) and working dc into 11 dc from previous row per side.  End with a sl st through last chain, and cut yarn and pull through.  Weave in ends.
Make 7 solid granny squares.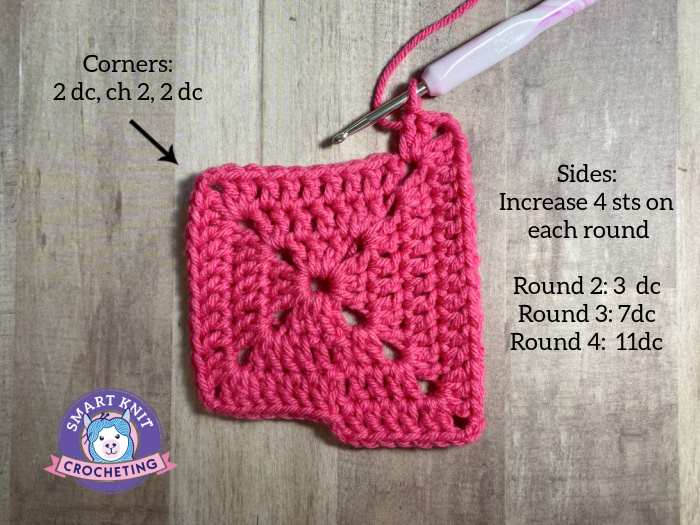 The fourth and final round of the solid granny square
Here is How to Assemble the Crochet Slipper Pattern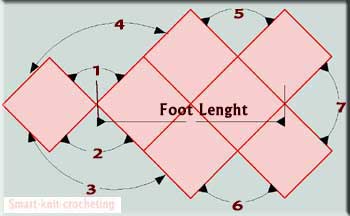 Calculate the Size Before Beginning
A little bit of measuring and calculations first. Step on the measuring tape and measure the length of your foot.
Let's assume it is equal to 24cm / 9.5 in. Divide that length by 2. It means that a diagonal of the Granny Square has to be equal to 12 cm or 4.75 in. The size of the solid granny square above should work for the average adult foot.  Add or subtract rounds if you need a size larger or smaller.
To form a sole of a slipper,  two of them will be necessary to align. Look at the picture above.
The numbers on the diagram above (Numbers 1 through 7) shows you that there are seven seams to be made, to assemble the slipper.
Corresponding sides of the pattern are connected by the arrows. They  show which sides of the squares have to be sewn together.
You can sew or crochet those seven Granny Squares together according to a slipper pattern scheme.  If you sew them, seams and a slipper itself will be a little softer than the one with crocheted seams.
I prefer to crochet them together because it is faster. Crocheted seams look more decorative and keep slipper shape better.
Tips for Finishing the Slippers
To make slippers look finished, crochet an edging around the opened edges. There are several ways to do this.
Simple Single Crochet Around the Edges
Work a single crochet stitch in each stitch around the top of the slipper.  Easiest.
Modified Single Crochet Stitch
Alternate 1 single crochet and 5 chain stitches along the whole length of the top part. Or, alternate 5 single crochets and one chain stitch around the top.
Create a Picot Edge
Create a picot stitch edging for a more decorate look.  Learn how to do the picot stitch.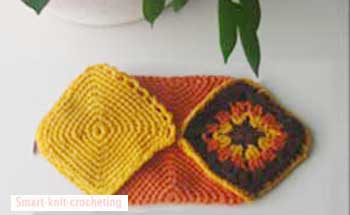 I really like this crochet slipper pattern. It doesn't require much time to crochet it. As any granny square project it allows you to utilize all your yarn leftovers.
Besides that slippers can be an excellent appreciated gift for anyone. Here is one more advantage of this "model". Are you going to visit someone's house and would like to keep your feet warm there? Take your slippers with you. Being folded, they won't take too much room in your purse or luggage.