Fast Crochet Blanket Pattern
Cozy and Fast Crochet Blanket Pattern
Fast Crochet Blanket Pattern by Janice Jones
|Published 07-20-2023
Are you one of those crochet enthusiasts who would love to give more blankets as gifts, but just don't have the time to make them?  
When I first started to crochet, I thought that a granny square afghan was the only type of blanket I could make. 
Unfortunately, they do take time, especially when you consider how long it takes to weave in ends and assemble the final product.
Fast Crochet Blanket Pattern
Alghans are fun to make, but there are easier solutions today especially when you make use of chunky, bulky yarns and large crochet hooks.
This free pattern was made with the beginner in mind - a way to practice some basic crochet stitches and create something beautiful and warm at the same time.  
This blanket was created for my daughter who loves pink and craves soft textures.  I think this gift was well received.
How Big are Crocheted Blankets
You can make blankets in just about any size to meet your needs but if you want a more conventional sizing chart, I have provided one below.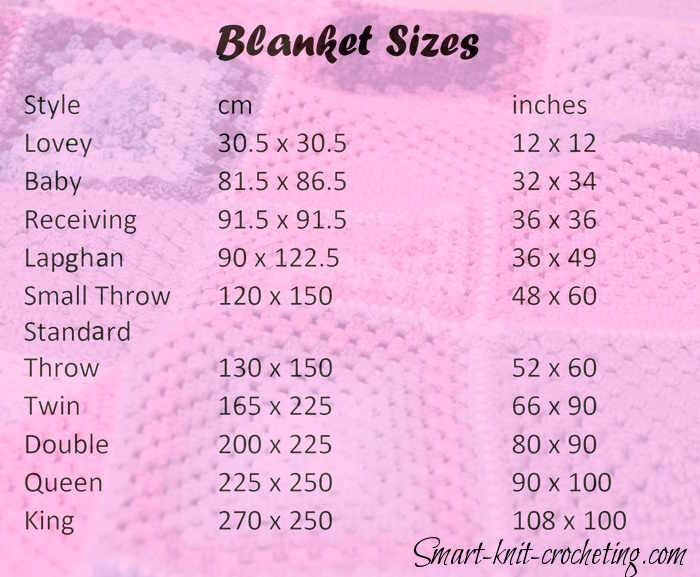 What Type of Yarn Do I Need for a Blanket:  Weights, Fibers, Look and Feel
Generally speaking, the thicker the yarn you choose, the less time it will take to complete the blanket.  Here are some general guidelines for yarn weights from the Craft Yarn Council
If you want a fast project, chose CKC's #5, 6, or 7.  Crochet Afghans normally use a worsted weight or #4.  If you go smaller than that, the speed of completing your project will be slower.
CKC #5 Bulky:  Use 7.00 mm, (L) 8.00 mm, (M/N) 9.00 mm
CKC #6 Super Bulky:  Use N/M) 10.00 mm, 12.00 mm
CKC #7:  Jumbo:  Use (P/Q) 15.00 mm, (Q) 16 mm
Choose a yarn that is durable and that can be easily washed, especially if you are making a baby blanket.  Some good choices include acrylic, cotton, polyester, and bamboo.
Superwash wools also make an excellent choice, but stay away from fibers that must be hand-washed such as wool and alpaca as it is difficult to manage a large blanket by hand.
Regardless of the fiber, pick one that is soft and feels good near your skin.  Blankets are supposed to be cozy and you wouldn't want one that is scratchy or irritating your skin.
Color is another consideration.  If you are making a blanket for yourself, it's easy to choose.  Pick what you like.  Choose a coordinating color for your home décor or choose a bright flamboyant shade that will make your room pop.
If you are creating a blanket for someone else, find out their likes and dislikes.  After all, you want them to love and use the blanket that you so lovingly handcrafted.
Free and Fast Crochet Blanket Pattern
Skill Level

Abbreviations
Hdc - Half Double Crochet Stitch
Ch - Chain
For this project, you will want to get some bulky weight yarn (CYC #5), a US Hook #K (6.5 mm), scissors, and a tapestry needle with an extra large eye for weaving in ends.
Finished Measurements
Gauge
The actual gauge is not important in this project.
Project Notes
All instructions are written in U.S. terms.
Skills Needed for this Project
Instructions
Chain 127, placing stitch markers every 25 stitches, for convenience.
Row 1: Sc in 2nd ch from hook and the each chain across row.
Row 2: Ch 4, turn.  Tr in 2nd st from hook and then in each sc across row.
Row 3: Ch 3, turn. Dc in 2nd tr stitch and then in each tr stitch across row.
Row 4:  Ch 2, turn.  Hdc in 2nd dc and then in each dc stitch across row.
Row 5: Ch 1, turn.  Sc in 2nd hdc from hook and then in each hdc across row.
Repeat rows 2 to 5 until the desired width of the blanket has been reached.
Fasten off. 
Weave in ends.
REMEMBER
To reach the correct height for each stitch at the beginning of the row:
For single crochet, chain one
For half double crochet, chain two
For double crochet, chain three
For treble crochet, chain four
Pin for Future Reference