Free Filet Crochet Patterns Using the Puff Stitch
Free Filet Crochet Patterns:  Design a Filet Crochet Pattern Using the Puff Stitch

Updated 08-15-2022
Free Filet Crochet Patterns page demonstrates how a traditional flat filet crochet mesh can be decorated  with a 3-D elements. Filet crocheting mesh is usually formed by the cells  with two double crochets and chain stitch between them (dc, 1ch, dc OR  dc, 2ch, dc).

Each cell is an excellent base for any additional element to be added to mash in order to make a completely new design. In the Part 2 of Filet Crochet Patterns we considered how to substitute one open mesh with a four-petal flower.
This time we will use a puff stitch, to decorate a filet crochet mesh. Each cell of a mesh consists of double crochet, chain 1, double crochet, (dc, ch1, dc). Let's substitute it by one puff stitch. Follow the steps below.
Free Filet Crochet Patterns:  How to make a Puff Stitch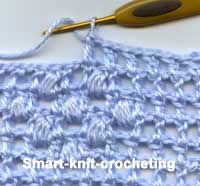 To crochet puff stitch on the filet crochet mesh:
Yarn over. Insert the hook under horizontal chain of the mesh of the previous row and draw up the loop (3 loops on the hook).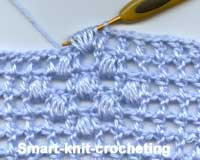 Repeat *yarn over and draw up the loop * three more times. There are 9 loops on the hook.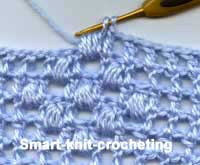 Draw the yarn throw the eight loops. There are 2 loops on the hook.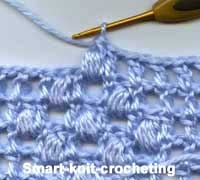 Draw the yarn through two loops on the hook completing the puff stitch. There is 1 loop on the hook. Each puff stitch takes place of one mesh in the filet crochet pattern.
They are easy to make and can be placed as the single stitches or in the groups providing you an endless variety of patterns.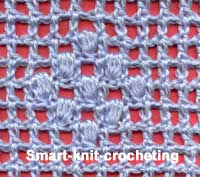 As an example for designing your own free filet crochet patterns, you can consider a chart of the filet crochet mesh filled with puff stitches for decoration. Click for chart. (new window opens).
Using puff stitches for decorating a regular filet crochet mesh, you can design your own patterns. Don't restrict your creativity since the number of variants is endless:
Change structure of the filet crochet fabric spreading puff stitches here and there.

Create different geometrical shapes using groups of puff stitches.

Decorate elements of a dress, a sweater or a skirt with puff stitches.

Combining a few different type of stitches (filet crochet mesh, puff stitches, areas of double crochets, decorative crocheted braids, for example) in the same project brings you completely new opportunity to design original "crocheted pictures".
---
---