Baby Crochet Pattern.
Play and be creative.

As an Amazon Affiliate I earn from qualifying purchases.

 In order to make baby crochet pattern you have to remember your childhood. Just play and be creative. You will be amazed by the results. When crochet for baby or kid, don't forget to smile.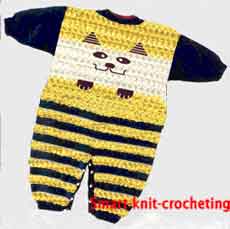 You might are not that experienced crocheter, but crocheting is a very forgiven and flexible technique. Relax and don't be afraid to be creative.
On this page I started a small collection of  crochet patterns for kids. They are very easy to crochet.
To make each baby pattern listed in the table, I used either basics crochet stitches and techniques or the cutout fabric motifs.
You will find more baby patterns added as I build this site.
I suggest you a couple options for using these baby crochet patterns. They can be used as applique motifs.
Make a pattern "as is" and decorate any element of the existing baby garment: front side of a sweater, pocket, sleeve, and etc.
A complete description of these designs can be found on the Baby Coverall page. Here are some possible small projects.
Pattern # 1

   Using single crochet make a basic flat circle 8-10 cm in diameter. For the last two rows use a loop pattern from the Crochet Scarf Page. Crochet one more row around making the chains for ears. Single crochet around the chains for ears and between them. Embroidery the face to finish your work. (It is better to use the eyes for dolls which can be found at your local craft store.)
Pattern # 2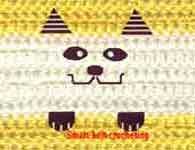 Use single or double crochet, to make strips. Place the cutout fabric motifs, embroidery the face. Complete description and pattern can be found at Crochet Baby Coverall page
Pattern # 3

    Make a basic flat circle 8 - 10 cm in diameter.  Use single or double crochet to make a basic flat circle. Each ear is 7-stitch wide at its base. Every next row is 2 stitches shorter. Crochet each ear around to make a smooth edge. Embroidery the face to complete the work.
Pattern # 4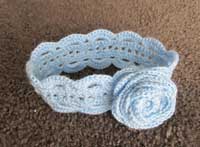 This pattern has its own personal touch. My friend came to me and told the story. Her daughter was extremely upset when somebody called her very cute 6 months old child girl a "cute baby boy."A girl has not developed  sufficient amount of hair yet, to look like a girl. -:) To console this young mommy and to avoid "shame", we've  decided to crochet  head band wrap with rose for a girl. It took us 1 hour to crochet it and app. 20 grams of yarn to make everyone happy. -:)