How to Crochet a Scarf

A simple project, but so many creative details
 To crochet a scarf is easy, but even making just a simple rectangular you can be very creative. Look at this stylish scarf with pom poms. We will go step by step making this scarf.
1. Choose dimensions for your scarf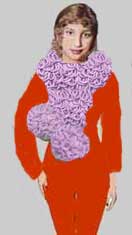 For our example we need to crochet a rectangular 12 x 50 inches.
2. Make the gauge swatch
(Don't relay upon my calculations! Do your own!). To check a scarf pattern which you see in the table below , I made a swatch 15 stitches = 4.0 in, 6 rows = 3.5 in.
Hence, my gauge is:
15 st / 4.0 in = 3.75 st/in
6 rows / 3.5 in = 1.71 rows/in
s3. Calculate number of stitches and rows you need to crochet your scarf
To begin a scarf you will need : 3.75 st/in x 12 in = 45 stitches.

To make your scarf 50 inches long you have to crochet:
1.71 rows/in x 50 in = 85.5 rows. Round it to 86 rows.
Now a couple more "technological things" , to make your project possible.
How to crochet a loop scarf pattern
This scarf pattern is based on a single crochet stitch - the simplest possible stitch. The fabric has a "right" and "wrong" side. The main thing about this pattern is to remember how to insert a hook. (Check these Crochet Instructions if necessary.) A pattern has only two rows to repeat. Follow the description.
Rows on the "right" side of fabric
Loop Pattern. Right side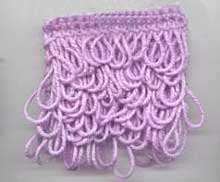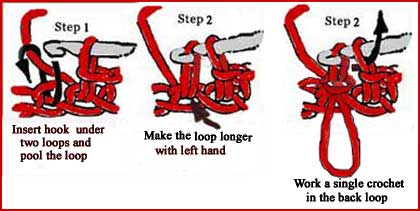 Step 1. Insert a hook under the two loops and pool a loop.

Step 2. Release the hook from this new loop, with your left hand, pool the loop and make it about 0.75 - 1 inch long. Let it stay on the "right" side of your fabric.

Step 3. Work a single crochet in the back loop of the same stitch.
Rows on the "wrong" side of the fabric
Loop Pattern. Wrong side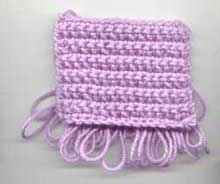 Work a single crochet under the two loops of each stitch of the previous row.
How to make a pom pom for crochet scarf


One of the numerous ways to make it.
Step 1. Make two circles of the cardboard. Diameter of each circle is equal to the diameter of the pompon. Cut a hole in the center of each circle. Its diameter depends on the yarn thickness.
Step 2. Take a needle with strand of yarn and wrap the doughnuts together till you can't see a hole in the center of it.
Step 3. Cut the yarn along the circumference of the doughnuts. Pull the cardboard slightly apart. Tightly tie a length of yarn in between the doughnuts. Cut off the cardboard.
Step 4. Trim pom pom, to make it look neat.
---
---