Crochet Instructions
The way you work in the loop of the crochet stitch makes a difference
There are a lot of crochet instructions, where you can learn how to crochet different stitch patterns. You can find zillion of them. And it looks like every day someone invents another  new patterns. It is very exciting to "hunt" them trying to find "the best one" among them.
Meanwhile, having an idea about three basic crochet stitches and some crochet instructions about modifying them, you can not only increase your repertoire of stitches, but also save your energy for the project itself.-:)
Let's remember the idea: the simpler, the better. Know the basics, and you will be able to do both create your own stitch patterns and to modify  existing pattern if you need to.
Here, are a couple examples only. An old classical single crochet stitch. It is very simple, easy to crochet, creates fabric which is sturdy and is an excellent "background",  to combine it with other stitch patterns.
Let's look at its geometry.
At the top of the row of stitches, you can see a braid.
Each link of the braid has a front and a back loop. 
No matter whether you look on the right or wrong side of the fabric, closest to you is a front loop. Farthest one is a back loop. Let's make a swatch using single crochet stitches only.
There are three different ways to insert your crochet hook under the loops while you crochet a stitch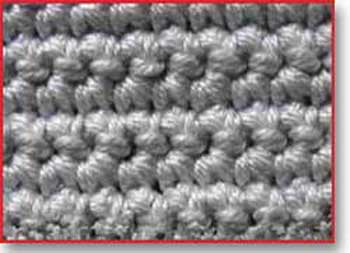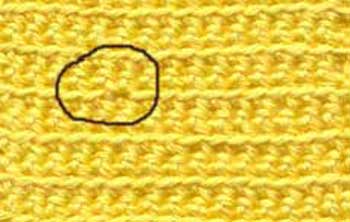 | | | |
| --- | --- | --- |
| Insert hook under the front loop. | Insert  hook under two loops. | Insert  hook under the back loop. |
If you try to repeat my experiment from the table above on your own, you will notice, that the very same a single crochet stitch produces different patterns and feel of the fabric.
Now you can experiment with double crochet or half double crochet. On the yellow swatch I circled a mistake which I made. It shows that you can actually change the way you insert the hook at any place of any row. The results will be very interesting. Hence, the way you insert a hook is a simple but effective method for creating new pattern in a simple way.
Let's  try to continue our experiment with loops. Here is another trick, to crochet single crochet stitch.  It produces completely new structure of the crochet fabric. We call it "the loop effect".
You'll hardly recognize simple single crochet stitches behind those loops.
To make a new pattern, insert your crochet hook under the back loop.
Decorative loop pattern can be used for any kind of garment, hats, rugs, covers, and etc.  Here is an example how we can use loop pattern to Crochet a Stylish Scarf .
---
---