How to Design Motif Pattern

Connecting motifs with the help of a crocheted net
Designing of the motif pattern is a creative process. It means that you have to get rid of pre-conceived ideas. You don't need anyone's pattern to follow it stitch by stitch.
Complete freedom of imagination and fantasy are the things which make from the scary process of creating Irish crochet patterns a possibility.
What is a Crochet Motif?
A crochet motif is any small shapes or stitch patterns that are repeated and that are joined together to make something larger, such as a blanket, cardigan or bag. The most popular example of a motif is a granny squares, hexagons and other crochet squares.
There are a few techniques which allow us to create quite complicated and intricate crochet patterns by joining separate motifs together. Information about sewing motifs, using "Join-as-you-go" method, and filling a space between large motifs with additional small motifs-inserts can be found on the Crochet Motifs page.
This technique of creating motif patterns with the help of a crocheted net was introduced by a talented Ukrainian designer Antonina Kuznetsova.
It is based on the classical Irish crocheting but at the same time it is something new.
Classical Irish lace consists of the separate motifs which are embedded into a crocheted net. In most cases they are made of cotton or silk and look so delicate that the proper place for them is a museum or some art exhibition.
It is a kind of garment you certainly won't use as an everyday dress.
Let's look at some Tonya's updated Irish crochet technique designs at her Flickr page. They are alive. They are beautiful, but at the same time pretty practical and casual.
Can you imagine yourself dressed in this kind of dress? Looks too complicated and impossible for you to do it? For this occasion always try to keep in mind a good saying: "Eyes are afraid, but hands just do it".
For demonstration purposes, I took 1.7 mm steel hook and not very fine yarn (not the best choice for this kind of crocheting!). Just to try whether it works for me. It works!!! It will work for you also. Don't give up!
Our first step is to make a small "island" of Irish crochet.
That's how every motif pattern begins after you choose the kind of motifs you are going to use for your project.
It is a creative process. Crochet motifs can be pinned or sewing with a few stitches to a few plies of fabric, pillow, or you can just put them on your lap.
Don't try to copy what you see in the table below. Assemble your own motif pattern for the beginning keeping only two things in mind:
Net and motifs have to look flat together. Don't destroy their flatness crocheting connecting net elements either too short or too long.


There is no correct or incorrect way or direction of crocheting net. Use chains, double, treble crochets, change direction of crocheting, and whatever allows to keep your small project flat. Here is the way these islands of pattern were made.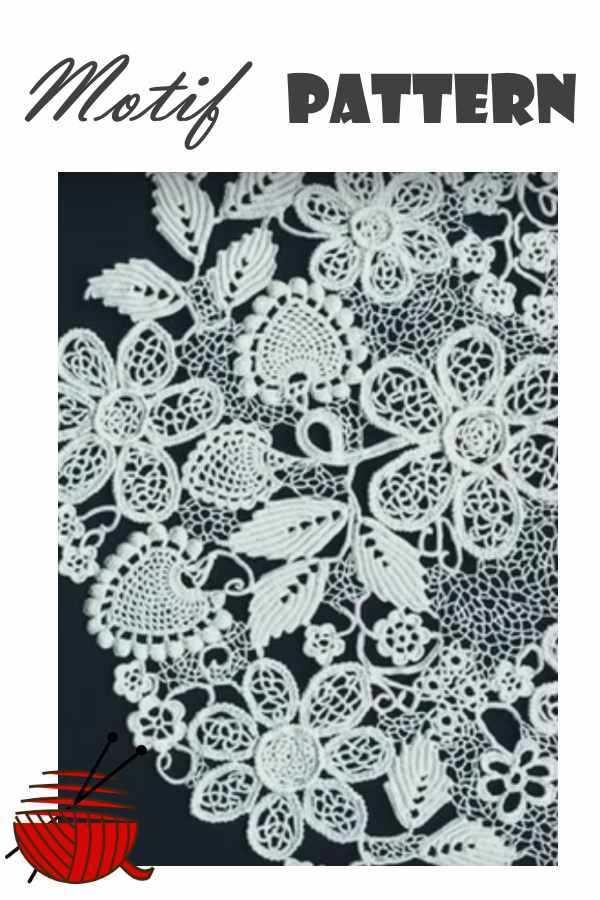 Motif Patterns and Crochet Nets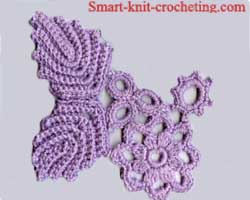 Charts for  motifs (# 2, 5, 9, and 12) are taken from Irish Crochet page. Using the same color but thinner thread, sew motifs from the wrong side at a few points to each other. Don't cut thread at each point. Just pull it inside motif from one point to another.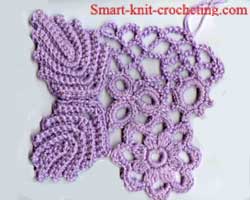 Crochet cells of net using chains, double or treble crochets. Connect them to motifs or each other inserting the hook under the two loops.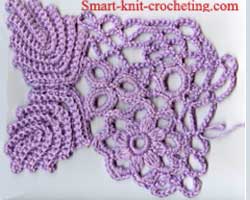 A net is formed at the right part of crochet motifs.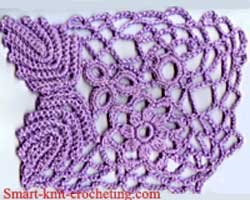 A net is formed at the bottom part of crochet motifs.
Did you manage to go through the whole process? What is the result?
I suspect it does not look very neat like mine?
Hey, this was our first try! Great projects are waiting for us ahead.
Now lets looks how the real masters are working on their projects. One always has to have proper inspiration.

---
---