Box Knit Stitch Pattern Tutorial
Box Knit Stitch Pattern Tutorial   by Janice Jones  |Published 10-02-2023
If you are searching for an easy stitch pattern that provides just the right amount of texture, you might want to learn the box knit stitch pattern. It's a perfect choice for any number of projects including blankets, pillow covers, washcloths, coasters, even scarves, cowls, and other wearables.
It's a beginner-friendly stitch that is worked entirely with knit and purl stitches with a four-row repeat. 
Box Knit Stitch Pattern
Four rows means that you will see the pattern forming after knitting four rows. Even though it is called a four row repeat, the pattern is actually worked on two rows with the other two rows repeated.
One Stitch Many Names
In case you thought the double seed stitch looks very similar to the Knit box stitch, you are right.  You'll see this pattern called the double moss stitch, double Irish moss, double seed, two stitch check and of course the box stitch.  

Notes on the Box Knit Stitch Pattern
4-row repeat
Multiples of 4 + 2
Reversible: The right and wrong sides look alike
Lays flat
Goes by more than one name
Materials Needed to Practice this Pattern
Yarn: I recommend a worsted-weight yarn (#4) in a light color so you can see your stitches. Use wool, acrylic, cotton, or what you have on hand. Smooth, non-slippery yarn works best for beginners.
Knitting needles: If using #4 yarn, choose a pair of knitting needles size 7 ( 4.50 mm ) or 8 ( 5.0 mm).
Scissors
Yarn needle for weaving in ends
Skill Level

Basic
Abbreviations and Skills Needed
K – knit
P – Purl
CO - Cast On
BO - Bind off
** - Repeat instructions between the * * asterisks
How to Make the Box Knit Stitch Pattern
Cast On: Multiples of 4 + 2
If you prefer, add two additional stitches to serve as selvage stitches.  If so, you will slip the first stitch and work the last stitch.
Row 1 (RS): K2, *p2, k2; rep from * to end.
Row 2: P2, *k2, p2; rep from * to end.
Row 3: P2, *k2, p2; rep from * to end.
Row 4: K2, *p2, k2; rep from * to end.
Work rows 1 through 4 until you reach your desired length.  BO in pattern, weave in ends.
Bind off in pattern means that you knit the knit stitches and purl the purl stitches on your bind off row.
Learn to Read a Knit Chart
This beginner-level stitch doesn't require a knitting chart, but if you learn how to use one now, it will be much easier when you try more complicated stitch patterns. This is a very simple chart.  For more information on knitting chart, check out the knit chart tutorial.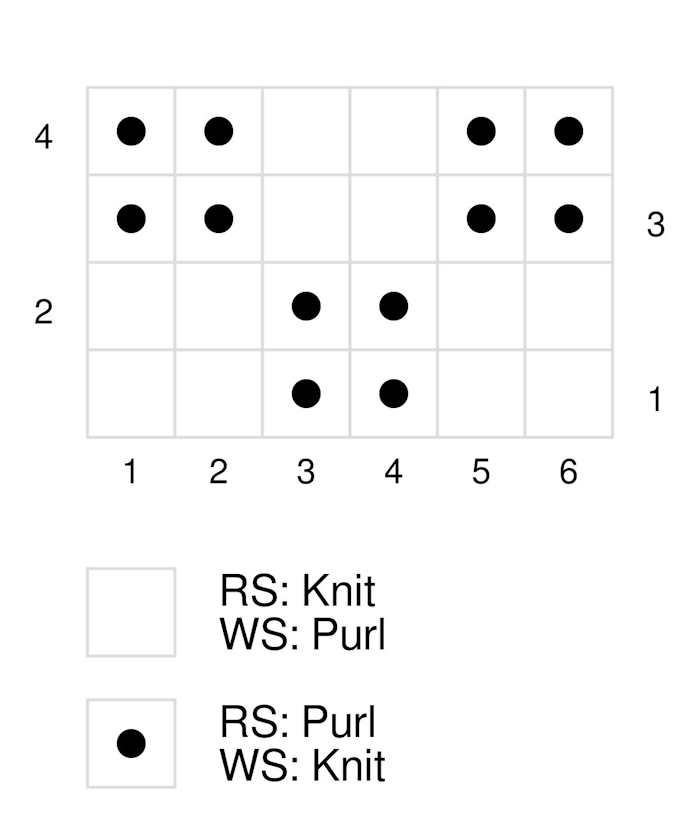 Understanding Stitch Definition and Drape
The green swatch was worked on a US 13 needle, the orange swatch a US 10, and the white a US 7 needle.
You might be wondering why I decided to talk about these two concepts in this stitch tutorial.  I may end up writing an entire article about them, but, for now,  I decided to add them here because many beginners don't understand these two terms.
Stitch Definition
Without going into detail about how knit stitches are created, I think of stitch definition as how well you can see your individual stitches when using a smoth yarn.  Textured patterns such as the Box Knit Stitch should reveal good stitch definition.
How to Use Stitch Definition
Depending on what you plan to make with the Box Knit Stitch, you may want to consider what type of yarn creates the best stitch definition. This often requires experimentation as even two acrylic yarns or two 100% wools can produce different results.
Drape
This is another one of those terms used in knitting and crocheting to describe how stiff or flexible a fabric is.  Stiff fabrics are necessary if you are making something that needs to lay stiff such as a placemat in knitting or stand upright, such as a basket in crocheting. 
But if you create a stiff pattern for a sweater, you won't want to wear it for long.  You want an appropriate drape so it fits you well, but not so drapy that it just hangs on you.
I worked up 3 swatches of the Box Knit Stitch (see below).  The first one was knit on size 7 (4.5 mm) needles, the second one was worked on size 10 (6.0 mm) and the larges needles used were US 13 or (9.0 mm).  
As you can see, above, each swatch becomes larger and more drapy.
How to Use Drape
If you are working from a pattern, use the recommendations provided by the designer.  But if you want to create your own design, consider what you are making.  Moving up a needle size may provide the drape you crave.
**I found working on US 13 (9.0 mm) needles with a number 4 worsted weight yarn to be difficult.  However, it did create the softest, most drapy fabric of all three.
Last Words
The Box Knit Stitch Pattern is an easy, beginner-friendly stitch pattern that is worked on a four-row repeat and a stitch pattern of 4 + 2. Always feel free to add two additional stitches for the selvages.  Even though it is a four-row repeat, two of the rows are idential and the other two are also identical.
It's a reversible pattern meaning that both the right and wrong sides are the same.  It creates a great texture with nice stitch definitions and looks much more complicated than it really is.
Box Knit Stitch Pattern:  Pin for Future Reference