Crocheted Bags and Purses:   Free Pattern Hub

Crocheted Bags and Purses   |Updated 08-19-2022
If you love to crochet, and need an easy, fast project, then one of these bags might be perfect for you.  There is an extensive library of free patterns on this website all waiting to for you to try.
Crochet is the perfect medium for bags, whether you want a formal clutch, or a casual market bag, crochet works up fast and there are endless possibilities.
Install a zipper or a fabulous wooden button for a closure, a leather strap to carry it with, or a shaped wood handle, and you've got something no-one else has.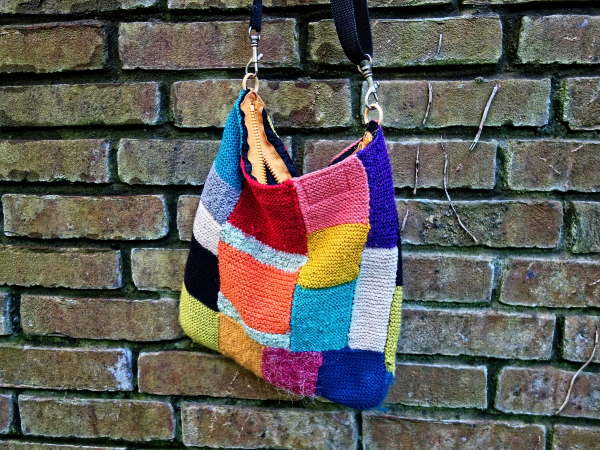 Here is an example of a scrap knitted bag - great use of those leftover yarn scraps. You can make the same thing by sewing together the gauge swatches you have made before beginning a crochet project.
Test pieces that you've kept from other projects can be sewn together to make a fabulous 'Jacob's coat' type patchwork bag. Aim for the same size in one direction, and similar weight for the best effect. 
You will also achieve the best results by using the same type of fiber (wool, cotton, acrylic)

Why not make it something hand made, by you, and be proud of your creativity?

Free Crochet Bags and Purses:  Patterns by Our Readers
Here's a Few More Ideas for Bags and Purses
Check prices on Amazon
Now, It's Your Turn
Do you have a fabulous design for a bag, purse, or backpack that we could add to this page for others to enjoy?  We would love to publish it here on Smart-knit-crocheting.
What are we Looking For?
Are you Ready to Design Your Own Crochet Patterns?  Great.  Patterns should be original with easy to understand instructions.  If they are published elsewhere on the web, please let me know as they may not be appropriate for this site.
Remember to include your name and  your website along with detailed instructions for making the projects.  If you are interested, please fill out the form to contact me.
---
---