Crochet Double Stitch Scarf Pattern - FREE
Easy Crochet Double Stitch Scarf Pattern - FREE
Crochet Double Stitch Scarf Pattern by Janice Jones
|Published 04-13-2023
This crochet double stitch scarf pattern is for you, the ultimate beginner crocheter  and the perfect project to perfect some of those skills you are currently learning while making something beautiful and practical. 
It uses double crochet stitches and double crochet front post stitches.  You can practice both of these stitches and create a work of art, that anyone would be proud to wear.  If you want to go one step farther, there are instructions at the end of the pattern to learn and practice a decrease stitch called the double crochet two together.
I have chosen a very soft acrylic yarn which is easy to manage and very affordable, but feel free to substitute any worsted weight yarn of your choice.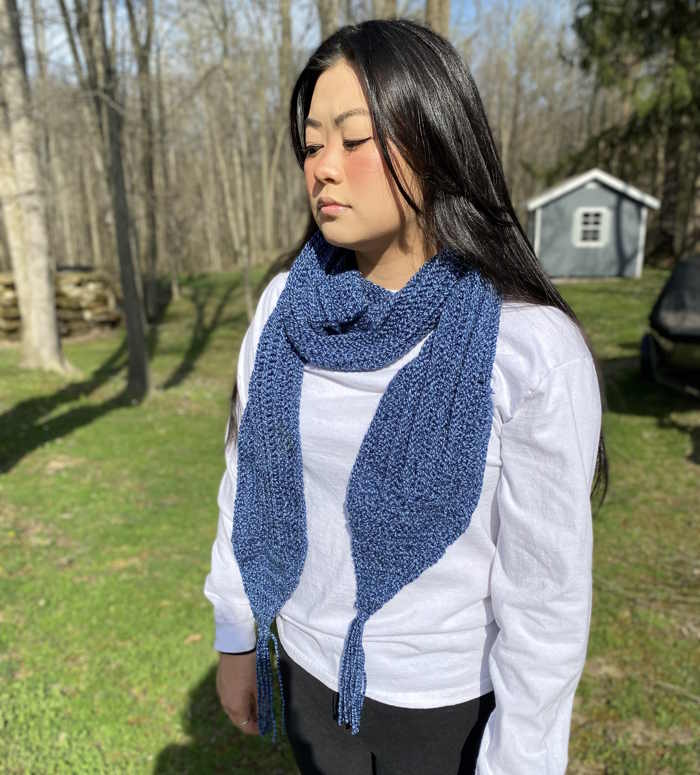 A Word About Scarf Sizes
Double Crochet Free Pattern, Perfect for Beginners
One of the first questions that most beginners ask is how long and wide to make a typical scarf.  If you are wondering, you are not alone.  It is a great question worth investigating before we begin our project.
Length and Width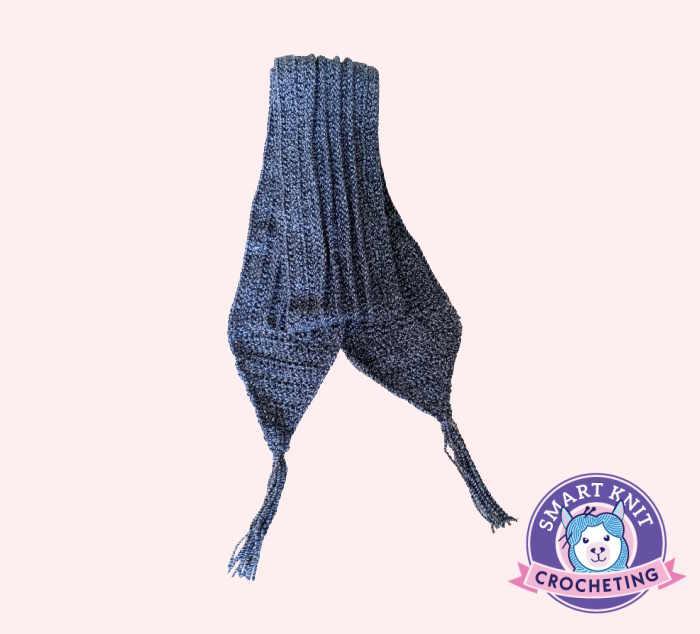 The old rule of thumb is that a crochet scarf should be as long as the wearer is tall. This ensures that the wearer can wrap the scarf around their neck at least once.  So if the person is 5 foot tall, the scarf 60 inches long.  
Another way to determine a scarf length is to measure the arm length from both arms outstretched at the sides from fingertip to fingertip.
There are two ways to determine the width of a scarf.  The first way is to measure the palm of your hand from the top of your middle finger to your wrist.
The second way is to spread out your fingers and measure the span from your thumb to your pinky.
If you are making this scarf for someone else, always check to see what they prefer.  Here's another free pattern resource that I have written to give you some more ideas.  The article is about knitting, but the scarf sizes are the same regardless of how it is made.
Easy Crochet Double Stitch Scarf Pattern - FREE Directions
Skill Level

Abbreviations
Hdc - Half Double Crochet Stitch
Ch - Chain
For this project, you will want to get some bulky weight yarn (CYC #5), a US Hook #K (6.5 mm), scissors, and a tapestry needle with an extra large eye for weaving in ends.
Finished Measurements
Gauge
The actual gauge is not important in this project.
Project Notes
All instructions are written in U.S. terms.
Skills Needed for this Project
Materials Needed 
I love this Yarn, Number 4 Worsted Weight, 100% Acrylic, in #714, Marled Denim, 5 oz (142 g) 252 yds (230 m):  one skein
Number 4.5 mm crochet hook
Scissors
Tapestry needle
Tape measure
Stitch markers, optional
Tips
To prevent having to recount chain stitches, place stitch markers at every 25 stitches.
Directions
Chain 202.
Row 1:  sc in each chain across row.  Ch 3. Turn
Row 2:  DC in each sc across row. Ch 3, turn.
Row 3:  Dc in each dc across row. Ch 3, turn.
Row 4: DC in each dc across row. Ch 3, turn.
Row 5:  fpdc in each dc across row. Ch 3, turn.
Row 6:  DC in each dc across row. Ch 3, turn.
Repeat rows 5 and 6 for a total of 4 times
Next 4 rows:  Dc across row with Dh 3 at end of each row until last row.  Ch 1 turn.
Last row:  sc in each double crochet across row.  Choose one finishing technique from below.
Finishing:  Two Choices
Choice One:  Finish straight across row.  You can either add an additional row of double crochet stitches across the end side by working one dc in each space across row.  (20 dc) or if you prefer, fasten off after the last row.   Fasten off and weave in ends.
Double Crochet Scarf with straight edge finishing technique
Choice Number 2:  Tapered Edge with/without tassel
A second option is to use decrease stitches on either side to taper the end to a point. Then you are free to add a tassel if you like.  
Directions for this option:
Do not cut yarn at the end of the last row.
Row 1:  Work one row of dc across the end row. Turn, Ch 3.
Row 2: DC2tog in second dc, dc to last two stitches.  DC2tog.  Ch 3 and turn.
Repeat following rows until there is one dc st.  Fasten off.  Weave in ends or keep long to be included in tassel.
Tassels:  The tassels on this pattern are 6 inches long, but feel free to make yours longer or shorter.
To make tassels:  Cut 14 lengths of yarn, 12 inches long each. Divide lengths of yarn into two piles.  Fold each group of yarn in half.  Using a large head crochet hook, pull through one tassel  through each of the two end tips of the scarf.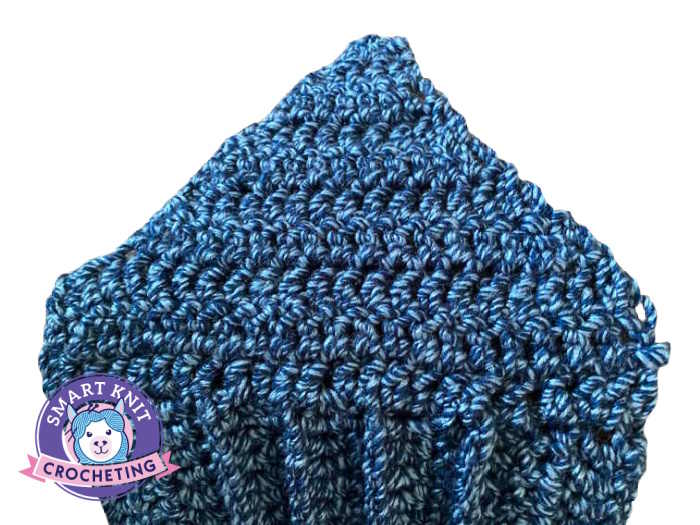 Double crochet free scarf pattern with a tapered end
Crochet Double Stitch Scarf Pattern
Pin for Future Reference