Drunken Granny Stitch variegated scarf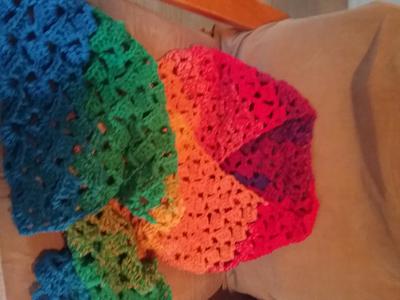 Drunken Granny Stitch variegated scarf
Crochet hook: 5.5 mm


Weight: 4
Stitch is created with multiples of 5 + 2
Foundation Row: chain 30
Row 1: chain 3 (this counts as first double crochet)
Double crochet 3 more times into the first chain of the foundation row. Chain 3 and double crochet into the same space* skip 4 chains and double crochet 4 times into the next chain of the foundation row ( chain 3 and work 1 double crochet into the same space*) repeat from* to * across row
Row 2: chain 3( this counts as first double crochet) double crochet into chain 3 from the previous row three times and chain 3 then double crochet into the same space.
In the next chain 3 space work 4 double crochet. Chain 3 and double crochet all into the same space * repeat from *to* across row and turn.
Remaining rows are worked as row 2.
Weave in all ends in at least three different directions to ensure that the ends of the project don't come loose through use.
Inspired by Creative Grandma