Seeded Rib Knit Stitch Pattern
The Seeded Rib Knit Stitch Pattern: Beginner-Friendly
Seeded Rib Knit Stitch Pattern, by Janice Jones  |Published 11-02-2023
What do you get when you add the knit seed stitch to a 1 x 1 rib stitch? OK, so just kidding, but all joking aside, the seeded rib knit stitch creates a lovely textured fabric that can be used in a wide variety of projects.
The thick columns of knits make this a perfect choice for blankets, scarves, cowls, and other wearables. You may see this pattern on hat brims, sleeve cuffs, and bottoms of sweaters or cardigans.
But don't stop there. Imagine what you can do with this pattern. Like many rib stitches, the seeded rib stitch pattern is a reversible stitch, which means that the front of the work is exactly like the back of the work. So, even new knitters can master this one quickly.
The best part of this rib stitch is that it is beginner-friendly and easy to knit. It comprises nothing but knits and purl stitches, worked in a two-row repeat on a stitch repeat of four plus three.
It works great in almost any type of yarn, including wool, acrylic, and even cotton. It is also easy to make whether you use flat or circular needles. The directions for both are included in this tutorial.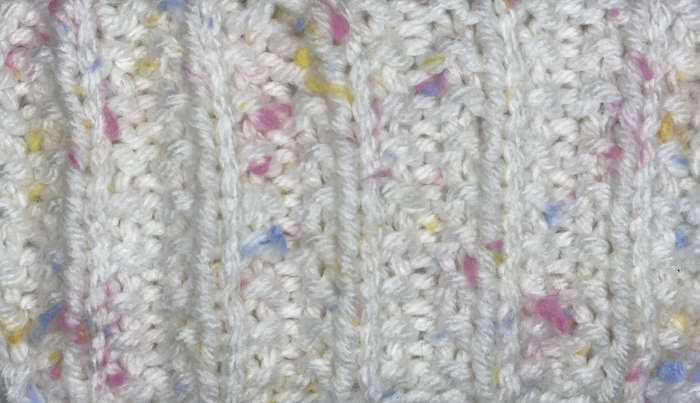 The seeded rib stitch can be used on solids and other types of yarn, though the thick texture is best seen when worked in a solid color.
What you end up with is a thick, textured rib that lies flat and looks like little columns of knit stitches separated by little bumps or seeds. I have also heard this stitch called the English Mock Rib Pattern.
Skill Level

This is a basic or beginner level stitch pattern.
Skills You Will Need to Have
Knit
Purl
Cast On
Bind Off
Weave In Ends
Bind off in Pattern:  Knit the knit stitches and purl the purl stitches before binding them off the needle
Abbreviations
WS = wrong side
RS = right side
K = knit
P = purl
CO = cast on(I recommend the long-tail cast-on method, the easiest for beginners)
BO = bind off (I recommend that you bind off in pattern for a nice bindoff edge)
* * Repeat the instructions within the asterisks for the indicated number of times
Notes
I am using US terminology.


Many patterns call for using smaller needle sizes when making a traditional rib stitch. This is good advice for this rib pattern, also.


To add edge stitches or not that is the question. Many knitters like to add edge stitches to the stitch count to help them make better selvage edges. 
If you add edge stitches, cast on two additional stitches, one for each side of the row.
Then, before you knit a row, you will slip the first stitch on the left needle as if to purl with your yarn in the back.
Once you reach the end of the row, you will purl the last stitch.
Directions for Knitting A Practice Swatch Worked Flat
You will need some yarn and the appropriate needles for your yarn
Scissors
Yarn Needle
Stitch Marker, optional
I am using Lion Brand Limited Edition 100% Acrylic Yarn in Grey.
Knitting Needles US size 8 (5.0 mm).
Cast on 23 stitches using the long-tail-cast-method (4 x 5)+3

Row One: Knit 3, Purl 1, repeat until you reach the last three stitches. Knit the last three stitches

Row Two: Knit one, Purl one, Knit one. Then repeat the pattern, Knit 2, Purl 1, Knit 1, across the row.
Knitted on Straight Needles
Cast On: Multiples of 4, plus 3, which ends up being an odd number of stitches
Row 1 (Right Side): * K3, P1 *, K3
Row 2 (Wrong Side): K1, P1, K1, * K2, P1, K1 *
Work these two rows until you reach your desired length, bind off and weave in ends.
Knitted on Circular Needles
Cast On: Multiples of 4, which ends up being an even number of stitches

Row 1: * K3, P1 *
Row 2: * P1, K1, P2 *
Learning How to Read Knitting Charts
The seeded rib knit stitch pattern really doesn't need a chart because the written instructions are very easy to read.  Yet, beginners should get into the habit of learning how to read charts.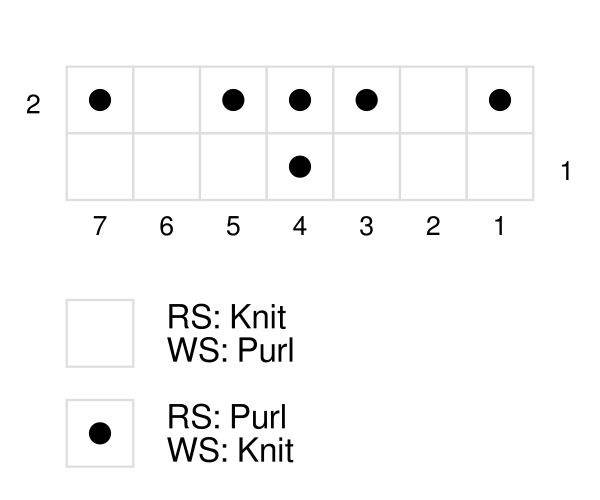 Seeded Rib Chart
More Help for Understanding Knitting Charts
Seeded Rib Knit Stitch Pattern:  Pin for Future Reference
Thank You for visiting Smart-Knit Crocheting.com
I hope I have inspired you to take your knitting or crocheting to the next level. The seeded rib knit stitch is perfect for any number of beginner projects, so I hope you will find some use for it in your next project.

Please visit often. My site is growing fast. I post about 2 to 3 new tutorials each week, so if you want to keep up to date, please join my mailing list or check back on the What's New Tab.
Happy Crafting, Smart Knitters, and Crocheters.