How to Make the Farrow Knit Rib Stitch for Beginners
Farrow Knit Rib Stitch by Janice |Published 11-13-2023
The Farrow Knit Rib Stitch is an easy rib pattern with only knits and purls. Its easy two-row repeat design makes it ideal for the beginner knitter. But if you are tired of making garter stitch scarves or washcloths, this is a perfect way to advance your knitting skills and create something with an interesting texture.
It's also a reversible pattern, which makes it an ideal choice for scarves, blankets, cowls, and any project where both the right and wrong sides will show. You would not be alone if you think this stitch resembles the broken rib stitch pattern. Though similar, it is an entirely different stitch.
So, if you know how to make a purl stitch and knit stitches, you can create this interesting rib. Incidentally, this fabric creates a nice horizontal stretch so it is also appropriate where a rib stitch might be needed, such as hat brims, or sleeve cuffs.
Skill Level

Basic level, Beginner-Friendly
Beginner, Easy
Abbreviations
K - Knit
P - Purl
CO - Cast on
BO - Bind off
* * - Repeat the directions between the asterisks for the specified number of times
RS - right side
st - stitch
Skills Needed
Weave in Ends
Place a Stitch Marker
Notes about the Farrow Rib Stitch
All instructions are in US terms
Two-row repeat
Three stitch repeat
Lies flat (you may decide to block for a more finished appearance)
Stretches horizontally
Worked on a multiple of 3 + 1, meaning you will cast on some stitch multiples of 3 and then add one to the end.  
Place a stitch marker through one stitch on the right side to keep track of the right and wrong sides.
Reversible
If you prefer to add a border to your knit swatch, you can increase the cast on edge by four stitches, two for each side.  Knit those four stitches.  You can also add a couple of rows of garter stitch to the beginning and end of the swatch to make a nice border.
Reversible Knit Pattern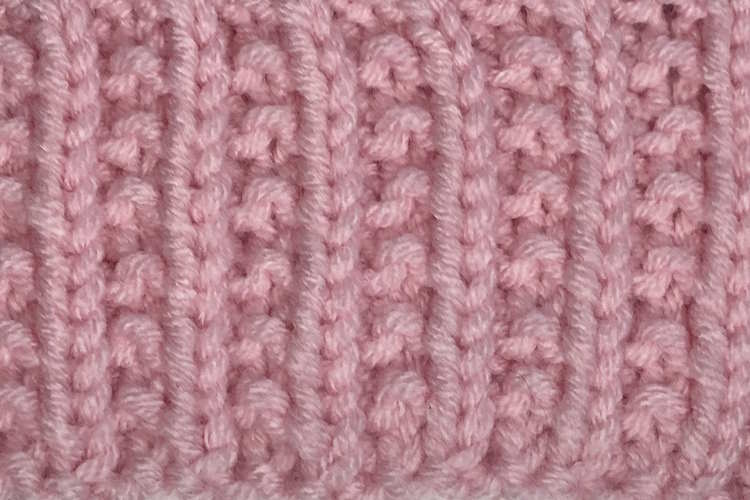 This is the right side of the farrow rib knit stitch pattern.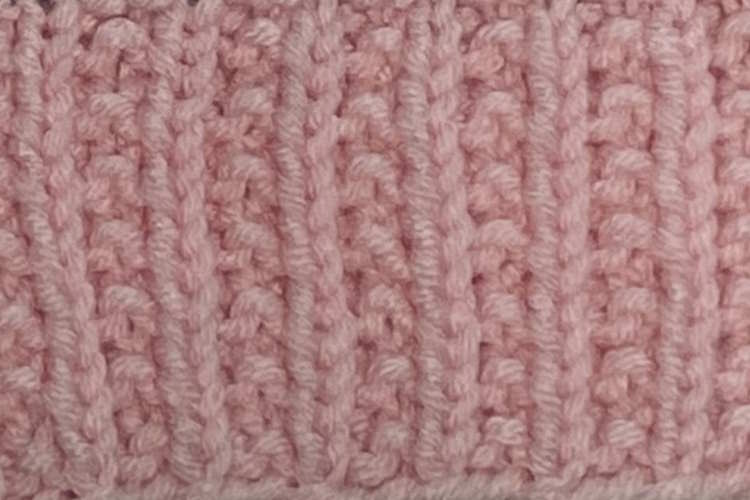 The wrong side of the Farrow rib knit stitch pattern.
Supplies Needed for this Tutorial
Yarn (I am using a worsted weight (#4 weight) yarn, 100% acrylic)
Knitting needle (choose a needle size that corresponds to the type of yarn you are using. I am working on US 7 (4.5 mm) needles.
Scissors
Yarn needle for weaving in ends
Stitch marker (optional)
If you place a stitch marker on the right side of the fabric, you will never have to guess which side is right or wrong. This is helpful if you need to put down your knitting and pick it up later.
Directions for Working on Straight Needles
CO 25 stitches using the long tail cast-on method.
Row 1 (RS): *K2, P1, repeat from * to last st. K1.
Row 2: P1, *K2, P1* to end of row.
Repeat rows 1 and 2 until you reach your desired length. Bind off, weave in ends.
*It is recommended to bind off in pattern for a cleaner appearance.  When binding off in pattern, you would work the next row in pattern, but after knitting two stitches, you would use your left needle to slide the first stitch on the right needle over the second stitch and off the needle.
Learn How to Read Knitting Charts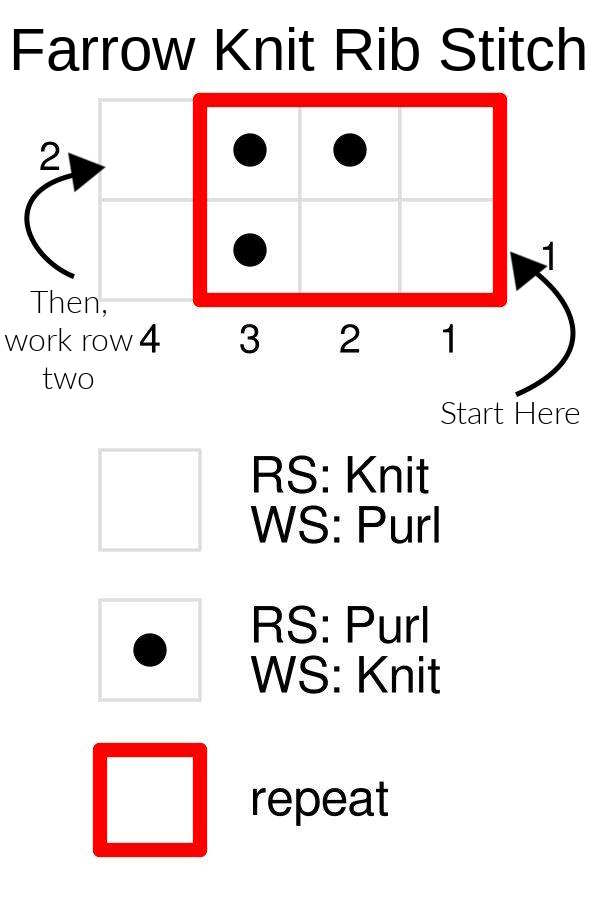 Farrow Knit Rib Stitch Chart
This is an easy pattern to follow using written directions, however, it is never too early to learn how to follow a knitted chart. This is what the farrow rib stitch looks like in chart form.

Learn how to read knitting charts.
Ready to put this stitch pattern to work?
Ravelry by Jennifer
I found a straightforward, beginner-friendly pattern that uses the farrow rib stitch pattern.  Click on the photo to go to the pattern.
Farrow Knit Rib Stitch Pattern:  Pin for Future Reference
If You Found this Stitch Pattern Helpful, Please Check Out These Too
I hope you found this tutorial helpful.  Please check back often as I update regularly adding new stitch tutorials weekly.
Happy Knitting
Your second block of text...