Garter Rib Stitch Pattern
Garter Rib Stitch Pattern: Beginner-friendly Tutorial
Garter Rib Stitch Pattern by Janice Jones |Published 11-11-2023
The Garter Rib Stitch Pattern is an easy beginner friendly stitch that is made up of knits and purls.
urls.  Think of it as a two by two rib pattern with a couple of garter stitches between the stockinette column.
It works great as a rib pattern in projects where you want a rib to occur such as hat brims, sweater sleeve cuffs, or hems on a pullover.  It is equally lovely in scarves, pillows, dishcloths, and blankets.
It lays flat, but for a more professional appearance, it's a good idea to block using the best method for the type of yarn you are using.  Learn more about blocking your knitting projects.
This rib pattern is not as stretchy as some and is not reversible, though the back of the fabric has it's own charm.  It's worked on a two row repeat of knit and purl stitches.  The simplicity of the stitch makes it an ideal project for beginners.  It's easy to memorize, so the perfect project for working when you are watching television.
This is a Non Reversible Pattern
The front and back do not look the same. Both appear as a rib stitch, but the wrong or back side is not well defined.
Garter Rib Stitch Pattern, Right Side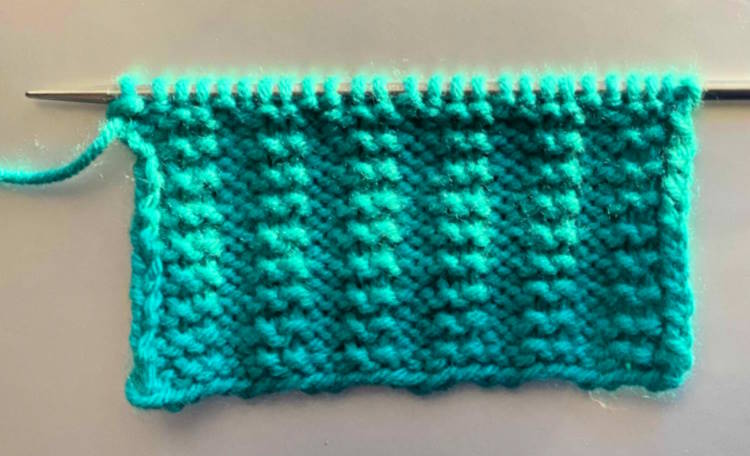 Garter Rib Stitch Pattern, Wrong Side
Notes about the Garter Rib Stitch Pattern
Non-reversible.
Worked a multiple of 4 + 2 (meaning a multiple of 4 stitches, plus two.  10, 14, 18, 22, and so forth).
Two row repeat.
Lays Flat
US Terms apply.
Abbreviations
k = knit
p = purl
CO = cast on
BO = bind off
RS = right side
*    *  = repeat the directions within the set of astericks
Skills Needed for this Pattern
Weave In Ends
Skill Level
This is an easy, beginner-friendly pattern.

Basic or Beginner-level stitch pattern
Supplies Needed to Practice This Swatch
You will need some yarn.  I used a 100% Acrylic Worsted Weight Yarn
Corresponding knitting needles.  If you are using a #4 worsted weight yarn, use needles size US 7 or 8 (4.5 to 5.0 mm)
Scissors
Yarn needle for weaving in ends.
Directions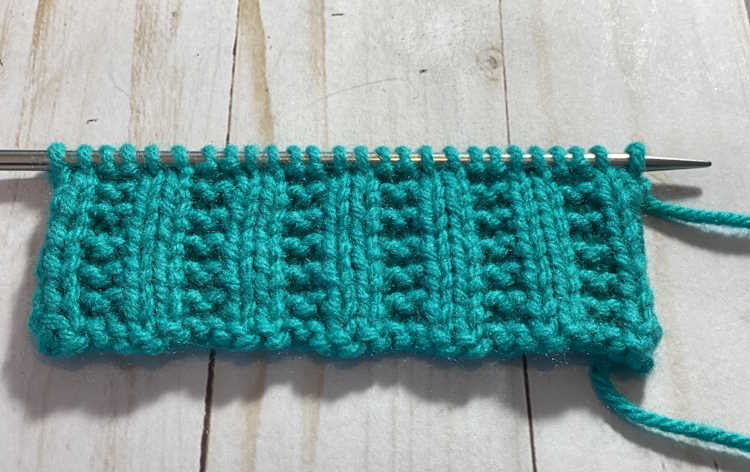 Garter Rib Stitch Pattern Directions
Cast on a multiple of 4 stitches, and then add 2 more stitches at the end. For the purposes of this tutorial, I cast on 26 stitches.
Row 1: (RS)  Knit across.

Row 2: P2, *k2, p2*

Remember that the * * means that you repeat the instruction between the two asterisks across the row.

Repeat these two rows for the pattern, or until you reach your desired length.
Bind off loosely after you have finished knitting row one.  
Weave in ends.  Block if desired.
Garter Rib Stitch Pattern:  Chart 

This is an easy, beginner-friendly pattern with only two rows of written instructions.  Using a chart in not necessary for this stitch, however it's never too early to learn how to read a chart.
Check out my complete tutorial for learning to read a knitting chart.
Garter Rib Stitch Pattern:  Frequently Asked Questions
Yes, the alternating between knits and purls allows it to lay flat.  It does not curl.
It is not considered to be reversible.  The front or public side looks different than that of the wrong or back side.
The 1 x 1 and 2 x 2 rib stitch patterns are quite stretchy.
That depends on where you are using this stitch pattern.  If you are creating a blanket, scarf, or pillow cover, there is no need to go down a needle size or two.  Use the needle size that is appropriate for the type of yarn you have chosen.

If you use this stitch as the brim of a hat or a sleeve cuff, you may decide to go down one to two sizes.
Most beginners struggle with uneven stitches, and even some more experienced knitters wish they could knit neater fabric.  It all has to do with tension.  The good news is that it is fixable.  Learn more about tension and how to improve the look of your rib stitches.
Garter Rib Stitch Pattern:  Pin for Future Reference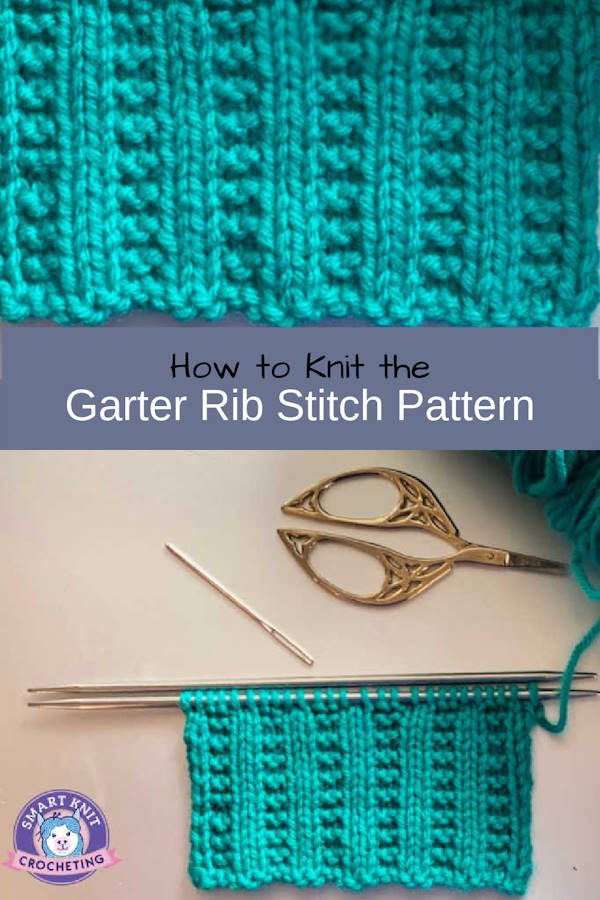 More Stitch Patterns to Explore